Celebrity Wedding Style: Grooms' Looks From This Year's Hottest Weddings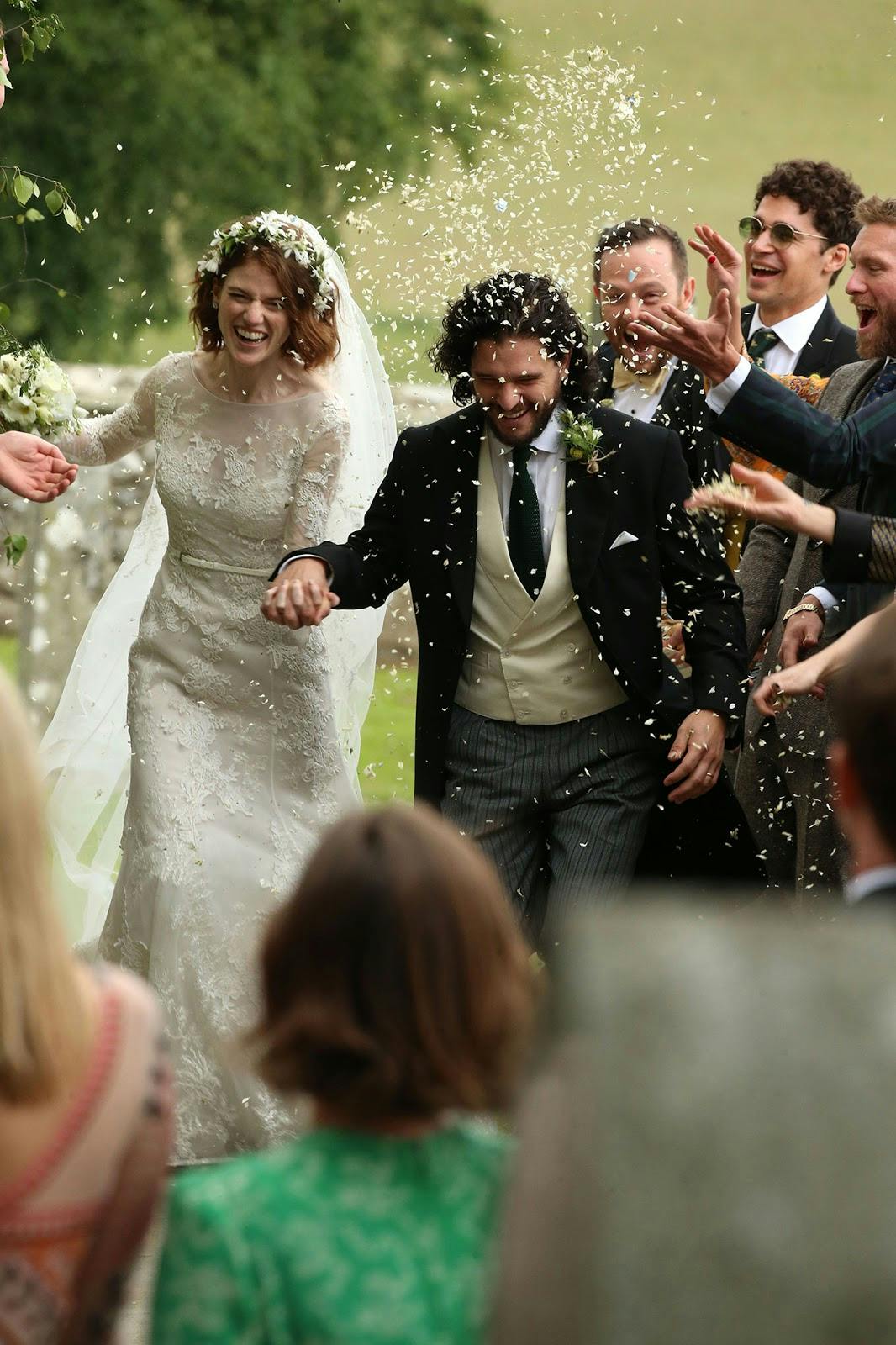 Between the shoe color, which kind of tie you're going to wear and where to even put the boutonniere, it can seem like there's no easy way to start planning your wedding day look. Plus, how can you know your groom attire is the most dapper, on-trend one possible? That's where celebrity weddings come in. Who better to look to for stylish wedding day outfits than from the guys who are always in the spotlight? What you'll notice is their looks range from classic to relaxed to innovative, meaning you can look like a celebrity no matter the tone of your wedding. Here are 5 celebrities who rocked their groom style and how you can use their looks as a springboard for your own.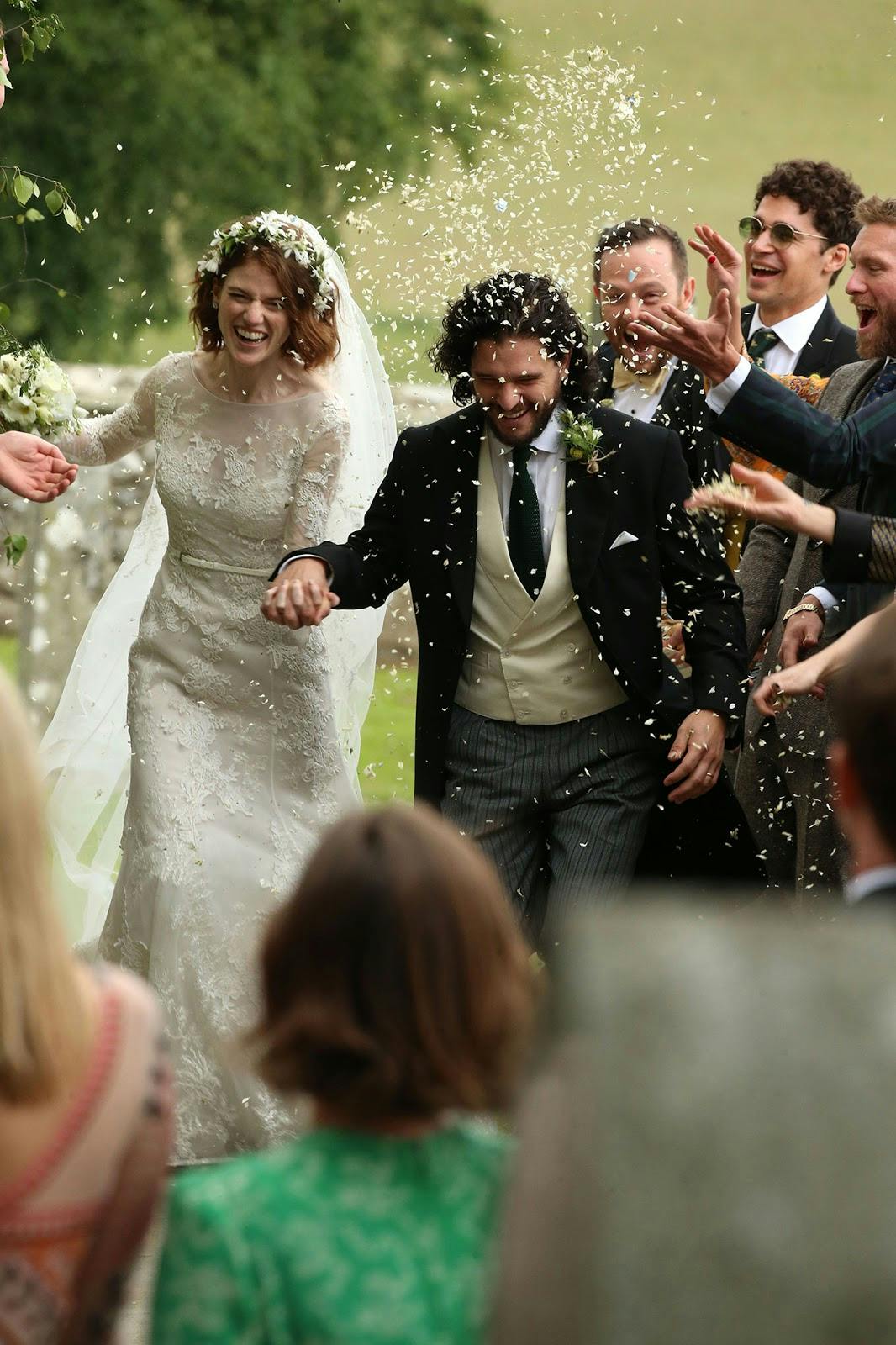 Kit Harington and Rose Leslie
The Game of Thrones stars tied the knot last summer in Scotland alongside their co-stars, family and even some fans. To complement his bride's elegant, lace-detailed gown, Kit sported a three-piece suit with gray pin-striped pants, a cream vest and a long black suit coat. Want to mix colors on your big day too? We suggest simplifying a little, opting for gray pants, a white dress shirt and a black coat and tie. Even if you don't want the blend of colors, a three-piece suit is the way to go when your wedding airs more on the formal — or royal — side.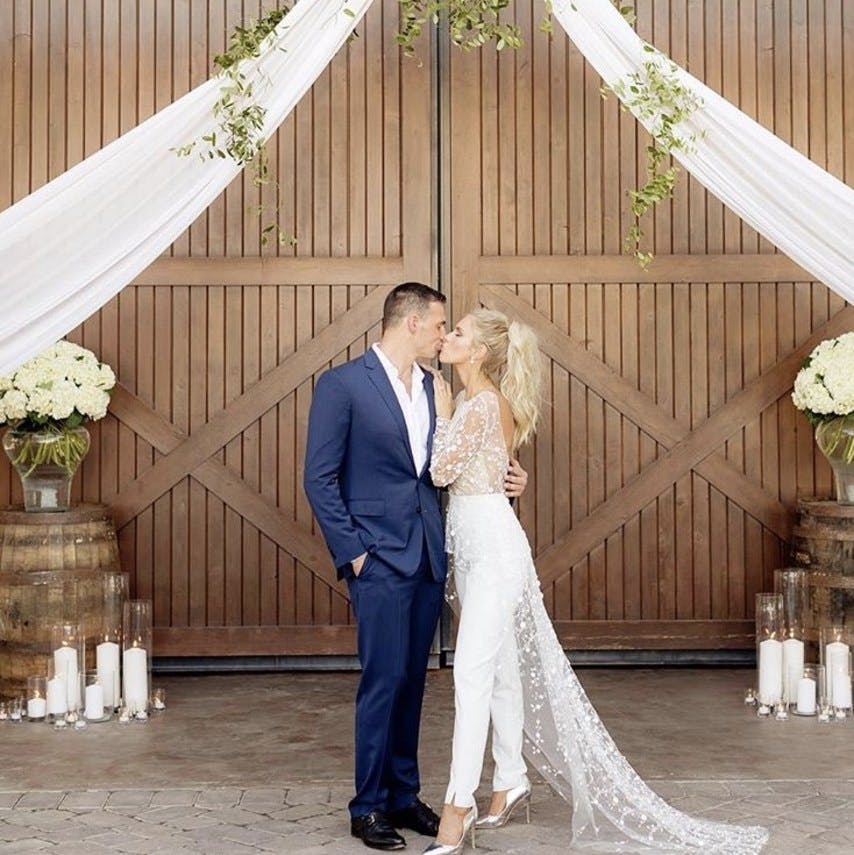 When Ryan Lochte and Kayla Rae Reid tied the knot for the second time in front of family, friends and loved ones after getting married privately, they pulled out all the stops. This couple actually had two looks for their fall wedding — and this one was for their rehearsal dinner. At once chic and relaxed, the groom's look — or one similar to it — would look right at home during the ceremony. Ditching the tie is a great move for destination weddings or for rustic, outdoor venues. While black shoes keep Ryan on the more formal side, a brown shoe will look more in place at a casual wedding. To lean into the formal look, add a black tie to your brilliant blue suit.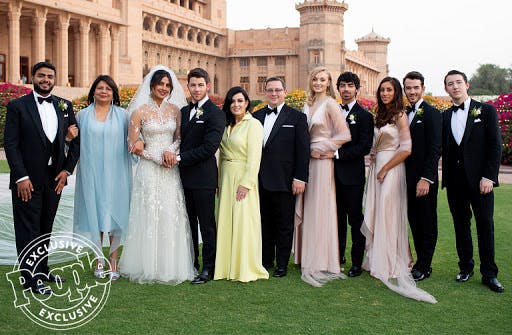 Nick Jonas and Priyanka Chopra
A winter wedding is perfect for a dapper black ensemble, as Nick Jonas knows. He sported a sleek black suit with a black bow tie, white pocket square and white floral boutonniere. Considering the season (winter), venue (a palace) and gown of his bride (which included a 75-foot train!), his formal groom style was the perfect choice. We recommend doing the same if your venue and wedding tone are super elegant. That or bump the sophistication factor up one more notch with a tux.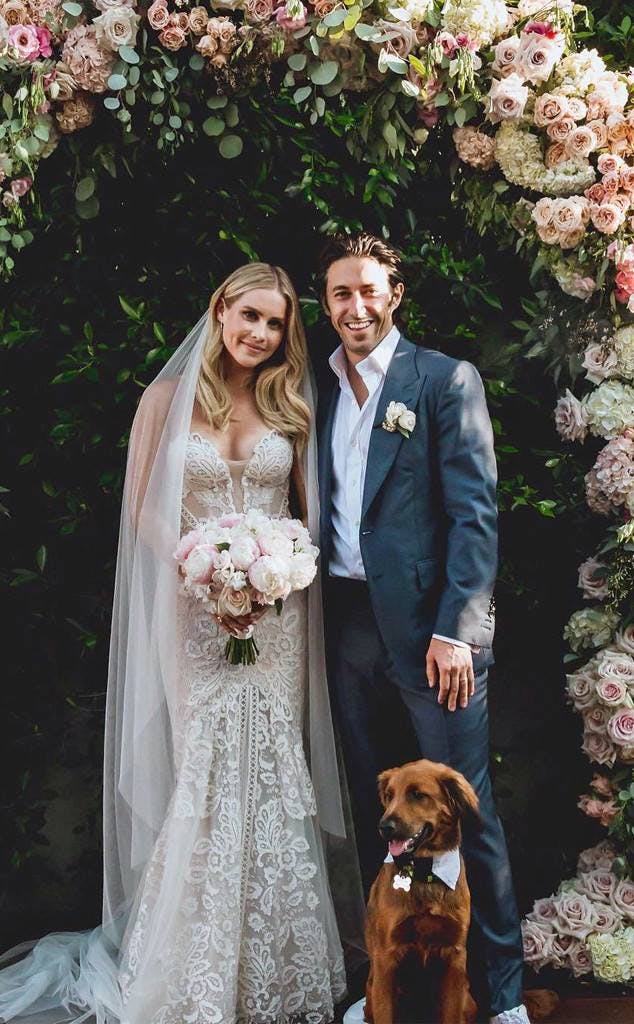 Andrew Joblon and Claire Holt
The Originals star Claire Holt tied the knot this past summer in a gorgeous lace dress, surrounded by flowers, family, friends and even the couple's dog, Teddy. For a warm outdoor wedding, Andrew picked a relaxed gray suit without a tie and sporty sneakers while Teddy opted for a tux collar. We love how Andrew's boutonniere matches perfectly with Claire's bouquet and the surrounding floral arch. Textured gray is a great men's wedding suit choice for warmer weddings because its lighter color provides a break from the traditionally darker color palettes of fall and winter.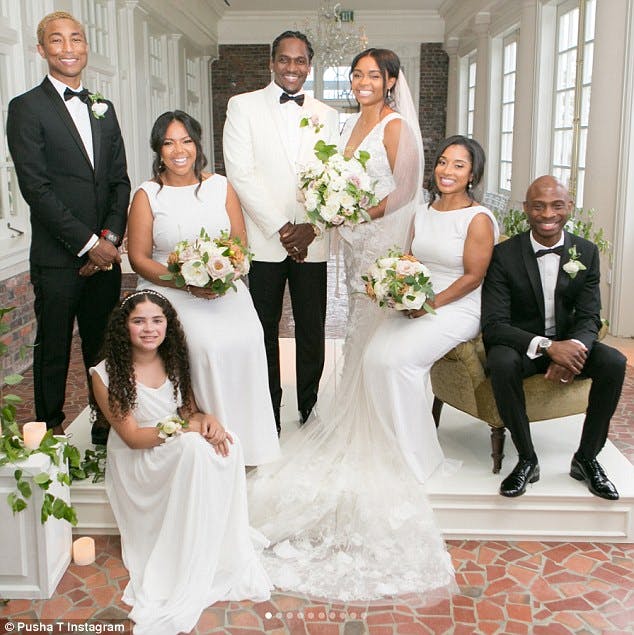 Pusha T and Virginia Williams
We love rapper Pusha T's wedding style and his choice of outfitting his groomsmen. The couple got married last summer in their hometown of Virginia Beach at the historic Cavalier Hotel with Pharrell as best man and Kimye in attendance. Pusha T did what we're seeing more and more grooms do: dress differently from their groomsmen. Not only can you swap out a tuxedo jacket like he did, you could make subtle adjustments too — a bow tie while your guys wear a necktie. Or a tie with your suit and no tie and suspenders for your guys.