Charcoal Gray: 2019's Most Versatile Wedding Color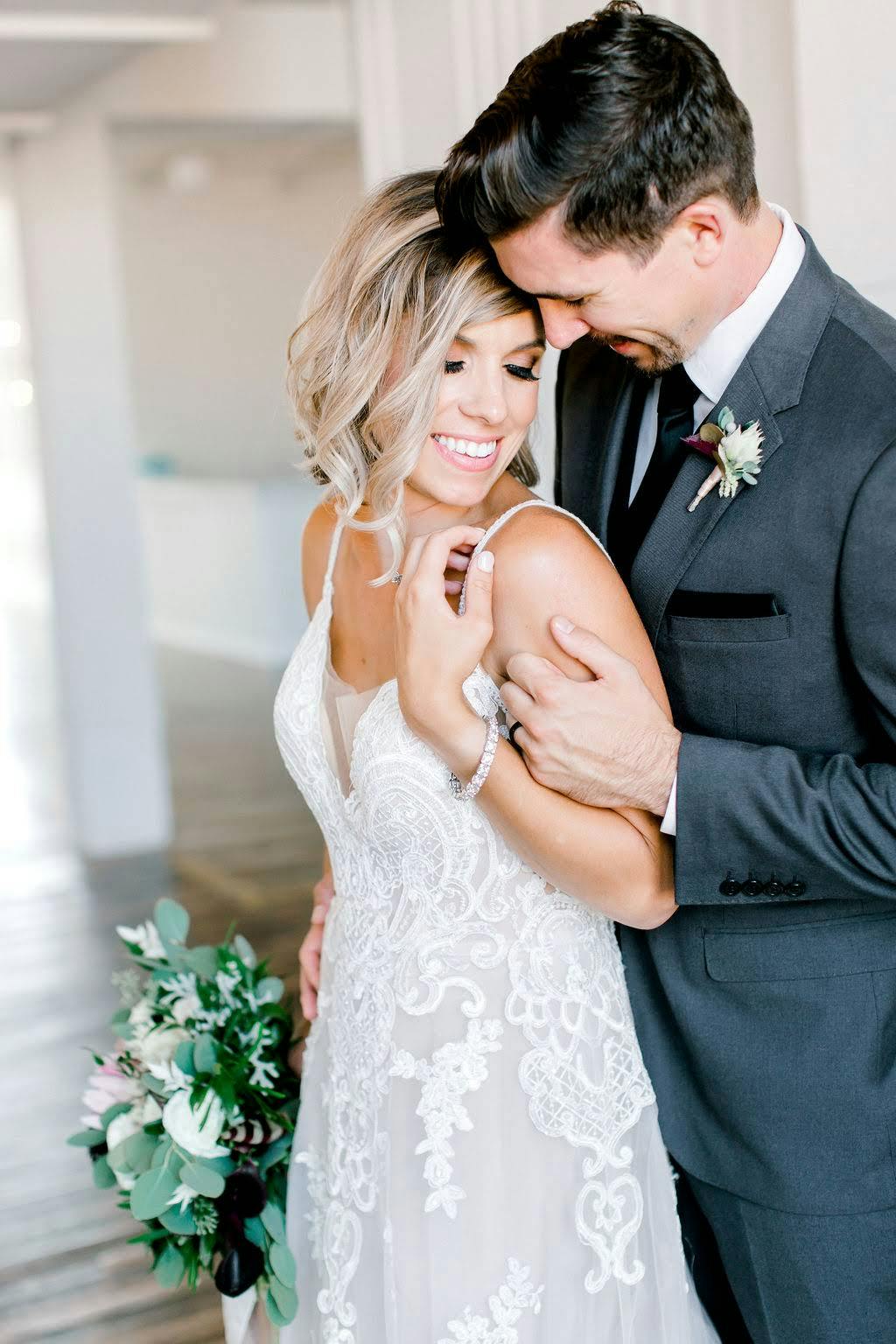 For the last several years, navy blue has been the shining star for wedding suits and tuxedos.  While not a new color, it reached its height of popularity when Ryan Reynolds wore a navy jacquard tuxedo (custom made by Ralph Lauren) on the cover of GQ's Man of the Year issue in 2016.  All shades of blue, including navy are maintaining their popularity from French Blue to Midnight Blue but we would like to submit for your consideration that Charcoal Gray is the new wedding color to watch (or really wear…lol) for 2019 and 2020 because of its versatility! Charcoal Gray Suiting can be worn on your wedding day, to work, date nights, casually and even to someone else's wedding.  Below we will explore just how versatile this color suiting is and we are sure it is something you will want to add to your wardrobe asap!
For Your Wedding
For your wedding, there are many options on how to wear and style a charcoal gray suit.  The color is ideal for weddings in every season and most climates! A monochromatic look is a great option for all seasons.  To achieve this look, pair your charcoal gray suit with a crisp white dress shirt, charcoal gray necktie in solid cotton or knit, and black or cordovan leather dress shoes.  Monochromatic wedding day looks are ideal for the groomsmen because they will complement just about every bridesmaid gown color from ivory to black and from floral to sequin.  If you will have groomsmen, consider wearing the three-piece version of the charcoal gray wedding suit and styling your groomsmen in the two-piece version of the suit so that you will be easily distinguished as the groom.  Also, for weddings, style your charcoal suit with a necktie or bow tie in solid colors, florals, or subtle repeating patterns like pin dot. Floral boutonnieres and lapel pins are another sure way to distinguish you and your groomsmen as the wedding party for the occasion.
To Work
Charcoal Gray suits are perfect for work.  This is an understatement. The key to wearing a winning Charcoal Gray suiting look for work is to pair it with a crisp light blue dress shirt and a great statement tie in a darker color like navy.  This look is very sartorial with black shoes as it will give a more polished foundation to the overall look. Find some different types of light blue shirts (i.e. Pinstriped, contrast collar, or textured) to mix up the formula for your work attire each week.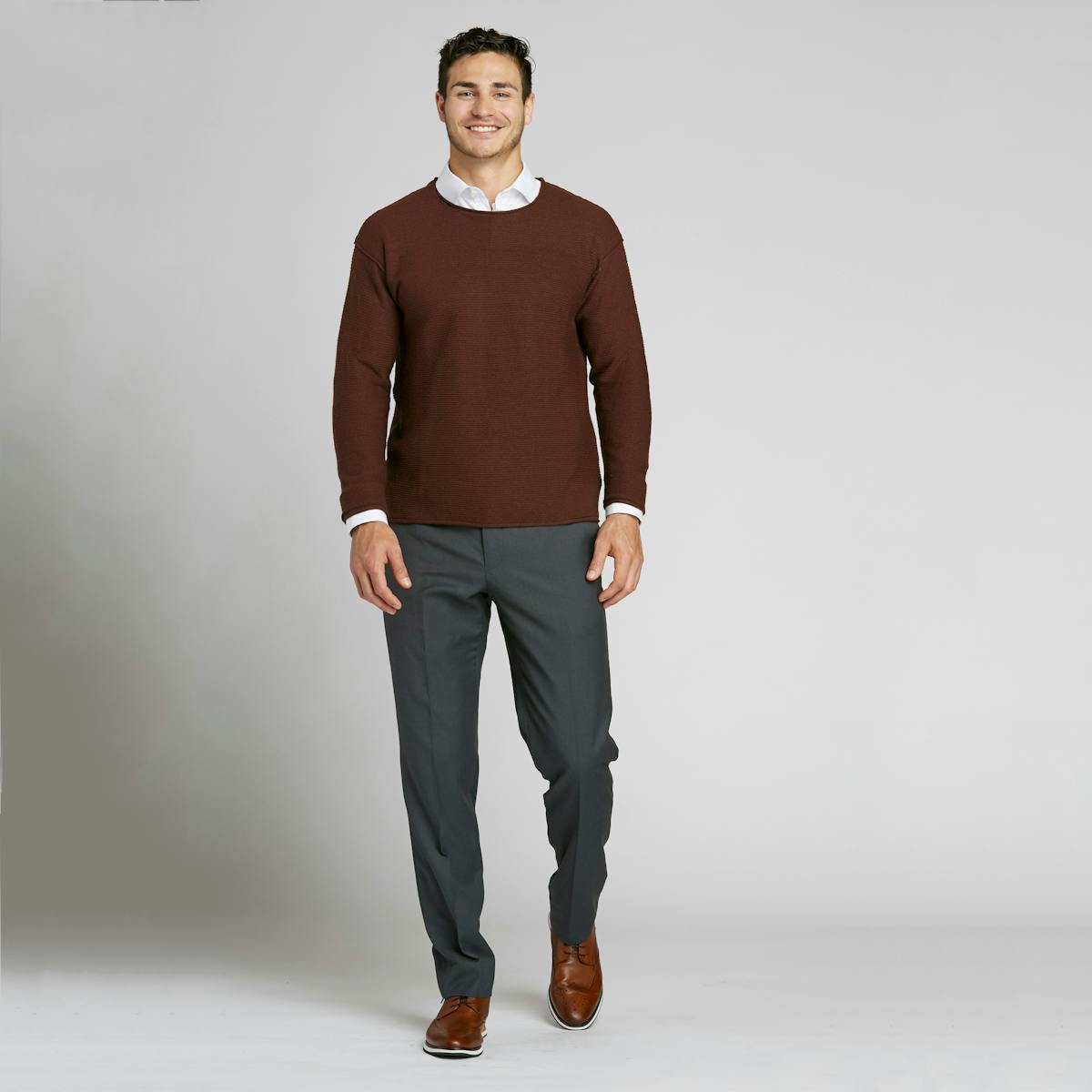 For a Date Night
Charcoal Gray suits are great for date nights.  There's nothing like a dapper, well-dressed man who takes the time to get gussied up for a date with his significant other.  Depending on where the date is will dictate how it should be styled. For a nice, elegant dinner at your favorite spot, switch from your crisp white shirt, into a solid black or navy shirt and don't forget to unbutton the top two buttons.  You'll look very chic, effortless and stylish. If your date is a night of dancing at the coolest lounge or night club, try a tonal look with a charcoal v-neck or crew neck silk, cotton or linen blend sweater. A black or brown shoe will be a fine choice as either work perfectly.  
Casually
Charcoal Gray suits can be worn casually.  There has been such a huge focus on menswear in the past few years and men are actively seeking ways to look better at work and most importantly, at play.  Lose the tie and business shirt and the charcoal suit can be clutch for a winning look to link up with friends. A great way to style a charcoal suit casually is to keep it very minimal with a classic nautical striped tee tucked in nicely and paired with a sleek clean white sneaker (ie. Common Projects, Stan Smith Adidas, or Tretorn).  Skip the pocket square because you won't need it.
As a Wedding Guest
As a guest at a friend or family member's wedding, Charcoal Gray Suiting should be a preferred option, especially for semi-formal weddings. Consider switching up from a plain white dress shirt from when you were the groom and pairing your suiting with a colored, striped or patterned dress shirt – and maybe even lose the necktie.  A light gray dress shirt, navy and white Bengal striped shirt, or even an all-over patterned shirt buttoned all the way to the top will provide a very chic look. For shoes, consider a dark brown double-monk strap shoe or Chelsea boot to further display your modern sense of style.
Remember, no one has to know that you've worn your Charcoal Gray Suit in multiple ways!!  That's the beauty of styling and having options to change the look and feel of one suit into various fashionable moments. Show us how you style yours by tagging @thegroomsansuit on instagram.