5 Tips for a Winter Wonderland Wedding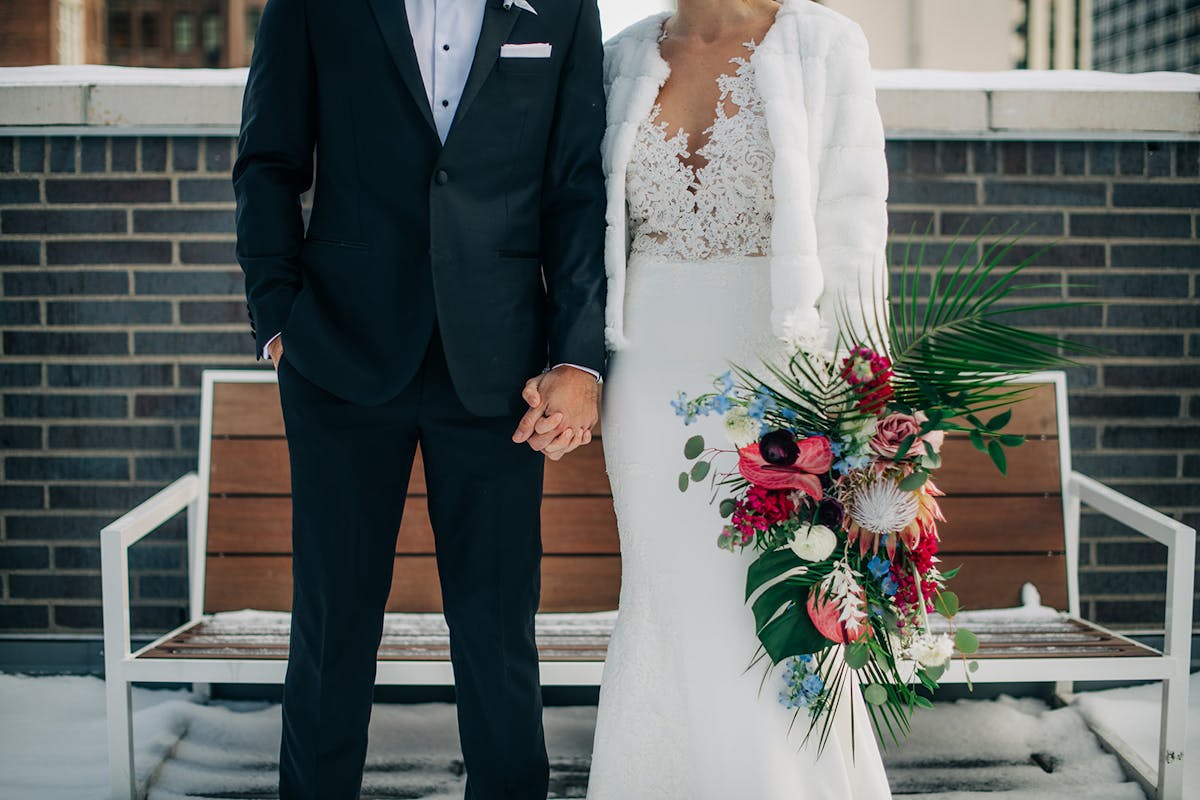 Spring may be the traditionally busy time for weddings, and the season may spark thoughts of apple blossoms and trees wearing their freshest green. And it's true, marrying in the spring is a lovely time to wed. 
But can anything top the romance of getting married in the candle glow of a winter wonderland?
When, as Mary Oliver says, snow falls "so much like stars filling the dark trees that one could easily imagine its reason for being was nothing more than prettiness." 
The trick to pulling off a gorgeous winter wedding is to bring in all the elements of the season that make it so magical.
Light, Light, and More Light!
Use the longer, darker nights to dramatic advantage. If the snow is "like stars," then you'll want to reproduce that beautiful twinkling. Drape white or ivory twinkle lights over greenery, make curtains of white lights or twist them into your floral arrangements. Or all of the above!
If safe, add candlelight to the guests' tables and wherever you can that won't cause any problems. The more candlelight at the wedding and reception, the better. The celebrations will have a dreamy, romantic atmosphere that will make for a memorable evening and stunning pictures for your album.
Candles need to be out of reach of children and not placed where they can easily be knocked over. Double the effects with mirrors placed behind candle arrangements. 
Colors and Greenery
The colors of the season also make beautiful decorations. Don't be afraid to add some rich colors into your flower arrangements, even if white and silver are your main colors. 
Burgundy, wine, gold, purple or velvet blues--all go with the holidays, so keep that in mind when choosing your colors. You could stay with white and silver, but don't forget that richer colors work, too!
Work some fresh pine boughs into your theme to introduce the scent of a forest into your wedding day. Add ribbons in your colors and scatter some pine cones amongst the greenery for a lovely touch of nature. Roses, pine cones and pine branches look lovely together.
Crystal garlands can also add a touch of sparkle and beauty to your decor.
Festive Foods
Perhaps the best part of the holidays are all those traditional family favorites passed down through the generations. For a winter wedding, you can follow the holiday theme and serve rich, colorful, delicious foods that are appropriate for the time of year.
Mulled wine and cranberry red punch make a great start. Puff pastry appetizers can be a luscious addition, whether you're doing a sit-down dinner, a buffet or food stations. Some couples will choose a cookie and hot chocolate station where guests can add marshmallows, sprinkles, whipped cream or peppermint stirrers to their mugs.
Once you decide on how you will serve your guests, you can settle on a menu. 
The Wardrobe
If the bride is wearing a lighter gown, especially if it's sleeveless or bares her shoulders, she will probably need a warm cloak or jacket that goes over her dress for when she's outside. Something that matches her gown and actually adds to it rather than takes away is ideal. White velvet or faux fur is a common choice. 
Bridesmaids should also have sufficient coverings to be warm when they're outside. If you're taking pictures outdoors, the coverings should go well with what they're wearing and not just be puffy coats. 
For the men in your party, consider a men's suit vest or suspenders under their groomsmen suit jackets. Unless you're having a reception in a tent, the suit and vest should be enough for brief periods outside. If you're going with a tent, make sure to have restaurant heaters for your guests. 
Holiday Decorations
Decorative trees are a beautiful and unique touch to any winter wonderland wedding. To adorn them well, spray the branches with a touch of fake snow and decorate with blown glass ornaments, twinkling lights, and a star on top.
Wreaths, white branches wrapped in white lights, birch trunks, crystal and stars are also all plusses. 
In the end, what works best is to decide on your vision of a winter wonderland and then work to make it a reality.
Congratulations on your wedding! May it be as magical as you could ever imagine. For more tips and tricks like these, reach out to us at info@thegroomsmansuit.com.