7 Tips To Making Your Beach-Themed Wedding A Stellar Success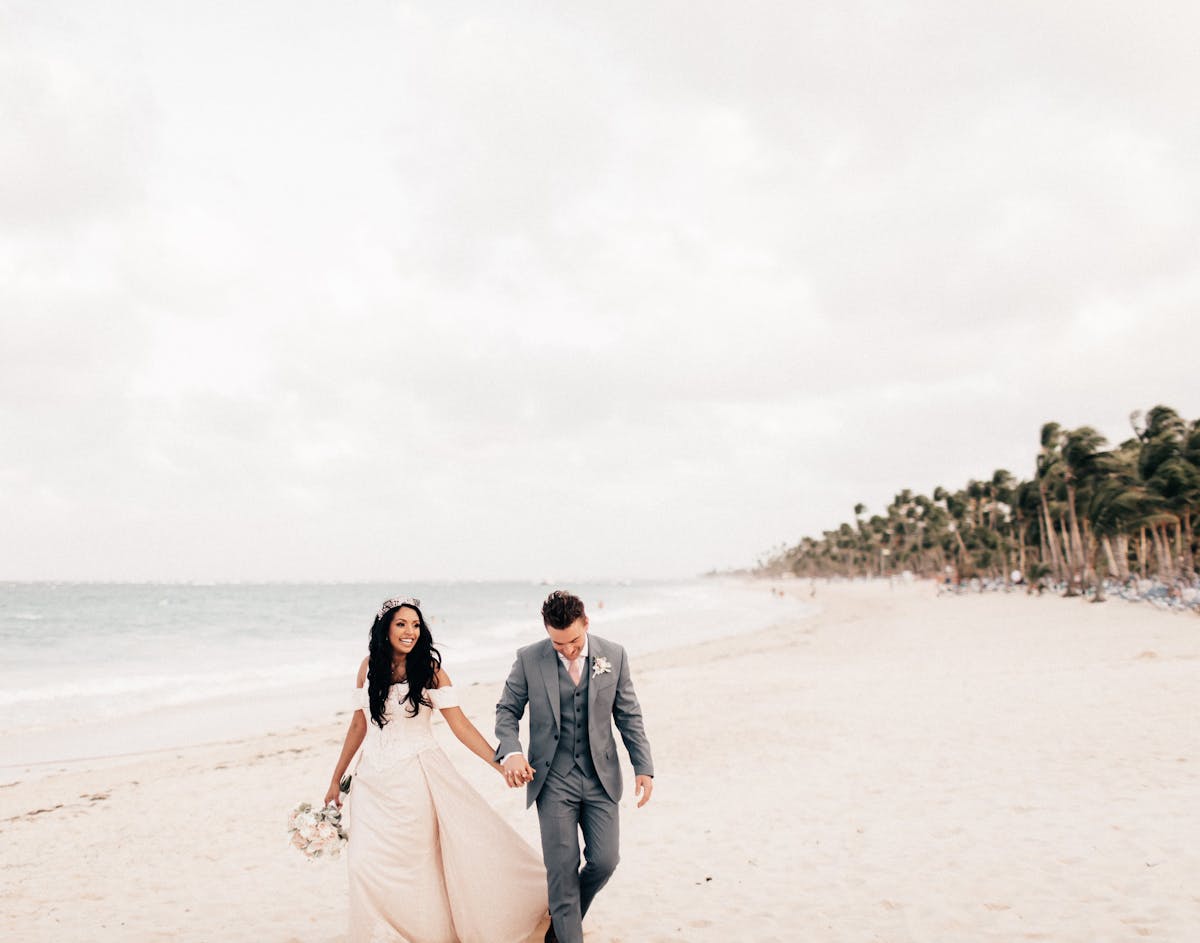 Getting ready to tie the knot amid a cool ocean breeze and a sandy shore? Let us help you make your beach-themed wedding as grand and perfect as it can be!
Beach weddings make for romantic destinations complete with picturesque backdrops of blue sky and clear water. It's no wonder why they're one of the most popular settings for a wedding ceremony.
As you and your significant other begin to plan out your beach-themed wedding, there are a few things you should keep in mind when it comes to selecting a venue, decorating the beach, and deciding on your attire. 
Here are the top 7 tips to make planning your beached themed wedding more manageable.
1. Venue Preparation
While the beach can be one of the most beautiful wedding venues, it also comes with its own set of challenges. Being aware and prepared for these potential obstacles will help your big day run smoothly.
Weather
When you're choosing where to have your beach wedding, make sure that you do extensive research on the weather of the area. You'll want to plan your wedding date for a time of year with as little of a chance of rain or wind as possible.
Wind will typically always be a common occurrence due to being so close to the ocean. To prepare for mild wild, make sure your decor, the altar, arch, canopy, or any other set-up on your wedding day is held down with enough weight so nothing blows away if a gust occurs.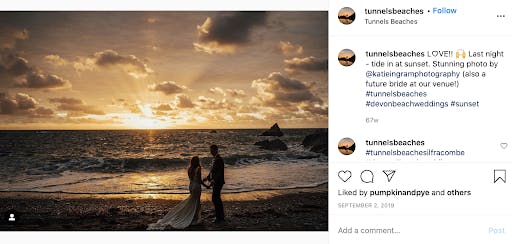 Take into account your wedding's time of day as well. If your ceremony will be held during sunset, prepare your guests by encouraging them to wear sunglasses or hats. If your ceremony is midday, offer up fans and sunscreen to keep your guests cool and protected. 
Wedding Size
Consider how many people you want to invite when choosing your venue. While some locations can fit a large wedding of 200+, most beach venues are only available for 100 or less. 
For a more intimate celebration, you could even consider having a micro wedding with just your closest friends and family in a private beach setting.
Privacy
Another important factor to consider when choosing a beach wedding venue is how much privacy you want on your big day. Many beach venues are public which can allow for bystanders to observe and watch the ceremony. This is common for hotel weddings.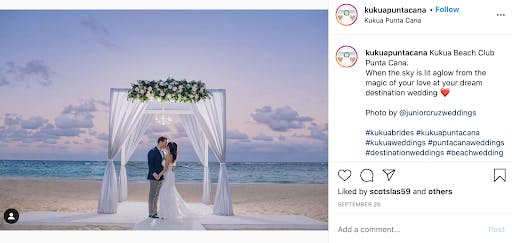 If you want a more private setting, it's important to inquire about privacy when choosing a venue. Many resorts may offer private beaches or closed off sections that can be reserved for a private ceremony.
2. Capture The Moment With A Designated Photo Spot
With a picturesque venue and you and your guests dressed to the nines, you'll want to have plenty of opportunities for pictures on your big day.
Create a designated photo spot where your guests can take unlimited pictures to remember the event. This can include creating a photo wall, having a photo booth, or having large frames available for your guests to hold up and pose in. 
If you choose to have an arch made out of flowers or another creative display, that location could also become a popular spot for a photoshoot.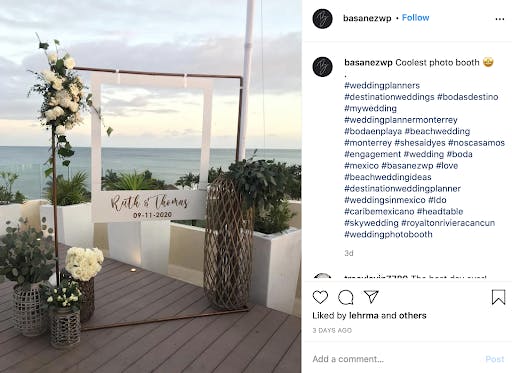 As you plan out your photo spot props and decor, don't forget to include your wedding hashtag. A wedding hashtag represents you and your partner's lifelong slogan. It's a fun and creative way to celebrate your union while also being a practical way of organizing your wedding day memories on social media.
By including your wedding hashtag on signs and decor, you're reminding and encouraging your guests to post their top pics using your hashtag. With a simple hashtag search, you can easily go back and look at all your wedding day memories in one place for years to come.
3. Beach-themed Wedding Decor Tips
For a beach-themed wedding, you're sometimes limited on how many decorations you can add, but that doesn't mean you can't make the most out of what you do have!
Decorate The Chairs To Match Your Color Scheme
Everyone loves a good color scheme. Perhaps you want the colors of your beach wedding to consist of cool blues to match the tones of the water. Or maybe you're looking towards a warmer color scheme for a tropical vibe or a sunset theme.
When you decide upon a color scheme, be sure to add your selected colors to every detail of your venue. Decorating the chairs can be a fun way to make your color scheme stand out.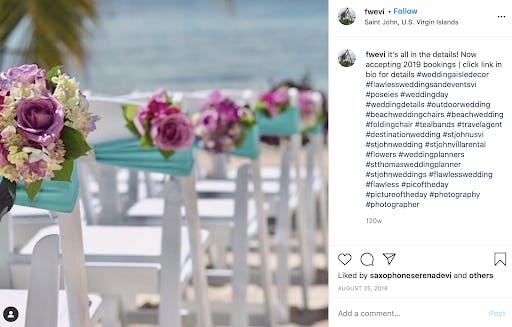 Wrap your chairs in a colorful cloth, tie them with a bow, add flowers to your chairs that match your color palette, or decorate them with plants, seashells, and starfish.
Decorate The Aisle 
The wedding aisle is a key factor in every wedding ceremony. The walk down the aisle represents your last moments as a single person. All eyes will be on you and the aisle so might as well have fun decorating it.
For a beach wedding aisle, you can choose to embrace the sand or cover it up with an aisle runner. Many couples opt to scatter flowers all throughout the aisle to provide it with a tropical feel.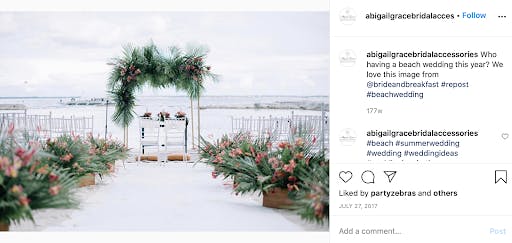 Give your aisle a clear definition of where it starts and stops by adding a unique beach-themed border to it. This border could include rows of lanterns, candles, palm tree fronds, branches and seashells, or even small umbrellas. Get as creative as you'd like when decorating for your big day!
Create An Elaborate Altar
Now it's time to consider decorating your altar. The altar is the center of the ceremony. Everyone's attention will be directed at this altar. It's the special location where you officially get to marry your significant other.
There are so many creative ways to add an incredible altar to your beach-themed wedding. Consider a natural appearance by using driftwood or palm trees. Flowers will of course always make for a gorgeous display as well.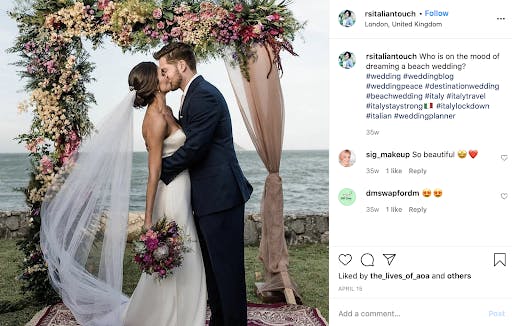 Consider if you want your altar to be rectangular or arched. Do you want it to be more one dimensional or an entire structure? Perhaps you're looking for a unique geometric design in the form of a hexagon, circle, or even a teepee. The choice is all yours!
Pro-Tips For Decor
Make sure your decor is sturdy and stable enough to last throughout your wedding ceremony in case of external weather factors. Try not to have any loose or light decorations that could easily fly away.
4. Beach-themed Wedding Attire
Getting married on the beach can be a beautiful affair but may also require more casual and practical attire.
Remember that the beach adds the extra element of nature to your wedding day. Switch out the elaborate train for a more casual approach. You may not want your dress to be dragging through the sand and collecting dirt as you walk down the aisle. Opt for a gown that's shorter in length and thus more practical to walk in or try out a woman's tuxedo.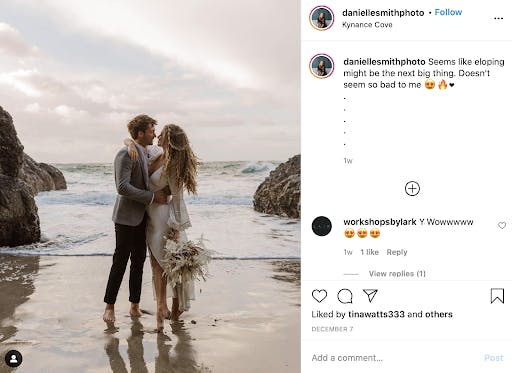 Also, be sure to consider the wind when choosing your hairstyle. A long and flowy style might be beautiful for inside, but on the beach, you might be safer with a nice updo or braid to keep your hair beautiful and in place throughout any gusts of wind.
5. Beware The Sand!
Sand is the number one element to keep in mind for your beach-themed wedding. Both you as the bride and your guests need to consider the sand when selecting your shoes.
The last thing anyone wants is a bunch of sand in their nice dress shoes or heels. You want yourself and your guests to feel as comfortable as possible on your wedding day. Ditch the fancy shoes and opt for more casual footwear.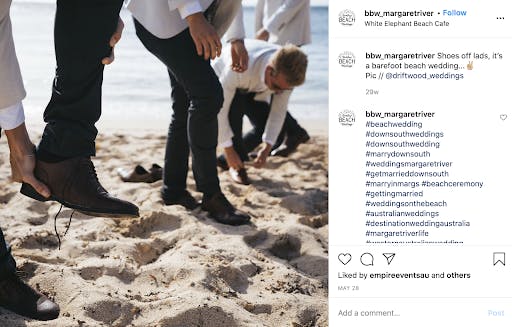 Pro-Tips For Attire At Beach Weddings
Tell your guests to wear sandals or flip flops during your beach ceremony. Or if you truly want to embrace the sandy shore, opt to have a barefoot wedding. The main goal is to ensure you and your guests are comfortable throughout the ceremony.
As mentioned earlier, it's important to plan ahead when it comes to dress length at a sandy beach wedding. This not only goes for the bride's gown but also for the bridesmaids, guests, and even the men's dress pants. Choose shorter dress lengths or short suits that'll make you feel comfortable walking in the sand.
6. Project Runway
If your goal is to avoid the sand at all costs, create a runway or platform down the aisle and altar to prevent any damage to the dress.
While covering the aisle with a runner or type of cloth may seem like a nice idea, sand is still bound to make its way on top of it. Instead, transform the sandy beach to feel like a boardwalk by including a wooden platform as your walkway.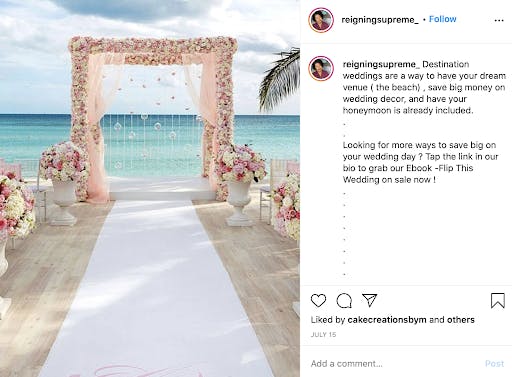 The key to pulling off the most optimal runway with limited contact to the sand is by adding height to your wedding aisle. This is why a platform or boardwalk of some type is your best option.
A runway not only helps the bride walk down the aisle safely from sand, but it will also help your guests get to their seats with minimal sand interaction.
7. Shoe Valet
This last tip is all about shoes. Some venues will provide a shoe valet in which guests can exchange their heels and nice shoes for casual flip flops to wear during the ceremony. This allows everyone to enjoy the sandy beach while also preserving their nice shoes for the reception to follow.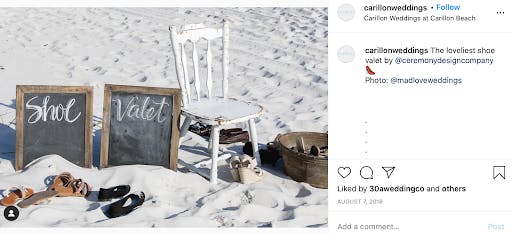 If your venue does not offer a shoe valet, nothing says you can't create your own. Purchase pairs of flip flops to match your color scheme and give them out as fun party favors for your guests. You could even personalize these flip flops to include your names and wedding date for the ultimate beach wedding keepsake.
Before everyone hits the sand, have a location where your guests can exchange out their dress shoes and gain a fun and comfortable wedding day souvenir in the process. 
Time To Get Your Beach On!
Now that you know the top tips for a beach-themed wedding, we hope your wedding planning becomes a breeze. 
Remember to consider the weather, your wedding size, and the level of privacy you want when searching for the perfect beach venue. Get creative with the ambiance of your big day by having a fun photo spot and decorating the chairs, aisle, and altar.
Lastly, consider sand and wind when it comes to decor and attire. Choose a dress length that works in the sand, opt for flip flops, style your hair according to the wind, and create a beautiful runway if you're trying to avoid the sand.
With all these tips in mind, your beach-themed wedding is sure to be a stellar success!