Accessorizing with Coral: How To Use The 2019 Color Of The Year In Your Wedding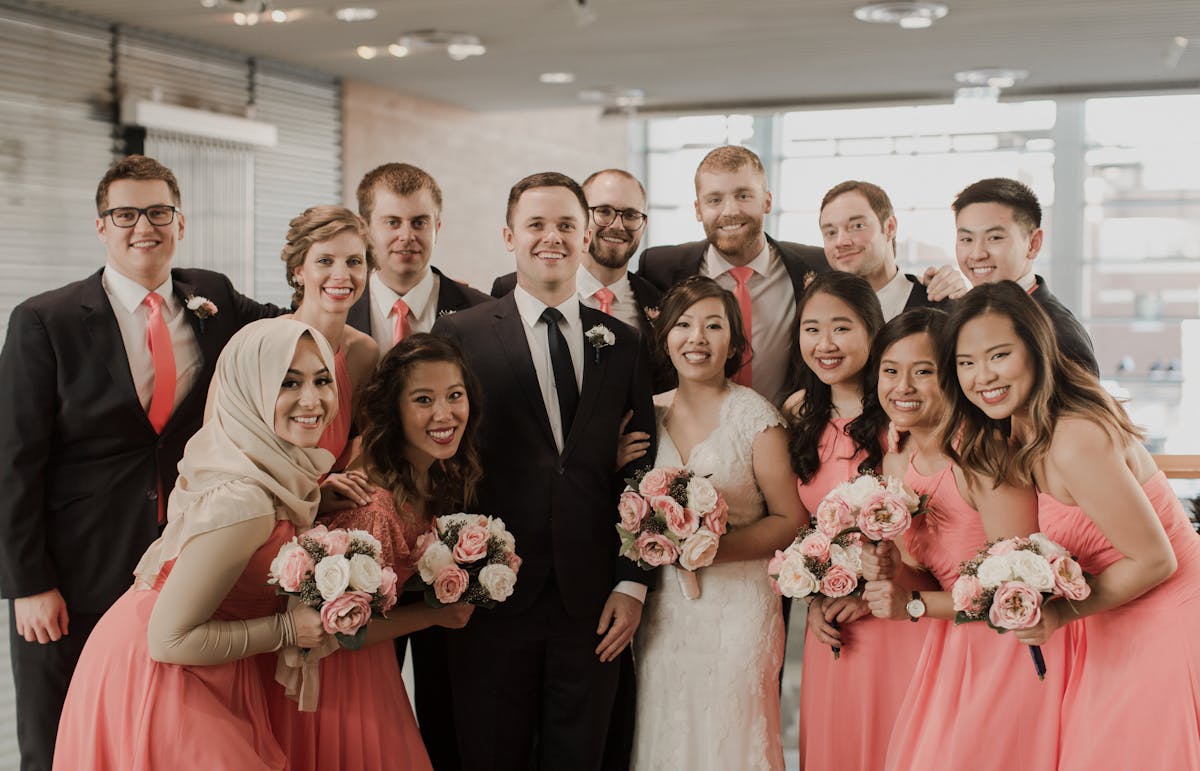 For Pantone's 2019 Color of the Year, it's all about authentic expressions and immersive experiences that bring us closer to one another.
"Symbolizing our innate need for optimism and joyful pursuits, PANTONE 16-1546 Living Coral embodies our desire for playful expression," according to Pantone.

That sounds like the perfect color to incorporate into a day that is all about connection, intimacy and joyful pursuits. Meaning and symbolism aside, Coral, with its lighthearted and vivid color, is best for couples who want to infuse their wedding-day look with energy and a hint of playfulness. Like any bright pop of color, Coral is most effective in the details. If you intentionally place it, it'll enhance your outfit without distracting from it. Here are a few ways to creatively incorporate the color of the year into your wedding.
Suit pairings
A number of suit colors make the perfect pair for Coral, which means you can wear it across different seasons. Textured Gray or our new Charcoal suit are great paired with Coral, giving you a bright and breathable look for warmer weddings. If your attire is going to be more classic, or if you're opting for a darker suit for a winter wedding, pair Coral with black or navy suiting and let it be a contrasting accent that enlivens the ensemble.
Ties & socks
The No. 1 accessory for showing off your trendy color selection is the tie. Pairing a gray, black or navy suit with a white dress shirt and a solid necktie or bow tie is a sure-fire way to wow with the color of the year. Infuse more personality into your look by wearing a tie with a fun floral or paisley print.
Sport this striking color head to toe by walking down the aisle in dress socks that incorporate the hue. Your best bet is to go for a printed sock that includes pops of Coral.
Boutonnieres & pocket handkerchief
You can either make this dapper color the focal point of your boutonniere or an accent. A coral rose complemented with green and yellow elements makes a handsome combination. For a more scaled-down arrangement, choose a white flower as the main attraction and enhance it with Coral Hypericum Berry wrapped in twine.
Another option is to ditch the boutonniere all together and opt for a solid pocket handkerchief in Coral, one in paisley print or a white one with a Coral border.
However you choose to wear this spirited hue, it's sure to add energy to your big day.