An Interview With a Serial Groomsman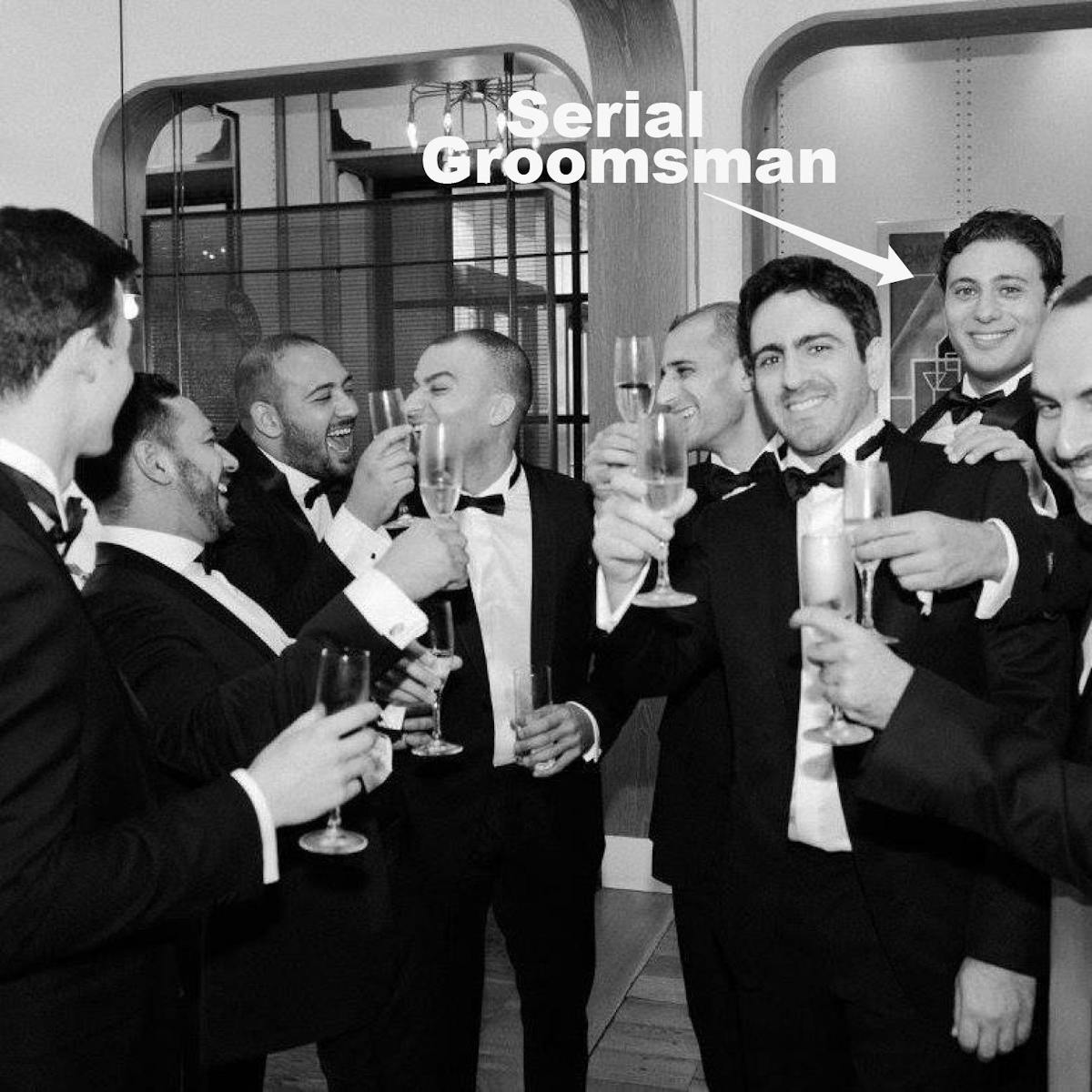 What really goes into being a groomsman and how do they feel when it comes to being asked to rent a tuxedo? We asked Mohammed, a handsome bachelor and 10-time groomsman, to tell us about his experience and how it will shape what he will do for his own wedding. Once he finds the girl of his dreams, of course...
Q: What are the more memorable ways your friends have "popped the big question" and asked you to be one of his groomsmen? 
A: As guys, we don't tend to be highly creative or heartfelt when it comes to these things. We expect our friends to be there when called upon. I've received a nice card once or twice, but mostly it has been "Hey man, I'm getting married and you're a groomsman."
Q: What is typically your first thought after the big day and the excitement has worn off? 
A: I have one month until the bride sees how big of an idiot I looked like in the pictures! Where can I hide when she sees them?!?
Q: When asked to buy a suit or tuxedo for a wedding, what is your first thought? 
A: I have an almost identical suit, can I wear that?
Q: How many times have you been asked to rent a tuxedo? 
A: So far, I've only been asked to buy, which I prefer. I have never rented and would never rent because I don't think a rental would work well for me anyway. Renting seems wrong in every way.
Q: If you could buy a suit or tux for less than the cost of a rental for your next upcoming wedding, would you? 
A: I would and have from The Groomsman Suit. I never thought it was possible to spend under $200 on a tuxedo to own, but I'm very happy with it and have worn it several times since!
Q: Aside from getting suited up and standing by your friend's side, what have been other groomsman obligations that have been expected of you? For the rookie groomsmen out there, what are some important things they should be aware of. 
A: Ihad to step in as security when a random man crashed a wedding and started harassing the guests! Other duties have involved entertaining many babies, fetching grooms drinks, consoling a few hysterical brides, and painfully refraining from making silly faces in countless photos.
Q: What's the wildest bachelor party you've ever planned? 
A: I've almost attended more bachelor parties than weddings and they have been in some pretty incredible places including Ibiza and Croatia. But, the craziest one took place in Vegas and other than a helicopter ride and water sports, all I can add is that it involved a lot of long nights, a few new friends, and too many ridiculously embarrassing memories that we have sworn to never speak of again.
Q: Have you typically received a gift from the groom? What were some of the more memorable ones?  
A: If anything, gifts have been mostly ties. Personally, a pat on the back from the groom is gift enough for me.
Q: How would you feel if your friend offered to buy part of or all of the outfit that he asked you to wear to his wedding?  
A: That is too generous and I would have a hard time accepting it. As a friend, I feel I should do my part to offset the cost of this happy occasion and not add to it. Call me old fashioned, but I think suiting up for a friend is the nice thing to do.
Q: What is your fondest groomsman memory? 
A: Too many to count! Being part of a Srilankan wedding ceremony was my most unique and memorable experience. My fondest memory, however, is a simple one from my childhood friend's wedding. Towards the end of the wedding on a warm Miami night, I escaped to the patio and found the groom alone. He had stepped out to take it all in and enjoy a few quiet minutes alone. As I walked over to him, I saw tears of joy in his eyes and realized he was exactly where he wanted to be on truly the happiest day of his life. We didn't exchange a word. I just gave him a hug and returned to the party.