Buy your tuxedo so you never have to rent again!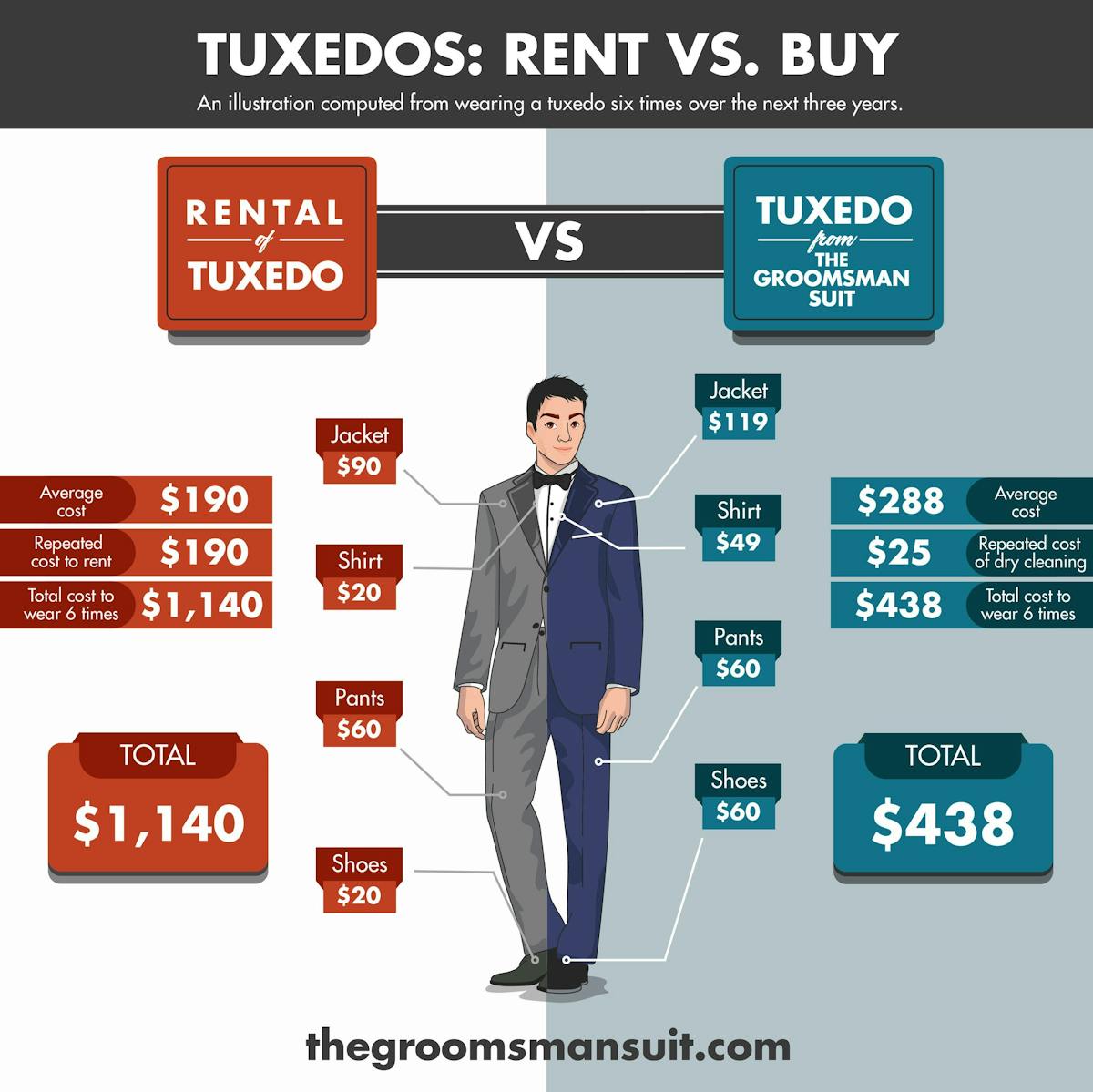 In the past, there was no debate between a tuxedo rental or owning your own. Tuxedos were so expensive to purchase, that it came down to what was more important--Would you rather own your very own tuxedo or pay off your car? 
Sure, if you chose to buy the tux, you could look snazzy at events, but then you wouldn't have a car to make it to them. So you'd pay the car off and continue with the tradition of tuxedo rentals.
Now, however, you can purchase a classic, on-trend tuxedo for about the same price you would pay to rent. Big plus, it also hasn't been worn by forty strangers.
Before you google, "Tuxedo Rentals Near Me," first consider why you should own your tuxedo. We've broken down 10 Reasons You Should Buy a Tux Over Renting.
You Actually Pay Less to Own
We can prove it with some simple arithmetic.
For this example, we'll assume that you're going to need to need to wear a tuxedo six times over the next three years.
The average rental cost of a tuxedo/suit, shirt, and shoes is going to be $190 ($150 for the tux, $20 for the shirt, $20 for the shoes)
Tuxedo/Suit, shirt and shoes from The Groomsman Suit is only $288 ($179 for the tux, $49 for the shirt, $60 for shoes)
Costs to wear over three years:
Rental: $190
Owning: $25 for dry cleaning after each wear = $150 for six wears
 Total cost:
Rent: $190 x 6 = $1,140
Own: $288 + $150 = $438
That's a 61% savings over only three years of owning a suit. Do you need more convincing? Even if you're already convinced, we still have nine more reasons why owning is better than renting your tuxedo.
Convenience
When renting, it is often required that you  return your tuxedo by a certain time the following day. The morning after a night in a tuxedo is meant for sleeping in--not for setting an alarm to get it back to the store. You may even sleep through the alarm and end up paying extra in late fees. 
In addition to that, mail-back options require your suit rental to be back in the mail within a couple of days, which can be difficult if you're traveling after the big day.
Rental Tuxedos Are Worn Often--and Look It
Apart from your favorite t-shirt, is there really anything in your closet that you've worn foty times? Or more realistically, Is there anything in your closet that forty other people have borrowed and worn before you even got to wear it? 
Even the most expensive, high-quality suit will look worn after forty events and all of the dry cleanings that follow. They may try to repair damage and fix details, but the tux will still have a worn quality you won't get with a new tux of your own.
In summary, don't count on being the tenth person to wear a rental tuxedo. Chances are, you might be the fiftieth. If you want to look like a million bucks on the big day, purchasing your suit makes the most sense.
Dozens of Strangers Wore the Same Pants
Need we say more?
Some Rentals Require You to Hem Your Pants
You read that right--some suit rentals require hemming. If you're not aware of this ahead of time, you may find out that your suit isn't ready on the morning of the event. You don't want until the day of the wedding to realize that you are supposed to know how to sew.
You Break It, You Buy It.
Should anything happen to your rental tux, you are required to purchase it for at least $300. You don't want to miss out on the fun of a wedding for fear of ripping your rental. You should be dancing! Really, how often are you going to get the chance to dance to 90's hits with your best friends?
Keep Your Tux for Posterity
Brides keep their dresses as a memento in the hopes that their daughter may want to wear their dress one day. Why wouldn't you do the same for your son or the daughter who would rather have a tux? Even if they're not the same size, that's what tailors are for.
Getting the Right Size Can be Hard
If you decide to go with a tuxedo rental, it's likely that you'll also have to find the right size each time! Depending on the brand you choose, your size will vary with every rental.
If You Buy It, You Will Go
Have you been meaning to attend more events? Well, data shows that if you actually own a tuxedo, you will go to more events that require you wear one. It's an established fact that once you own a tuxedo, you'll begin to notice the advertising for symphonies, dinners, and other black-tie events near you. Where once you may have been put off by the inconvenience of not having anything to wear, you will now have the duds to be ready to go in a moment's notice.
You'll Look Fantastic
A tuxedo is always sharp at an evening wedding, and if you're in the wedding party--it's appropriate any time of day!
There's nothing like a tux to cause heart flutters in the one that fancies you. After the wedding, if you do nothing more than pull out the tux to dance together around the kitchen, it will be worth it. A tuxedo is instant romance--just add you!
To sum up, owning a tuxedo is not only more affordable, but it is also significantly more convenient. It will always make sense to own a timeless tux, shirt and shoes for a comparable price to a one-time rental with an expiration date. At The Groomsman Suit, we believe every man (and woman) should own a tuxedo, look sharp, and not be expected to spend a fortune to do so. You can buy our classic tuxedo here--and don't forget to add the accessories you'll need to complete your black-tie look.