Buying Your Suit 101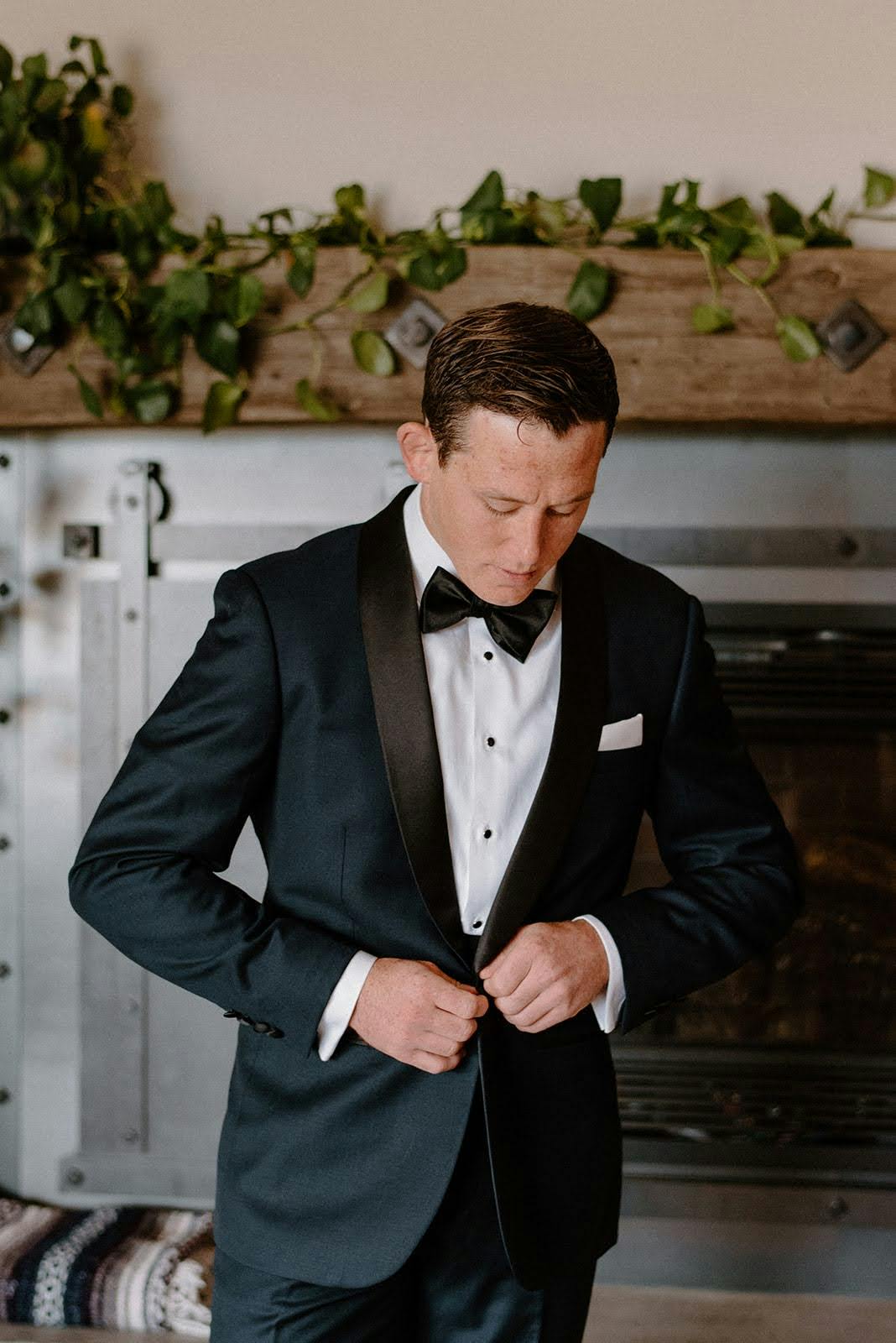 Looking sharp on your big day takes planning and attention to detail, but that doesn't mean it has to be complicated. With a few basic steps, you'll be able to expertly navigate the ins and outs of selecting the right suit color, style and fit while also having time to spare before it's time to suit up. Here's what you need to know about buying your suit. Once you've nailed this part, have fun with personalization by choosing ties, boutonnieres, cuff links and/or socks that speak to your style and overall wedding theme.
Step 1: Abide by the timeline
Last minute ordeals should be avoided at all cost on your big day. To avoid any style mishaps the week or day of, start thinking about for your suit or tuxedo 6 months before the wedding. Solidify the details and order it 3 months in advance. 
As soon as you receive the suit, try it on and request any exchanges immediately. Once you've nailed the fit, make an appointment with your local tailor. How long it takes to make the adjustments varies from shop to shop and also depends on what kind of alterations need to be made, so try to take care of this at least 3 weeks in advance. If you're on a shorter deadline, call around to see which shop can accommodate you.
Planning ahead can save you loads of stress and make your wedding day more enjoyable. To help, we'll send you a suit or tuxedo to try on at home for free. If you don't love it, simply use the return label and drop it back in the mail. Learn more about our Try At Home option.
Step 2: Determine the suit color & style
Everything from the season to this year's trendiest color palettes can dictate how you pick your wedding suit. Plus, it's ultimately up to your taste! However, here are some of the factors you should always consider before choosing navy over light blue or black over textured gray.
The setting: If you're having a destination wedding on the sandy shores of Puerto Rico, you'll dress far differently than if you're getting married in downtown Chicago. Not only will the suit choice make you look in-place; it'll help you stay comfortable in each setting. That's why fabric matters too. Heavier fabrics like wool work well for weddings in cooler climates and blended fabrics for destination weddings in warm climates. As a fall-back, you can always count on black suiting to work year-round.
Formality: Setting usually dictates formality, which can be casual, semi-formal, formal, black tie and rarely white tie. This can determine whether you pick a more formal option like a tuxedo or three piece suit and dapper bow tie over a full suit or pants and vest only option and fun printed necktie.
The bride: Don't forget to coordinate with your bride-to-be! Work together to make sure your suit color and style complements her dress style and color too. The wedding colors you both decide on can also dictate the best suit for the occasion. If you're still deciding on the color scheme for the wedding, request color swatches so you can see how our fabrics look against the accent colors you're considering.
Step 3: Find the right size
There are a number of ways to evaluate if a suit fits right or needs some adjustment. Through SuitShop, you simply answer a few quick questions online, we find the right fit for you, and you can try the suit on at home for free. Once you put it on (with the dress shoes of your choice always), here are a few basic ways to tell if it's the perfect size.
The shirt: ¼ -½ inch of the dress shirt should show beyond the sleeve of the jacket when your arms are down at your sides.
The jacket: One of the main indicators that your suit doesn't fit right is wrinkles and crinkles. Look at the shoulder fabric, the middle of the jacket when you button it and the jacket collar. If any of these areas bunch up, your suit is too small. Conversely, excess space is an indicator that your jacket is too big. If the shoulder and armhole of your jacket don't fit right, we recommend you adjust the size rather than tailor these parts of the jacket.
The pant: If your pants are too big, you'll have baggy pants, while pulling at the crotch or a pull when you bend your knees means your pants are too small for your waist and thighs. You want to be able to pinch about an inch of fabric on both sides of your thighs. If your pants are too snug at the hips, you'll see pocket gaping — or pockets that are popping open — which is often accompanied by horizontal gathers across the hip.
To help you avoid expensive alterations and to accommodate all body types, we offer one of the widest size ranges in wedding suits. We carry suit jackets in sizes 34 to 60 and pants in sizes 27 to 54. Jacket and pants come in two fit types (slim and modern) and four lengths, and we sell them separately so you get the ideal size and fit. Get a full guide on finding the perfect fit here.
Have more questions about finding the best wedding suit? Contact us to talk to a stylist about your specific needs.