Common Wedding Mistakes and How to Avoid Them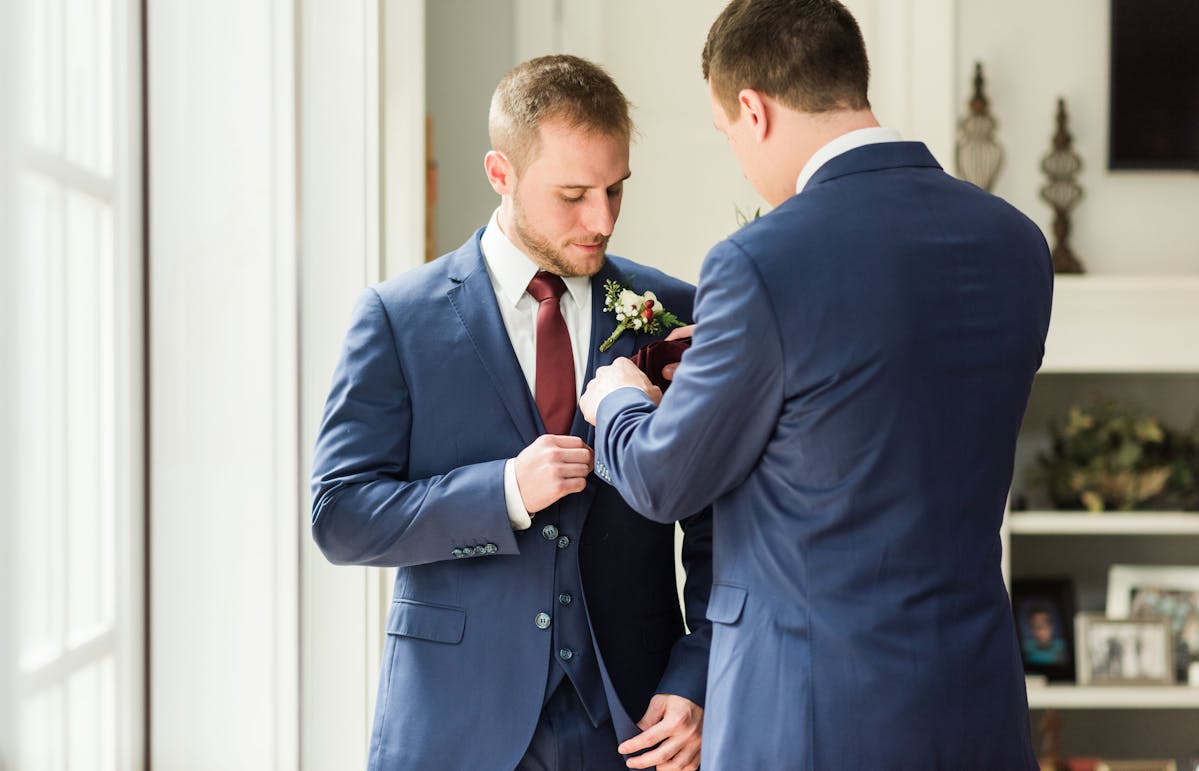 On your wedding day, it is likely that there will be so many things going through your head leading up to the moment when you say 'I Do'. You may be thinking about tipping your vendors, wondering if all of your guests will show, hoping that you have completely memorized the vows, nervous about giving the best man the rings, and list goes on. The number of worries that you could fill your head with is endless, but relax, we got you! Below are a few common wedding day mistakes that with a little pre-planning can be avoided.
No Phone Policy
Have you ever seen photos of, or been to a wedding where the groom has his cell phone in the front or back pocket of his suit/tuxedo? Wearing your cell phone on your wedding day—especially during the ceremony—is just a hard NO! There aren't any moments that you will need to capture or call that you will need to take while standing at the altar, plus it will look terrible in your professional wedding photos. Prior to the ceremony if you need to be contacted, make your best man your point person. Give him your phone to hold so that he can field all calls and determine if they are pertinent for you to take.  When the ceremony time comes, put your phone in a safe place with your wallet, keys, etc. and go enjoy the day! Besides, it's hard for you to store an iPhone X in those nicely fitting suit or tuxedo trousers. You'll thank us later.
Recitation Reservations
Remember when you had to recite all of those poems and lines from Shakespeare in high school? It was not always an easy task. Most times there were people who were great at it and others who really weren't at all! If you find that you're the latter, skip trying to memorize your vows! It is completely acceptable to have your vows written or typed out nicely on a beautiful piece of paper or in a small journal – NOT your phone! If you think you will forget them, write them down. The last thing you'll want to do while standing before the love of your life, family, and friends is have your mind go blank. Also, don't try to wing it!
Prepare your vows in advance. It's not a good look when you can tell the person is winging their wedding vows. What may have been an act of you trying to be genuine and speak from the heart might easily come off as you being ill-prepared, not caring about the importance of this special day. With all of the nerves that comes along with the wedding day, it will be fine if you decide to read your vows to ward off any mishaps. 
While you might think a few drinks will help your nerves, too many will ruin the moment. Have a toast with your groomsmen using the monogrammed cocktail glasses you gifted them, but anything more than that will be excessive.  To ensure you aren't tipsy before you give your toast, make sure you are fueled up and hydrated throughout the day. Your wedding day is a marathon, not a sprint so preparation is key. Check out our Guide to wedding day prep tips for grooms.
Relay The Details
Another common mistake is lack of communication on the wedding day. People are busy with a million things running through their heads and are often a bit checked out. For your wedding party and any other people who are playing a special part in the wedding day, make sure you have communicated all of the details. Often the wedding planner will issue a timeline for the day that should outline every event of the day with its respective time.  Make sure that you distribute this to your groomsmen(and more specifically your best man) and not just your wedding vendors or ask if your planner can create a less detailed version than the vendor schedule that can be given to wedding attendants. Separately, you may want to also outline wardrobe details to your wedding party in a quick checklist.  Everyone should know what to expect for the day, what to wear (down to the socks, etc…) what your expectations are, and so on. Planning ahead and communicating your expectations is the best way to prevent disappointment.
How Do I Look?
In addition to all of the décor details, food, and entertainment, your wedding day look is likely something that you put a lot of thought and effort into. On your wedding day, you should not be worried about some of the small details of your look. If you're not able to hire a stylist for day-of services, make sure you designate a friend, groomsman or alert your photographer to be on the lookout for any unsightly mishaps with your look. Often you'll find that as you move around, the clothes themselves also move around—especially neck and bow ties! And this goes for your groomsmen as well. Choose someone that can make certain that all of the boutonnieres are in the correct place, ties are straight, pocket squares are showing and consistent, sleeves are in the right place, and the correct buttons are buttoned! Not sure which buttons you button on your suit jacket, here is a quick refresher.
One other thing to think about is sweating! We don't want you to sweat the small stuff, but also, we don't want you to sweat out your shirt! On the wedding day, you are likely to be nervous and a ball of emotions and the weather may also be a factor. Like everything else we have discussed, the key is to be prepared. We always like to recommend going without an undershirt, but totally understand that for some men, not wearing an undershirt is not an option. For those of you that need that extra layer, here is a guide to help you find the right undershirt. You could also consider buying two shirts – one for your wedding ceremony and the other for the reception. Imagine if you were prepared enough to have a second shirt to change into to remain fresh and clean for your big day?! Change into the new shirt during your cocktail hour or right before your reception. And after the formal photos are done and the party portion of the reception has started, let loose and have a blast!
If you're not able to hire a stylist for day-of services, make sure you designate a friend, groomsman or alert your photographer to be on the lookout for any unsightly mishaps with your look.
Stay In The Moment
Anyone who has had a wedding will tell you that last minute things may happen. Someone will forget something they were supposed to do, a member of the wedding party will be running late, someone will get lost, a family will member might cancel. Just remember, that as long as you and your partner have said 'I Do" by the end of the day, everything else is all good. Stay in the moment and allow the day to unfold. Don't let the minor details get you down or disappointed on one of the most important days of your life. 
Prepare for the common mistakes we discussed above and then let it go and just enjoy yourself. Smile, have fun and dance the night away with the love of your life. For additional advice on how to prepare for the wedding day, check out our Ultimate Groom Checklist for Weddings.