Dogs In Weddings: How to Tastefully Include Your Four-Legged Friend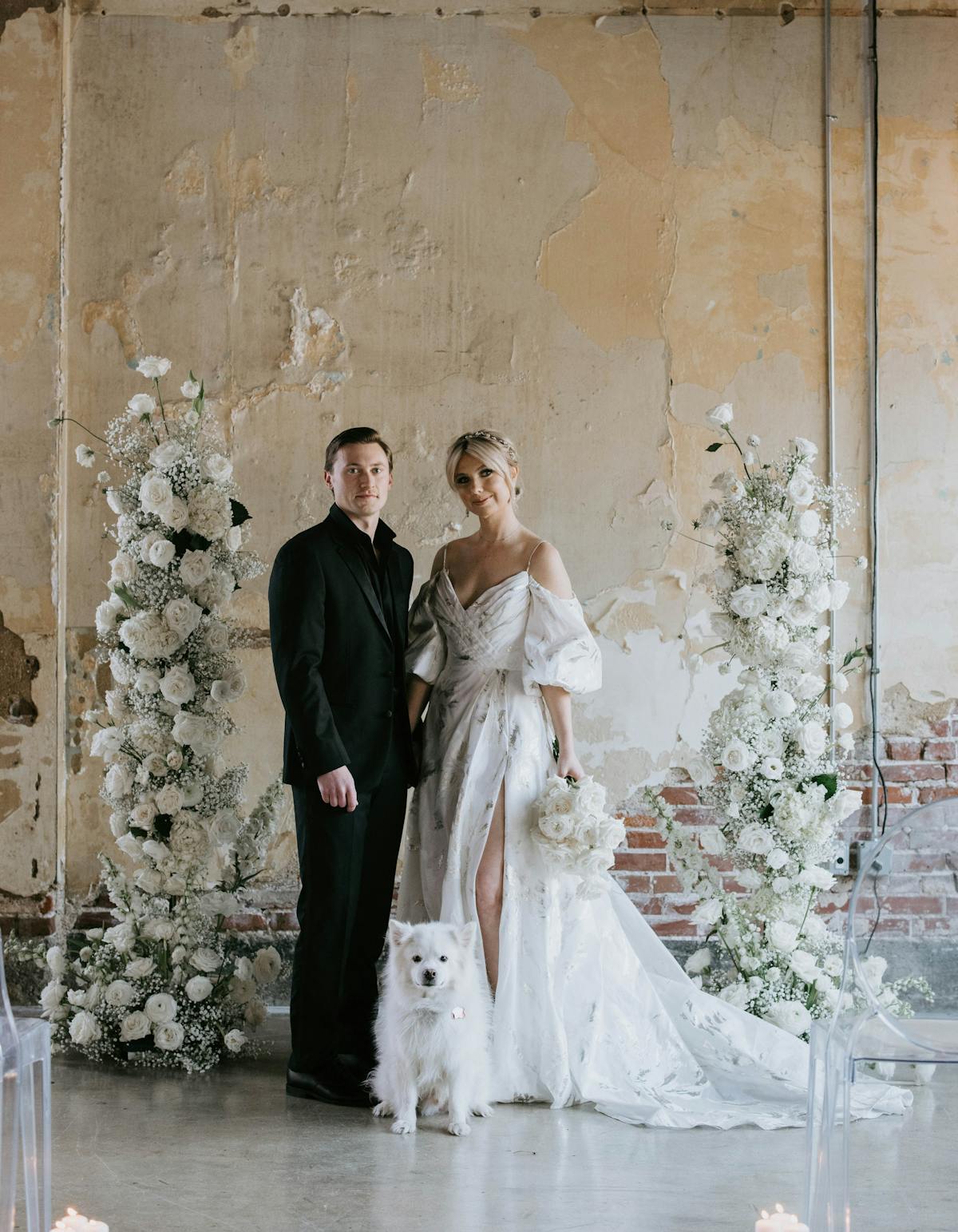 On your big day, you and your bride will have all of your best friends by your side. Why not include your most loyal and faithful companion? Not every pup is wired to play a major part of the ceremony, but there are several easy and fun ways to include your dog(s) on your wedding day. Here are a few factors to consider when involving your dog in your wedding:

Logistics
The first thing to think about is how well your dog is socialized. Are they calm and collected on the regular or are they more skittish and energetic? This will help you determine what role to give them, and there are options for all kind of pup personalities.

If your dog is known for its good behavior, you may want to give him or her the honorable role of ring bearer or a flower girl. For our ring bearer pups, you can attach a ring pouch to the back of his collar — where he won't get to them — or tie a doggie ring pillow to his waist. For flower dogs, you can either adorn her collar with flowers that match the petals thrown and send her down the aisle alongside the flower girl, you can attach a mini wagon with petals in it to your pup or, if she's really good, she can carry a basket of petals in her mouth. If you trust your dogs less with petals and rings but know they're fine around crowds, have someone walk him or her down the aisle and let them join the bridesmaids or groomsmen for the ceremony.

For the more spunky dogs who like to pull and wander, you have a couple options: You can simply keep them on a shorter leash to keep the energy contained or walk them down the aisle in a basket or wagon, depending on their size.

If you know none of these options are feasible for the personality of your furry pal, you can always grab a few memorable shots with them during your wedding photoshoot to keep for your memories. Attach a sign with the date of your wedding or a cute message to their collar, huddle in for a family photo, or take a sentimental cuddle photo with just you and man's best friend.

One thing you may want to avoid overall though is involving your dog in the reception, since wedding receptions tend to be less structured and louder, which could overwhelm your pet. And if your dog can't make it to any part of the ceremony, bring a family photo that includes them and place it on the welcome table or at your reception table. You can even add a doggie wedding-cake topper to keep them in spirit!

Accessorizing
If your dog can make it to the wedding, though, it's important that they look their very best (and cutest). For the guys, you can buy a complete pup tux or opt for a tux bandana. If either of those would bother your dog, you can always go for a simple bow tie. When deciding, think about the safety and comfort of your pup as well as the aesthetic of your wedding.

For our lady pups, you can attach an elaborate flower arrangement or one standout bloom to her collar, or you can add a little bling to her neck with a bedazzled collar. If you do want a floral look, either include flowers that are not hazardous for dogs or try an artificial flower arrangement. If you want a soft look that isn't flower-heavy, elegant bows are also a great, less delicate accessory.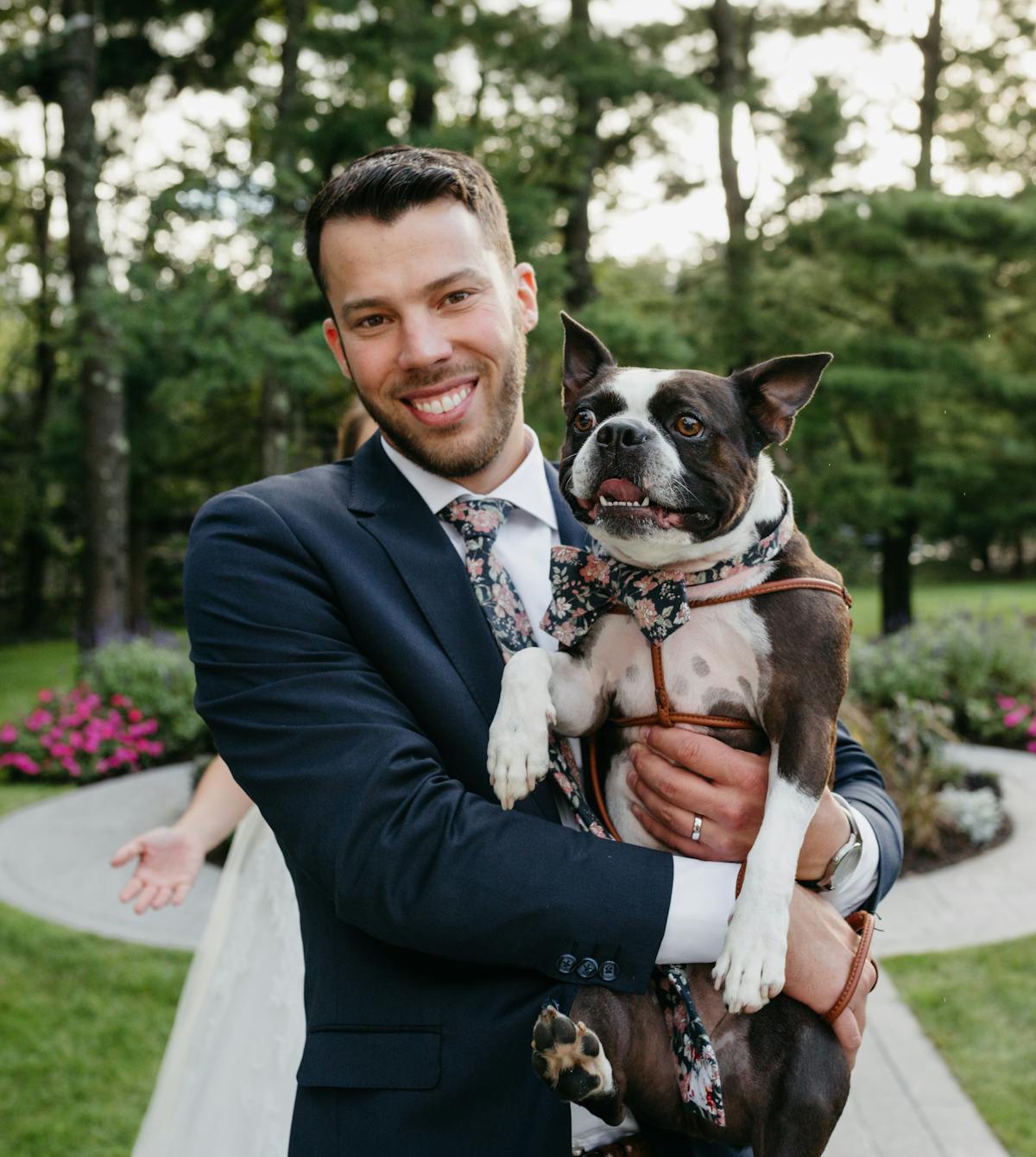 If you're including your pup in your wedding party, share your photos with us on Instagram and tag @thegroomsmansuit for a chance to be featured!