East Asian Wedding Traditions to Incorporate into Your Modern-American Wedding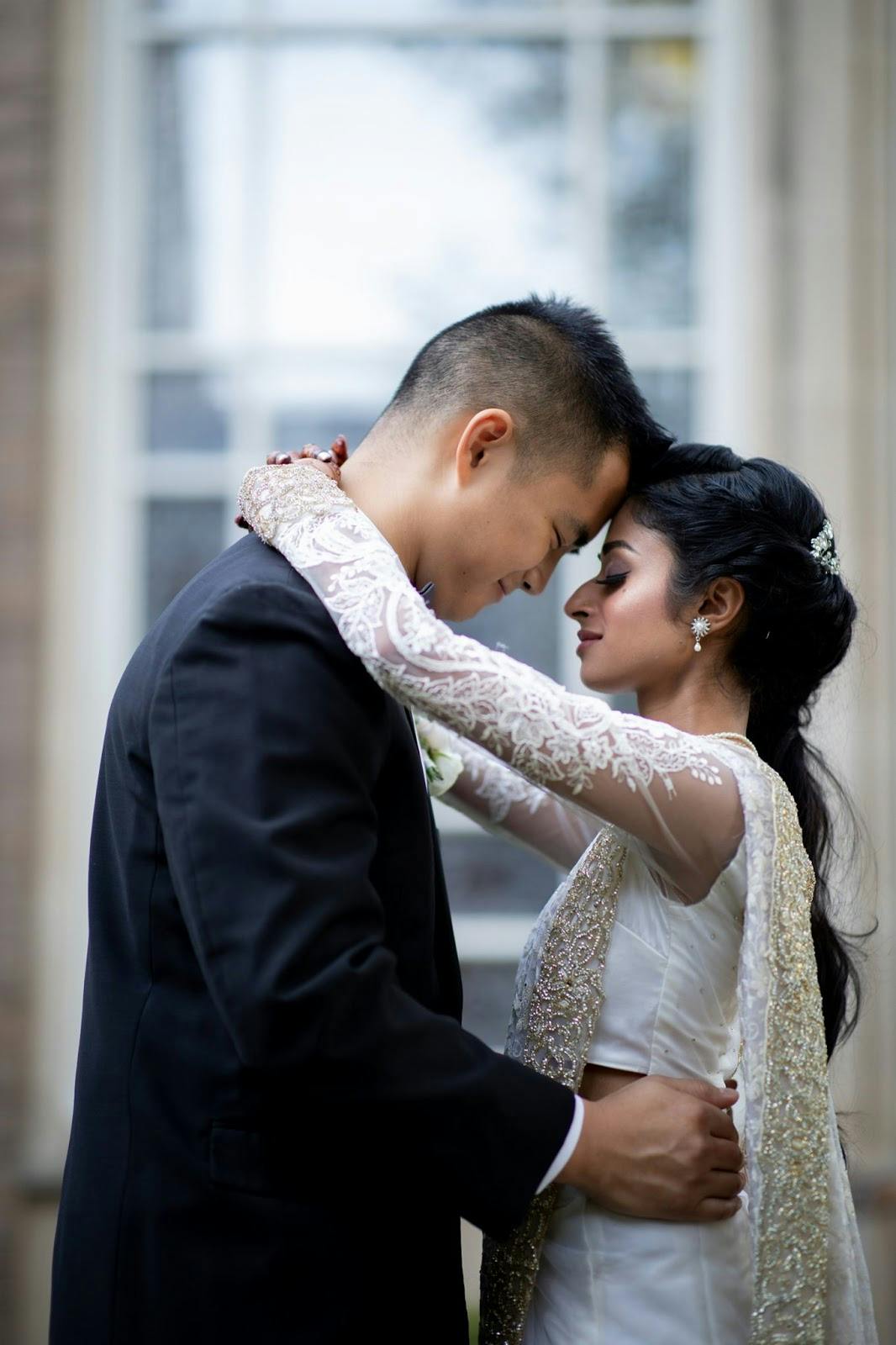 You don't have to be born in India to learn the meanings behind traditional wedding rituals, and as a Korean American, you can incorporate sacred practices into your modern-day wedding. Millennials have made it a priority to connect with their roots in an authentic way. 
Modern-day weddings are getting more innovative and grand by the season. The diversity in the United States coupled with the first generation of children of immigrant parents hitting their 20's, 30's, and 40's has resulted in a rise in fusion weddings such as Indo-American and Korean American. 
To learn about a few East-Asian wedding traditions, and the meaning behind them, keep reading.
Indian Weddings
Pre-Wedding Henna Ceremony
Traditional Indian weddings have a Henna Ceremony the night before the wedding. Indians don't have a "rehearsal dinner" per se, but we do meet the night before. Part of the evening includes speeches, dances by friends and relatives, fun games, and a dance party! The significance of henna application pre-wedding is to bring good luck, fortune, and healing to the bride and groom. 
Henna is essential to Islamic and Indian culture, dating back to pharaohs and prophets. The prophet Muhammad used to apply Henna on the sick as a cooling and healing property. Today, it's an essential tradition for weddings and Islamic and Hindu holidays such as Ramadan. 
The bride gets elaborate designs on her hands and feet, while the groom gets a simple token design. Henna, also known as Mehndi in the Hindi and Arabic language, comes from the Mehendhika plant, AKA the Henna plant. Henna dates back to the B.C. era. The night before the wedding is stressful, so the Henna ceremony is a time for the bride to de-stress and enjoy the Henna plant's cooling properties. 
Stealing the Groom's Shoes 
Unless you play games, weddings can be a bit dull. Before the groom can reach the venue, the spiciest ritual in Indian weddings is Joota Chupai, AKA stealing/hiding the groom's shoes. The sisters, best friends, and cousins of the bride steal and hide the groom's shoes and won't give them back until he pays them the demanded amount. More importantly, this is a way for the bride's family to welcome the groom's family into their home and commit to a lifetime of happiness and fun.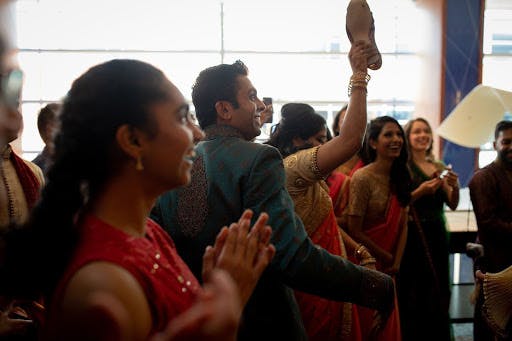 Not Letting the Groom Take Away the Bride 
Again, if you want to make the groom sweat for your entertainment, make it about money! Stopping the groom from taking away his bride is a little fun ritual of making the emotional side of giving the bride away light and fun. Friends, sisters, and cousins of the bride stop the car from moving, demanding money in return. Negotiations happen, and for the last time, the bridal party can get as loud and rowdy as they want. The groom obliges, and his gesture symbolizes that he accepts his bride's family members as his own and his willingness to take care of them.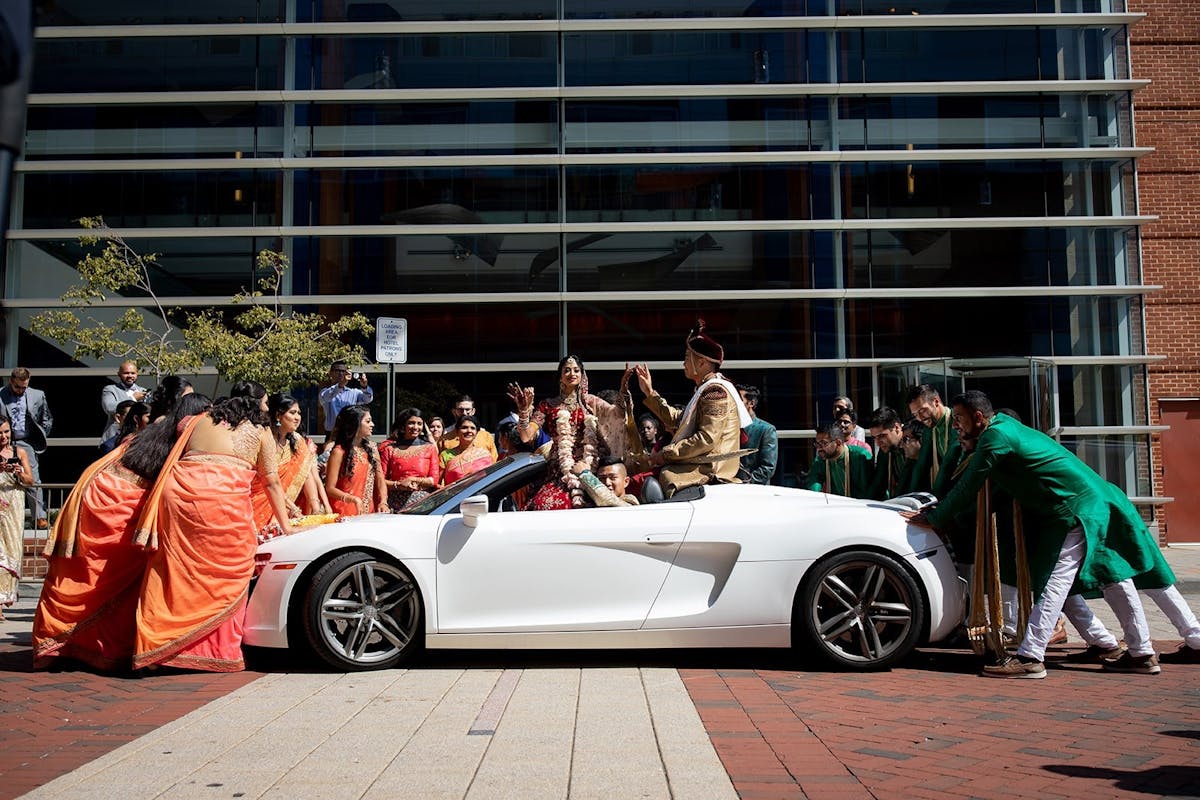 Chinese Weddings
Have you ever sat bored at a wedding venue just waiting for the ceremony to begin? The actual wedding ceremony can be a drag for guests. American weddings start when the bride enters and walks up to the altar. Across East Asian weddings, pre-wedding ceremonies start the day!
Chinese weddings have "gate crashing and door games" where the groom has to prove his love for the bride by completing challenging tasks to reach her. The groom and groomsmen sing, dance, do 100 push-ups, even drink a sour concoction made by the bride and her bridal party, which can up your special day's entertainment value. Expect unforgettable memories and even more amazing photos. 
Similar to Indian weddings, the groom may also be required to provide the bridesmaids with red envelopes of money to get past the door to get his bride. The colors red and gold are used in Chinese wedding decorations. Red is associated with love and success, while gold is a symbol of wealth.
Indian Hindu brides typically wear red on their wedding day as red represents the goddess of feminine strength, Durga.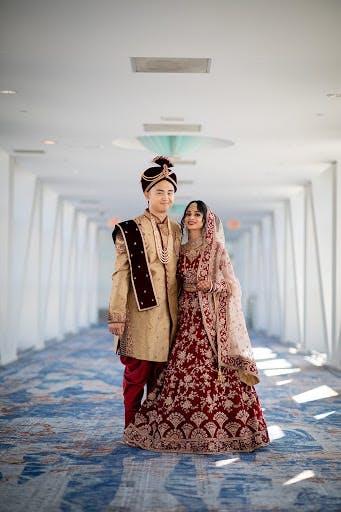 Taiwanese Weddings
Taiwanese weddings have a custom where fireworks are set off on the way to pick up brides to ward off evil spirits and let the bridal party know the groom is coming. 
Post-wedding, fans tied with red envelopes are thrown as the bride leaves her family home. Homophone, the word for fan, also means surname. The homophone signifies she has taken her husband's name and is leaving behind bad habits to have a harmonious marriage. 
Korean Weddings 
Chinese and Korean weddings have a tea ceremony performed by the bride and groom to honor their parents. The bride and groom serve tea to their parents, in-laws, relatives, and close friends. Many couples and their parents describe this as an emotional moment as they reflect on their children's journey from infancy to adulthood.
Japanese Weddings 
For Japanese weddings, bamboo represents prosperity. Centerpieces and wedding favors can include bamboo as per tradition. A bamboo plant as a wedding favor or a bamboo wedding canopy will keep tradition alive while pleasing guests. Japanese wedding favors can also include folding fans and sake cups. 
Summer wedding guests will appreciate a pretty folding fan no matter the cultural inspiration for your wedding! 
Fusion Wedding Attire 
After living for a year in my home country, India, I can vouch that America has the most diversity I have seen. I truly missed it! So many cultures are accepted and present in modern-day America resulting in the rise of interracial couples. And, fusion wedding wear is an emerging trend.
My best friend had a Hindu and Catholic ceremony. I was responsible for helping her pick her bridal attire for both weddings (a tall order made easy by fusion wedding attire experts, Nazraana). I picked out a stunning, sparkly white sari with a long sleeve lace blouse for her white-dress wedding. It was the perfect way to show respect to both cultures and religions. And she looked more beautiful than ever. Desi (referring to the Southeast Asian diaspora) can also touch red in their white-dress wedding outfit to pay homage to their roots, as red is the most commonly worn color by brides.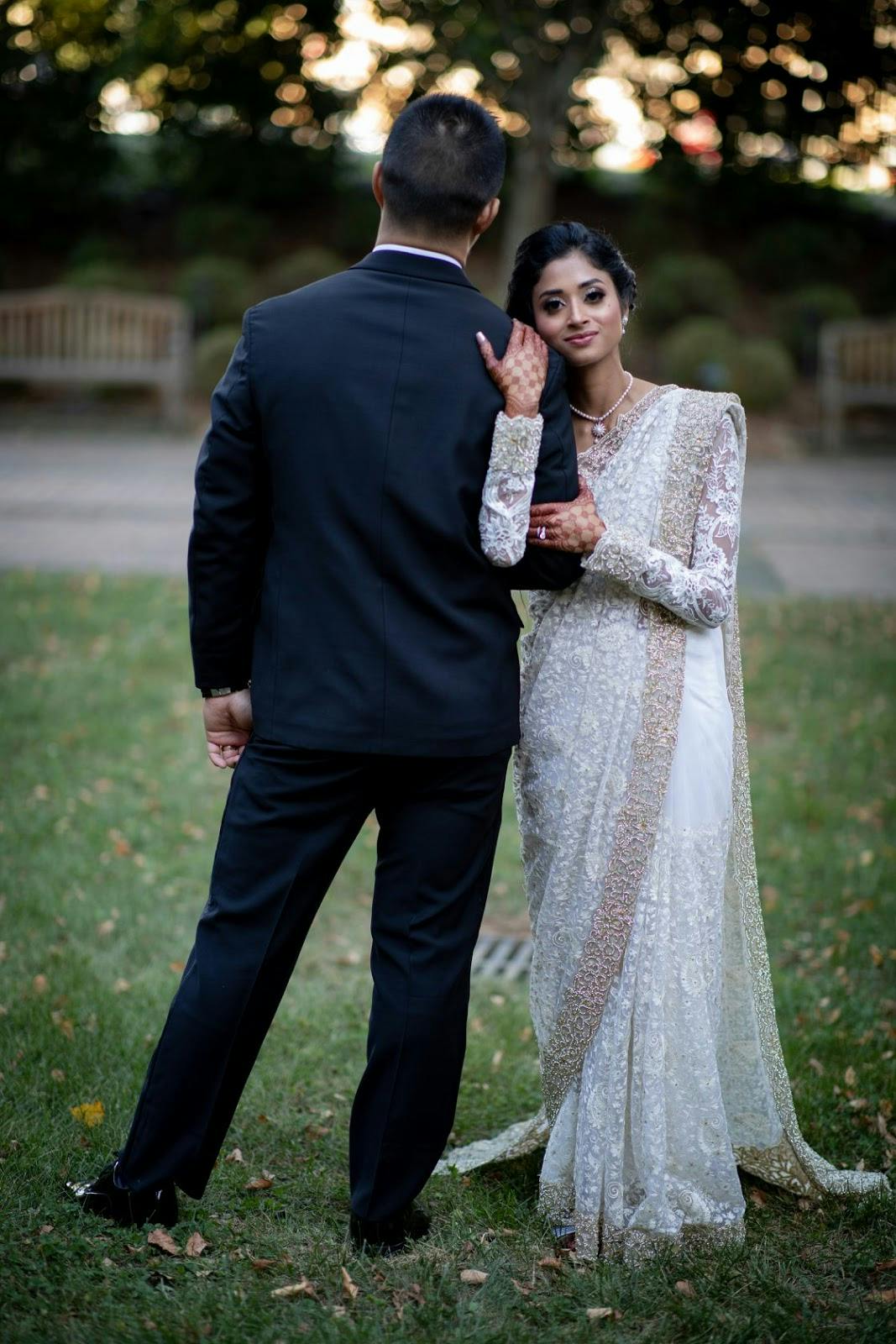 Now that you know the meaning behind a few essential traditions, you can make your wedding your own by incorporating them in a unique way. Eastern weddings are all about honoring your parents, symbolism representing prosperity, and activities to break the ice between families of the bride and groom!