How to Bring Eastern European Traditions into Your American Wedding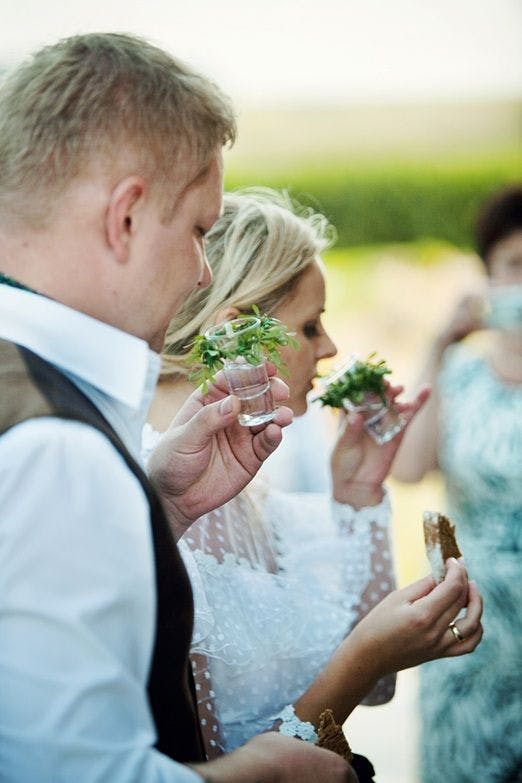 With the official arrival of the wedding boom (2.5 million weddings projected for 2022, 15% more than is typical according to The Wedding Report) and a quickly filling calendar to match, wedding details have been at the top of my mind.
As I was born in Lithuania, Old Continent wedding traditions have always fascinated me. Sure, many modern couples have turned away from traditional wedding practices, but not every element has been lost, and some celebrations choose to embrace old customs. Descendants and immigrants from Poland, Lithuania, Latvia, Czech Republic, and many other Eastern European countries incorporate the Old Continent practices beautifully in their Western weddings and happily keep them alive. 
The main components that make up a wedding in Eastern Europe are sometimes similar to those in America, but there are many historic extras that can be seamlessly included into modern weddings. So let's take a look at a few countries' fun traditions to hold dear and make our own even after we've moved.
Lithuania
While I didn't get married in Lithuania, it is my homeland, and I've experienced what it takes to have a Lithuanian marriage and wedding. 
While many traditions have been modernized, arranged marriages were a common practice of the past. Throughout this time period, parents of the bride (namely, the father), would need to be convinced of the groom's fortune and prospective future. The groom would bring a matchmaker along, go to his future in-laws and boast about his acres of land, cows, horses, pigs, and other farm animals. If the bride's father was impressed, a deal was made and the bride was promised. This meant endless tears for the girl if she didn't find her future husband attractive or the pigs and cows alluring. Thankfully, this practice is from over 100 years in the past and no longer common.
If you're looking to incorporate Lithuanian wedding traditions into your Western wedding, there are plenty that don't require an arranged marriage. What remains in Lithuania today from these customs is meeting the newlyweds with bread, salt, and a shot of vodka at the door of the groom's parents house after the church ceremony. Some other rituals include giving candy and wine bottles to neighbors–who block the road leading to the party venue–and symbolic matchmaker games. 
Bread, Salt, and Vodka
Meeting the newlyweds with bread, salt, and a shot of Vodka at the door of the groom's parents' home after the ceremony is customary. This represents the foundation of their marriage and the well-being of their family.
Matchmaker Games
Modern matchmaker games stem from a tradition that holds that the matchmaker is sentenced to death because he has lied to the bridegroom about the bride's wealth. The sentence is death by hanging--but don't worry, the bride saves him! It is a common tradition to incorporate a matchmaker into Lithuanian wedding ceremonies by having a symbolic mock hanging, completing tasks determined by the matchmaker (such as sawing a log together), and having imposters take the seats of the bride & groom only to then have the matchmaker convince them to return their rightful seats. If you don't have a matchmaker, it is common to have the best man in take that place.
Childbearing
Another custom? To seat a young child on the bride's lap on the day following the wedding. This is meant to encourage her to have children of her own. If you and your partner are looking to grow your family after the wedding, involving the kids at your wedding is a fun way to incorporate this Lithuanian tradition into your wedding weekend.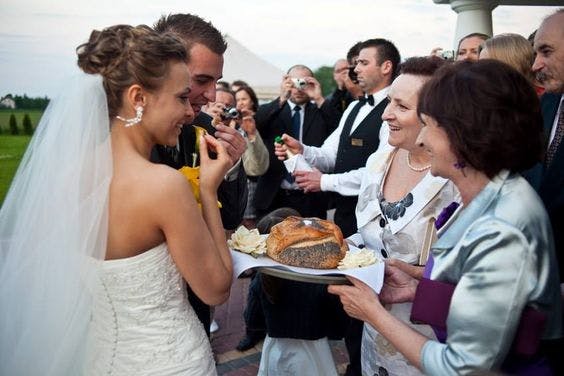 Latvia
While traditions here have plenty of overlap with those in Lithuania, a few differences stand out. For example, you may find that a "witch" (similar to the Lithuanian matchmaker) is incorporated into Latvian ceremonies to be bribed and lead events or tasks throughout the day or days–sometimes Latvian weddings can last up to four days! 
Flowers Everywhere
In Latvian tradition, flowers are brought as gifts in almost any occasion–especially weddings. It is common for the guests to bring flowers, for the couple to give their parents flowers, and so on. If you are not looking to have this exchange of flowers in your wedding but still want a nod to the practice, it is common to extend the tradition to the bridal bouquet toss to the single women in attendance.
Mock Bridal Kidnapping 
Don't worry, it's all in good fun. If you've ever watched The Office through to the end, then you've seen this before. Latvian brides are often "kidnapped" by the groomsmen only to be returned once the groom has made some form of payment–often a round of drinks. While I don't condone kidnapping in any form, having your groomsmen take your fiance for a drink wouldn't hurt anyone. 
Saying Goodbye to Childhood
Mičošana (pronounced "Michuashana") is a Latvian wedding tradition that dates back to pre-religious, pagan times. This event typically involves the exchange of headdresses and symbolizes leaving childhood and home behind to start a new life and family together. This is the moment that the bride and groom become husband and wife.
Read up on the sequence of events at a classic, modern Latvian wedding.
Poland
Polish traditions are slightly different from those of the Baltic countries and resemble Slavic culture. Like in all Eastern European countries, a wedding ceremony means a party that lasts more than just one day and is not for the faint of heart. Food and drink are equally important during "wesele," or the reception. Polish weddings will always include meat and potatoes, followed by herring and pork lard–finger foods!
Bridal Flowers
The bride commonly wears a sizable wreath of fresh flowers on her head. This wreath symbolizes love and a relationship to the earth. A young girl getting married becomes one with nature and will (customarily) become a mother herself one day. Mother Earth's flowers upon the bride's head showcases the connection.
Newlywed Grain Shower
Showering newlyweds with grains or petals doesn't sound like such a foreign idea and is common in many countries, but in Poland you better have barley and oats to bless the couple and wish them prosperity and fertility.
Bread and Salt
Bread and salt symbolize the essentials in life and are offered to the couple before they leave for the church. This ensures that whatever happens in life, the bride and groom will at least always have what's most important.
Unveiling of the Bride
This is the final step of the night. Instead of throwing the flowers, the bride gives her veil to her mother and steps into true womanhood (the custom of oczepiny). The veil is passed to all the bridesmaids to wish them good luck finding a husband.
And of course, there are sausages and vodka to be consumed for two days and two nights.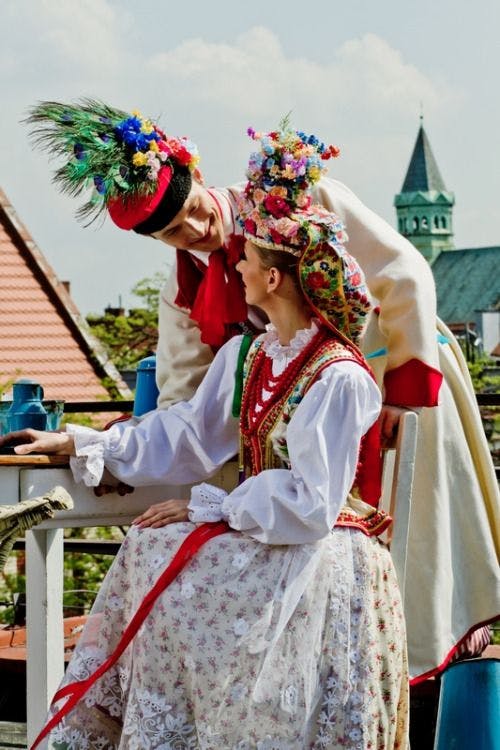 Czech
In this ex-Soviet Union country, weddings are always full of meaning and traditions. The wedding is more than just a simple celebration–traditions here dictate how to step from one life phase to another.
Bridal Rosemary
Czech brides have to have some rosemary either on their head decoration or in the bouquet. Rosemary symbolizes wisdom and maturity, both of which are essential for somebody who's about to become a wife (and a mother in due time).
Sweeping and Soup
The bride and groom prove they are ready to work together as a team by sweeping a broken plate together and eating soup with one spoon. If this is not the best allegory for what life will hold, I don't know what is!
Honeymoon Gifts
Finally, at the end of the ceremony, the bride's veil and groom's shoes are carried around by the best man and maid of honor to collect some money from the guests for the honeymoon. If this tradition became popular in America, it could save couples from serious financial woes. 
Read up on the other rich details–like the foods–of Czech wedding traditions.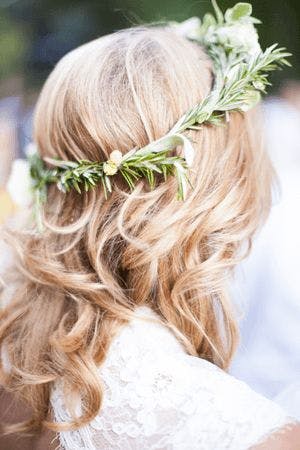 There are many Eastern European traditions that you can incorporate into a Western wedding party to commemorate your ancestry–without going overboard or having anything feel out of place. All you need is cooperation from your wedding party, some mock barriers for ransom payments, a few branches of rosemary, and oatmeal with barley. The rest can be all tuxedos, suits, and fancy bridal wear. And vodka–lots of vodka.