Edgy Wedding Inspiration for the Non-Traditional Couple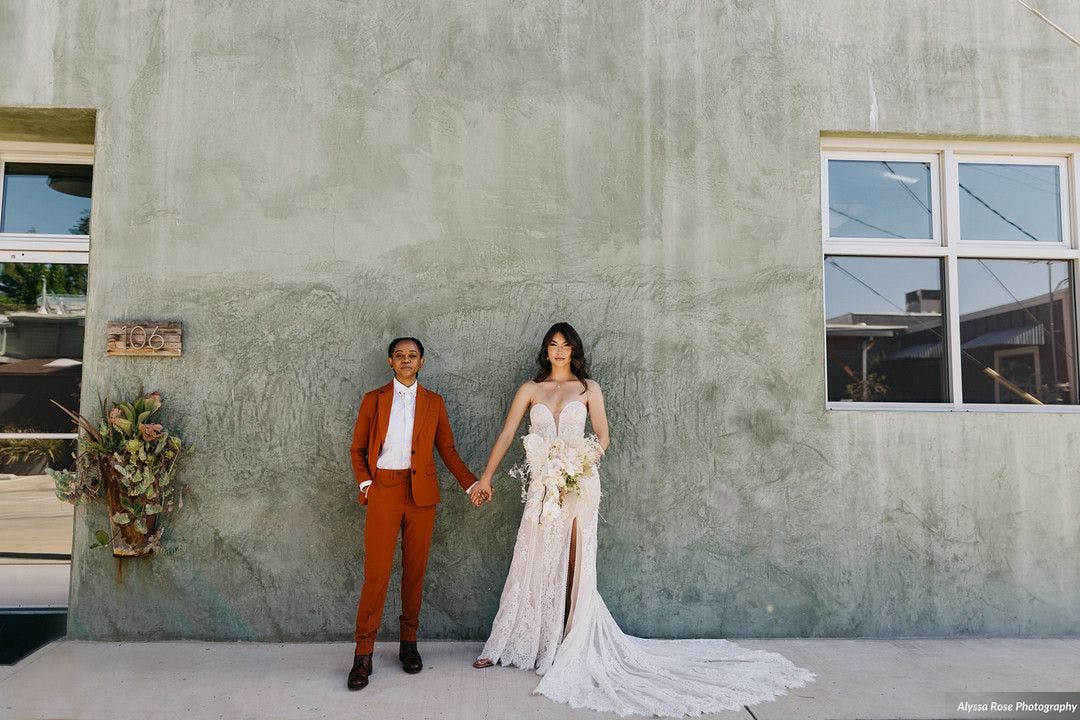 When people think of weddings, they tend to picture a bride dressed in white, a ceremony processional to Canon D, and a reception at a fancy ballroom. And while there's nothing wrong with going the traditional route, you may want your wedding to be a bit edgier. After all, you only get married once, so you might as well make it stand out! 
If you'd rather deviate from tradition, we've put together a few ideas on how to avoid a cookie-cutter wedding.
1. Don't wear a white dress.
Brides have always been expected to wear a white, floor-length ballgown for their weddings, but what if we told you that you don't need to do this? Rather than wearing a classic, white wedding gown, why not try something less expected, such as a striking white tuxedo? A wedding suit or tuxedo allows for a more individual way to express your identity and your style. Not only is it comfortable, but it's also a contemporary take on the classic bridal look. In this way, it's both true to tradition and modern, so you won't have to completely stray from the classic aesthetic. 
If a suit isn't your style, you may want to wear a daring, short wedding dress for its feminine flair. And if you prefer not to wear white, then don't! You can consider out-of-the-ordinary colors and experiment with seasonal palettes. What matters is how you feel in your wedding wear.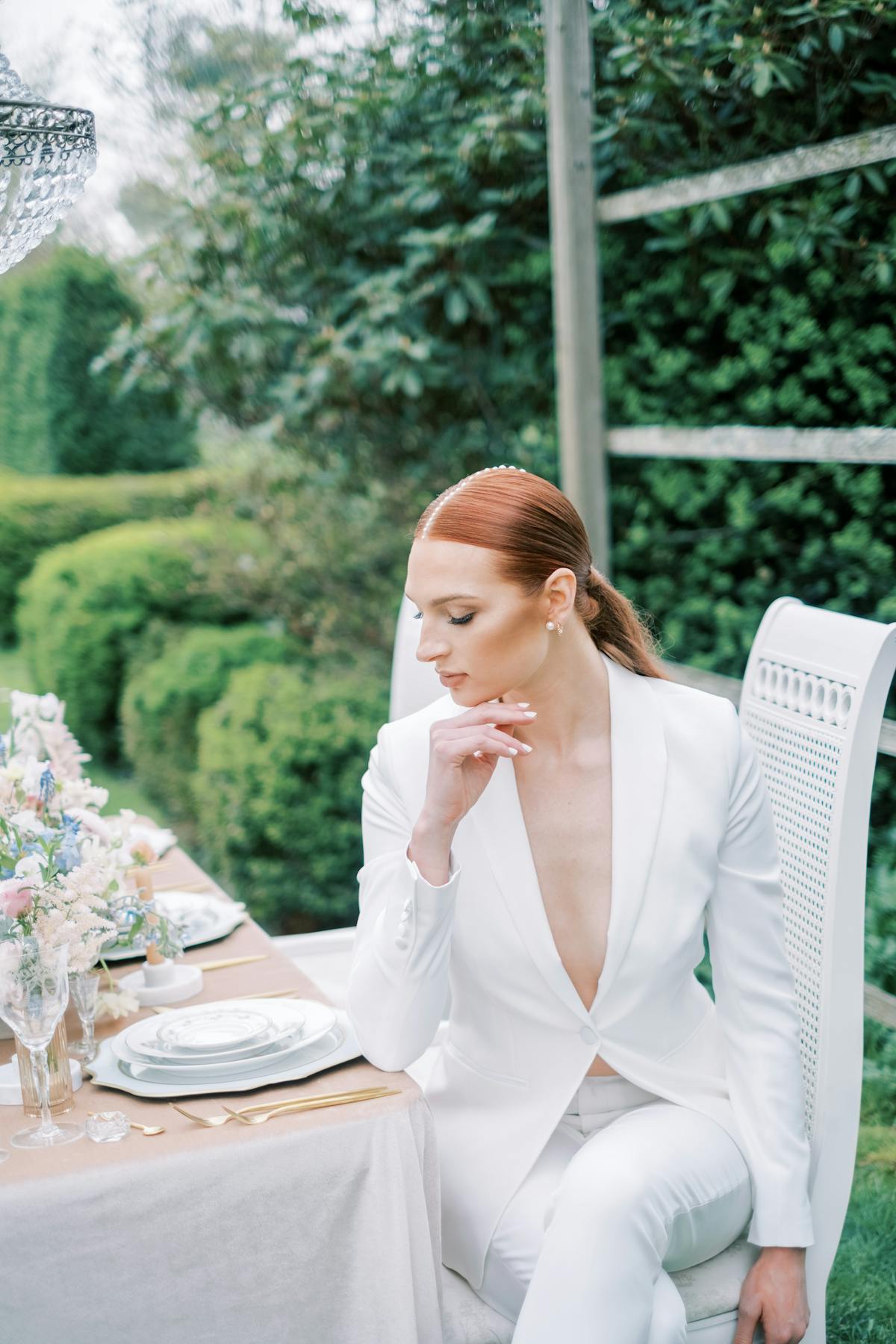 2. Ditch the formal footwear.
It would be an understatement to say that wearing high heels can be uncomfortable, considering your wedding shoes are meant to be worn all day. Those who don't want to be in pain as they walk down the aisle can swap the heels for less torturous footwear, such as cowboy boots or sneakers. The same goes for grooms and other marriers who want to trade their classic wedding-day footwear for something that stands out more, feels more comfortable, and speaks to their personality.
Not only are these shoe options more practical, but they also add a non-traditional flair to any attire. A wedding dress with thigh-high boots will make any marrier look so cool that wedding guests will likely double-take (always a good sign you've made an impact) when they walk down the aisle. Similarly, people who pair their suits with sneakers will look more laid-back, making the ensemble perfect for informal ceremonies.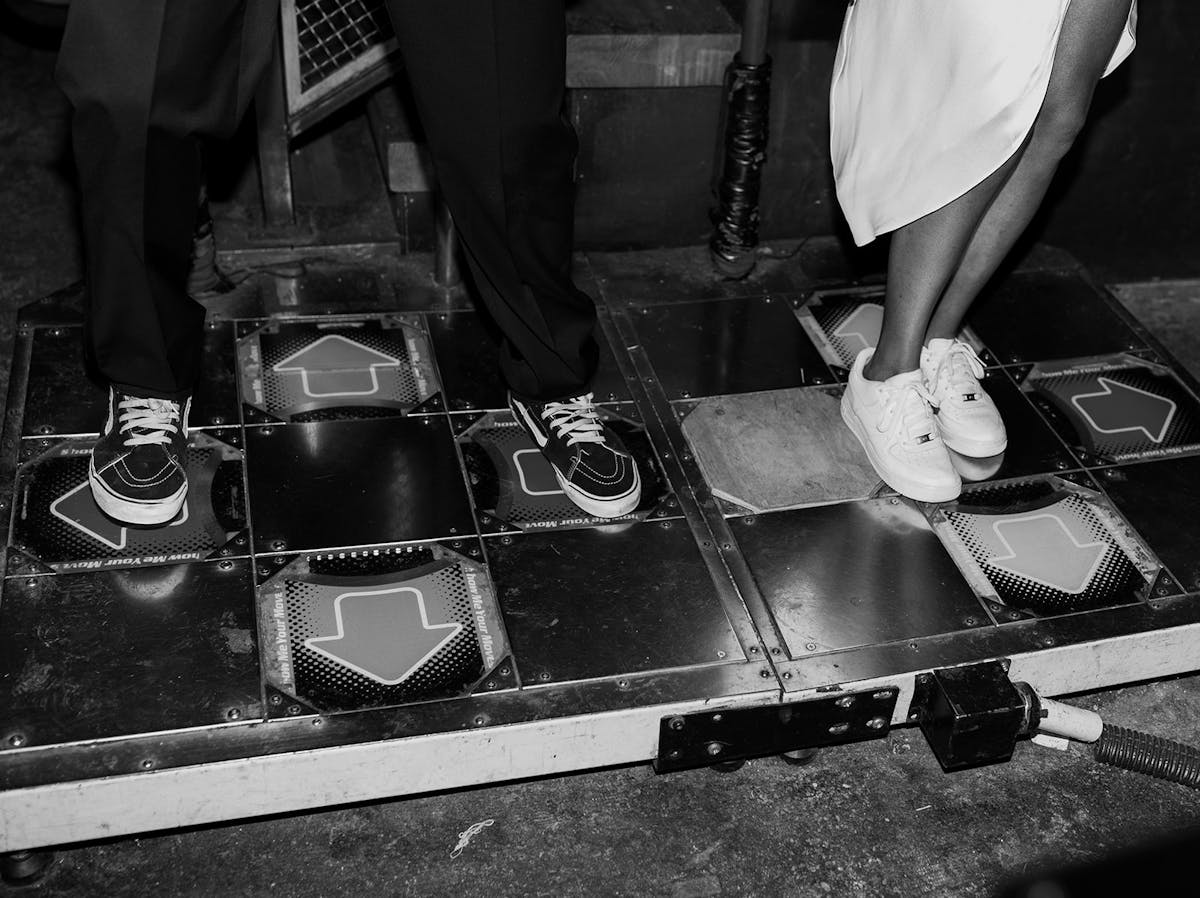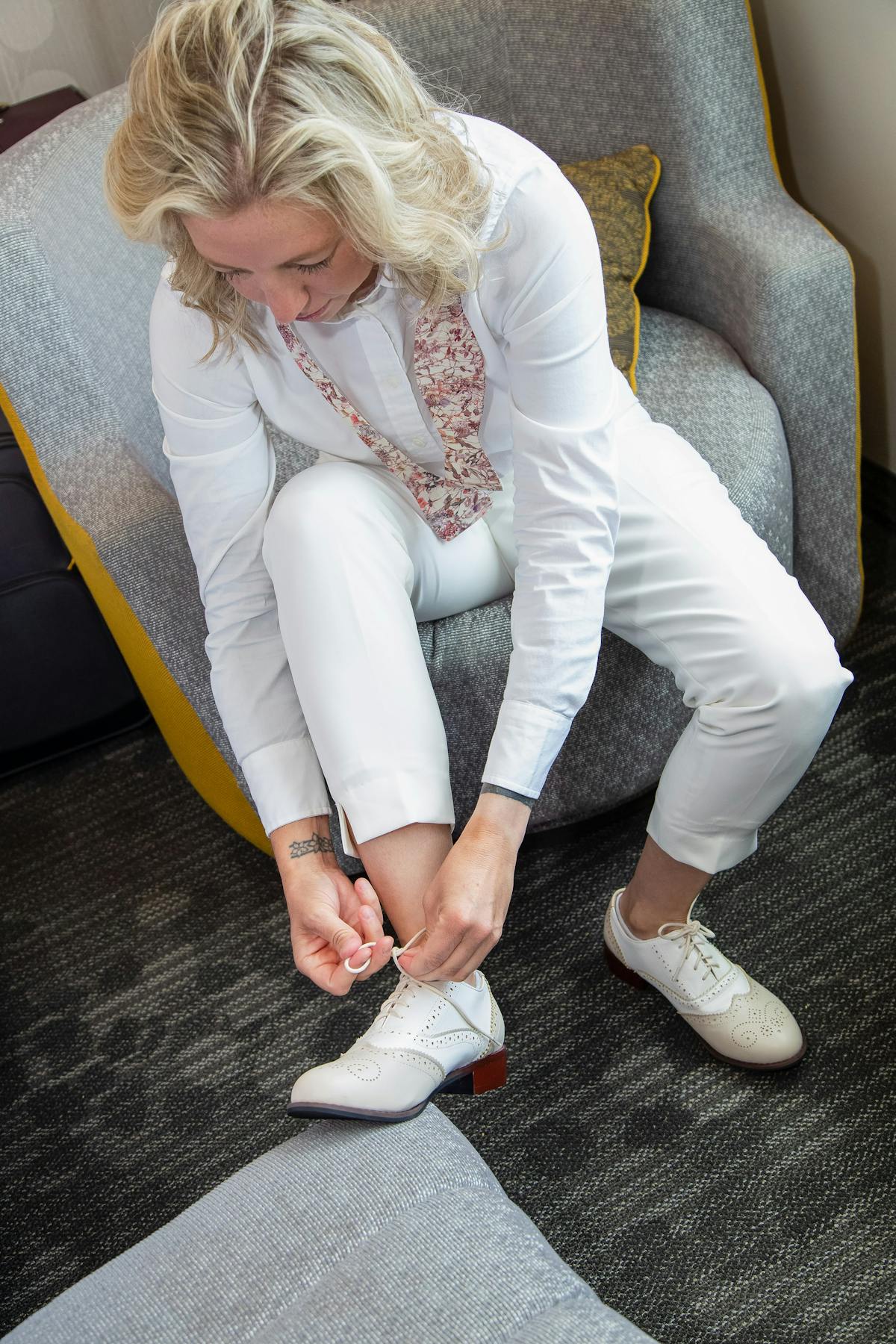 3. Say your "I dos" at a non-traditional location.
Classic wedding venues include ballrooms with floor-to-ceiling windows and gardens with awe-inspiring views. But if that's not your style, feel free to think outside the box! For example, if you and your fiancé love an adventure (maybe you met on a cross-country trip), you could get married on top of a mountain. Or, if you prefer something dramatic, why not get married at a gallery or museum? 
Other non-traditional venues include breweries, libraries, nightclubs, train stations, treehouses, warehouses, barns, and even boats. You can be wed anywhere!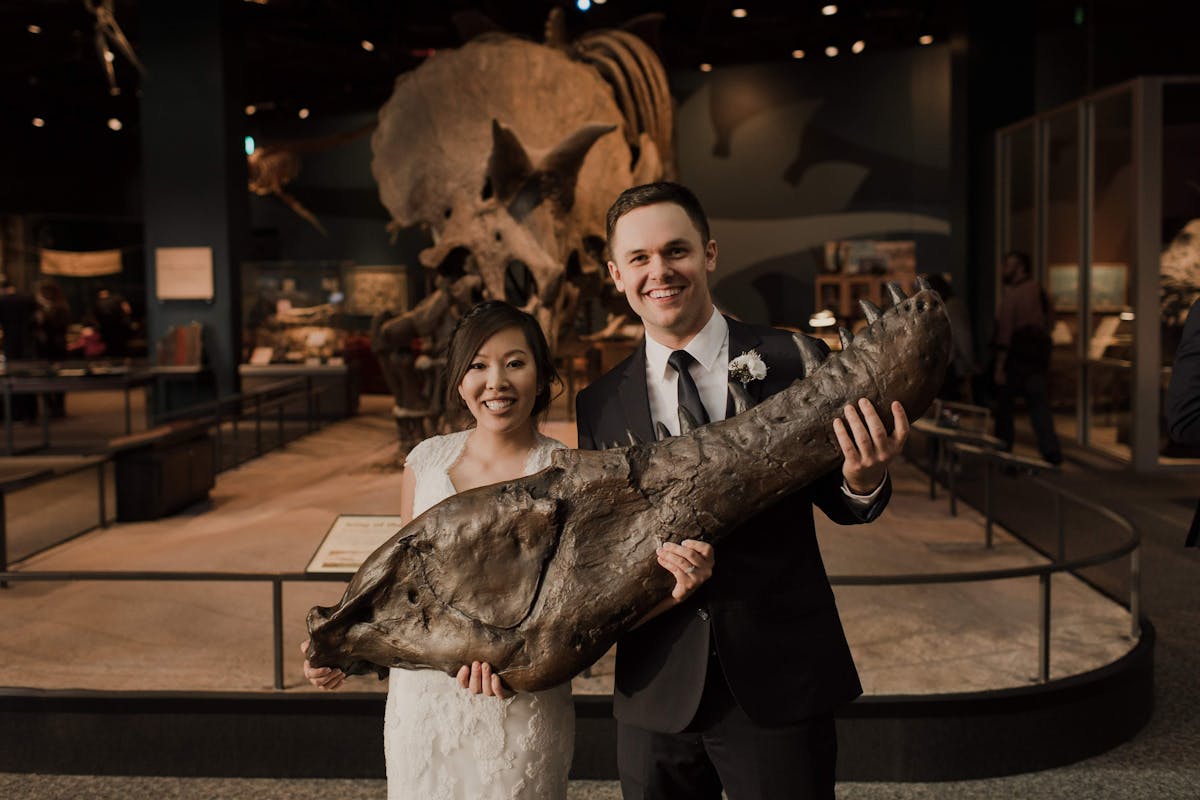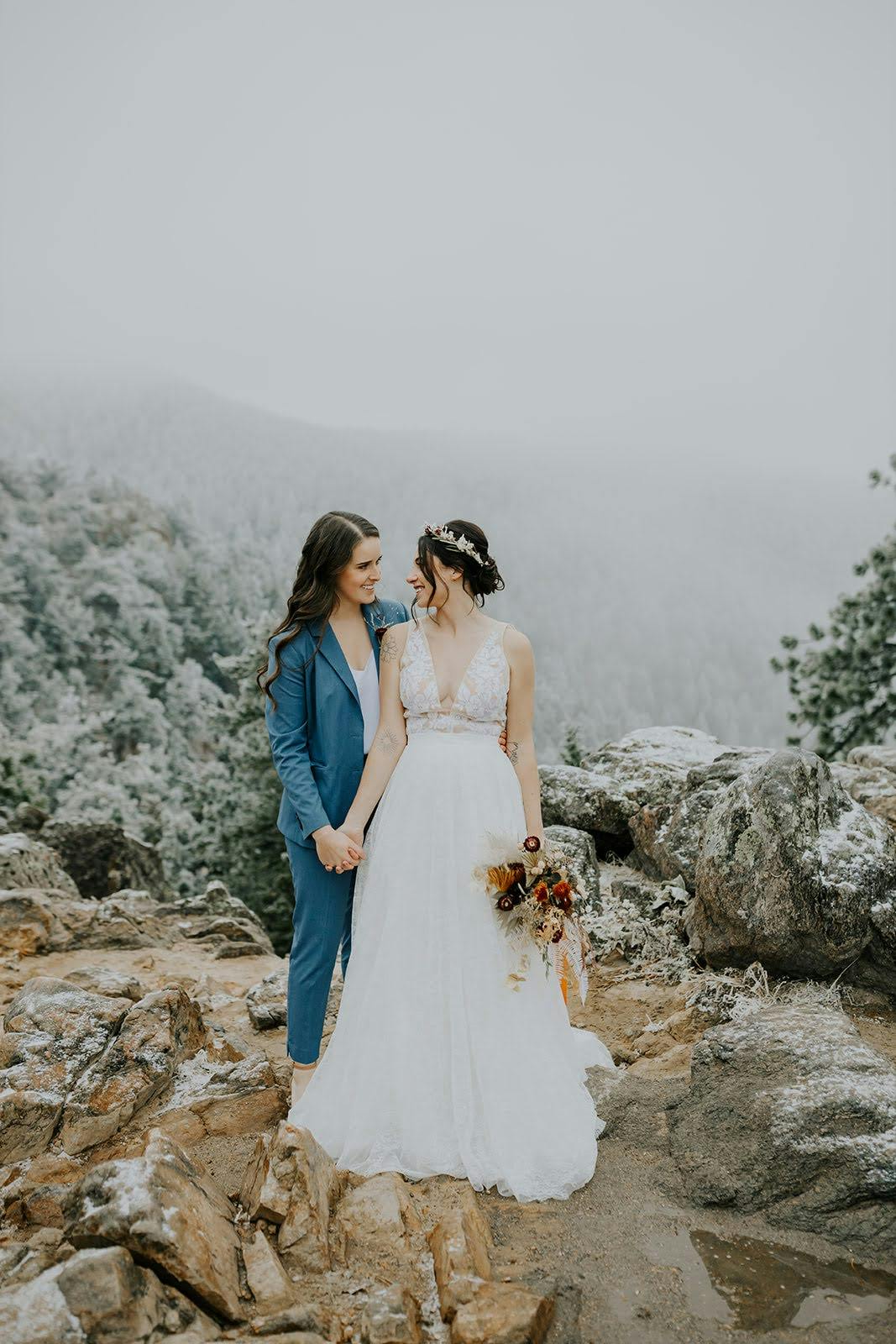 4. Add cool accessories.
If the thought of wearing frills, boutonnieres, and bows doesn't excite you, don't worry — no one expects you to stray from your usual style. Your wedding guests and your fiancé know and expect you — not a "perfect" version of you — to walk through those doors. If you want to be edgy, different, or simply yourself on your big day, it's absolutely fine to turn down tradition. 
Politely say no to your mother's heirloom pearls, and instead, adorn your décolletage with a studded statement piece. Forget the floral crown and trade it for a bold headband or a fedora. Ditch the satin clutch and opt for more modern accessories such as a crystal-covered purse. Couples can even wear monogrammed leather jackets that keep themselves warm (especially during outdoor ceremonies).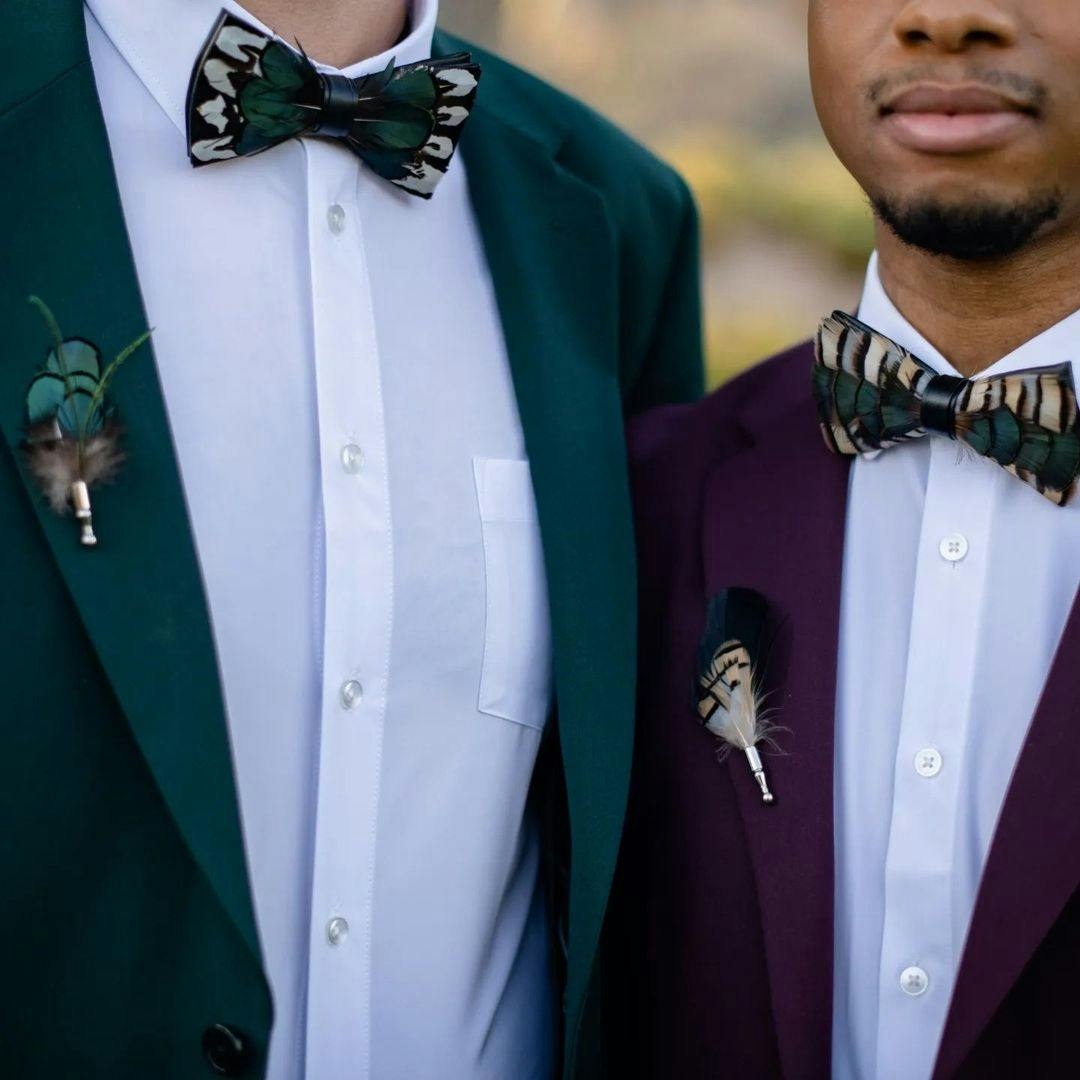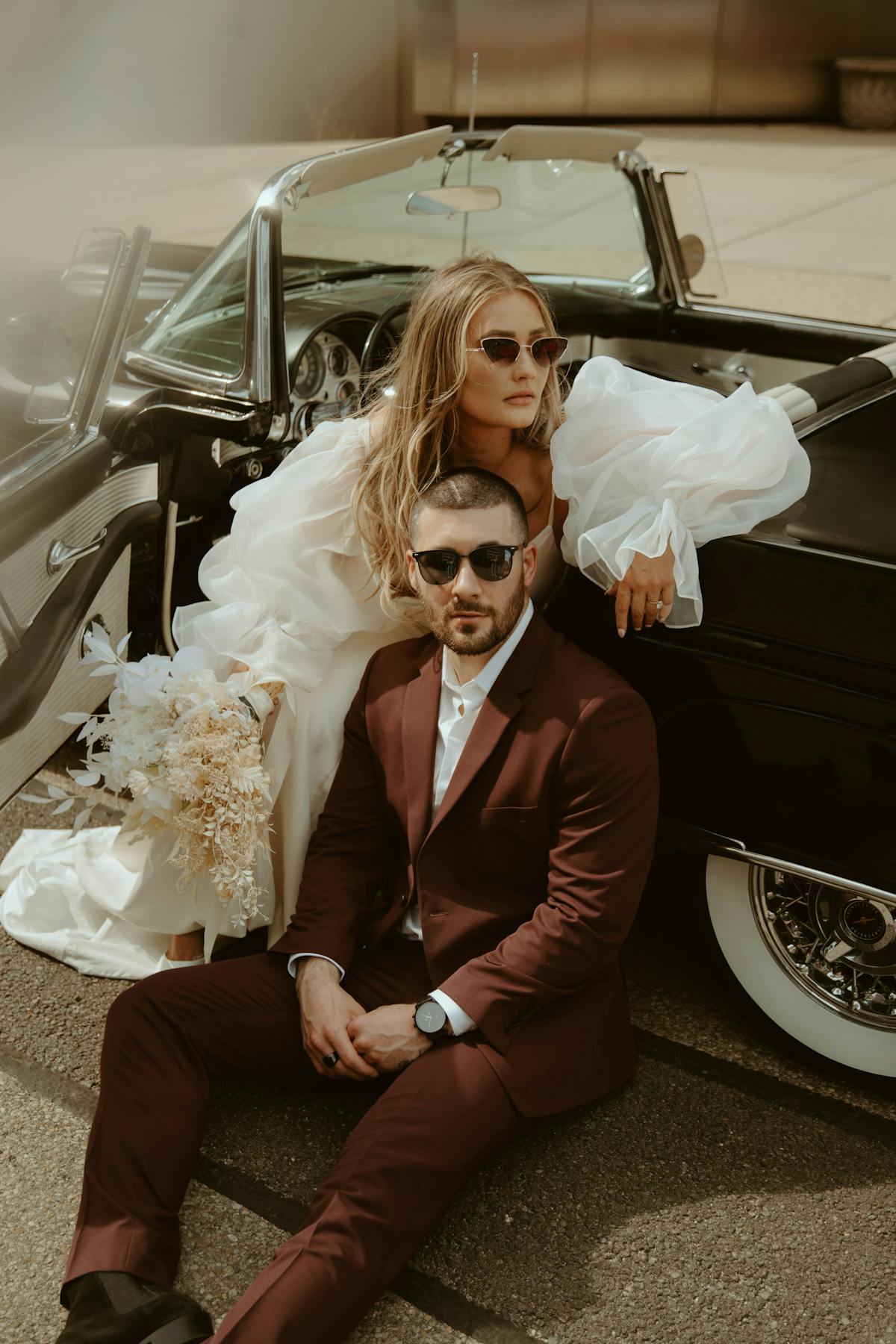 5. Add a pop of color to your attire.
Weddings often feature a bride in a white gown and a groom in a black suit, but this isn't how it should always be. No rule says that couples need to don wedding wear in a particular color. You can swap colors (let the bride wear black and the groom wear white) or not wear these colors at all!
Play around with color combinations to see what works best. You and your fiancé can be color-coordinated, for example, by both wearing green. You could also wear two completely different colors — as long as they don't clash, of course.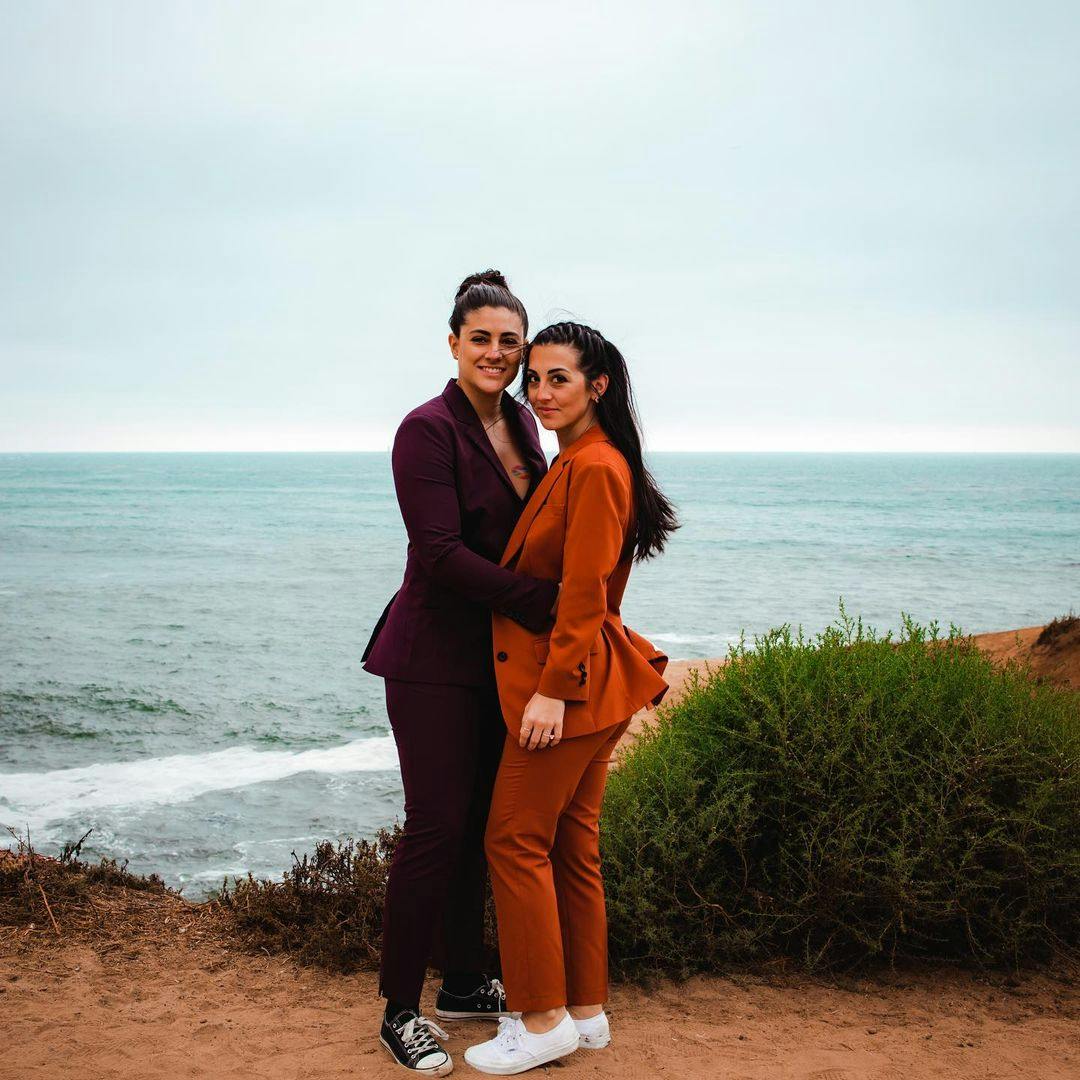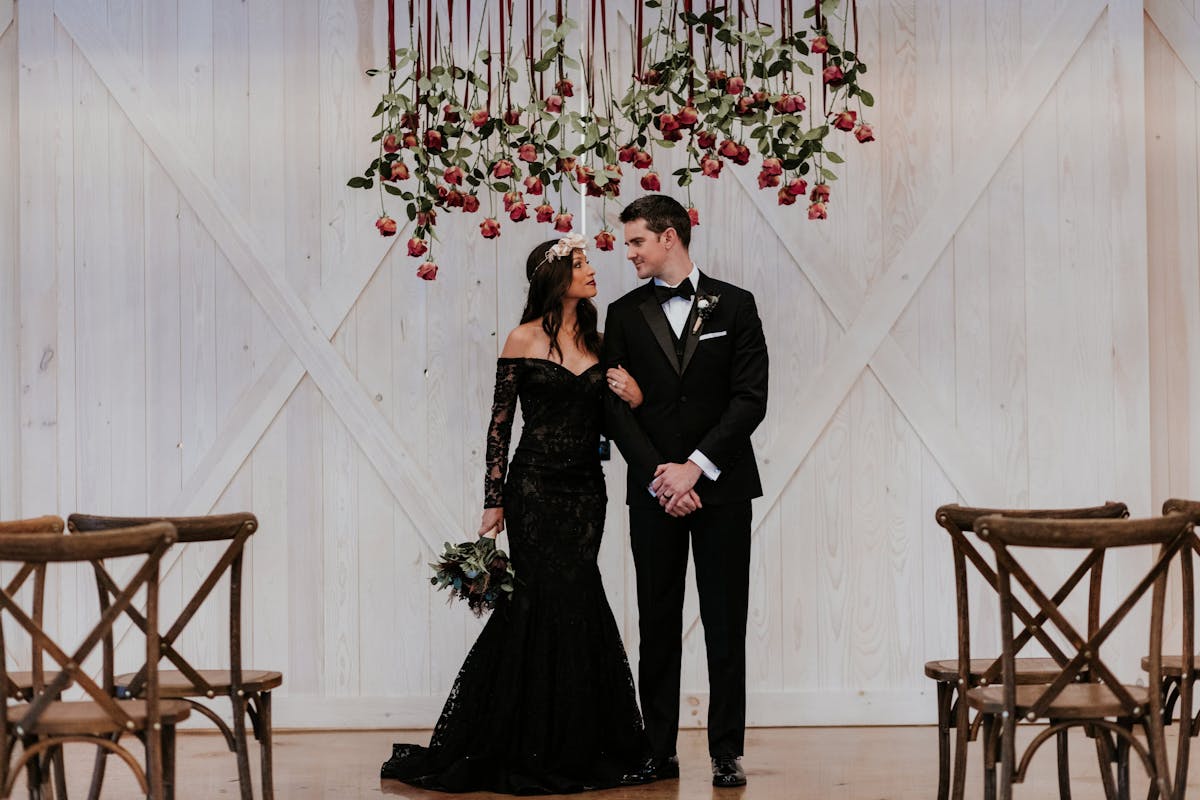 6. Scrap the traditional timeline.
Who says you need to start with the ceremony? Why can't you start with cocktails and then follow that with your "I dos"? If you want your wedding guests to remember your big day, don't be afraid to change the timeline. There's no rule that says you can't!
Perhaps you'd prefer to have brunch with your wedding guests before exchanging your vows. Or, if you want to say your wedding vows in the evening, you could serve drinks as you wait for the sun to set. You don't always have to follow the ceremony first, reception later order of events.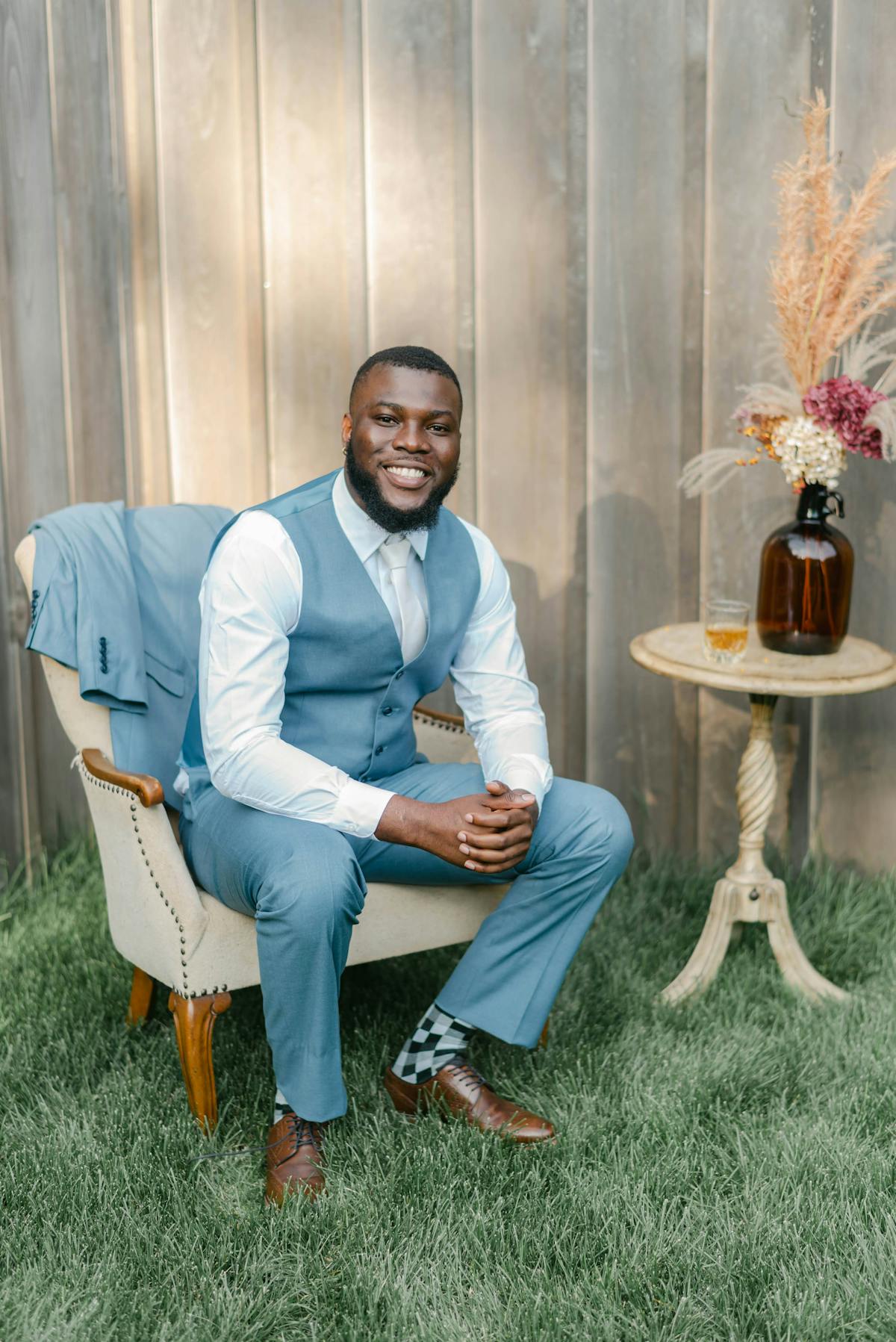 7. Have an unexpected first dance.
One of the most important moments of your wedding day is the first dance. Your guests will be looking forward to watching you and your fiancé twirling around the ballroom. But when it comes to edgy weddings, you need to give your guests something more than just a waltz to The Blue Danube. 
While there's nothing wrong with sentimental first dances, you may want to get the party started the moment you step onto the dancefloor. Instead of having your first dance as a couple, why don't you lead the first dance and invite your guests to dance with you? Get your guests on their feet with songs such as The Locomotion, Thriller, and Macarena. Your first dance will be such a crowd pleaser that your guests will be talking about it for ages.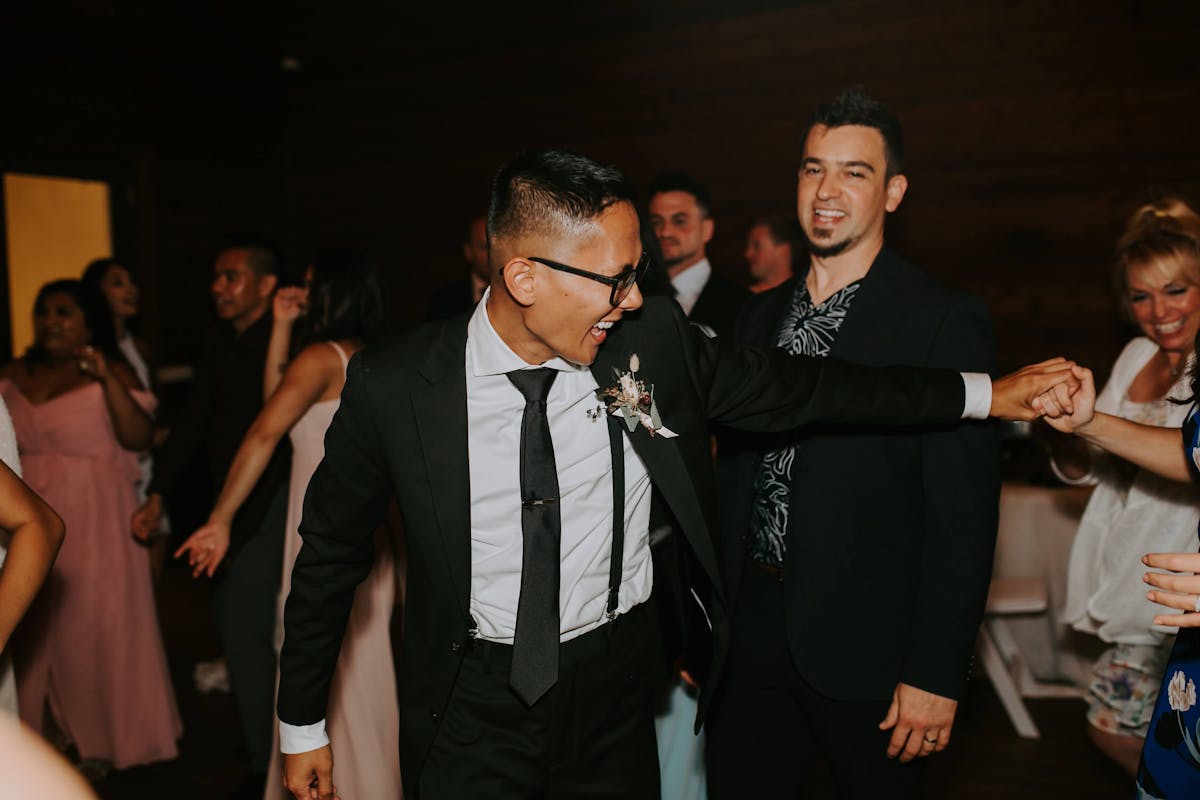 Make Your Wedding Day Yours.
People (ahem, your in-laws) might judge you for going against tradition, but don't forget that your wedding is your day. If sparkly shoes, romantic music, and ballrooms aren't your style, remember that you have the complete freedom to tweak your wedding and make it as edgy as you want it to be.
Don't forget to keep your style true to you. Find your alternative wedding style, complete with suits and tuxedos for all, here.