Fall Color Trends in Men's Wedding Attire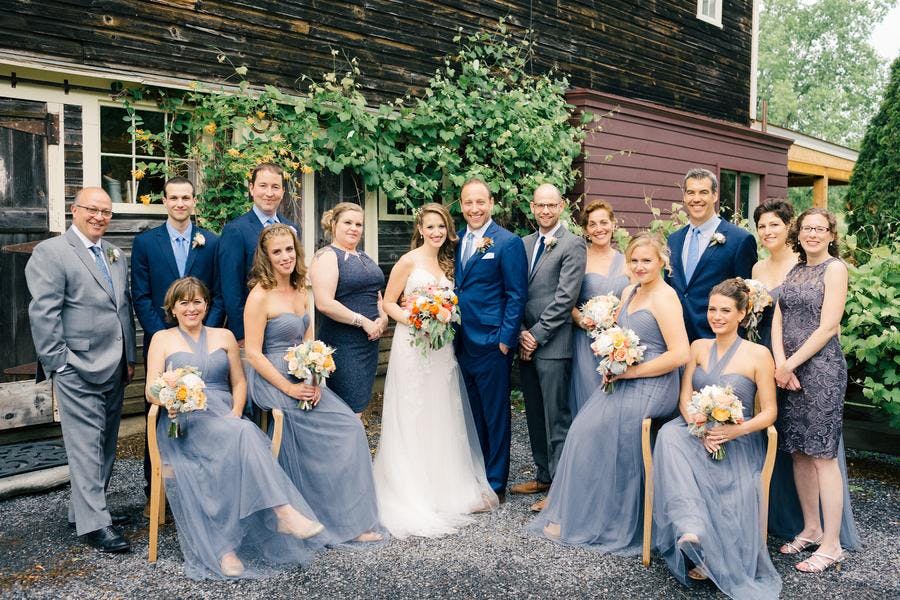 In years past, fall wedding season has announced itself with bright and bold colors like tangerines, reds and corals. This year, many of those colors are reappearing in more earthy and vintage shades. What was lilac is now mauve. Sunflower yellow has aged to a dusty yellow and burnt orange is the new version of the seasonal favorite. While today's fall wedding colors are inspired from the past, today's engaged couples are anything but old fashioned and outdated. Instead, they're using these vintage tones to create intimate and charming celebrations in a way their grandparents could never even dream of.
In addition to muted tones, autumn wedding colors are also taking on richer food based names to bring distinction to their unique shades. Combos like grape and walnut or peach and cherry are visually delicious along with boysenberries and cranberries which will be in season long past their plant life.
Importance of colors in a fall wedding
Picking your color palette is one of the first steps in planning your wedding. For most couples, how these colors apply to menswear is not a consideration when they are selected.  In fact, bridesmaids' dresses play the more major role in the colors a couple chooses for their big day, in addition to the time of year and location. "Oftentimes, grooms are uncertain about their wedding colors," Diana Ganz, co-founder of The Groomsman Suit explains. "Usually, they have to get back to us with those details when we start helping them with their wedding style which means that their attire must fit into a predetermined plan."
Suiting should be considering right along with the original design of wedding colors and style. Have you ever seen wedding photos where is seems like the guys could have just been photoshopped in? Ones where the bride and bridesmaids beautifully compliment each other and it seems like the guys have just been plugged as there is no coordination with their style. "Groom, groomsmen and bridesmen style is one of the foundational elements to achieving amazing wedding style," Diana adds. "You can always tell when couples prioritize what their guys are wearing along with the bridesmaids. Their photos are incredible!"
In addition to coordinating colors, suit fit is critical to ensuring your guys look sharp. These days, with the workplace becoming more casual, guys in your wedding aren't accustomed to wearing suits. "We find getting guys suited up for a wedding is also an educational opportunity to show them what a great fitting suit looks like," Diana shared. For that reason, The Groomsman Suit shares important guides about Five Steps to Finding a Great Fit and How to Find The Perfect Pant Hem with all their customers. "Really simple concepts like showing a half inch of dress shirt beyond the sleeve of the jacket, make a world of difference," she adds. "Your wedding party is a reflection of you. You can have the most gorgeous colors design, but if the guys look sloppy that's all people will see."
As the only menswear brand dedicated to wedding wear with hundreds of weddings happening over the next couple months, we asked The Groomsman Suit what suiting and color combinations they love and are trending this fall.
Fall colors to wear this year.
Light gray suiting with blush and boysenberry – Gray gives a bit of a frosted touch to the rich boysenberry color. We love a berry colored tie against our gray and black suits, with a simple white ranunculus and eucalyptus boutonniere. Adding a textured blush or two-tone pocket square is also a great way to pull in the bouquet colors. For a more elaborate boutonniere, we love adding grey brunia berries to romantic white and blush flowers.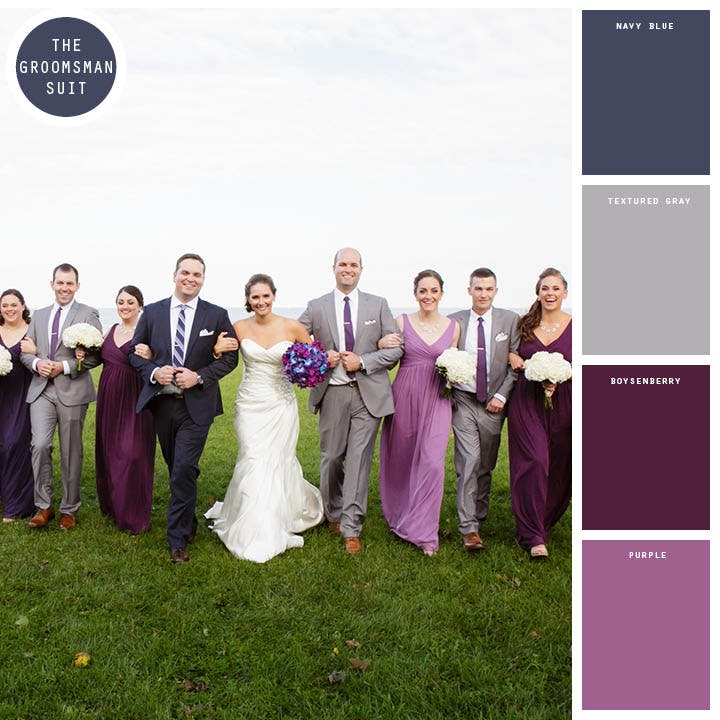 Navy suiting with peach, gold and green-  Peach is a fresh twist on the traditional orange fall favorite, and the perfect complement to bolder green and gold tones. Against a navy suit, each of these colors stand out in a timeless way. Imagine your man in a fitted navy suit with a peach tie, accented with a gold tie bar and custom gold cuff links.  Add in a succulent boutonniere to accent the rest of the emerald wedding décor for a complete look.
Royal blue and golden pineapple– These bright tones are a really fun combo before the warmth of the summer fades. The key is to find the right brilliant blue suit to pair with bridesmaids yellow or off-white dresses.  The brilliant blue paired with a classic white shirt and a boutonniere highlighting craspedia and thistle is the epitome of a fall we want to frolic in. Need inspiration for the groomsmen's gifts? How about Superman socks to go with this powerful color duo.
Black suiting with green, gold and white– Organic and natural, this color pallet works for a wide range of themes from a daytime garden party to an evening, urban soiree. These color combinations crave sparkle and elegance. A black tuxedo with a jade green tie and pocket square next to a sequined bridesmaid dress offers such a pop, you'll want to break out the champagne.
Gray suiting, dusty yellow and maroon – The maroon makes a boldly romantic statement while being softened by the gray and yellow tones. These colors were born for pumpkin spice season. Crimson ties stand out against a soft gray suit, and make sure to take a photo of the guys holding the bridesmaid's sunflower bouquets.        
Navy suiting with gray and ivory – Classic, timeless, and a perfect opportunity for a stand-out groom, whether he takes on a different color or shade. So easy to pair with vests, bow ties, and caramel dress shoes. Anemones are the perfect bold flower choice for this smooth color combination.