Groom Style Guide: Put Your Best Foot Forward In These Fun Wedding Socks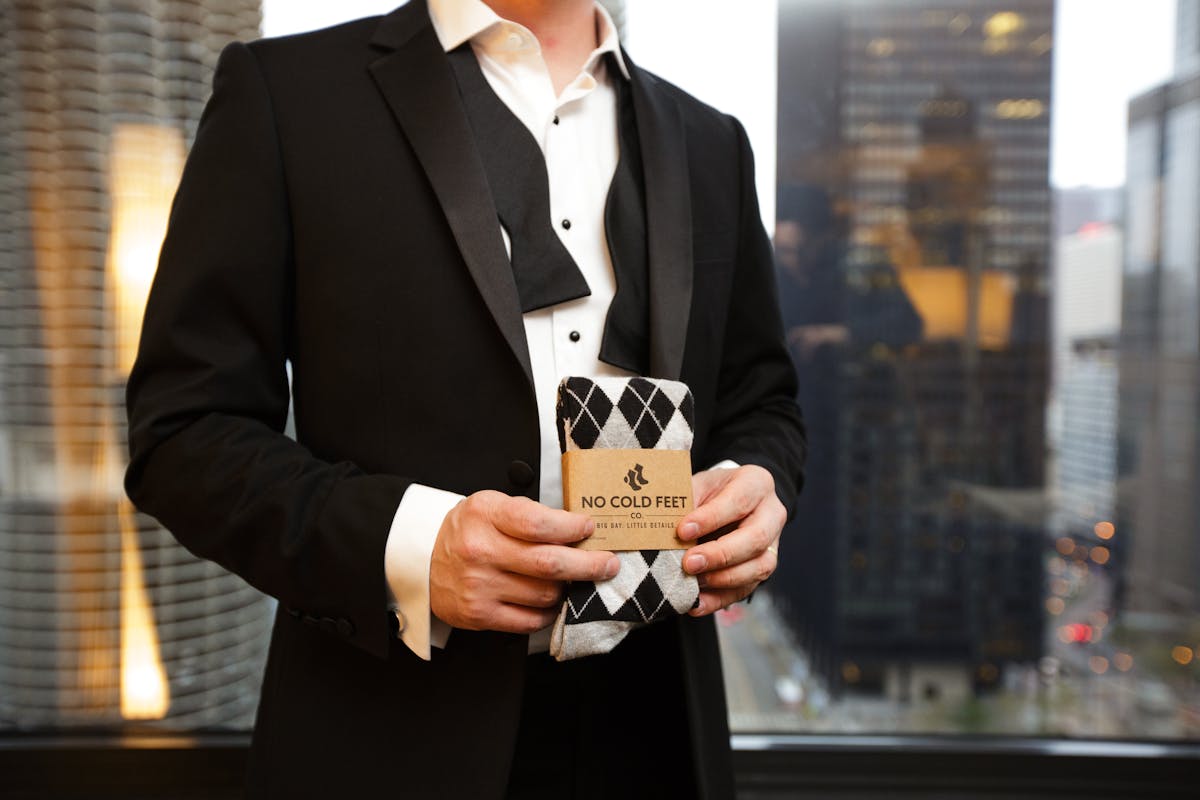 In our never-ending quest for sharp, fun and affordable men's wedding attire, we were lucky to find an awesome sock company right here in Chicago! Started by a husband and wife team,No Cold Feet Co.is putting a spring in guys' steps on their big day. These sharp socks make for a personal and practical groomsman gift as well. Available in a variety of colors and styles to compliment your wedding palette, you're sure to find a pair that will add the perfect splash of color to your wedding party's suits or tuxedos.

Below are some of No Cold Feet's (NCF) favorite color combos and styling tips to help your guys put their best foot forward on your wedding day.

Socks for Tuxedos and Black Suits
What socks do you wear with tuxedos? Do they always have to be black? Absolutely not! You can and should add some flair to your tuxedo style with a patterned sock. If you're the traditional type, you'll probably want to stick to one of our black and white options. Check out ourblack and white argyle,polka dots, orstripesto put the finishing details on a classic groom look. 

Want to be a bit more modern and/or looking to pull in other colors from your wedding palette? Try a pattern that pulls in colors from your flowers, ties and/or matches the bridesmaid dresses. Common black-tie color combos include white, gold, navy, and red. If you're the adventurous type, we recommend ourred and pink argyleor ourpink stripedsock. Regardless of the pattern, it's best to keep the color base of the sock black when wearing a tuxedo. 

Best Options For Blue Suits
Wondering what socks to wear with your blue wedding suit? For a clean and classic wedding look, try ournavy and light blue argylesocks. Your groomsmen will love wearing these socks beyond your big day with a pair of jeans and their blue suit jackets as a blazar.

Including favorite colors is always a fun way to make your wedding style unique and personal. NCF's navy socks withpink polka dotsorred stripesadd the perfect pop of color while keeping blue as your base color. School colors tend to be a great option, too. Big Tar Heels fan? Thedark blue argyleis definitely a hit in North Carolina.

If you're really looking to change things up and add a punch of color to your wedding style, then we recommend the gray collection withred polka dots,purple argyle, orblue and brown stripes.

Light Gray Suits And Sock Combos
When it comes to spring and summer weddings, this year it's all about a vibrant pop of color against a neutral backdrop. Light gray suiting is an excellent choice for spring, summer and even fall weddings. When going with this color, it's best to select sock with a gray base. NCF'sblue on gray argylesare always a crowd pleaser. More of a stripe guy? Ourblue and teal stripedsock is a fun choice.  

Again, if you want to step it up a notch, a pair with yellow, reds, pinks, or greens will be a nice contrast of color between the grey of the suit and the socks.

Mix And Match
Lately we've been seeing a lot of mixing and matching among groomsmen and bridesmen and we love it! It's a fun way to add some unique flair to your wedding style. You can mix it up across a single style by combining various colors of polka dots, or, choose a color like purple and mix up the argyle, polka dots, and stripes, or mix and match colors and styles.

No matter the color or pattern choice, you can't go wrong with socks from No Cold Feet Co. These wedding socks are just one of the little details that will add something special to your big day.