Beautiful LGBTQIA+ Wedding Ideas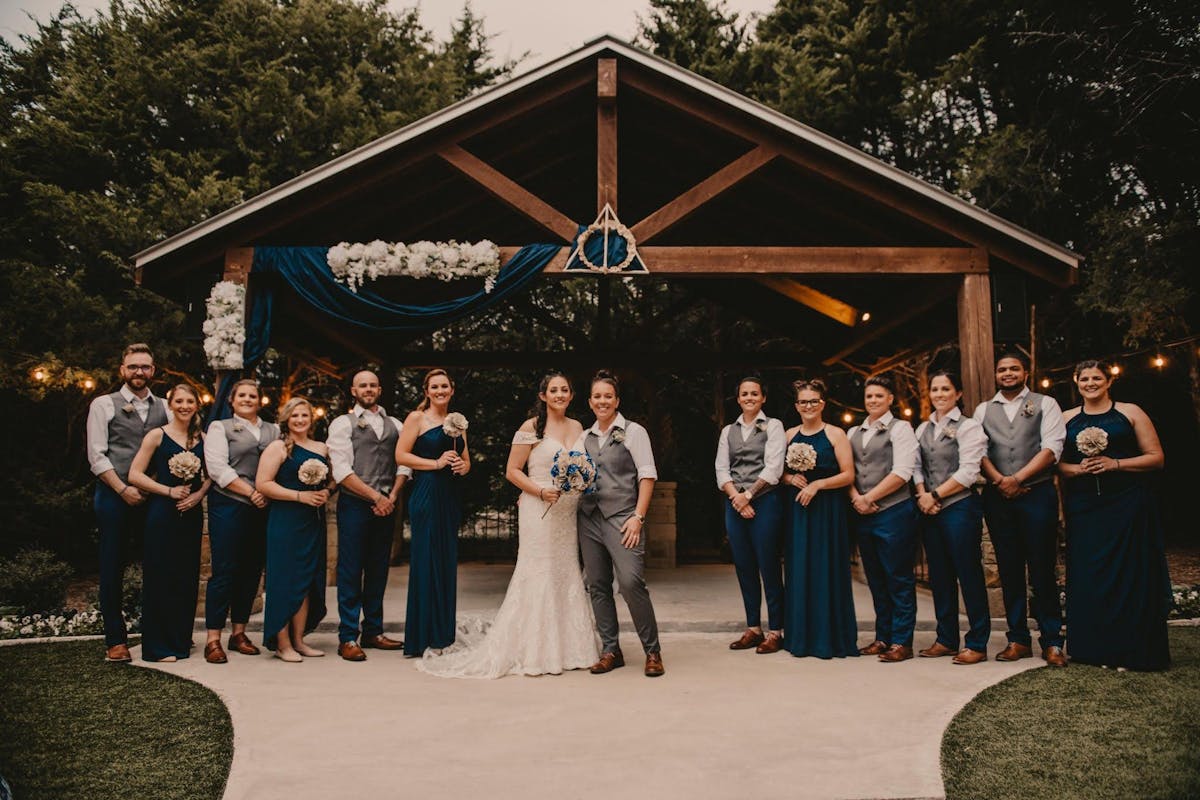 Here at SuitShop, we believe that couples should celebrate their love in a way that feels special and meaningful to them. For LGBTQIA+ couples, this often means taking existing wedding traditions and putting a new spin on them or doing away with them altogether. Either way, we love seeing couples get creative with their nuptials! We spoke to Blue Nile, the world's leading online retailer of diamond engagement rings, to share our best ideas for beautiful LGBTQIA+ weddings.
Don't be afraid to make your own traditions
More and more couples are moving away from the traditional elements of weddings and focusing on the aspects that matter to them most. We especially saw this come out of 2020; instead of canceling their celebrations, couples decided to host micro-weddings. By focusing on their day being an intimate and authentic experience and inviting only their closest friends and family, they created a wedding style that was true to them both individually and as a couple.
Traditions, however, can help with the planning process. By viewing them as a starting point, you can pick and choose which traditions you will keep and which you will update.
Not a fan of cake? Why not have a cookie bar instead? Have best friends who are both guys and girls? Have them stand together at your side and allow them to wear what they feel good in. Not into traditional black tuxedos? Mix and match colors and don't be afraid to be bold.
Wear what makes you feel fabulous
At SuitShop, we are outfitting countless brides in our suits and tuxedos for their wedding day, moving away from what's "expected" and curating a look that is authentic to themselves. While some brides have opted for our Women's White Tuxedo, our blue suits have been the most popular choice for brides on their wedding day.
We believe that everyone getting married should wear something that makes them look good and feel good whether that's a ball gown, a jumpsuit, or a classic tuxedo.
Choose vendors who align with your values
It's important to choose vendors who are aligned with your values and who will listen and execute what your vision is for your wedding day. From custom designing an engagement ring, to incorporating your favorite colors, to hiring your favorite cover band to play at your reception, there are so many ways to truly personalize your dream day. Don't be afraid to think outside the box.
Add those personal touches
No two weddings are the same and what makes them really special are those personalized touches that will be remembered for years to come.
We had multiple couples in 2020 choose to write their own vows but only share them during their first look. For their ceremony, they stuck with more traditional vows promising to love and care for one another until death parts them. However, the few moments they shared what they had handwritten were so special and almost always resulted in happy tears.
Traditionally, couples write letters to each other that are passed on the morning of the wedding but we would highly encourage couples to pass off those letters in person or opt for first look vows. You can find really beautiful vow books and make this a keepsake that you can look back on for anniversaries to come.
Your wedding will no doubt be one of the most cherished days of your life so you want it to feel really personal to you as a couple. If this means abandoning some traditions and creating your own, then do it with love and confidence in your hearts. Marrying your soulmate in front of your friends and family will fill everyone with an incredible amount of joy. It'll be a day to remember forever!