How to Come Up With a Wedding Hashtag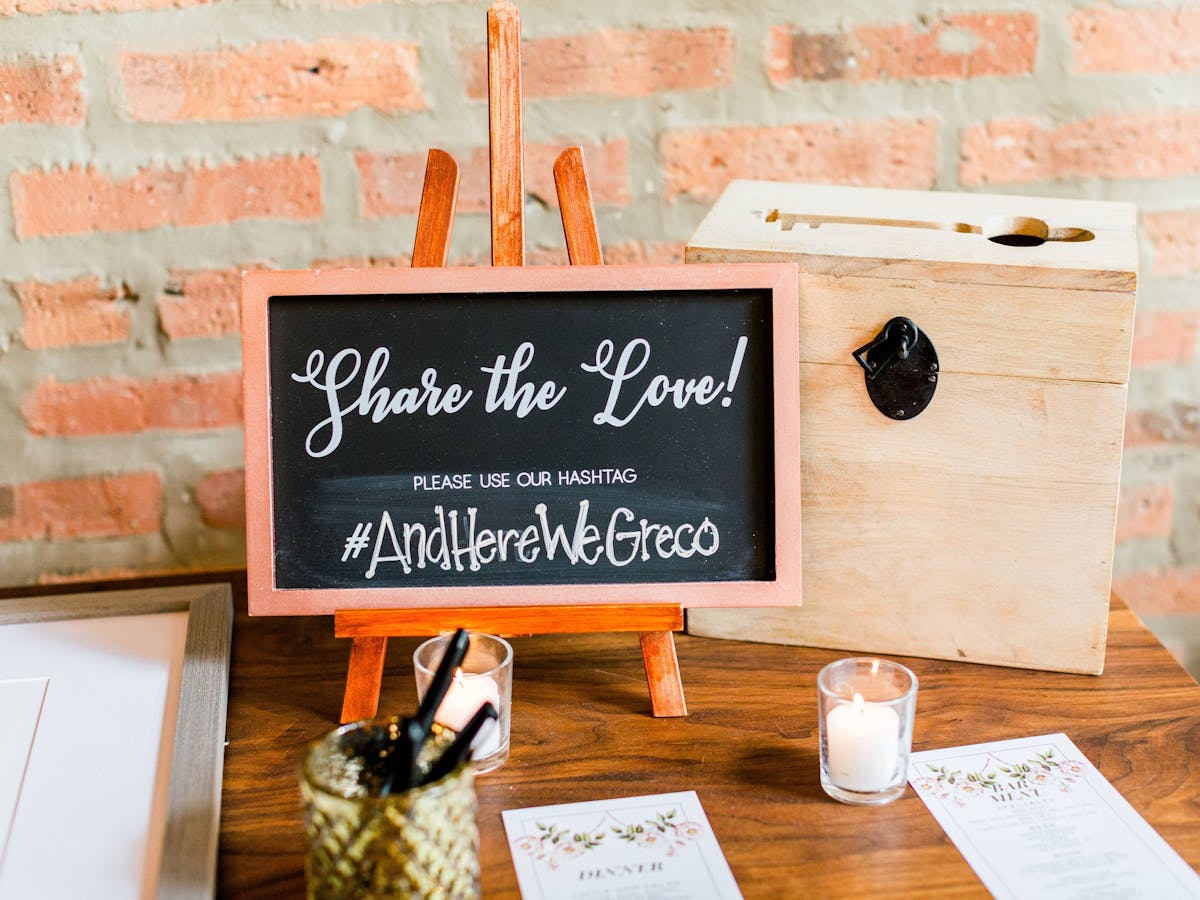 You've started planning your big day and might be overwhelmed by details, costs, and decisions, so it's time to focus on a fun aspect of planning your celebration. Your wedding hashtag! Creating a personalized hashtag for your big day means you'll easily see all of your friends' photos of your wedding and better yet, anyone who isn't able to attend can see the day-of pictures too! It can seem daunting to come up with the P-E-R-F-E-C-T hashtag that seamlessly involves humor and possibly your new last name, so we're here with some tips and tricks to help you out. #You'reWelcome
Get Creative
Start by thinking about a few aspects of your wedding that can easily be included in the hashtag. Most commonly people will use some combination of one or both of their last names, but also consider nicknames, your wedding location, and wedding theme. For example one of our SuitShop real weddings used #RosesAreWedInBurg, incorporating their last name AND wedding location! Sometimes it helps to write everything down to see if anything pops out. Probably the easiest way to create a memorable hashtag is to use an alliteration that nods at your soon to be shared last name. Here's some of our favorite examples: (Credit)
At last (#AllenAtLast)
Bewitched (#BewitchedByBlackburn)
Crazy about (#CrazyAboutCrawford)
Dreaming (#DreamingOfDanes)
Enamored (#EnamoredWithEisenberg)
Enchanted (#EnchatedByEncallado)
Forever (#ForeverFaheem)
Finally (#FinallyFredericks)
Happily Ever (HappilyEverHarrison)
Hooked On (#HookedOnHanks)
Hot For (#HotForHogan)
Infatuated (#InfatuatedWithIngram)
Loving (#LovingLachman)
Married (#MarinelloMarried)
Meet the (#MeetTheMaynards)
Off The Market (#OakmanOffTheMarket)
Smitten (#SmittenForSchmidt)
Sweet on (#SweetOnSwainey)
Taken (#TheTaylorsAreTaken)
Under the Spell (#UnderTheSpellOfUhlrich)
Wooing ( #WooingWadeson)
Yes To (#YesToYang)

If you're looking for something a little less generic, think about commonly used phrases in pop culture and see if either of your names fit well into them. For example, "There's no place like home" from The Wizard of Oz could be turned into #TheresNoPlaceLikeHolman. Similarly, instead of "twice as nice" one of our couples used #TwiceAsWeiss. If you feel like your creative juices are running dry from all the planning, try hiring a professional hashtag writer through weddinghashers.com! You can enter details like your names they will create personal recommendations just for you. Plus, your friends will never know you didn't come up with it all on your own!
Check If It's Been Used
If you think you've finally found the perfect hashtag, you'll want to make sure no one else has used it, at least not recently. Type it into Instagram to see when the last time it's been used, if ever, to ensure your photos won't get confused with another wedding. If it has been used, an easy trick is to add a number in! Instead of #CrazyAboutCrawford you could use #CrazyAboutCrawford2020. Adding the year or even your wedding date will help differentiate your hashtag. If you see it being used a ton, it may be best to go back to the drawing board. 
Spread The Word
Once you have your hashtag created, it's time to tell everyone! You can easily include the hashtag on things like your save the dates, wedding website, and your own Instagram. It's also a great name to use for your wedding group when you get everyone suited up. If you think your guests might need a little reminder to use it throughout the wedding, you can add your hashtag to things like seating charts and menus to provide a little nudge. Pro tip: remember to capitalize all of the separate words in your tag. It will help differentiate the words and avoid misspellings by your guests! 
Whatever you choose for your hashtag, remember not to stress about it. This is supposed to be a fun part of your wedding and the real purpose is to easily see all of the amazing memories you create throughout your wedding day. On that note, we can't wait to see your photos! Don't forget to tag us on Instagram, @suitshopofficial and use OUR hashtag #TimeToSuitUp!