How to Make Suiting Up for Your Wedding Attire Fun, Easy and Efficient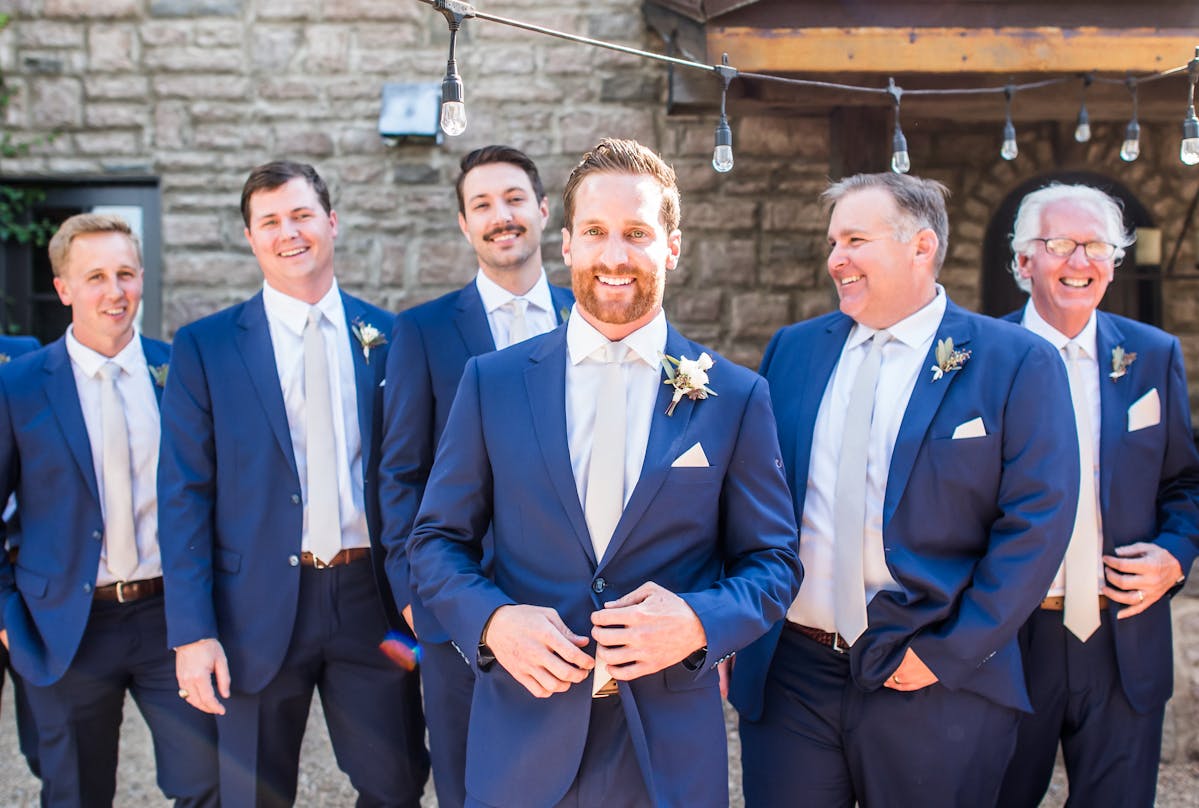 You bought the ring, you proposed, wedding planning has begun, and now it's time to suit up.
As a groom-to-be, picking out what you and your groomsmen will wear is your time to shine. Choosing your wardrobe is an important part of the wedding-planning process and something you should take charge of so your bride doesn't have another task to add to her to-do list. But to make it easier on yourself too, here are three things to keep in mind when deciding how to outfit yourself and your guys.
Take pride in your wedding style

Wedding photos last forever, and you're going to look back at what you wore on this one day for a long time so now's the time to take some major ownership over your style. If you're going for a traditional look, a tuxedo or a classic black suit may be the best option. For a more casual vibe, you could simply go with a dress shirt and tie or a dress shirt and coat without a tie. Whatever you choose, make sure it fits with the color palette and overall aesthetic of your big day. These elements will dictate the details of you and your groomsmen's attire. If you're going for black-tie wedding style, for example, your boutonniere will probably be more minimal, with pops of white, green and maybe a dash of yellow (it will always match the bride's bouquet). If you and your bride decide on a bolder wedding style, you may choose a patterned tie or a more vividly colored boutonniere. Whatever you do, own it. And don't be afraid to make your look slightly different from your groomsmen's. This trend goes beyond season or setting and ensures that everyone looks sharp. If you need more inspiration, see how real SuitShop grooms and groomsmen took pride in their style.
Make attire easily attainable

Imagine you find the perfect suit or tuxedo for your wedding, but the store you bought it from isn't near one (or any) of your groomsmen. What are your options now? You won't have that problem with SuitShop. Our goal is to make suiting up easier, accessible and more affordable for grooms and their crew. You can find stylish, classic and on-trend suits and tuxedos that you can own for less than the price of a standard rental. We have sizing down to a science and are happy to make recommendations and crosscheck all orders to make sure you and your guys are ordering the best possible sizes. If someone needs an alternative size, we offer free and easy exchanges and returns to get it to your wedding party in a timely manner.
Corral your guys

Regardless of the wedding attire you choose, one of the most daunting tasks will be coordinating your groomsmen so everyone has exactly what they need when the wedding day arrives. It's common for groomsmen to wait until the last minute to order their gear, but you want to avoid this at all costs. The key is to be organized and to start the process at least four months in advance. It's okay to be persistent with your groomsmen and remind them of the timeline and ordering details. Trust us, don't be afraid to check in with them frequently. You may feel a little groomzilla-ish, but better safe than sorry.
We've had the awesome opportunity to provide amazing suits and tuxedos for countless weddings. We'll work with your group one-on-one to make sure you and your groomsmen not only look sharp but that the process of getting suited up is stress-free and even enjoyable. All you have to do is pick the suit and register your group here. Our team will do the rest. You can move on to other wedding planning to-dos and not have to stress over any of your groomsmen dropping the ball on their outfits. Our team will facilitate the entire ordering process with your group.