How To Select The Right Blue Suits Based On Bridesmaids Dresses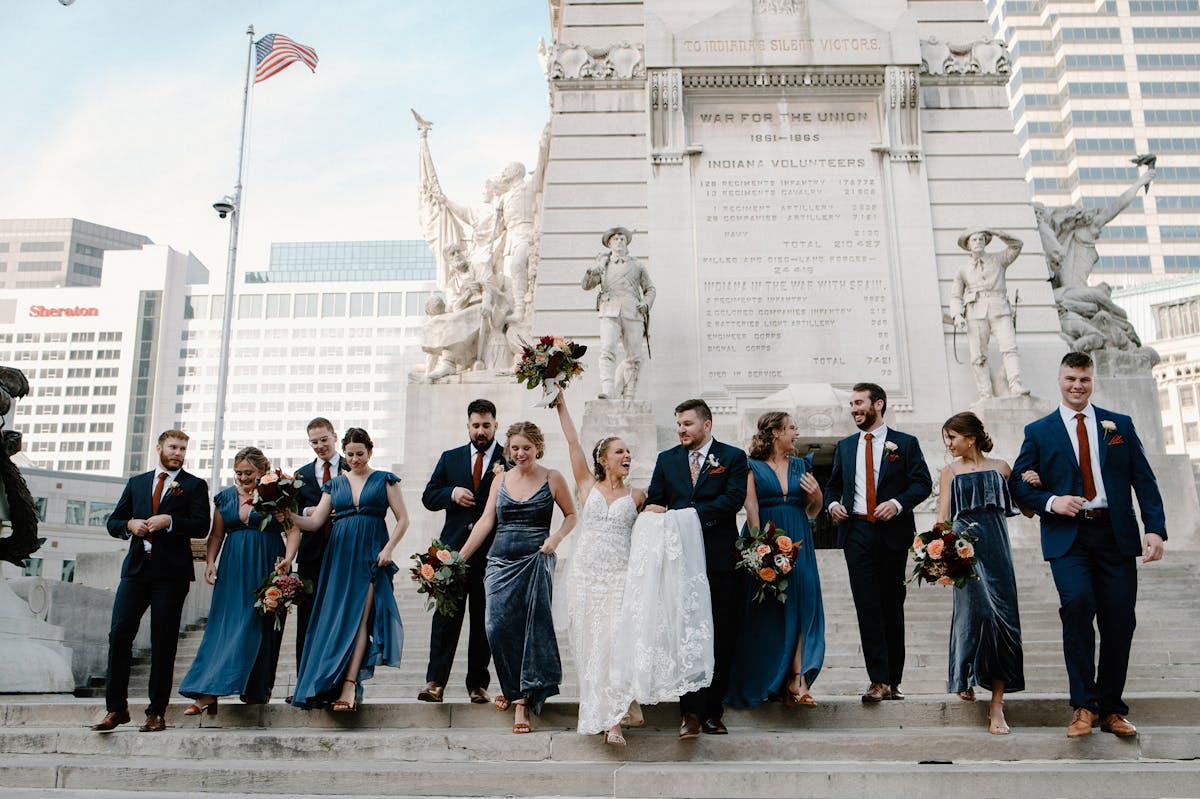 For the past several years, blue has been an extremely popular wedding color for groomsmen suiting and it continues to be just as popular today! There are many blues to choose from.  The colors range from the lightest pale and sky blues to the darkest midnight blue. Which blue is right for you (and your wedding)? Well, it really depends! You must consider the details of your wedding day including the season, time of day, venue, wedding colors, and of course, the bridesmaid dress color.  There really is no right or wrong answer but there are certain shades of blue that may be more aesthetically pleasing for your wedding than others, especially when it comes to bridal party wedding photos. Like it or not, those photos will be displayed and posted for the foreseeable future!
Light Blue Suiting is a very popular color for spring, summer and warm-weather destination weddings.  This color is especially nice for destination locales like the beach because the neutral backdrop of the sand and sea along with light blue suiting are a great complement to a bride's white or ivory gown and neutral or pastel bridesmaid dresses. There has been a recent trend of ivory bridesmaid's dresses while the bride is also wearing white or ivory.  In this scenario, light blue suiting would be a great complement to the ladies of the wedding party. If not ivory, then other pale pastels like pink, peach, mint, or gray would be a lovely complement to light blue groomsman suiting.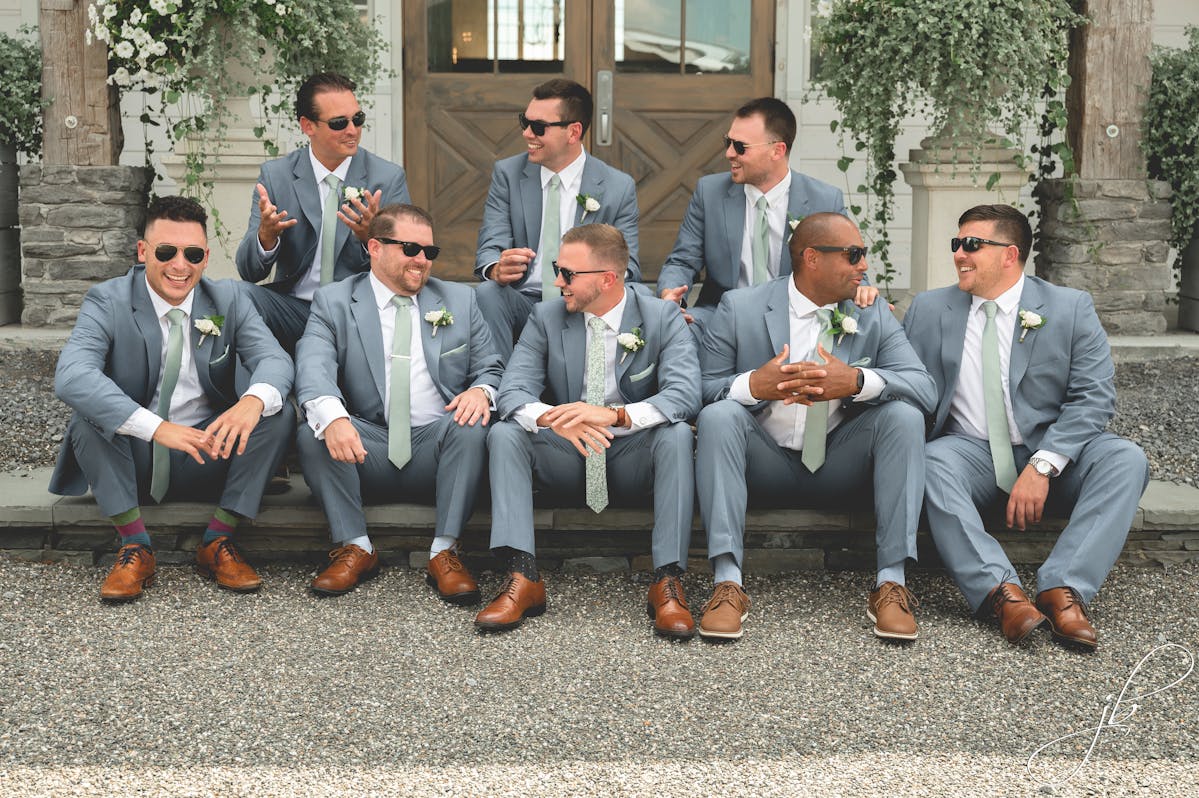 Medium blue colors like French Blue and Brilliant Blue are also a great option for groomsmen suiting. They are perfect for weddings in any season or climate as they are versatile and complement bridesmaid's dresses in lighter hues like blush pink to darker colors like burgundy.  Medium blues tend to be popular for outdoor barn and farm style weddings as they complement well with shades of brown and other earth tones. Again, there is really no wrong choice when it comes to selecting which shade of blue suiting for your wedding, it's more about selecting the best shade of blue that complements the bridesmaid's dresses and the other elements of the wedding.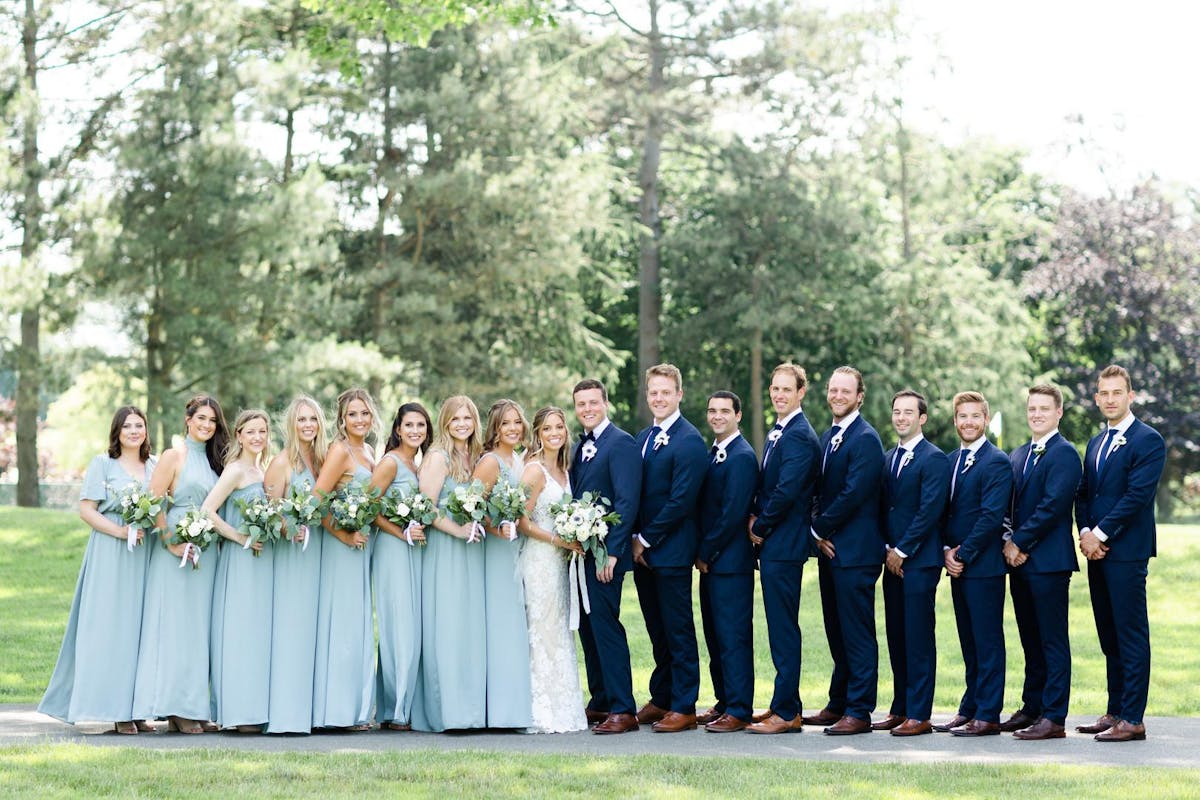 Navy Blue and Midnight Blue are the darker shades of the blue family that are often worn by groomsmen for weddings.  A true shade of navy is almost like black in the fact that it works well with just about any color. Really, it's true! We are challenged to find a bridesmaid's dress color that would not complement Navy Blue Suiting from ivory to golden yellow to burgundy to just about any other shade of blue, including navy itself!  The options are pretty limitless with this shade of blue. And, if you are having a formal wedding, you may want to lean on the side of this darker shade of blue.  Navy and Midnight Blue are great options for wedding tuxedos for black-tie and formal evening weddings when it is customary that your guests will be in black suits or tuxedos.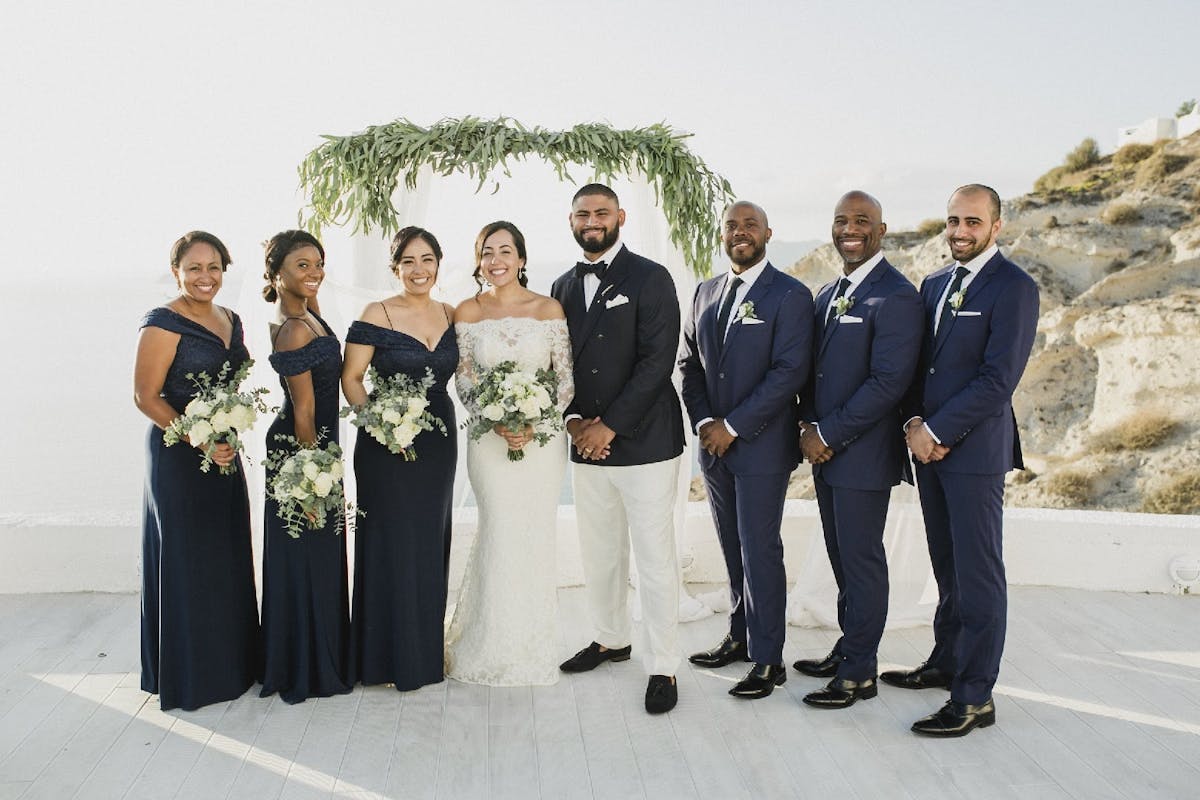 When it comes to selecting which shade of blue suiting for your wedding, it's more about selecting the best shade of blue that complements the bridesmaid's dresses and the other elements of the wedding.  
Still looking for the perfect blue bridesmaids dresses? Fame & Partners recently has published a detailed guide on how to choose the right bridesmaid dress style. After reading the article, you'll have basic information about popular dress cuts and you'll receive many tips to choose the dress that suits you perfectly. First, the article suggests consulting your friends, who will probably tell you the truth. They also recommend keeping in mind the season, climate, and wedding venue. For instance, if your wedding will take place in the cold season, it's better to have dresses with higher necklines and long sleeves, while strapless and flowing dresses are better suited for summertime.
And if you get stumped, don't hesitate to look at our Real Weddings Page for inspiration or shoot an email to our stylists, at info@suitshop.com.