Kam Chancellor suits up his squad with The Groomsman Suit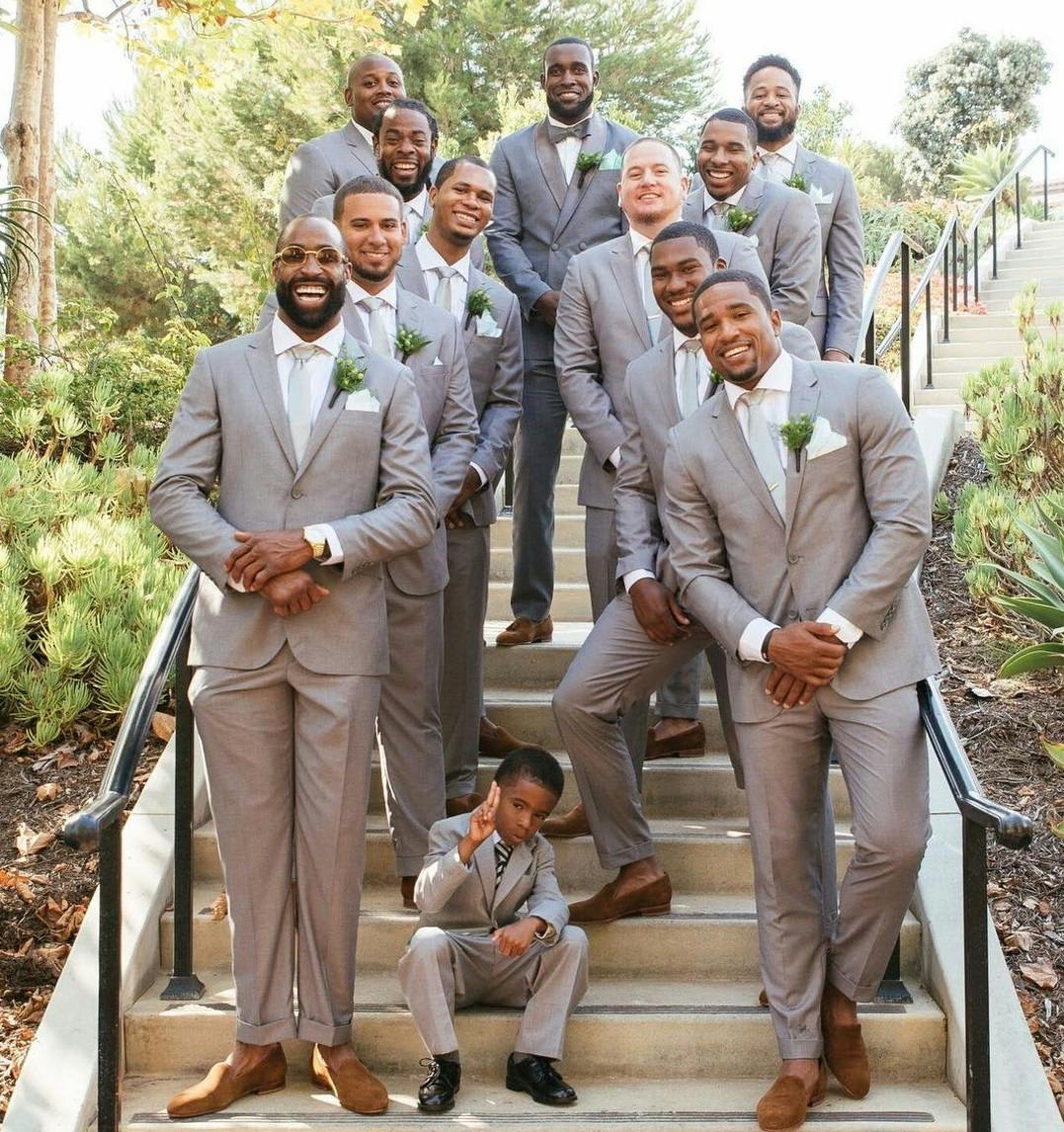 When you're busy leading arguably the best secondary in the NFL and you're about to get married to the girl of your dreams in the company of your family, best friends and teammates, how do you keep life from spinning out of control and where do you go for suiting? We're not exactly sure about the first one, but suiting was easy despite the wide range of NFL and non-NFL bodies and personal schedules. Starting strong safety for the Seattle Seahawks, Kam Chancellor, teamed up with stylist Dex Robinson and SuitShop to get his three brothers, four childhood friends and fellow Legion of Boom members Richard Sherman, Earl Thomas, and Brandon Browner ready for his July 8thwedding in Los Angeles. The result, Kam delivered a new and impressive set of squad goals to his Seahawks teammates and the rest of the country.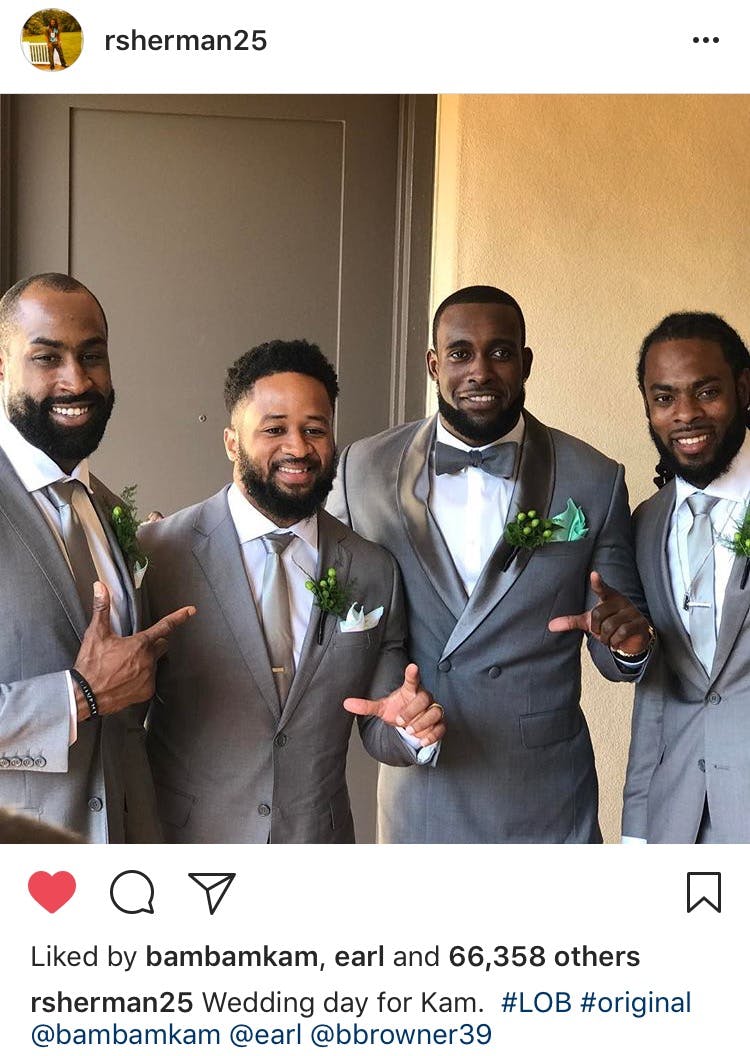 Dex Robinson, a NYC stylist to some of the world's top professional athletes, created the vision for the wedding's overall style asthetic. "Kam and Tiff are a beautiful couple and the backdrop of the Terranea Resort is breathtaking so I wanted to make sure the wedding party color pallet did not distract." To compliment the bridesmaids' pale mint gowns, he selected suiting in a light, textured gray with gray satin ties. Flare was added to this monochromatic color combo with a pair of caramel suede loafers from Kam's new shoe line. To ensure the shoes played an active role in the overall look, Dex had the pants finished with a higher, slightly cropped cuff. "I couldn't have been more pleased with the overall aesthetic. The color and light weight fabric of the suits were perfect for an outdoor California wedding," Dex commented. Visit our real wedding page to read more about the style details for Kam's groomsmen. 
SuitShop, formerly The Groomsman Suit, was an up-and-coming online brand dedicated to helping guys look sharp for weddings and special events. We worked hand in hand with Dex to make sure each of the groomsmen found a perfect fit. Dex explained that "There are few brands that could accommodate our need for sizes ranging from a 44S jacket to a 54XL, but TGS had everything we needed." While the range of sizes needed for Kam's fellow Seahawks teammates, family and friends would seem extreme, it's very common according to Diana Ganz, co-founder of SuitShop. "Wedding parties come in all shapes and sizes which is why we carry jackets ranging from 34S to 54XL in two fits and sell everything as separates. At our price point of $179, most brands sell suits as sets. It's not fair to force men into a standard jacket and pant combo," Diana explained.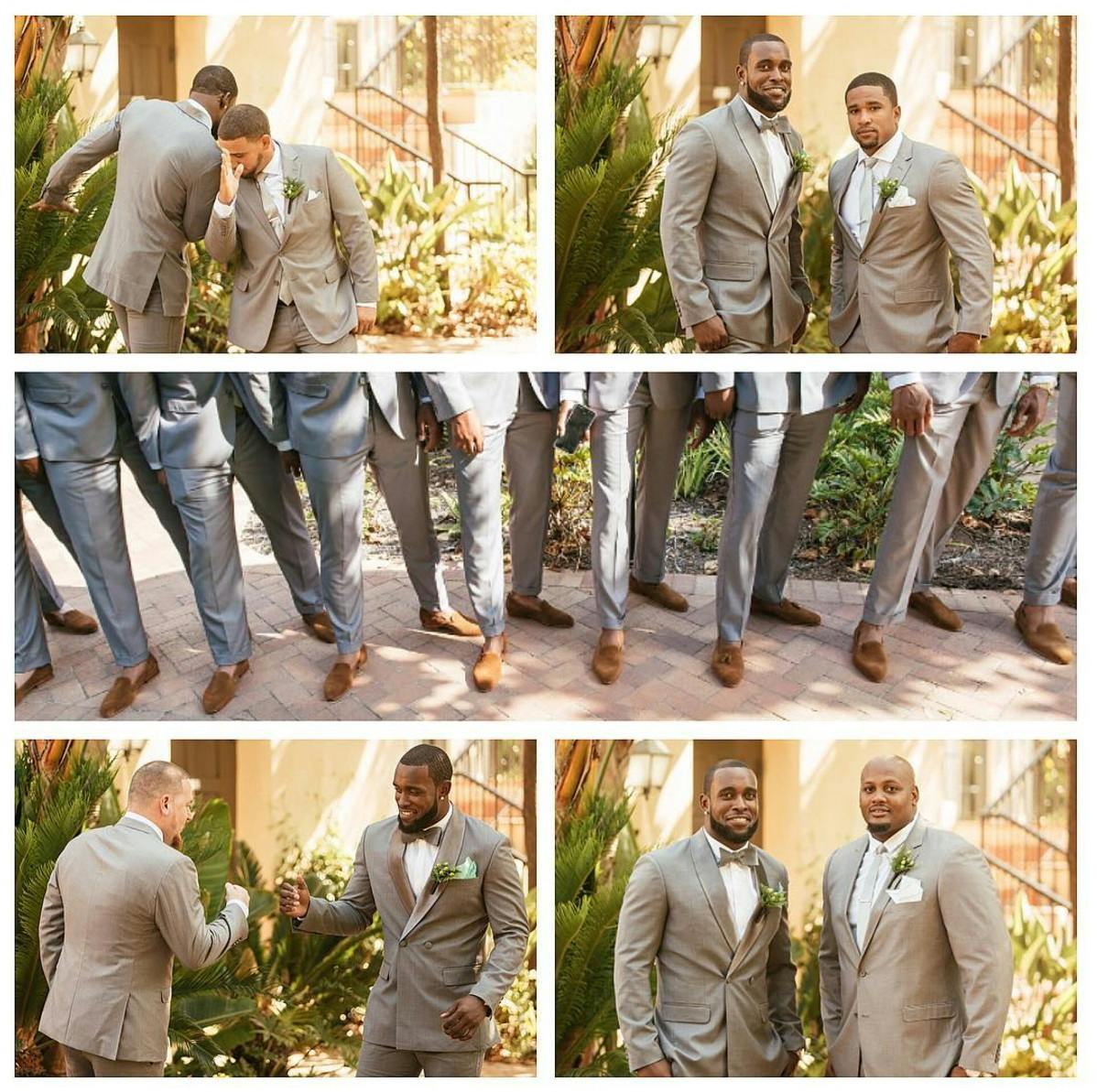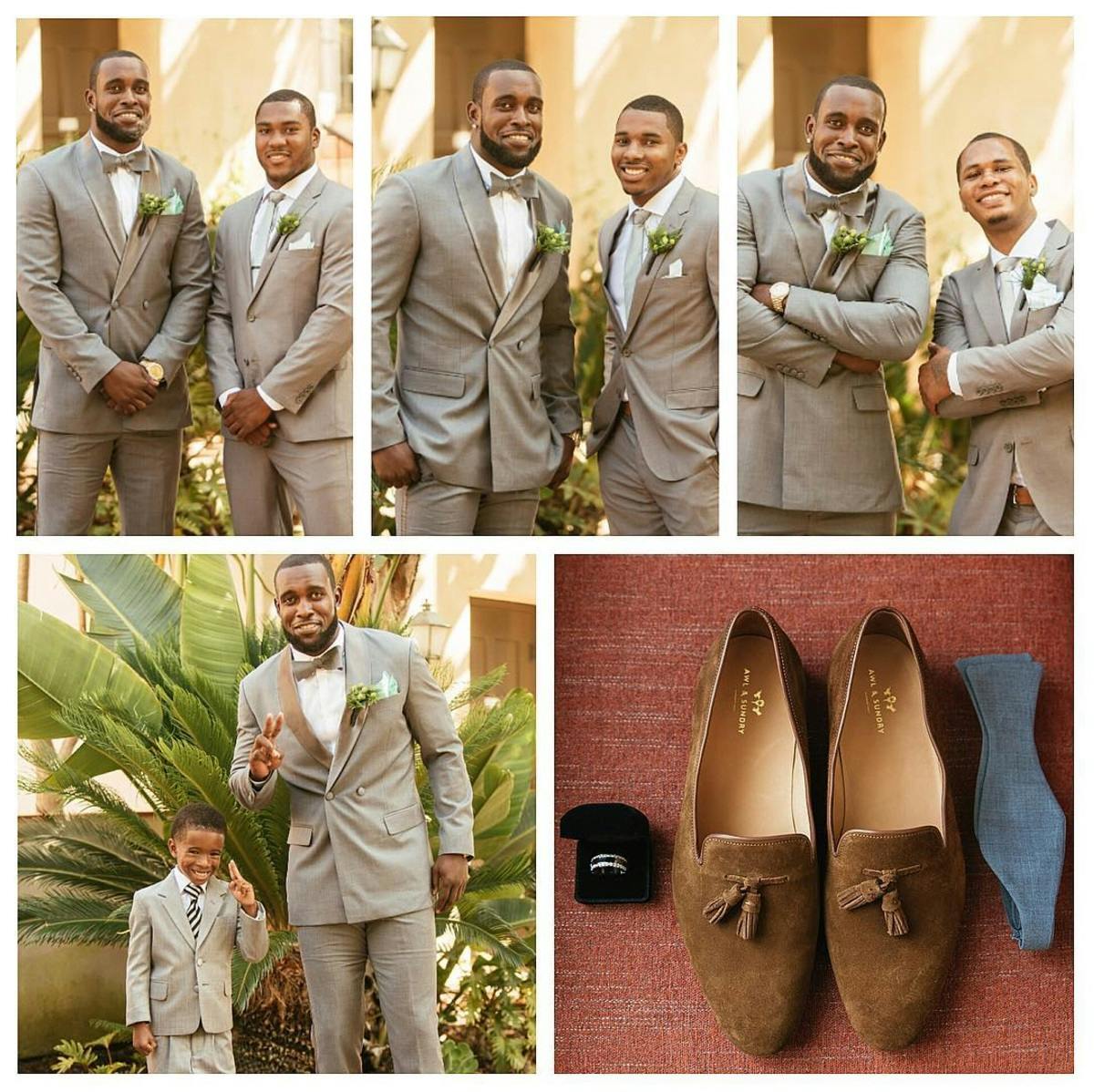 Established in 2015, SuitShop (formerly The Groomsman Suit) was founded by two best friends, Jeanne Foley and Diana Ganz, to create an affordable and reliable option in men's wedding wear – a market that they feel is currently being underserved by older, big box brands and rentals. "When I was planning my wedding, we were frustrated by the lack of options to get our guys suited up affordably. Like many couples, we were forced into going the rental route which proved to be an expensive nightmare," Jeanne shared. Almost two years into launching, SuitShop has outfitted thousands of guys in hundreds of weddings.
The young company was thrilled to get the call from Kam and Dex to collaborate. Dex Robinson has been  in the fashion industry for over nine years and a stylist for high profile athletes for about four years. He recently added wedding styling to the ever growing list of services he provides to his clients. With access to all the high-end and bigger brands, he had many options for Kam's groomsmen. "I chose SuitShop because they are THE resource in men's wedding wear. That is all they do and were truly a godsend. I'm not sure how I would have pulled this off without them," he said.