Knit Ties: Everything You Need to Know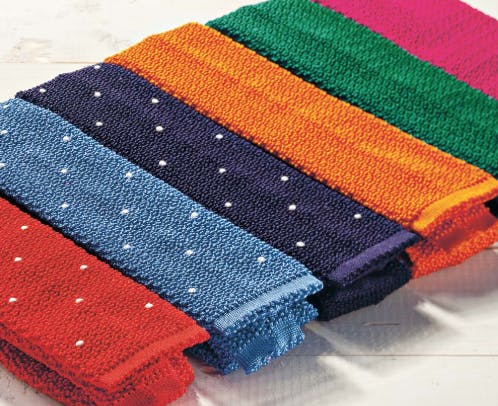 Color and print are two classic ways to make your tie — and your whole look — stand out on your wedding day. One thing we're seeing more and more grooms doing is take that idea a step further and making texture a defining element of their looks. One of the best ways to do that is by swapping out the microfiber tie for something with a little more eye-catching. The knit tie is making its way to the front of the crowd, and with its versatility and texture, we can see why. Here's everything you need to know about wearing a knit tie on your big day and beyond.
Why pick a knit tie over another fabric?

Knit ties are different and detailed without being tacky or gaudy, making them a great exclamation point on your look.
The fabric and the unique square end of the tie also make them a versatile pick for your wedding or everyday attire. Pick a skinny tie so it can be worn with different kinds of outfits, from formal to casual. If you're wearing a suit, a good rule of thumb is to always make sure your lapels are the same width as your tie so your look is proportional. It is also important to note that while you can certainly wear a knit tie with your suit, it will bring a casual touch to the overall look, so if your wedding calls for very formal attire, a knit tie may not be your best option.
The best time to wear it

Anytime! The beauty of the knit tie is that its dressy-casual style makes it a dapper choice for a range of outfits and seasons. Pair them with everything from sports coats to winter cardigans for a sharp but relaxed look. What you'll want to do, too, is pick the best color for the season you want to wear your knit tie. Think pastels for spring and darker hues like navy and burgundy for fall and winter. Though incorporating patterns is an option, we'd recommend getting comfortable with solids before diving into bolder looks.
Note the practical details

The four-in-hand is going to be your go-to knot with any knitted tie. This prevents the knot from getting too bulky and jutting out. You'll also want to pick a shirt with a slimmer collar, like a button-down collar. This goes back to proportions: Wearing a knit tie with a shirt collar that's too wide will look like a mistake.