Men's NYFW Trends from the Runway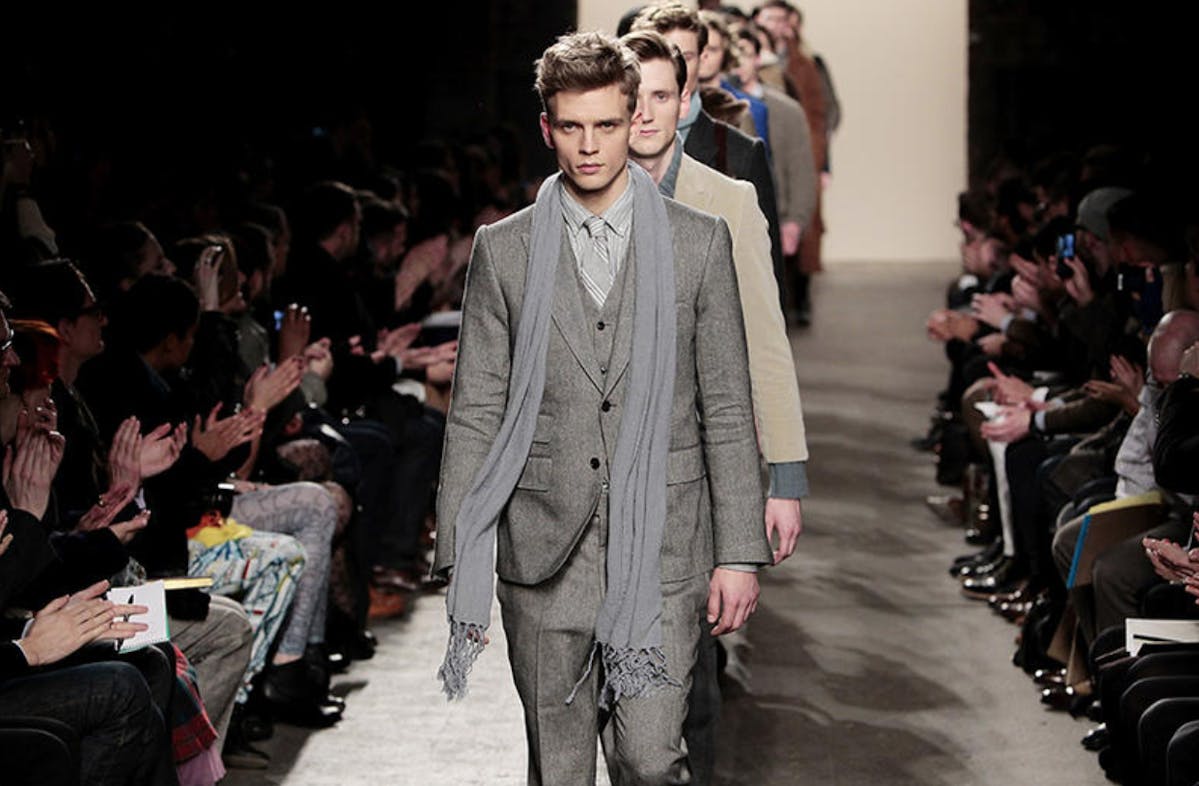 We love wedding style and all its details. Coats, button-downs and bow ties rock our world, but we recognize there's more to men's fashion than wedding suiting and tuxedos. We saw some innovative and downright impressive looks come down the runway at New York Fashion Week: Men's recently. In three days, designers took familiar styles, patterns, and aesthetics and reworked them into fresh looks for 2018. Here are a few fashion trends to note if you're looking to upgrade your wardrobe and ways to incorporate them into your wedding style.
Throwback Fashion
As we move forward, we're keeping the past near and dear — but with our own twist, of course. Men's NYFW saw the continued strength of retro and vintage looks. Tie dye shirts, neon-bright sneakers and 90s tracksuits with a 2018 flair made a bold appearance as they ramped up the colors and prints for summer. New York-based Agent paid homage to 90s grunge in many pieces (spotted: light-wash denim), while designer David Hart, who was inspired by the Watergate era, showed off a 70s vibe with colorblocked looks, pastels and dramatic shirt collars.
How to tie it into your wedding: There are a few ways to incorporate vintage style your groomsmen's attire. Suit them up in three-piece suits and expertly tied bow ties (here's how to tie one). Or throw it back with suspenders and a bow tie. For a mega sophisticated look, opt for a premium navy tuxedo with shawl lapel.
Relaxed Pattern Play
There are two things you want in your outfit when the heat index is pushing triple digits: something light and comfortable. Many ensembles at Men's NYFW combined a relaxed look with a relaxed feel, with several showcasing flowy pants — both solid and patterned — paired with equally airy tops. Brands like Hecho and Bode capitalized on this aesthetic by incorporating lightweight fabrics into their comfortable and stylish pieces and infusing them with soothing prints to bring the summer look home. Patterns from traditional blue-and-white stripes to camo to a variety of botanical looks served to balance, enhance and push the limits on outfits. To gather some pattern-play inspiration for your closet, take a look at how the pros did it.
How to tie it into your wedding: You can always go the nontraditional route and wear a plaid button-down under your wedding suit jacket like Ryan and his groomsmen did. But if you're looking for a subtler way to capitalize on this trend, make the patterned element your tie or your socks. It's the perfect way to add a little texture to a solid suit.
Images: Retro and Vintage Rule the Streets at New York Fashion Week Men's
Athletic Influences
Up next is the remedy for "smart layering" we're all looking for: something shorter and sporty. Athleisure got a major upgrade at Men's NYFW with track suits, mesh shorts and cropped sweats dotting the runways and streets — all reimagined for a fresh, street-worthy look that still preserves athleisure's laid back foundation. By piecing together different athletic-inspired pieces, you can create an outfit that either emphasizes the sporty edge or keeps it subtle, giving you the comfort with a more high-end look.
How to tie it into your wedding: You certainly won't be wearing mesh shorts or joggers to your wedding, but that doesn't mean your groom style can't have an athletic edge to it. Complete your casual wedding ensemble with a pair of sporty brogue shoes, for example. Marc Nolan has created a sharp dress shoe/sneaker combo that is great for walking down the aisle or out for a fun night on the town!
Images of mesh shorts: https://www.gq.com/gallery/street-style-new-york-fashion-week-men-spring-2019
Image of a sporty but not too sporty look: https://www.esquire.com/style/mens-fashion/g22076090/editors-picks-new-york-fashion-week-spring-summer-2019/
Suit Spottings
You didn't think we'd leave our favorite pieces out of the picture, did you? Suit ensembles had their moments too, further making the case for repurposing yours for dapper street-style flair. Models carried an effortless air of cool as they sported matching suit pants and coats paired with a variety of minimalistic shirts underneath. Some shirts had more of a scoop neckline, while others were simple and polished solids. At times, there was no shirt required — just button up the jacket. Many looks, though, featured a slim suit pant with sneakers and a solid or patterned sport shirt — no jacket.
How to tie into your wedding:While wearing a t-shirt with your wedding suit may not be in the cards for you and your guys, you are not required to wear a jacket. Outdoor and more casual weddings create the right environment for dress pants and an open collar button-up shirt. Suspenders or vests are unique ways to replace the traditional suit jacket and pant combo.