Must-Have Groom and Groomsmen Pictures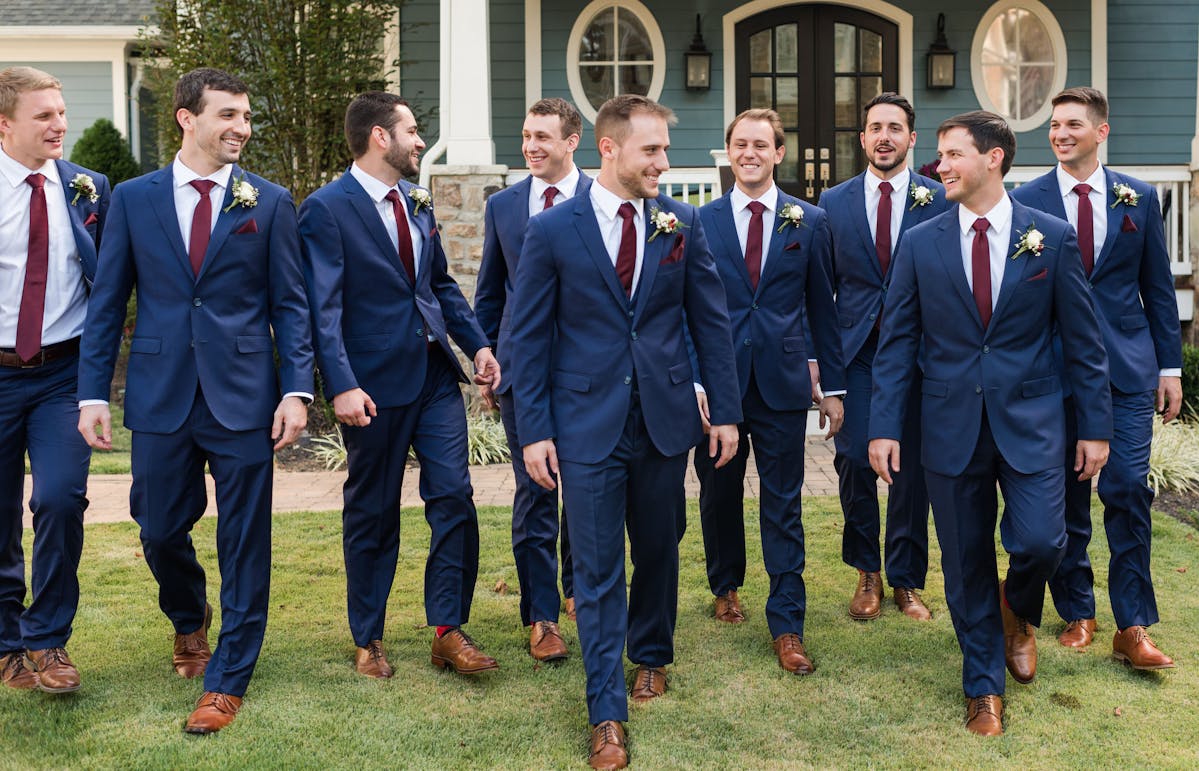 Everyone who has ever attended a wedding knows that most of the pictures, the special moments and the décor are all about the bride!  In most instances, women dream about their wedding day starting when they're a young child. Historically, guys have not been so in tune with what type of wedding day décor they want, how they want to look, or even what images they want to commemorate the day. Nowadays, guys are beginning to take more interest in their wedding day style and have a desire to be more involved with the wedding, it is a good idea to provide your wedding photographer with a list of 'must-have' photos of the groom.  Here are some suggestions:
Groom's Portrait
Make sure to request that your wedding photographer take a groom's portrait.  You might not think that it's important but he/she will be able to capture you in some really great moments – maybe writing or reciting your vows or just as simple as you getting ready, lacing your shoes or tying your bow tie.  A good photographer will capture you in your most pensive moment and at your happiest. Additionally, your bride-to-be will want to see your getting ready process versus hers, so give her something cool to see. Also consider having a moment alone with you and the photographer for a great portrait of you looking out the window or looking intensely into the camera.  These shots are always great in black and white!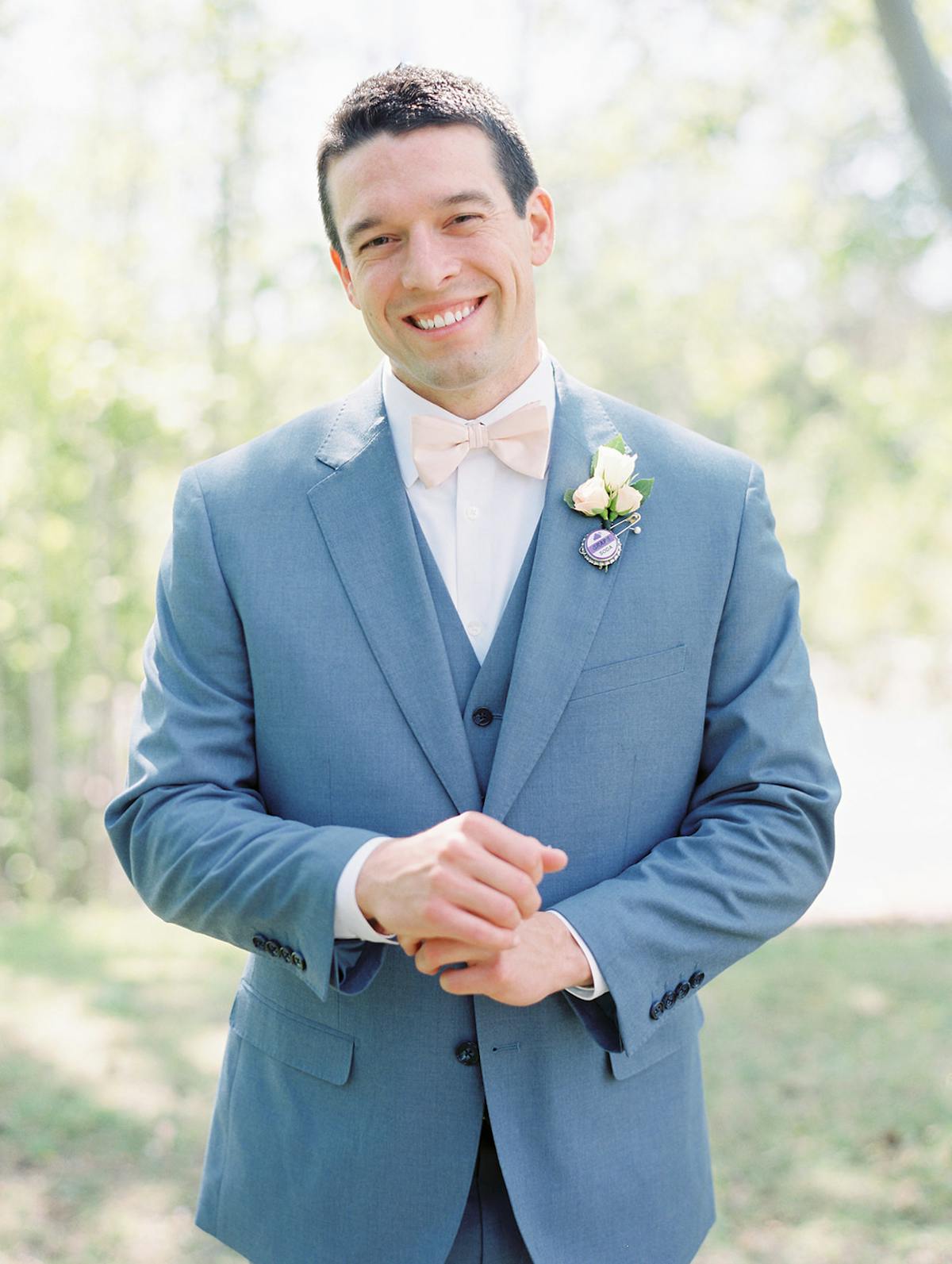 Groom Getting Dressed
Yet another way to get a candid shot of your big day, this kind of photo has the opportunity to capture those emotions before everything comes together for the big moment. It's a behind-the-scenes look. Odds are these won't be staged, so when you see them later it'll be a sort of authentic time-capsule of the moment. To make sure it happens while still keeping it candid, just tell your photographer beforehand that you'd like some shots while you and the guys are suiting up. Just another reason to have your guys brush up on pinning boutonnieres and tying bow ties so they seem like naturals in the photos.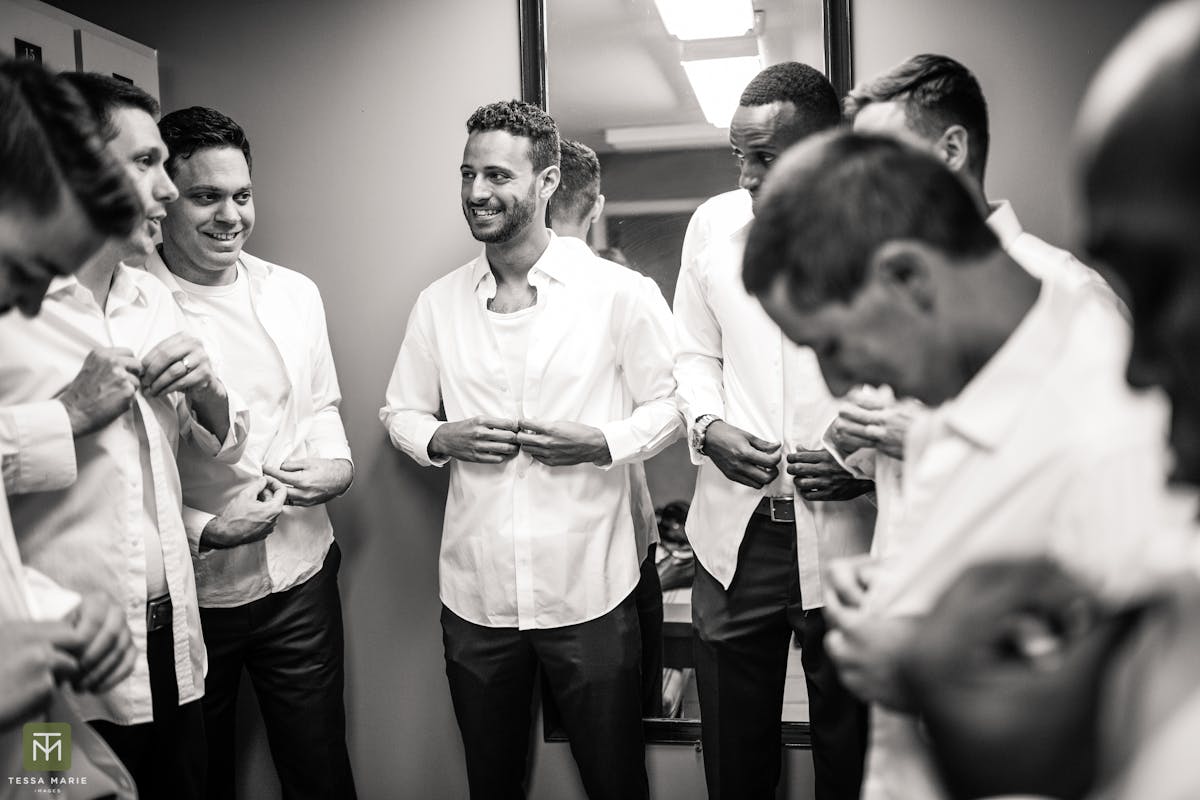 Groom and Best Man Photo
A groom and best man photo is an awesome way to capture the love and friendship between you and your best mate.  A nice shot of you two reminiscing or laughing about a funny thing that happened in college or at the bachelor party is bound to make for some good photos.  If one of you is sharing how special this moment is and it brings you both to a heartfelt embrace, that's great for taking a pic with your best man! Don't look at it as being cheesy or sappy.  And if you are one of those grooms that needs a little help with your bow tie on the big day, your best man assisting with your tying your tie or placing your boutonniere always makes for a great pic! The bigger picture is that this is one of the most important days of your life and it would be nice to have this moment documented in a beautiful and thoughtful way.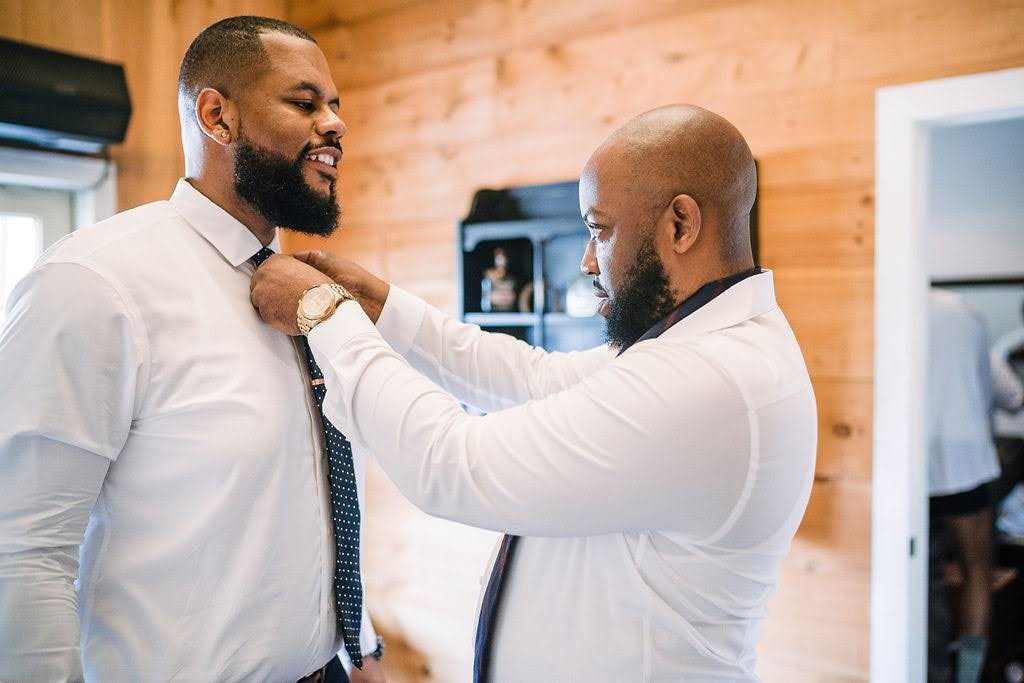 Groom and Groomsmen Group Shot
All Lined Up: A group shot of you and your groomsmen is a must – not negotiable!  It's really good to see all of the guys all dressed and lined up in a special way to show solidarity for your big day!  Think about having your groomsmen line up, hands clasped – left over right (or right over left – either way have everyone do the same thing and pose the same way.)  Having the guys stand evenly apart from each other really helps for a sharp looking image and adds a bit of uniformity to the overall pic. Now remember when taking this pic, the button rules apply! You and your groomsmen should have the top button of your jacket fastened any time while standing.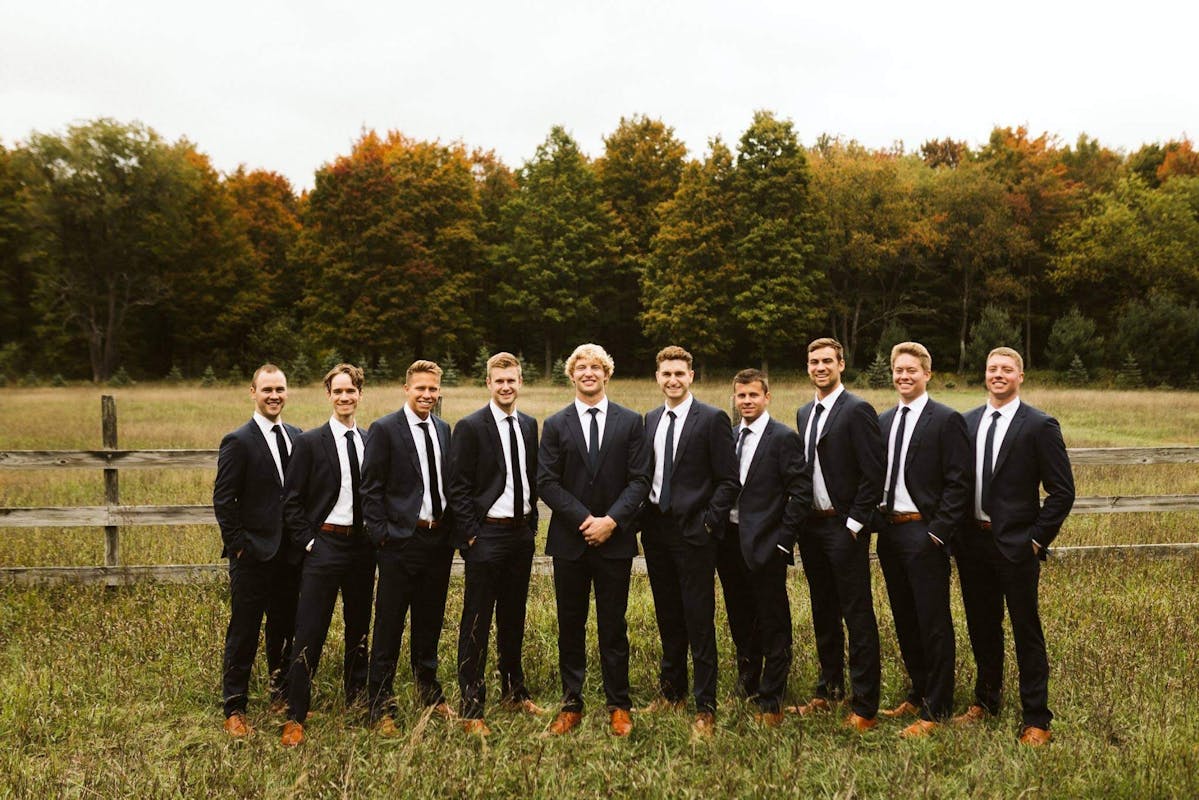 Freestyle Shot
If uniformity and standing equidistant is not your thing, mix it up by having your guys freestyle the shot!  They will stand however they want – within reason of course! Freestyle photos are some of the best shots as everyone can show their individual personalities within the confines of you all wearing the same suit or tuxedo.  Whether it is a shot of the groomsmen jumping or posing in a very GQ or debonair stance to guys posing as football players about to "punt the ball" it's a sure way to get the guys laughing and ease the pressure of being so pulled together for a pic.  There is also the trend of individual shots of you and your groomsmen – one serious and one super freestyled version so you can have fun and do whatever you please! Needless to say, whatever you do, make sure it is genuinely you!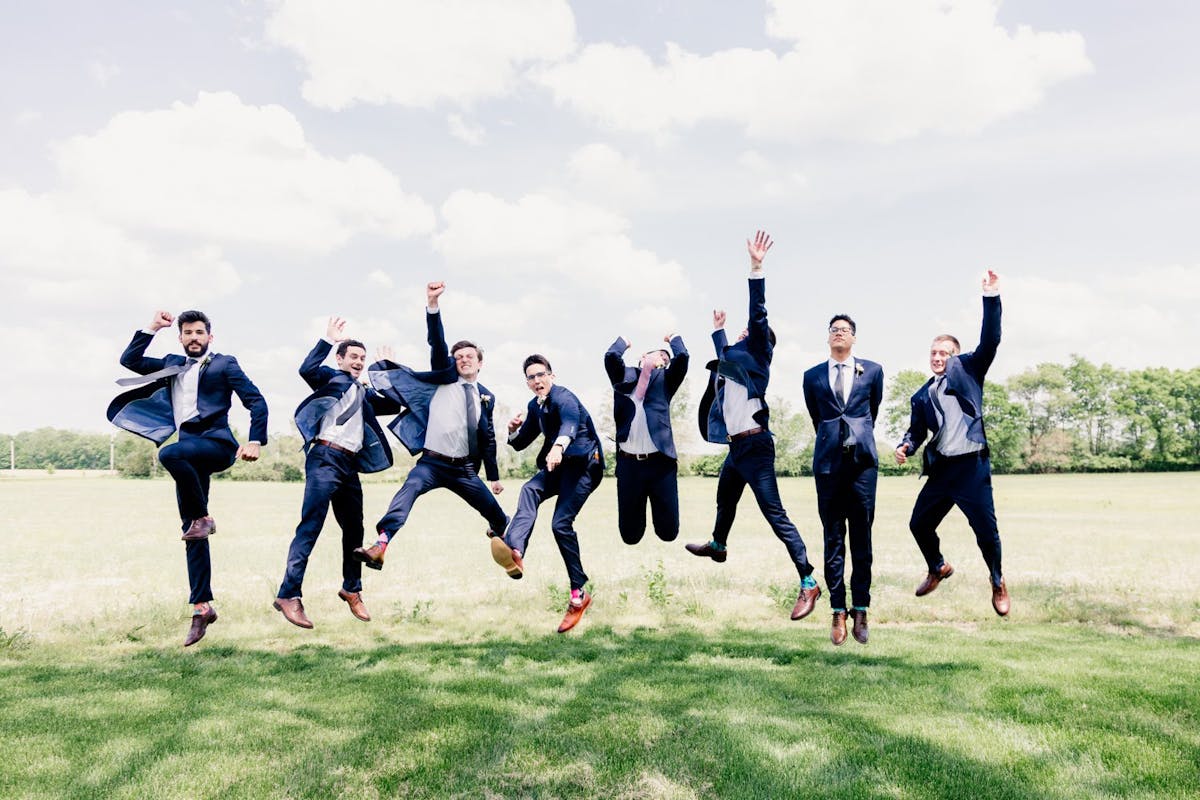 Formation
Beyoncé is not the only one that can pull a group of people together to make something special!  Guys can do it too! For the creative groom, depending on the number of guys you have – get in formation!  Make a super cool staggered diagonal line or maybe even a "V" or crescent shape to mix it up from all other wedding party poses.  The idea behind this is to be able to see everyone and to show that you are creative and precise. Make sure it actually looks like whatever you are trying to make, otherwise nix it.  Just know that you and the guys might not get it right the first time and may need to make some minor adjustments that the photographer or their assistant can surely help with. When you nail it, you will know and it will be special and a cool pic to look back on after the wedding is done.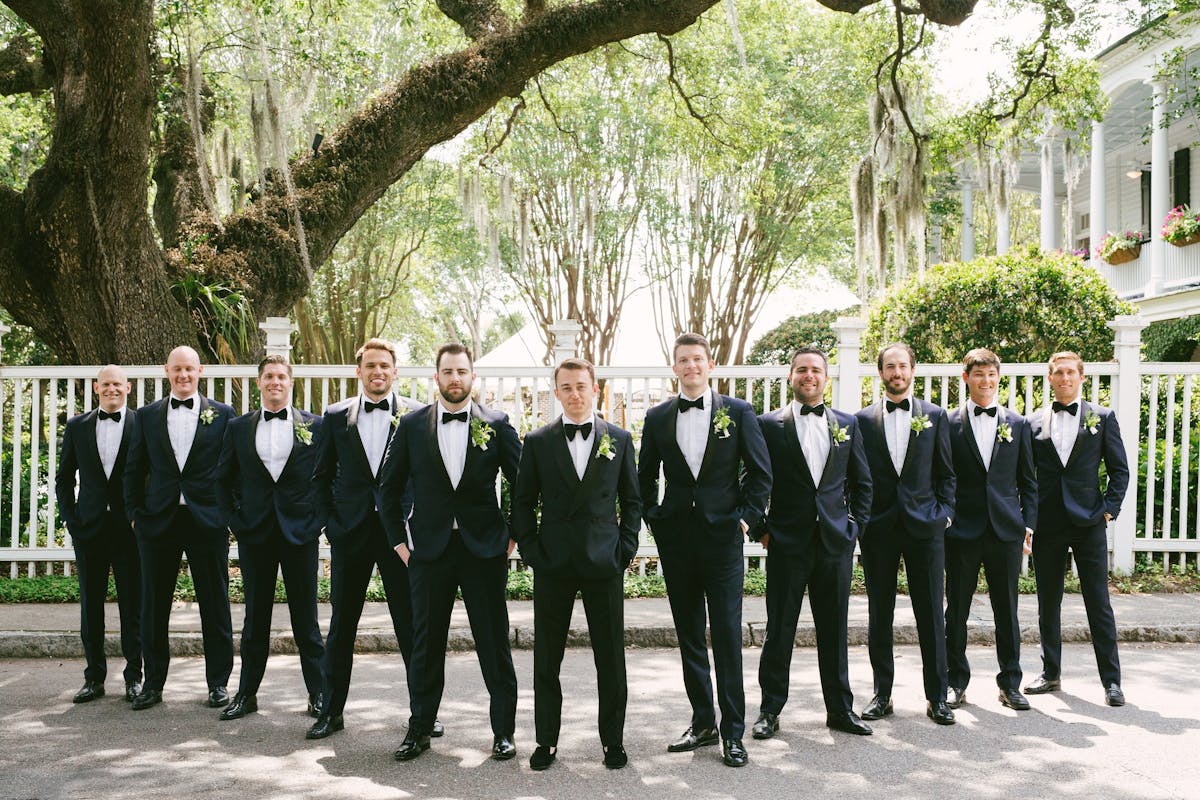 Stately Gentleman
Lastly, finding an area where you can have a great stately or aristocratic type of photo with your groomsmen is also a great idea!  Depending on your venue, this may be an area that is more vintage with paintings from the Victorian era or if your venue is more a modern, a beautiful staircase or floor to ceiling waterfall wall. The point here is to create a moment that is timeless where everyone looks poised and distinguished!  It can be a bit casual or uniform – either way, make it stately and gentlemanly! You'll be able to look back at these images with fond memories knowing that you've created yet another great moment in time with your tribe – the guys you could not do life without!