New Year's Eve Wedding Style For Men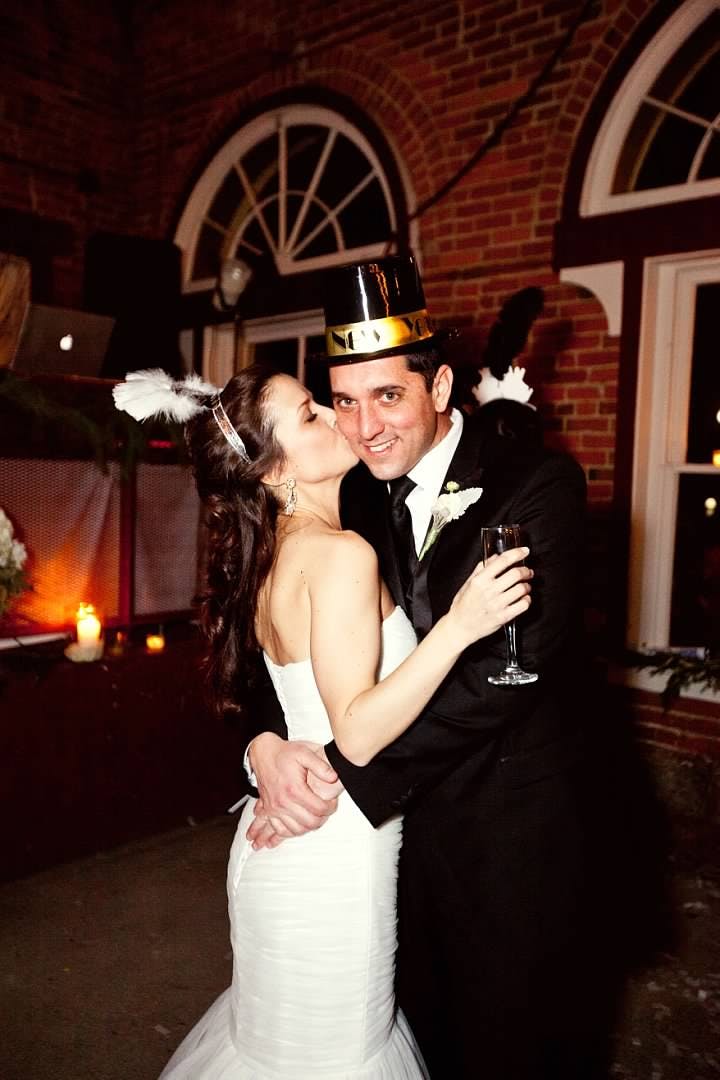 Should old tuxedos be forgot and never brought to mind…should old tuxedos be forgot… Okay, so these are not exactly the correct lyrics to "Auld Lang Syne", but you get the point! Leave behind the old, rented, ill-fitting tuxedos and purchase something new to wear as the groom or the guest of a NYE wedding.  Let's elevate and create a more refined and debonair look to celebrate nuptials and bring in the new year. Below we will discuss the possibilities for your new NYE wedding look!
 
IVORY DINNER JACKET W/MIDNIGHT BLUE TROUSERS
The Ivory dinner jacket is a stunner and a party perfect piece for the New Year's Eve Groom.  If you are the groom hosting fancy NYE wedding, then the ivory dinner jacket is a great go-to for at least one of your wedding day looks.  For something a little unexpected, pair your ivory dinner jacket with a midnight blue tuxedo trouser.  It is just as sophisticated and elegant as black (if not more) but it will solidify your status as a budding style guy.  For shoes, a classic tassel loafer in leather or patent leather will suffice.  Skip the socks altogether or wear flesh toned no-show socks.  Lastly, don't forget to add a beautiful pocket square in a nice neutral solid or pattern print, and as a finishing touch, add a floral boutonniere or lapel pin in gold or silver.
Some guys are a bit paranoid about wearing white or ivory as they are a bit clumsy and have a fear of spilling food or red wine on their look.  This is definitely a concern and you should really do your best to be as careful as possible when wearing ivory but it is certainly not a reason to avoid the look altogether.  As a style guy, you will learn how to take care of your look from head to toe!  Word of caution - if you are not the groom, this is NOT your look for a NYE wedding, or any other wedding for that matter! Let this stand out look be for the groom when attending a wedding.
CLASSIC BLACK TUXEDO
A black tuxedo is a classic style staple for most gentlemen with sartorial flare.  The simplicity of the black tuxedo has stood the test of time and will always be a go-to for a black-tie wedding. Especially a NYE wedding.  The key to nailing this look is fit, and making sure you don't look like you're heading to prom with a big and baggy rented tuxedo.  Purchase a tuxedo and style it like the gentleman with grown man status that you are. Make sure your tuxedo fits like a glove and that you perfect the accessory details!  A lot of guys make the mistake of "wanting room to move" in their suiting looks.  Just remember, you are wearing a tuxedo so you won't be running a 50-yard dash.  It is okay if you can't reach the top shelf in your kitchen cabinets in the look.  You won't likely be doing that in your tuxedo on New Year's Eve!
As for styling this look, keep it simple and throw in a little NYE flair.  Typically, metallics are popular for NYE décor and party favors.  So why not add a little bit of metallic flair to your look?  A great metallic bowtie or pocket square will look festive with your overall look.  If you opt for the metallic bow tie, consider keeping the bow tie selection classic for your groomsman.  You can gift them with a solid black or white bow tie and reserve the showstopper bow tie for yourself.  Again, with shoe pairings, a classic loafer in black patent leather, or even velvet loafers monogrammed in silver or gold stitching would work nicely with your black tuxedo look.
 
PATTERNED DINNER JACKET WITH BLACK TUXEDO TROUSERS
Okay so you're wanting to do something a bit different than a traditional black tuxedo.  And certainly, if you are the man of the hour as the groom, you may want to stand out from the crowd.  Consider keeping the standard white tuxedo shirt and black tuxedo trousers and adding a patterned or textured dinner jacket.   There are so many options you can do here!  There are several patterns in plaid or jacquard that give a holiday and festive feel.  Or even a bright color dinner jacket in keeping with the other details of the wedding will help you stand out amongst the sea of black tuxedos.  Tie this look altogether with a traditional shoe, either black patent loafer, velvet loafer, or patent oxfords and let the jacket do all the talking for the look!
NAVY TUXEDO WITH CONTRAST COLLAR
A navy tuxedo with a black contrast collar is and elegant, chic and cool look for a NYE wedding.  There are many different ways to style your navy tuxedo look but consider wearing a black slim fit, cashmere-wool blend turtleneck.  Not only will you look chic but also very stylish and extremely debonair.  Most guys wouldn't have the courage to ditch the traditional white shirt and bowtie!  As for the shoes, a sleek Chelsea boot or black patent oxford will work like a charm.  Skip the lapel pin.  You won't need it.
 
MONOCHROMATIC SENSIBILITY
Another recommendation is to create a monochromatic look.  If you decide to go with navy, black or even gray, styling yourself in a full look of the same color could be a great option, especially for a New Year's Eve Wedding!  Monochromatic dressing is slimming, cutting edge, simplifies the effort and is very sensible.  As the NYE groom, you could even be a little more daring with the color and go for a full monochromatic look in a jewel tone color.  Consider a full look in emerald, garnet, sapphire, or even topaz.  As for the shoes, with the monochromatic look, keep the shoes to a simple black unless you find something that works in the color of your monochromatic look.  With this look you may be able to skip the pocket square or go very classic with plain white in a square fold and a very simple floral boutonniere (single flower, miniature size) or pocket square.
 
There are plenty of options for looking your very best for a NYE wedding!  Hopefully our suggestions above have given you a great start to planning your look!  
Looking for more reasons on why you should purchase your wedding day look instead of renting? Check out our post on THE DEBATE: Should you rent or buy a tuxedo?