It Started with Love: Online Dating Advice and SuitShop's Sixth Anniversary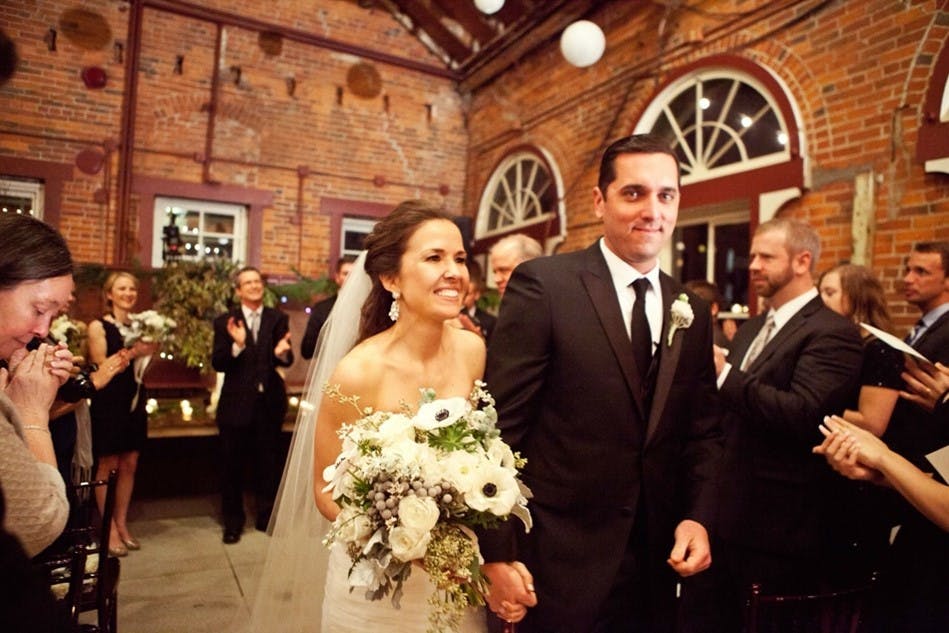 A New Year's Eve wedding. Champagne sprays. Some ratty, baggy, overpriced rental tuxedos. The beginning of a beautiful marriage and life together. And the start of a growing business.
There's not much more entrepreneurial than dreaming up a new venture at your own wedding, but that's pretty much how it happened for SuitShop co-founder Jeanne Foley. Inspired by just how uninspiring those rental tuxes her groom and wedding party wore really were—and armed with some serious fashion design prowess—Jeanne's imagination was sparked and her goal was set: to create a better (more affordable, re-wearable, feel-good-in-it) suit, fit to celebrate love.
Our story starts and ends with love: from the beginnings of an idea at Jeanne's wedding to suiting up over 100,000 customers and helping countless people fall in love with how they look and feel in formalwear. And what's the modern-day answer to finding love? The apps and the internet, of course. So, in honor of the month of love and SuitShop's sixth anniversary, we're taking you back to the very start of Jeanne's love story and her online dating journey.
Roses are red, violets are blue. Sometimes we must online date, to find the one who best suits you. Dive into our interview with Jeanne for some romance, online dating insight and advice, and to share in the celebration. Here's to Valentine's Day, anniversaries (business and otherwise), and the dating search.
SS: We know you met your spouse through an online dating service; which one did you use?
JF: We connected on Match.com. 
SS: Did you have any dating app fails before you got it right?
JF: I went on a lot of bad dates before meeting Kevin, but that's just part of the process and makes you appreciate a good date that much more!
What made you swipe right?
JF: On Match.com, they used to suggest the "Top 5" matches at the top of your screen, so every time you log in you would see those top matches that their algorithm suggested for you as a match. I was on Match.com for about a year, and Kevin was in my top 5 constantly. Of course, instead of going with the recommended matches (why on earth would I do that?!), I went on dates with other matches until I realized that method was NOT working for me.  I replied to a message Kevin sent me months prior and apologized for the delayed response but said that I was interested in meeting for a drink.  He sarcastically said, "I've been sitting here waiting for months for your reply, didn't know what to do with myself!" And I knew then that at the very least he was funny.
SS: Tell us about your first date.
JF: Kevin and I lived about 5-10 minutes away from each other, so we met at a bar mid-way (I walked, it was so close!). We had a couple of drinks and hit it off right away. We had a lot in common, and we knew we wanted to hang out again.
SS: When did you know Kevin was the one?
JF: There wasn't one specific moment that made me know he was the one, but we lived in Ohio, and a few months after we had been dating there was a winter storm with a LOT of snow. I didn't have a garage and HATED having to scrape my car off every morning before work.  I walked out the morning after the storm and my car was completely cleaned off. He had driven by my house on his way to work and scraped off my car for me! In that moment, I knew he was a keeper.
SS: Tell us your proposal story!
JF: Kevin proposed on his birthday. I was planning a surprise party for him, so I was very distracted texting his friends and family who were waiting at the restaurant to surprise him. I was getting ready, and he told me he wanted to have a glass of champagne together before we left, but we were already running late so I was antsy. I sat, we cheered our glasses, and he went into the kitchen to get something. When he came back out, he was holding a small box and started to get on one knee. 
I said yes just as our cab pulled up outside to take us to dinner…. A dinner he thought was just for the two of us.  We walked in and were greeted by close friends and family to surprise Kevin for his birthday. We ended up having a combination birthday and engagement party that night – it was GREAT!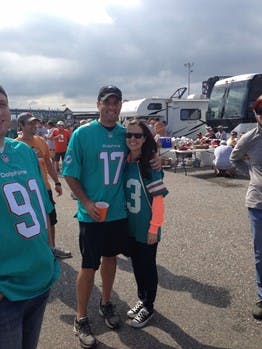 SS: Tell us about your wedding! Did your wedding have a theme? What was your favorite part of the big day?
JF: We decided to get married on New Year's Eve because we loved the idea of throwing a party on a night that you want to be around all your friends and family to celebrate a new year. We loved that it was an evening wedding. We popped plenty of champagne and confetti at midnight..
SS: What dating app advice do you have for couples taking a chance on love online?
JF: There are so many new apps right now that weren't available when I was dating. The only two options were Match.com, and eHarmony, and it felt a little embarrassing to tell people you were on one of those sites! Kevin and I told our families that we met at a football tailgate with friends to avoid having to tell them we met online! Haha!
I love that now there are a variety based on what you are looking for, and you can decide which app caters to what you want. It's so common now to meet online that most people I know have met their significant other or partner online!
My only advice would be to stay open minded.  People you think are not your typical "type" could end up being the one!