Planning an LGBTQIA Wedding? Here's how to incorporate PRIDE into your wedding day!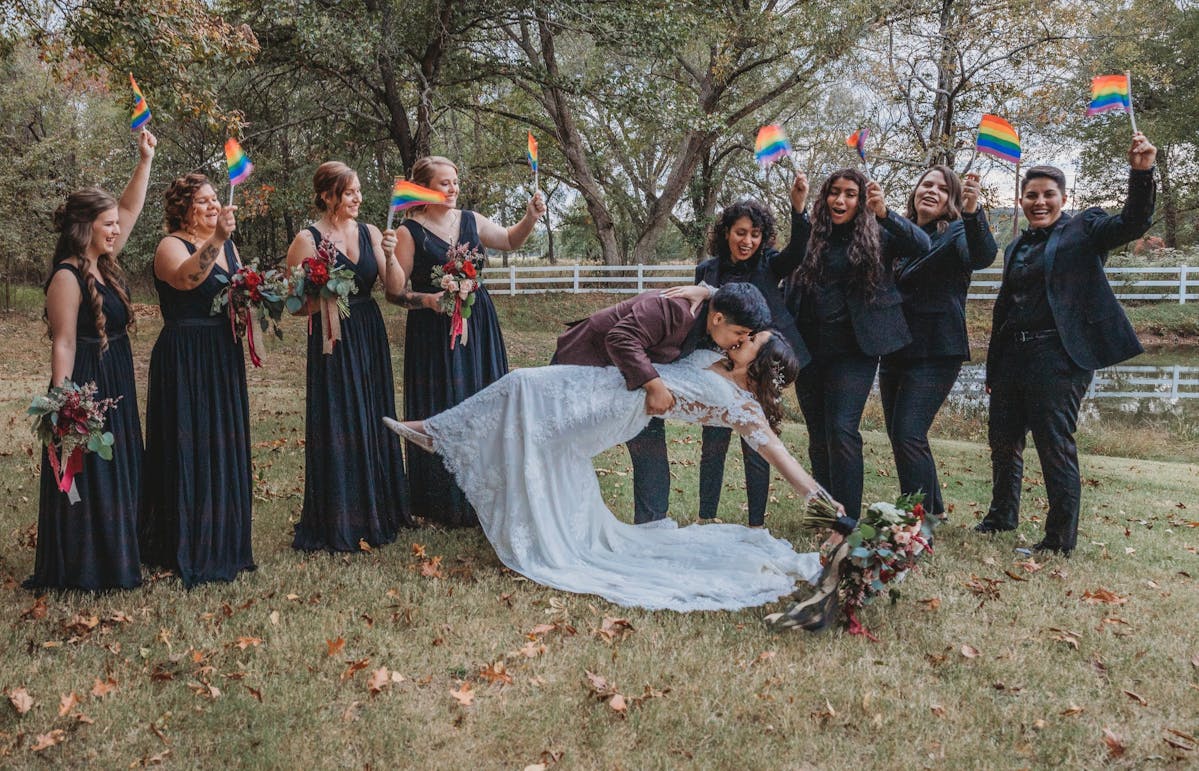 Happy Pride Month, everyone!  How exciting is it to live in a time where we can celebrate marriage equality and LOVE in all forms.  Even though we still have a long way to go, we have definitely made large strides of acceptance! And Pride is even more celebrated this year, 2019, because of the recognition of the 50th anniversary of the stonewall uprising. Love comes in a variety of forms and should be as diverse as a prism.  That said, as it pertains to your wedding style, there are many ways to incorporate and celebrate your Pride with wedding items and details for the couple and the wedding party!  Below are seven LGBTQIA+ wedding ideas to show your pride on your wedding day.
MIX IT UP
Who said that you and your spouse-to-be have to wear the exact same look? Often you'll find couples that have chosen to wear the same exact thing and maybe it's a way to show solidarity for your union.  However, if you'd like to mix it up a bit and show your individual personality, go for it! Obviously, one thing should be the same – the level of formality.  If your wedding is black tie formal, then both fiancés should wear formalwear.  And the same goes if your wedding is a more semi-formal affair.  Consider wearing different looks that reflect each of your personalities and adding in a pride element like pride inspired sneakers, loafers, or Doc Martens.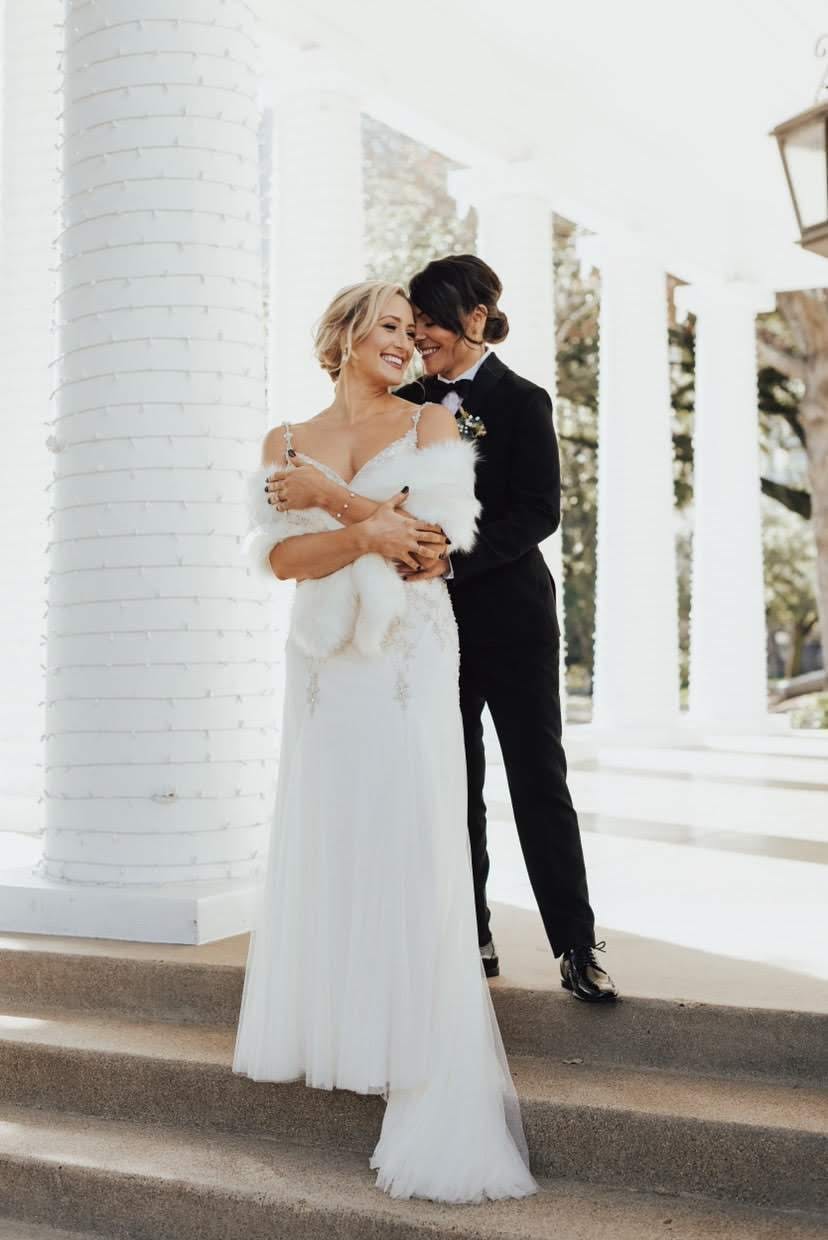 SUITING DETAILS
For the weddings that incorporate mostly suiting, try color-trimmed pocket squares or colorful lapel pins.  What a great way to add a point of interest to your individual bridal party member!  A nice square fold with the peek of the colors will make for a stylish touch. And/or adding a lapel pin on the jacket lapel will add an extra touch of sophistication to the look.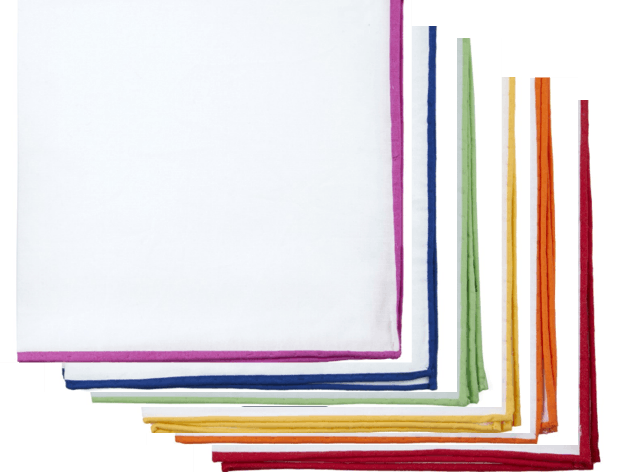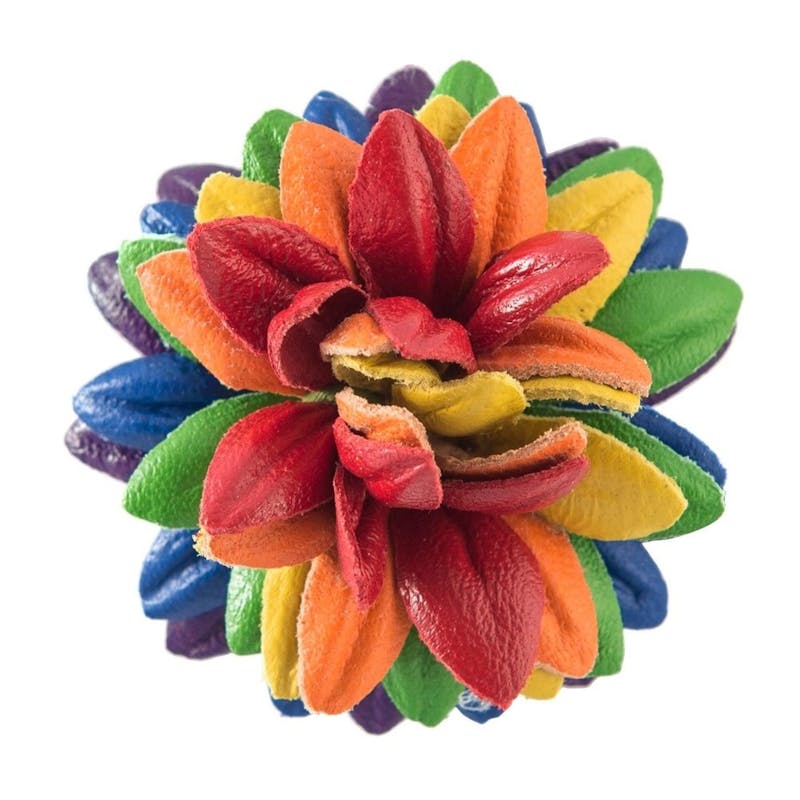 WEAR A FUN FLAG TEE
Another great way to incorporate pride into your wedding look is with a fun pride tee for the wedding rehearsal or after party activities!  Many great retailers like Todd Snyder, GAP and Macy's have awesome tees that can really make a powerful statement.  For a more casual wedding as the bride or groom, pair your tee with a great, tailored suit in literally any color and you'll have a chic look that breaks down barriers and creates an unconventional style of its own.  Depending on your personal style, wear a pair of chuck taylors for a timeless, classic look or a fun heel if that's more of your way of dress.  Make your own rules. It's YOUR day.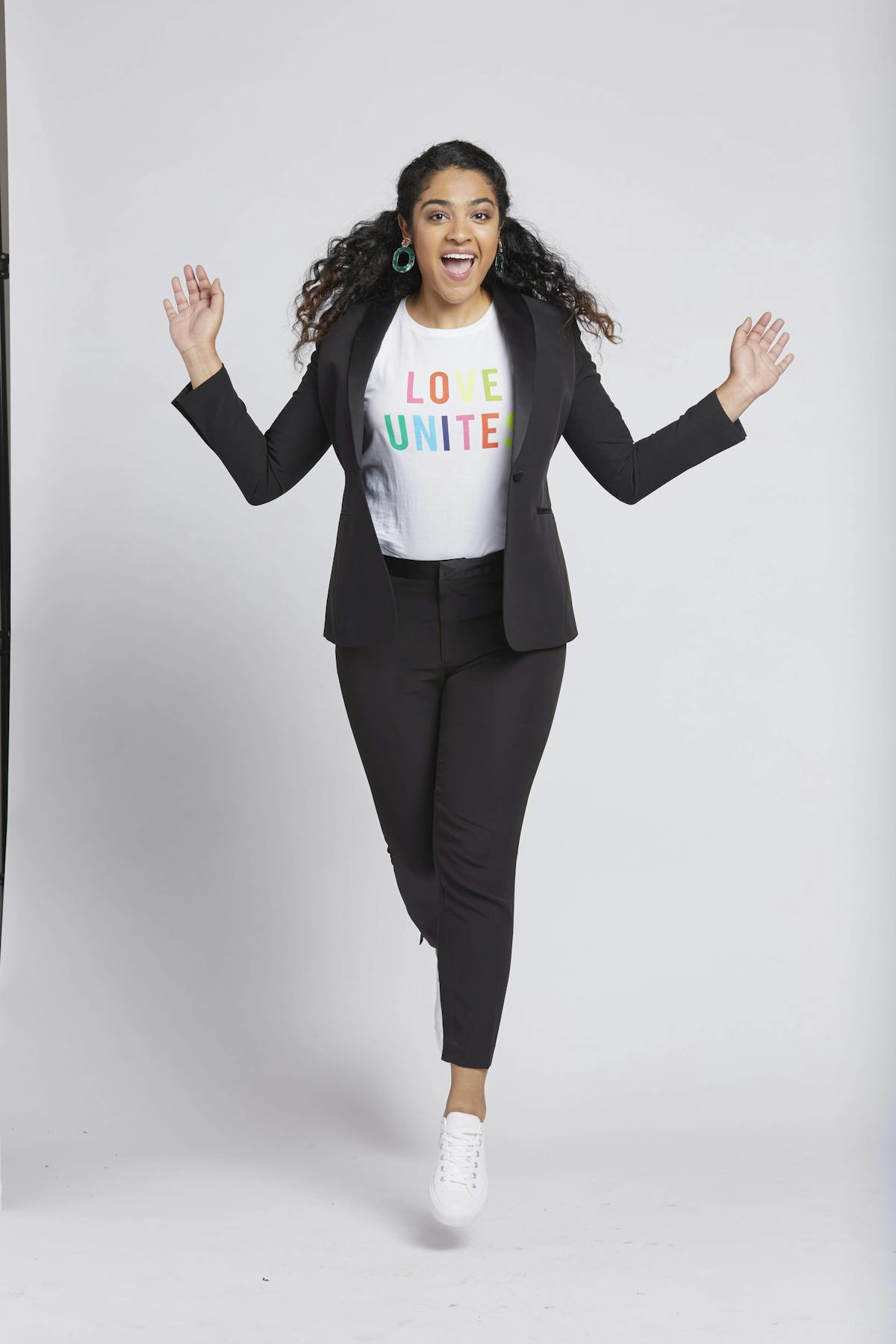 PRIDAL PARTY
Did you see what we did there?  A nice way to style your bridal party is with each representative color of the pride flag.  Of course you'll want to keep it elevated, so depending on your wedding venue, consider styling your bridal party in different colors – whether tuxedo or suit jackets to cocktail dresses or gowns!  It's creative and it's on par with what's trending in fashion currently – bright and bold colors. If this idea does not resonate with you perhaps try incorporating the colors in a bowtie, necktie or a colorful shoe choice.  There are so many different ways to make this a special and beautiful statement without being campy or low brow.
Pride is all about coloring outside the lines, standing up against societal norms, creating your own definitions and being bold about your purpose!  That said, break the mold when it comes to your wedding party. Introduce attendants like bridesmen, groomswomen, groomsmaids, groomsladies and best maids to make your wedding just about you and your unique circle of friends.  For those members of your wedding party that identify more with wearing gowns and dresses, let it be. The same goes for those who feel more comfortable wearing suiting looks or maybe even a combination of the two like Billy Porter's jaw dropping tuxedo gown created by designer Christian Siriano for the 2019 Oscars. Check out our women's suiting line as well for brides, bridesmaids, and groomsmaids.  Remember, this is your day, with your tribe and the possibilities are endless!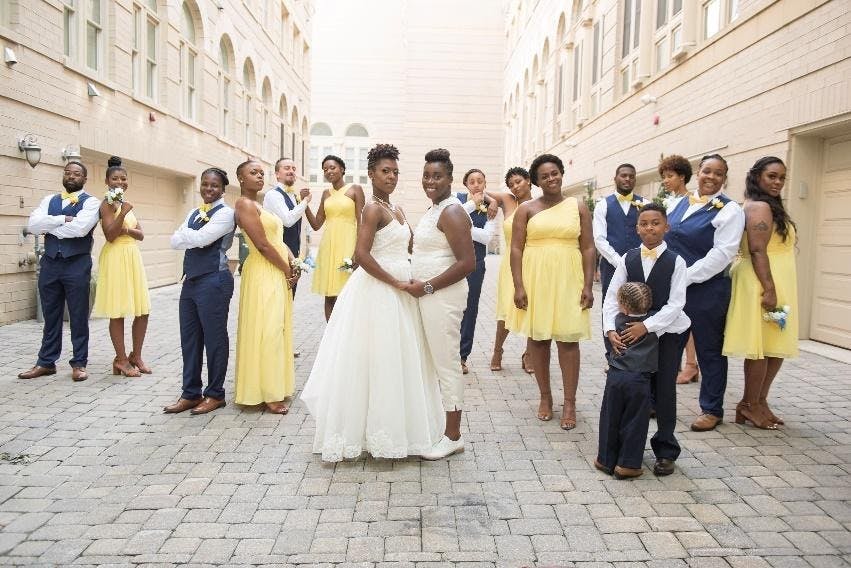 ROCK IT, SOCK IT
Socks and cufflinks are the perfect way to subtly flex your style. Peeking out just below your pants or sleeves, rainbow socks and cufflinks will add a tasteful amount of pizazz to your outfit. They're for all of you couples who want to look professional on top, but still signal that you've come to party. A great way to have your bridal party stand out is by incorporating cool, colorful socks!  A very fun way could be by having each member of the bridal party wear a different pair of colorful socks that represents pride and shows that you all have paid attention to the details.  Try brands like Pride Socks to find some really neat designs. Remember to have fun with it.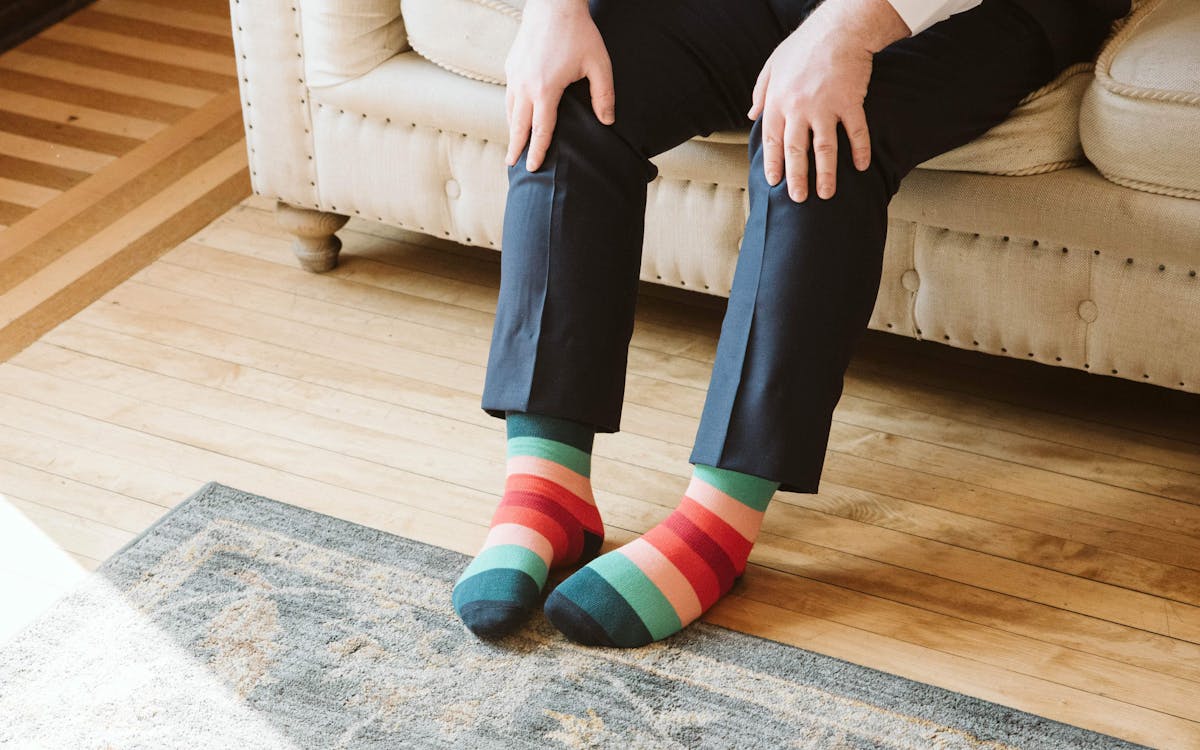 EDUCATION STATION
Although PRIDE month is a month of celebration, it is also important to remember that it was initially met with much resistance not too long ago.  To pay homage for the journey, try incorporating an information station that educates your guests on a range of topics including the first noted gay couple to marry, the date that same-sex marriage was made official in your respective state, to many other significant contributions made by the LGBTQIA community!  Education is key and the more informed your guests are, the more they can truly appreciate your journey.
The Origins Of Pride Month: What You Should Know About Its History
From Stonewall To Pride 50: The History Of The Pride Parade
CAKE, CAKE, CAKE!
Lastly, one of the best ways to incorporate pride into your wedding is your wedding cake!  If you're a bit more conservative and prefer to be more subtle with your pride celebration, consider a rainbow cake!  What a pleasant surprise it is to cut into a cake and a sea of colors and sprinkles just pour out! The outside can be as conservative and traditional as your standard wedding cake but the inside will bring on the flavor and the FUN!  If you want to take the rainbow food theme a step further, invite one or two wedding food trucks to make an appearance at your reception.
There are tons of examples of awesome rainbow desserts on Instagram and Pinterest, so be sure to check them out before committing to your dessert of choice.