2023 Wedding Trend Predictions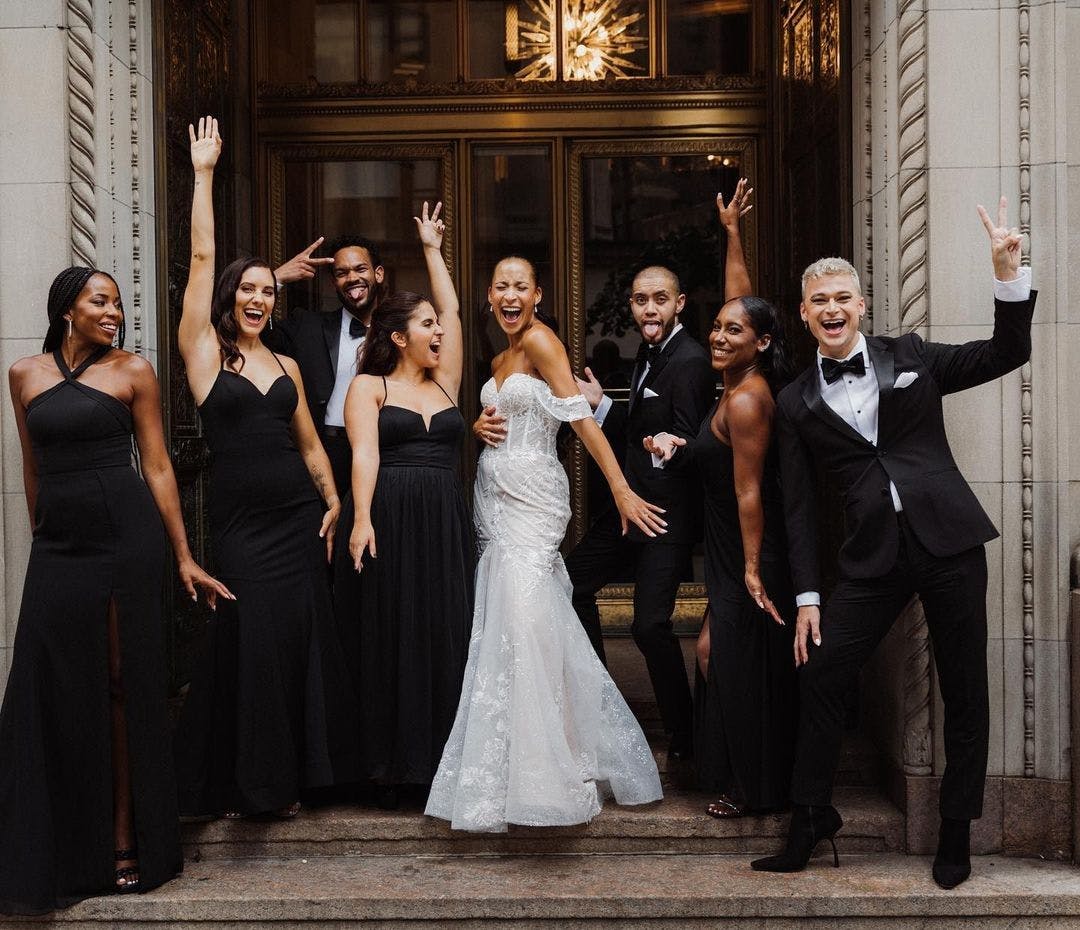 We saw a huge surge in weddings throughout 2022, and with them came new trends, freshly popular decorations, style, and event features, along with reinvented traditions. Last year's wedding scene is proving to just be the beginning. 2023 is set to be an even bigger wedding boom, so whether you're in a wedding party, planning a wedding, or attending a wedding this year, we're covering and predicting the biggest wedding trends in event planning and wedding day style. Read on to discover the trends and find what to expect, from florals to timelines, bridal party colors, and beyond.
Tweaked Timing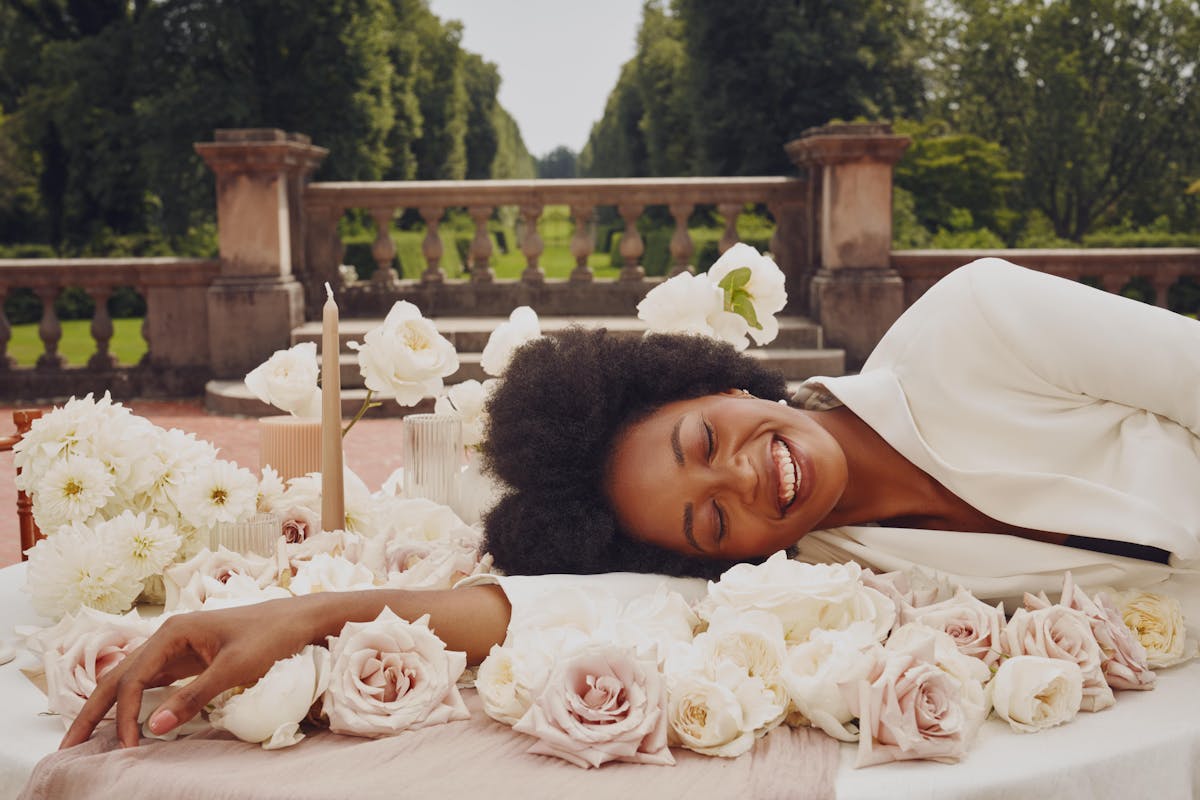 Adding extra celebrations will be added to the wedding schedule. Brides, grooms, and marriers are swapping out rehearsal dinners including just the wedding party for all-out welcome parties for the full guest list that don't hold back and last late into the night. These additional parties and activities are less elaborate but nearly as major an aspect of the wedding weekend as the reception.
Midday and afternoon weddings are getting big. Saturday night was once the expected wedding celebration time. The rest of the weekend days have followed suit with Friday and Sunday gaining popularity for different communities and party preferences. In recent years, Thursday evening has pushed forward as the emerging wedding day trend since it was a less expensive option that still leaves a full weekend for festivities, but even this Thursday timeslot has become pricey lately. This year, expect to see weddings combat this by embracing afternoon ceremonies and celebrations. No longer limited to just the more casual events, midday weddings will start to see weddings as formal as black tie affairs in daylight.
Going out after the wedding reception becomes a standard. The theme here? More party, wherever we can fit it in. As a result of both the extended time off from gathering during the pandemic as well as the new spike in weddings taking place, wedding planners and engaged couples are itching to extend the party to make theirs extra special. So what will this look like? Picture speakeasy rooms at the reception venue to file into after, a rented-out nearby bar, or any number of creative late-night locales. This may or may not go hand-in-hand with the rising trend of serving low- and no-ABV spirits and beverages to include all guests, spread out the fun over a longer period of time, and simply stay awake.
New-School Florals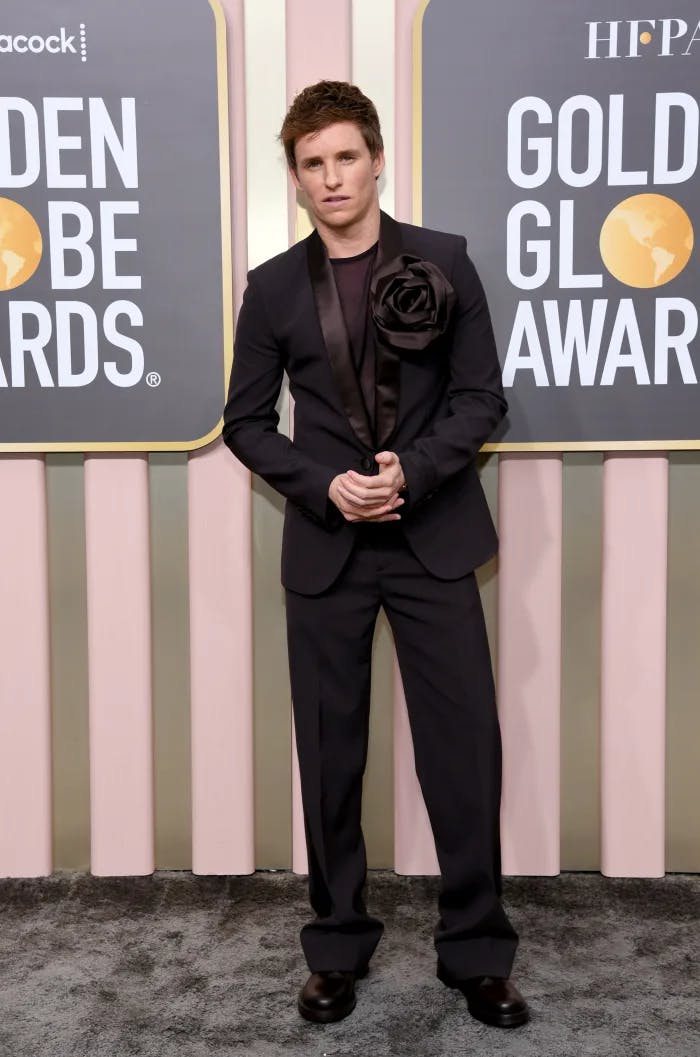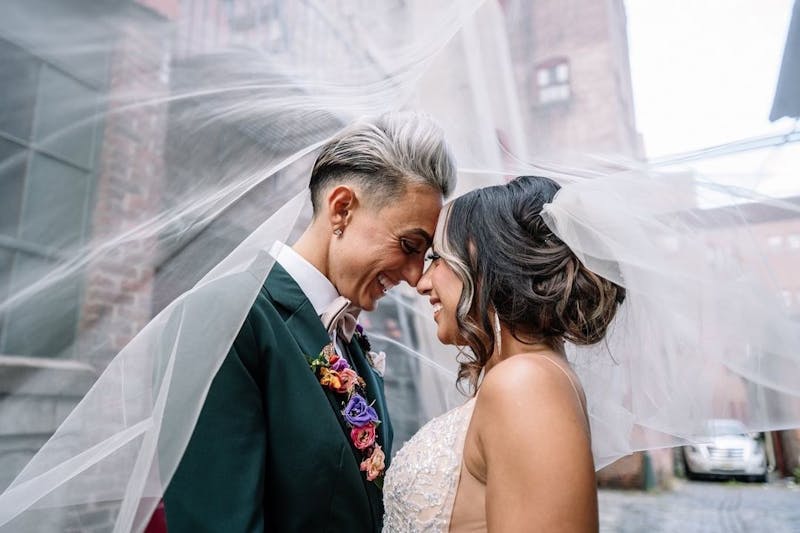 Fabric florals are leaving typical boutonnières and even bouquets in the dust. While we'll certainly still see the traditional lapel flower pins, fashion-forward fabric blooms are emerging as a new way to add color, texture, and a floral touch to suits, bridesmaid dresses, wedding gowns, and wedding accessories. After having slowly and quietly picked up popularity over the past year, the first awards shows and bridal showcases of the year are bringing the style to prominence. Fabric roses especially are stealing the show. The Carrie Bradshaw-style staple is being completely reinvented and is now modern, cool, and great for all genders and garments.
Pocket boutonnières, which saw the beginnings of its trend take-off throughout 2022, are here to stay in 2023. Instead of pinning a classic boutonnière to suit lapels, couples are opting for mini floral arrangements peeking out of breast pockets. This trending style unlocks more styling opportunities with larger landscape for the florals to occupy and compliments unique, rule-breaking wedding designs and couples perfectly.
Less is more bouquets are, contrary to the space they take up, getting big. Giving the bridal, marrier, and bridesmaid bouquets less real estate opens the door to show off more of the wedding dress, suit or tux, and bridesmaid dresses. The smaller-scale bouquets work best with more petite blooms, making the arrangement look like an elevated handful of wildflowers and falling perfectly in line with elegant, farm-y, and cottegecore-inspired aesthetics.
Saturated Shades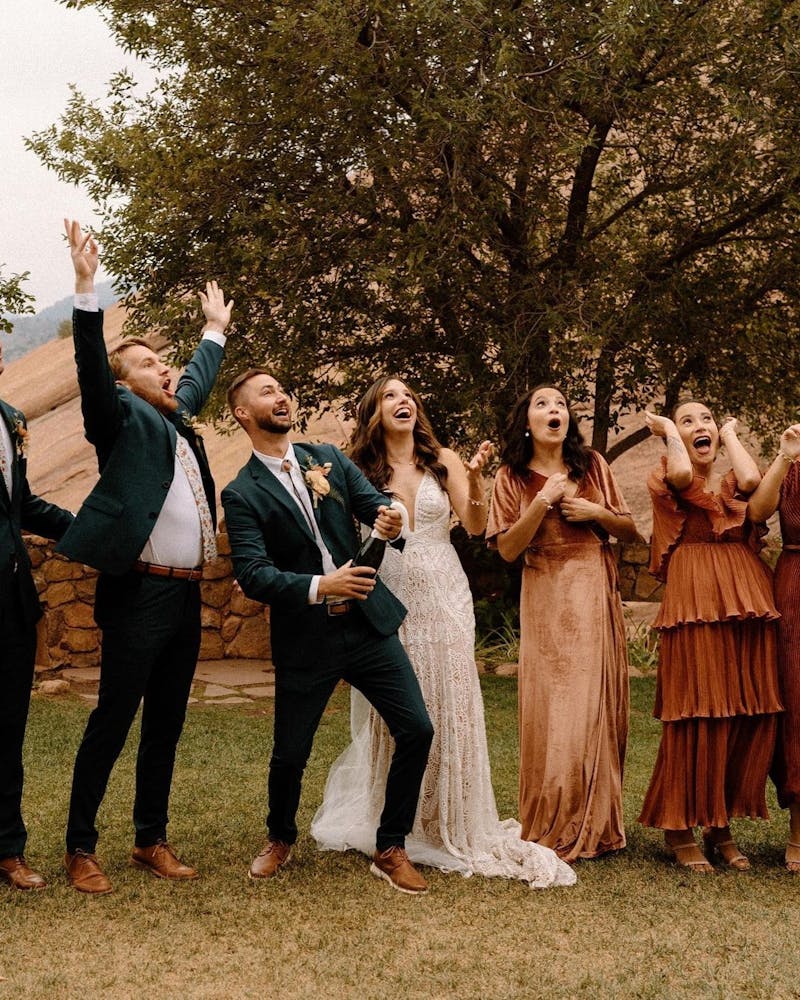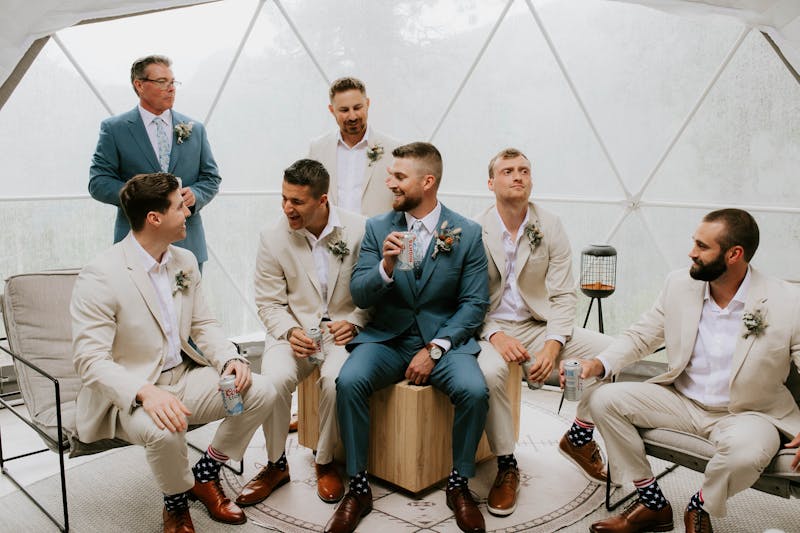 Colorful or patterned dresses have been an alternative wedding dress option for years, but straying from simple white is coming into the mainstream spotlight in earnest now. Get ready to see huge variations on wedding dresses this year, from white or light almost-traditional wedding gowns featuring pops of floral print or embroidery to pastel tulle to bold, all-over color.
Vibrant wedding garments are getting even more mileage with the wedding party than we're seeing with the wedding dress. Grooms, nonbinary marriers, and suited brides are making even bolder use of color. Colors in the rust, copper, and burnt orange family are trending hard in wedding group attire this year, as are shades of magenta and burgundy (thanks, Pantone), green, and tan. We've noted a departure in recent years from sticking strictly to traditional wedding party colors like navy, but 2023 is the year color finally really explodes and we see truly saturated shades saturating the wedding world.
All-dressed-in-black wedding parties will prove to be the balancing act to the many bright colored wedding parties. It's as simple as it sounds: both sides of the nearlywed couple's wedding party dress in black, whether that's black suits, tuxedos, or dresses. As easy it is to pull off, having all groomsmen, bridesmaids, groomsmaids, bridesmen, and wedding group attendants in a stark wash of black delivers major impact and is remarkably unexpected for such a standard color.
To build the foundation to any 2023 wedding vibe and to try out any trending wedding colors or styles, start with SuitShop suiting–from timeless tuxedos to of-the-moment bold colored suits.