Q&A with I am a voter. Founder Mandana Dayani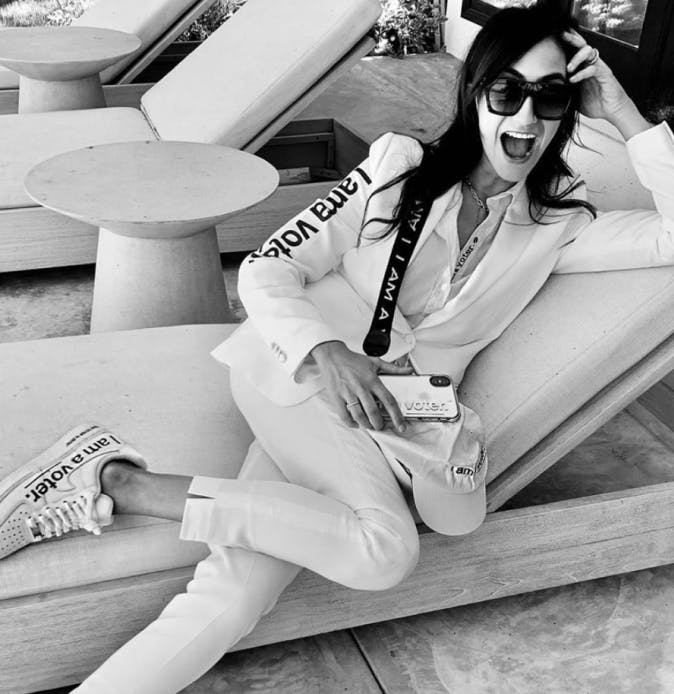 This election year we have partnered with I am a voter. to help as many people as possible get registered to vote. "I am a voter.® is a nonpartisan movement that aims to create a cultural shift around voting and civic engagement by unifying around a central truth: our democracy works best when we all participate." (iamavoter.com)
We were also lucky to be able to suit up I am voter. founder Mandana Dayani and get some inside info about this great cause:
Q: What is the background story of I am a voter. and your inspiration for creating it?
A: I am a voter. was founded by some of the most brilliant women I have ever known. As an immigrant, I have always felt incredibly privileged to be an American and I was really heartbroken seeing our country so divided the last few years. After making the decision to just dive in and learn what I could do to help, I quickly saw that there was an opportunity for a modern voting brand that really spoke to our generation. One that was positive, empowering, and more focused on what unites us. A brand that really captured how cool it is to be an active participant and maybe made you feel a little FOMO if you weren't. And I knew that if I could get these incredibly talented and inspiring women together in a room, we could build a meaningful message and leverage our relationships and skills to create true impact. After doing lots of research, I learned that identity was an important predictor of voter turnout, which is where the name came from. And once we partnered with CAA, they were able to provide us with the tools, infrastructure and support we needed to really get this off the ground. 
Q: What makes The Groomsman Suit a good partner? 
A: Suits are my uniform, so I may be particularly biased about this partnership! The Groomsman Suit has been so enthusiastic and supportive and we are just beyond grateful for anyone who is willing to use their platform to drive civic engagement and participation.
Q: How can our customers get involved? 
A: Text VOTER to 26797 right now to make sure you are registered and to receive reminders for all local, state and federal elections. Request your mail-in ballot and vote as soon as possible this election (and vote early in person if that is an option)! Lastly, make sure your friends, family members, and colleagues vote.
This year we'd love to invite you to #suitupandvote! Voting is a special occasion, so if you're headed to the polls or just to your mailbox, suit up and tag us @thegroomsmansuit using #suitupandvote. We can't wait to see your voting style! And, shop our exclusive I am a voter. collection here.