Seven Unique Ideas for Wedding Party Photos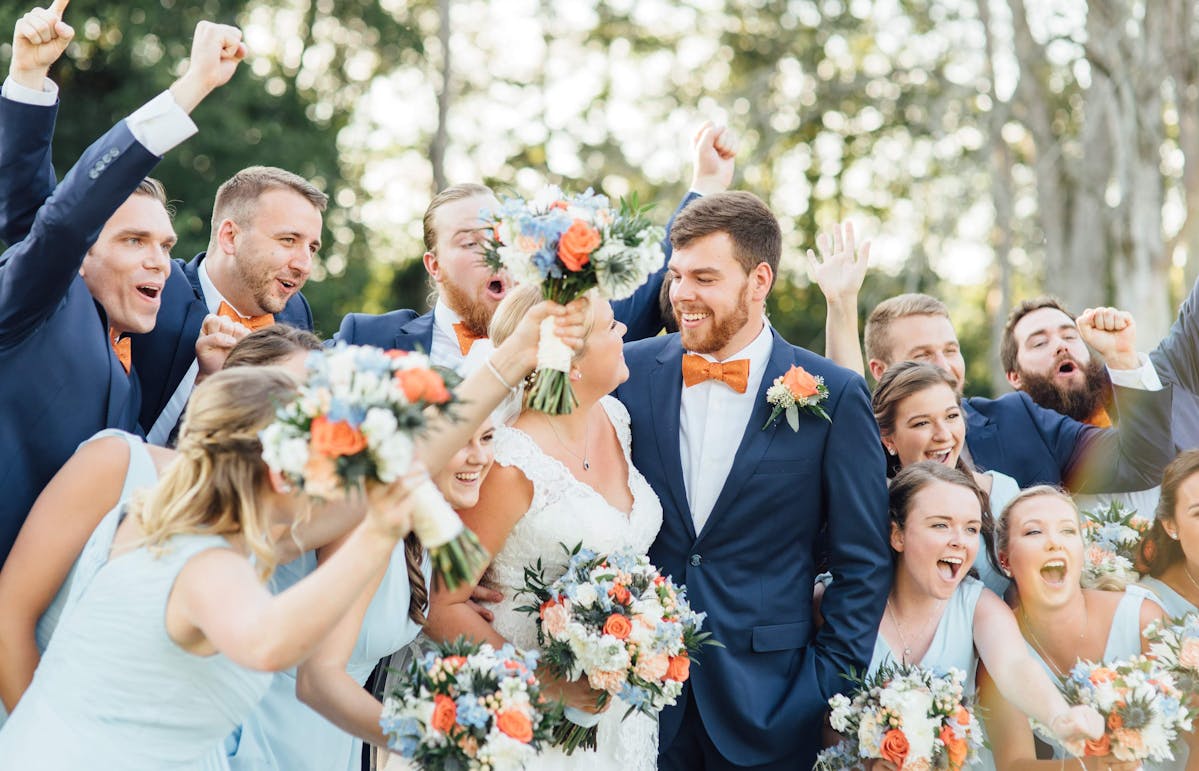 While planning for your wedding can be stressful, the day it all comes together and all your favorite people are gathered in one place to see you say I do makes every second of the process worth it.
When that day comes, it's time to make memories, have fun and embrace this new, exciting phase of life. One of the best ways to do that is with creative wedding photos. While you and your partner will have some sentimental photos of the two of you, you can get especially inventive with photos of the whole bridal party. 
We've loved seeing how SuitShop couples and their friends have shown off their style in these awesome group shots. Here are a few of our favorites to inspire some photo opps that are true #SquadGoals.
The Walk
It's casual. It's effortless. It's natural. And most of all, no one has to pose for the photographer. So even your camera-shy groomsmen will feel at ease and look their best. Here, you'll want to lead a few steps ahead of everyone while the groomsmen form a line behind you. Then, start a slow walk where everyone is smiling and look at one another. If you want, you can even bring your best man up a little so he's more prominent in the photo.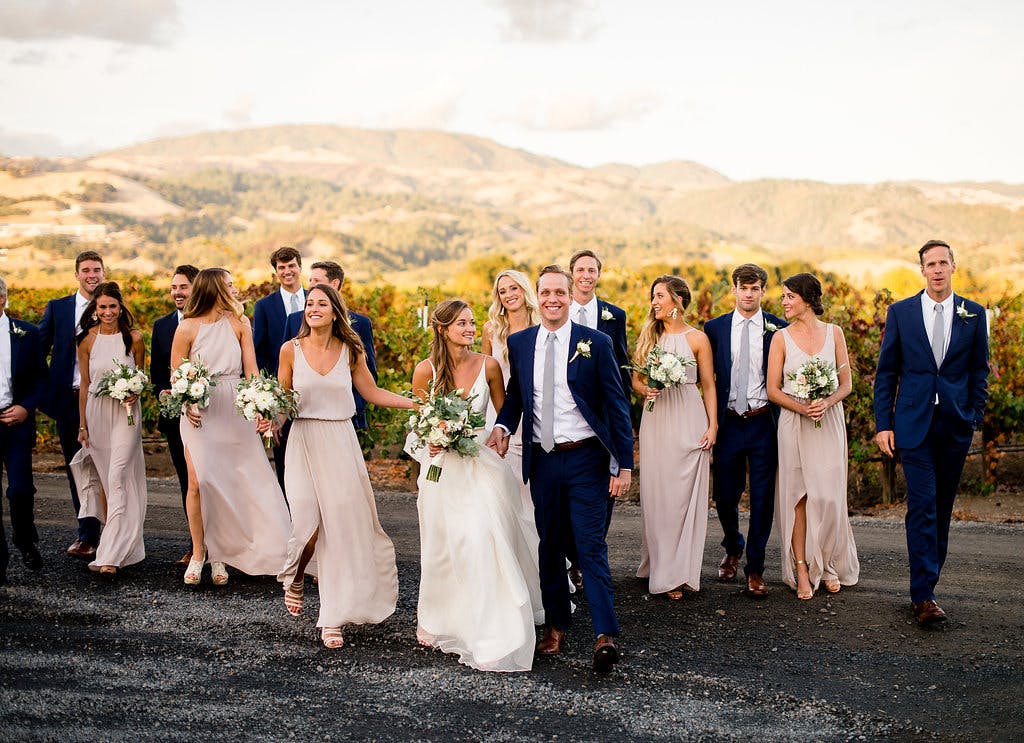 Casual Socks Shot
While you can certainly focus on the various socks your guys wear on your big day, you can also showcase the squad's entire outfits while still keeping those colorful accessories front and center. This photo showcases the venue, the guys and what makes their style unique all at once, giving you a frame-worthy photo that shows plenty of personality. The key is to set everyone up in a relaxed pose that also hikes the pants up enough to show off the socks.
While full wedding party shots are necessary, don't forget to plan a few special moments to capture the groom and his guys. Check out our list of Must have groom and groomsmen pictures!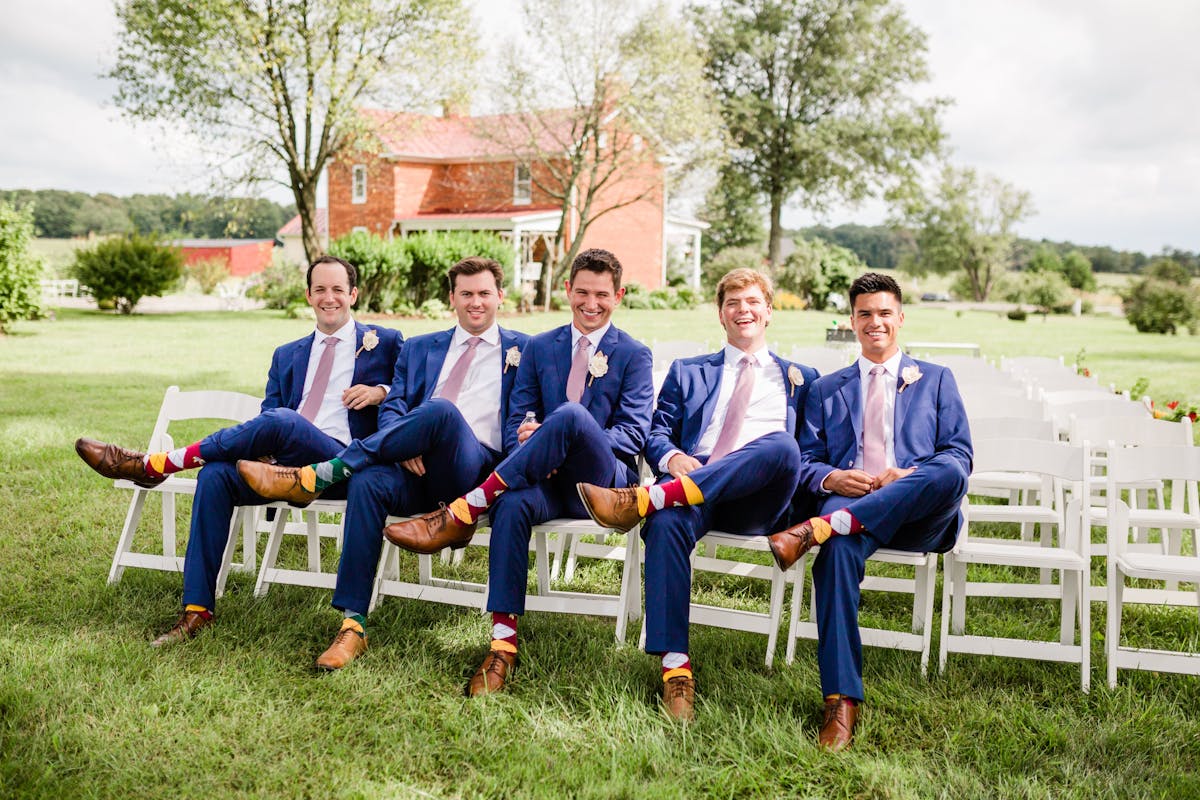 Group Hug
What better way to show love and unity within the wedding party than with a shot of a group hug! This can be done in a couple of ways.  One is by lining up in a row and linking arms simulating a side-by-side squeeze. And the other is by coming together in a circle for a literal big hug.  With all of the activities leading up to a wedding, often times new friendships and bonds will form amongst the bridal party as they may be assisting with wedding plans and pre-wedding activities for the better part of a year.   It would be nice to memorialize this closeness in the form of a group hug pic.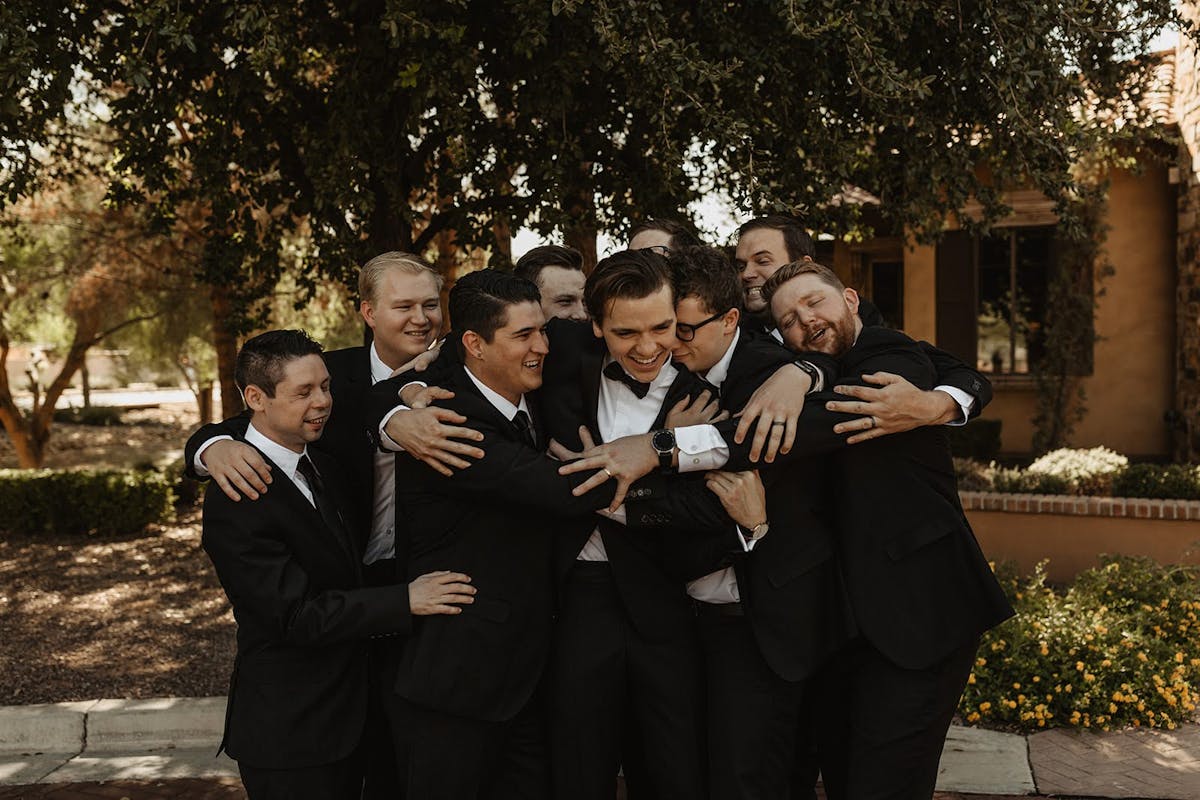 Paired Up
If you happen to have an even number of bridesmaids and groomsmen, consider a paired-up pic where each groomsman is paired with a bridesmaid surrounding the wedding couple within a group photo. To achieve this capture, line the groomsmen up by height from shortest to tallest and the same with the bridesmaids.  Then pair the shortest bridesmaid with the shortest groomsman and all the way up to the tallest bridesmaid and tallest groomsman. The couple of the hour should then be placed at the front, front-center, or some other prominent position that shows them as the focal point of the image and the wedding party pairs surrounding them.  This type of grouping is a great way to show off each "couple" especially if the bridesmaids or groomsmen may be wearing individual looks.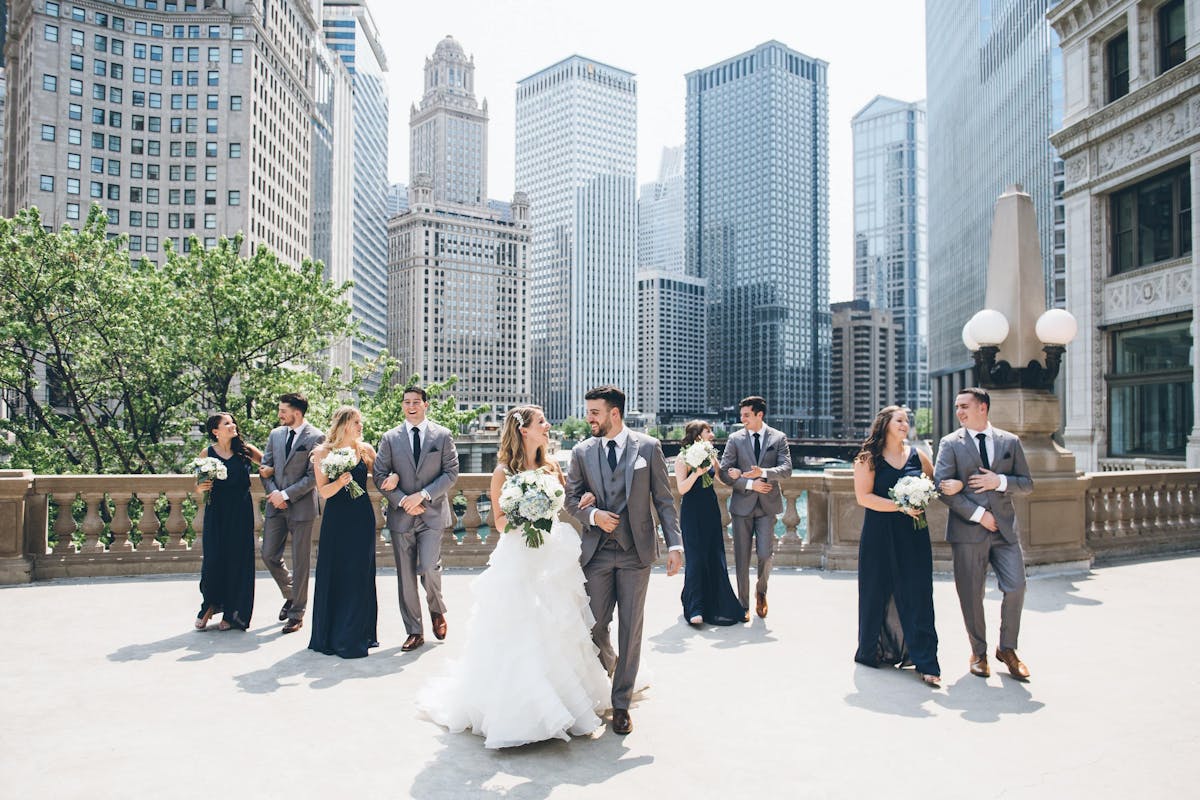 One for the Team
Whether you're getting married during football season or you're simply a football fan, nothing says "dream team" like a touchdown-style photo. The groom is positioned as the center while the groomsmen hold their stance as the offensive linemen and quarterback, depending on how many guys are on your team. This picture looks even better if you find a way to showcase your team colors in your style, whether it's in the socks or the boutonniere. 
A Classic Cheer
You can't go wrong with a cheering photo. We particularly like this one because the second photographer captured the triumph from a different angle that made the couple the obvious focal point. While everyone is pumping their fists, you and your partner are focused on one another — a fun and touching photo altogether.
Cheer with a Kiss
Another way to include the whole bridal party in a display of energy and joy is to stage a kiss and have everyone cheer, raise a bouquet or fist pump. You can alternate groomsmen and bridesmaids or have guys by the groom and ladies by the bride. Although there's a lot going on in the scene, the focal point is easy to identify since the couple is once again turned toward each other while everyone else is looking at the camera.