Suited for Success: Laken Swan, Co-founder & CMO, and Lauren Bercier, Co-founder & CEO, Something Borrowed Blooms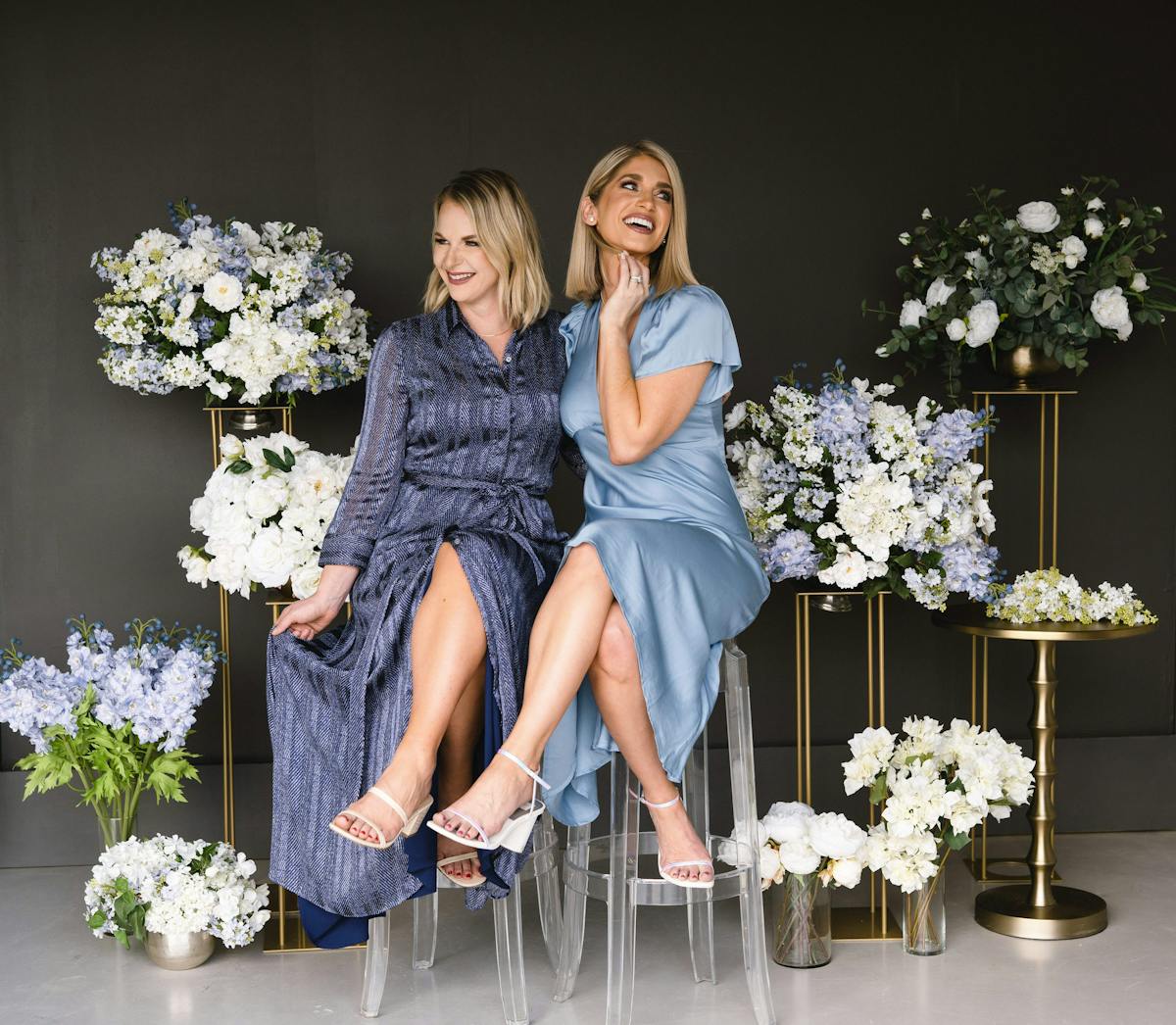 In celebration of Women's History Month, we're bringing back Suited for Success, an interview series highlighting women-, BIPOC-, and LGBTQ+-founded businesses we admire. This Women's History Month and always, we're excited to feature more female founders who are disrupting their industries. We're thrilled to have had the opportunity to chat with Laken Swan and Lauren Bercier, co-founders of Something Borrowed Blooms, about all things entrepreneurship, their growing brand, and business advice.  
Please, introduce yourselves and tell us about your journey to entrepreneurship. 
SBBlooms: We are Lauren Bercier & Laken Swan, the founders of Something Borrowed Blooms, an innovative startup shaking up the wedding flower industry. Our cousin duo started Something Borrowed Blooms in 2015. Lauren was a former teacher turned stay-at-home mom raising her two boys while Laken worked in the corporate sector in progressive roles while juggling life with her growing family.
Laken Swan, Co-founder and CMO: We were both in very different spaces, but our end goals were the same. We wanted to start a business of our own, but not just any business, something that had never been done before.
What inspired you to start Something Borrowed Blooms? Why rent-and-return wedding flowers?
SBBlooms: We were both inspired by Rent the Runway and the adoption of the share-trend. We loved the concept of renting an item that's only used once or for a limited time to minimize the investment cost. We looked to apply that concept to different industries and landed in weddings. At that time, we saw many brides looking for ways to save money on flowers by either cutting back on their selection of fresh floral or DIY silk florals. That's when things became very clear and we knew we had an idea worth pursuing – Rent & Return Wedding Flowers!
With florals being such an integral part of wedding planning, can you tell us about one of your favorite moments working with a couple to bring their dream wedding to life?
SBBlooms: We've received the most genuine and heartfelt reviews from our couples, which is my favorite and most rewarding moment in the wedding planning process. It's the best moment when a bride looks back on her wedding photos and she's beaming with excitement to share moments from her special day. A common theme in our reviews is, "this was the best wedding decision I made," which is such a powerful statement and we couldn't be more proud to offer couples this floral solution. 
What is your current personal favorite SBBlooms floral collection and why?
SBBlooms: I love the Taylor Collection. It's such a classic look with just enough color to still be considered neutral. It works well with so many color palettes and wedding styles and its design is traditional enough to stand the test of time
Entrepreneurship is incredibly challenging. Who in the entrepreneurial space inspires you to power through? 
Lauren Bercier, Co-founder & CEO: Sara Blakely, founder of Spanx, is my idol! She embodies so many inspirational traits and is an incredibly successful business woman. But what I think resonates most is that she doesn't take herself too seriously. She shows the real life happenings of juggling motherhood while running a business and doesn't try to hide behind Instagram filters while doing so. Sara Blakely reminds me that you can create a hugely successful brand, run a major company, be a hands-on mom, support women entrepreneurs, basically have it all, but there's always give and take and it isn't going to be picture perfect -- and THAT is totally okay!
What is one thing you wish someone would have told you before you started SBBlooms? And, what piece of advice would you give to aspiring entrepreneurs?
SBBlooms: One thing I wish someone would have told me before we started SBBlooms is that it's okay if you don't have all the answers – but be sure to surround yourself with people who do. 
My advice is to not let perfection get in the way of progress. Sometimes you just have to start. Yes, you'll refine and get better with time. Taking the first step is always the hardest, but continuing to step forward each and every day takes sheer grit and determination. There will be days when it feels like moving forward is impossible - KEEP GOING.
What's in the works for SBBlooms in 2022? How can we all support your business this year?
SBBlooms: Each year we release two new floral collections. This past month we released The Bianca Collection, which is getting a ton of attention from our brides. We'll have another collection launch in early fall.
We're also very focused on the user experience this year. We want to ensure we're providing our customers the best virtual planning experience in the market. With that, we've recently released floral GIFs on Instagram which allow customers to overlay each of our bouquets on dress selections of their choice making it easier than ever to envision the wedding day. If you'd like to try it out, search the GIFs for SBBlooms and select a bouquet of your choice!
More About SBBlooms
Something Borrowed Blooms is a Rent & Return Floral Boutique specializing in premium silk wedding flower collections. Our blooms are rented for weddings and events for a fraction of the cost of a traditional florist. We save couples over 70% compared to fresh florists.
How Does it Work?
Shop our 16 different floral collections and decor online! Items are priced per piece, so there are no packages or minimum order requirements. Select one collection for all of your wedding flower needs or mix and match items between collections to achieve your desired look.
Add the items to your cart to fit your wedding party size and/or décor needs, then instantly view the order total, including shipping, on the final checkout page.  We initiate 50% of the order total to reserve the wedding blooms & the remaining balance will automatically be charged when the order ships.  
Blooms will arrive 3 days before the wedding date and are to be returned to your local FedEx using the included prepaid shipping label the next business day, following your wedding.
There's no pair quite like formal + florals, so don't forget to check out Something Borrowed Blooms to add a fresh twist to your next event.