Suited for Success: Gefen Skolnick, CEO and Founder of Couplet Coffee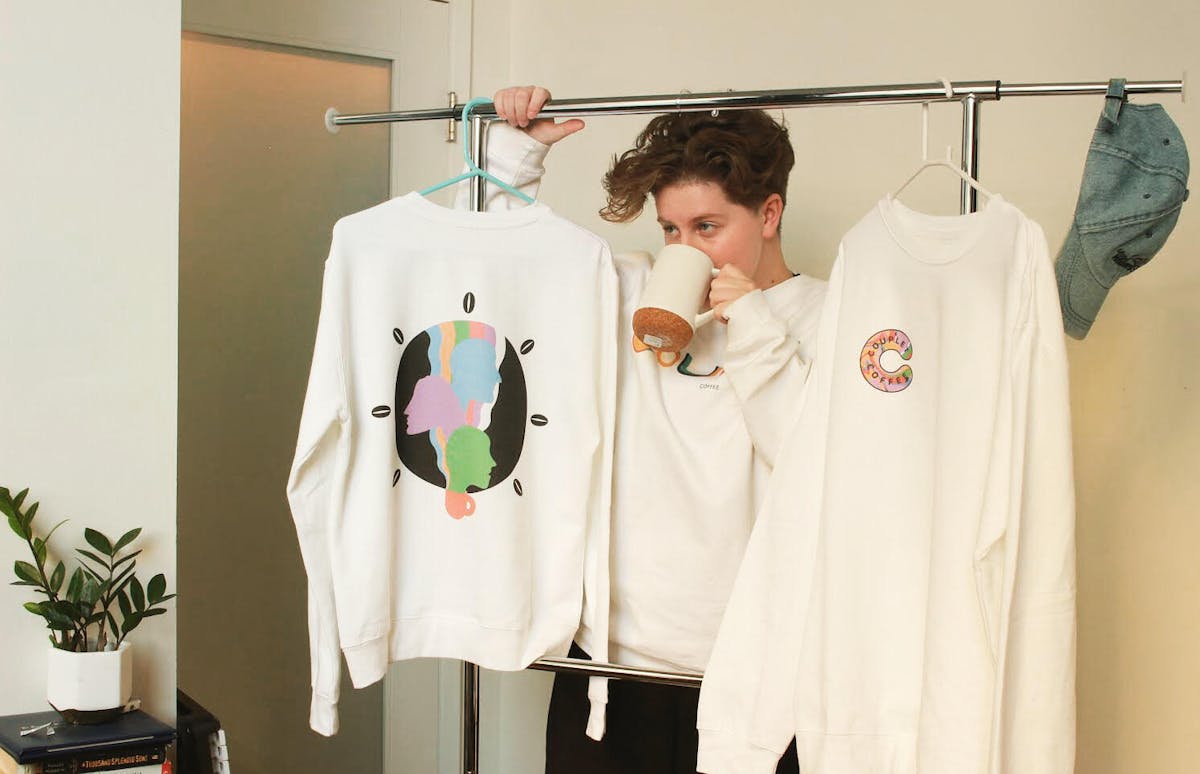 At SuitShop, we strive to be a brand that is for everyone and every body. And, the first thing you'll find on Couplet Coffee's website is the statement: "We believe specialty coffee is for everyone. And we mean everyone." So, it seemed only fitting that we get to know this startup a little bit better. And, it's safe to say our team runs on coffee.
Q: Introduce us to your brand and what inspired you to start!
Couplet Coffee, in a nutshell, is a lifestyle brand meant to make specialty coffee more fun and approachable. Couplet is a brand that I had always wished existed in specialty coffee - something fun, wacky, exciting, and community-focused. I had always wished someone made specialty coffee less pretentious and gate kept so I decided to take a stab at it myself! 
Q:  Introduce yourself and tell us about your journey to entrepreneurship!
I'm Gefen, (she/her). I'm a lesbian, a first-gen immigrant, and a lover of all things coffee. I've spent the last 6 years in tech roles! I studied computational linguistics at UCLA and immediately realized software engineering was fun for me in my free time but not in a professional context. I spent time working in venture capital and product management (and I still invest through some venture capital firms), and spend my days and nights jamming on Couplet now! It's been a wild journey. I was supposed to be working on Superchargers at Tesla in a product management capacity and once the pandemic hit, I started working on several side projects. Couplet was the one I secretly spent the most time on. I had gained a small following of some prominent people in the tech, entrepreneurship, and venture capital corner of the Twittersphere - and realized that I wanted to engage and collaborate with my friends and followers in the process of building my company. Couplet was then born, and I had worked on honing in on social media as a means to get some validation that my idea should even exist!
Q:  Entrepreneurship is incredibly challenging. Who inspires you and why?
My parents! My dad started his first business at 13 to make ends meet. When I was born, my mom and dad and I lived in a caravan - and today they live in a beautiful home in Los Angeles. I'm always most inspired by them and their continued resilience as immigrants in the US. I've seen them build their future from scratch and it's always inspired me to be kind to everybody, respect everybody with respect to where they're at in their life's journey, and stay humble. Today, they run multiple businesses together as a dynamic duo, and I've learned a ton about scrappiness, staying lean, and doing business the right way. What I mean by that is, respect all your employees and go above and beyond to help them become who they want - pay them well and treat them well. 
Q: What piece of advice would you give to new entrepreneurs?
Spend a lot of time marinating in the problem space of what you're working on! This just means, really understand what are the underlying issues that led to your company solving real problems for people. For me, I had spent 10 years as a coffee "prosumer" and was utterly disappointed with the lack of resources to get started making amazing coffee at home. The specialty coffee world kept telling me I need to spend $500+ on equipment to make a good cup of joe at home, and a PhD in coffee to read a bag. I spent months talking to people in every chain of the coffee ecosystem to get the validation I needed that there is a massive gaping hole where Couplet fits in - that makes specialty more approachable and more of a lifestyle brand than a coffee company. 
Q:  What's in the works for 2021? How can we (and our audience) support your business this year?
We're working on our Shopify site, multiple new products in the coffee space, pop-ups, collaborations, and you'll see us in some stores very soon. I'd love to connect with more people who resonate with what we're building and support our business by signing up for our email list to stay tuned, try our coffee, tell a friend - anything helps! We're looking to connect and support the queer community at all times, if you're running a queer-centric event, company, brand, etc. We'd love to find ways to support one another! 
Click here to purchase Couplet Coffee beans with free shipping!
Do you know an entrepreneur you'd like to recommend for an upcoming Suited For Success feature? Send us their information to style@suitshop.com!