The Role & Style of the Ring Bearer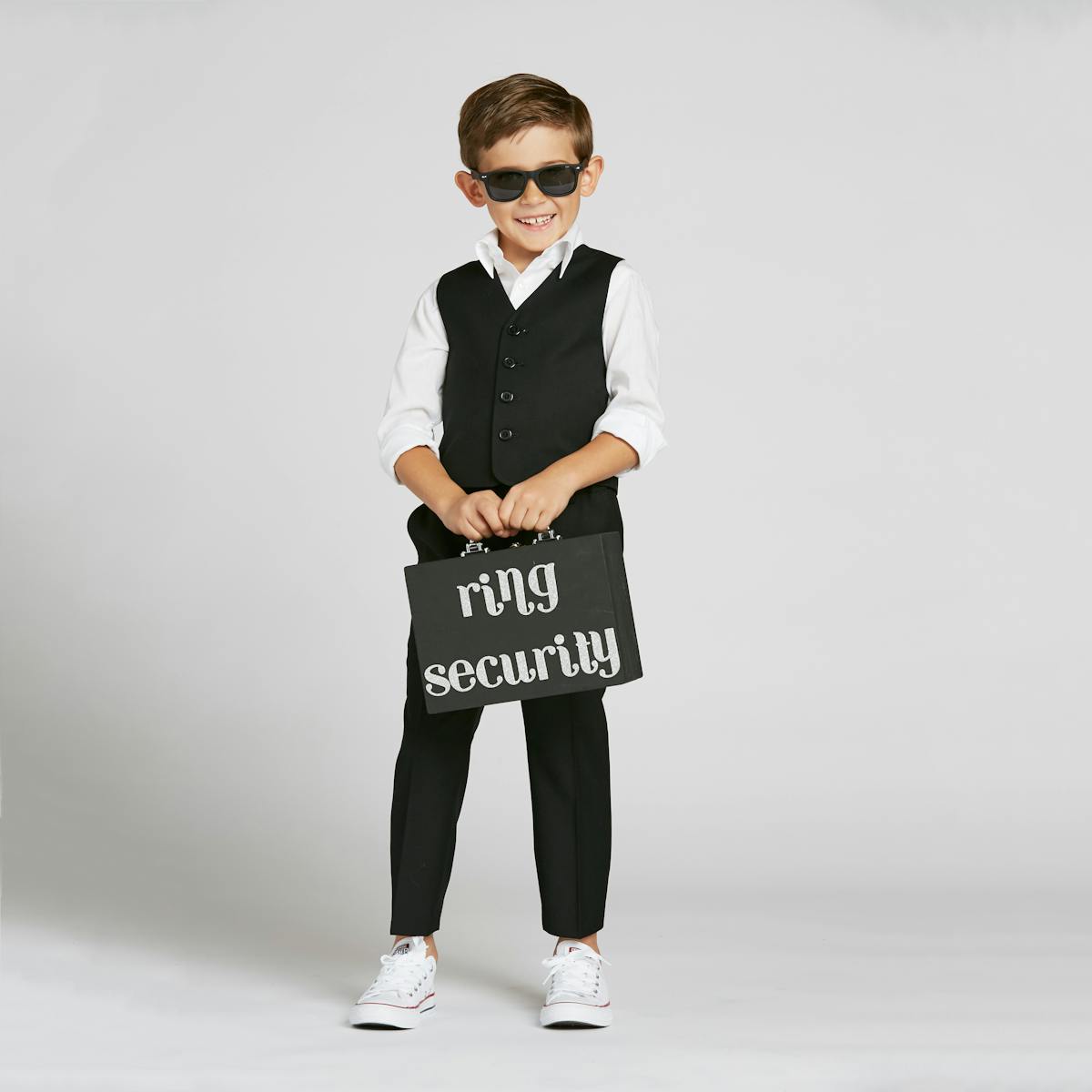 No matter how many times Barney Stinson says it, it's ring bearer, not ring bear. But that's not the only thing to know about this important role. After all, this little guy is responsible for a big task. He carries your wedding rings down the aisle — the ones you'll hold as you say your vows and continue into a lifetime of love together. As you prep yourself and your groomsmen for the big day, don't forget the ring bearer. By understanding what he does and how his look fits in with the rest of your wedding party, you'll be able to make sure he'll nail his job and his style.

What the ring bearer does
Ring bearers, a traditional role in weddings, are typically young boys between the age of 4-10 years old. He'll typically walk down the aisle before or with the flower girl and after the last bridesmaid, holding two fake wedding bands on whatever pillow or pillow alternative you pick. Some couples choose a "suitcase" ring box for a cute and funny touch, a bouquet pillow for more color (and more flowers!) or even a seashell to align with a destination wedding vibe. Your ring bearer can even walk down the aisle without additional accessories and still look awesome as a mini groomsman.
The little fella who's bestowed this honor is usually a young family member or family friend. If there are two young men who would both make wonderful ring bearers, give them each one ring and have them walk side by side! And while the ring bearer carries decoy rings, the best man should carry the real ones in his pocket. Once you've gotten these details down, make sure you include the ring bearer in the rehearsals so he knows exactly how to execute his role when it's time for the real deal.

What the ring bearer wears
You have the guy picked out. Now it's time to help him suit up. The formality of his attire depends on your preferences and the formality of your wedding. While some may opt for a dapper tuxedo for a black-tie wedding, your ring bearer may look more in place at a casual wedding by sporting the same look as your groomsmen. He doesn't have to match entirely though. Give him something that coordinates with the groomsmen but has a bit more color and panache. 
Now the ring bearer gets one more accessory in addition to everything your other groomsmen have: the pillow. When picking the perfect pillow or pillow alternative, treat it like all the other accessories and make sure it matches the overall style and tone of your wedding. It should harmonize with the bride's gown, your suiting and the color scheme.
After you have the look finalized, let us handle the rest! We now offer kids suiting in the six colors and fabrics as our adult suiting— light blue, brilliant blue, navy, classic black, textured gray and charcoal gray — so your ring bearer looks just as sharp and cohesive as the rest of the party.