The Ultimate Wedding Day Packing List for Grooms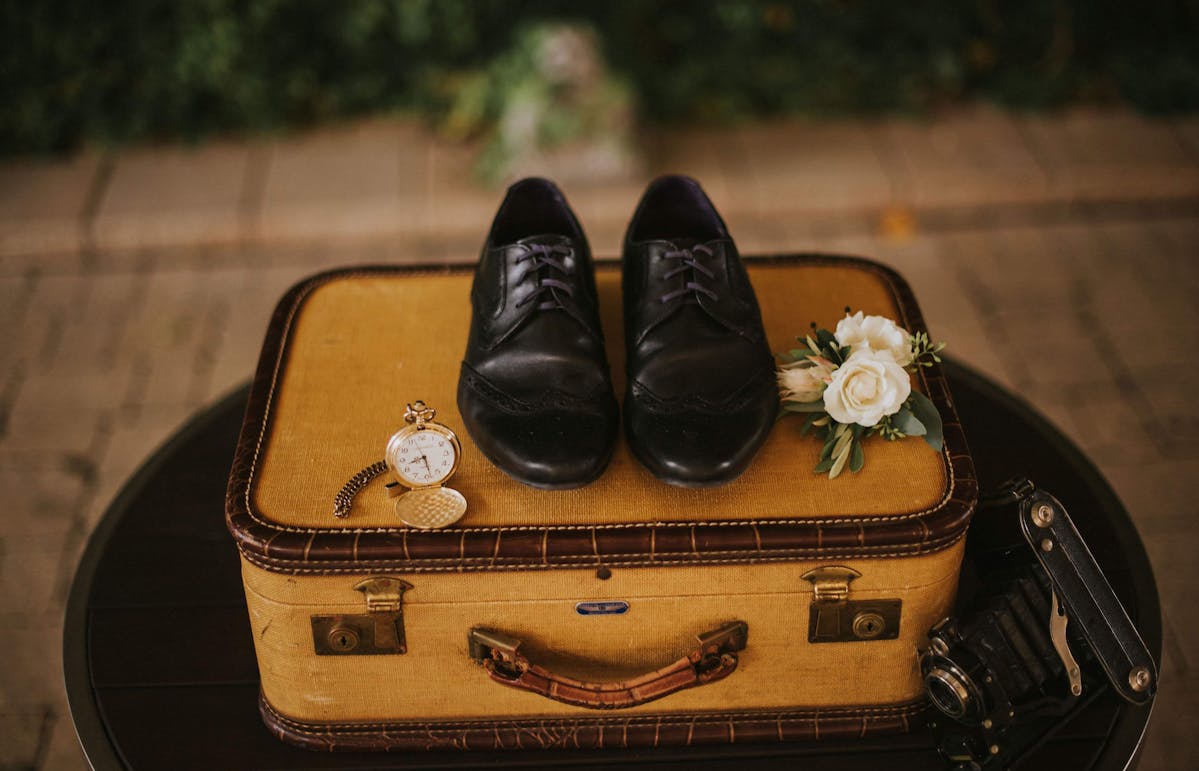 Your big day is here and you're marrying your best friend. You're nervous. You're excited. It's a day so filled with suspense and energy that it's easy to forget the wedding essentials you need to look and feel your best as you walk down the aisle. No ordinary checklist will do when you've got so much on your mind, so we came up with an easier way to remember the day-of necessities. Make sure you pack for your wedding day with CARE.
Checks & Cash Tips
While you'll pay for most of your wedding day essentials in advance, there are a few vendors that will require payment after they deliver their services, like the officiant. To avoid any awkward situations on your special day, make sure you prep those payments ahead of time and place them in an envelope for easy distribution. Set aside separate envelopes for cash tips you'll need for performers, catering (if it wasn't included already) and your bride's hair and makeup artist.
Accessories
You probably have your wedding suit ready to go already, but make sure all the accompanying accessories are in order too. Pack your boutonniere, pocket square (if you have one), tie or bow tie, belt and socks. And if you will begiftingyour groomsmen with accessories for the wedding day, don't forget to pack those.  Easy to forget, your cufflinks are a detail you don't want to accidentally omit on your big day either. They give your look a more personal touch and can complement the bride's jewelry, your wedding ring, or can carry a more sentimental meaning by showcasing your initials or the logo of your alma mater.
Rings
You can't say your vows without your wedding rings! Keep them especially safe in their box and tuck the box in a zipped pocket of your wedding-day bag so there's no way they could accidentally fall out. On the day of the wedding, you can hand these off to the best man for safekeeping, since the best man typically presents the rings during the ceremony. If your wedding includes a ring bearer, you may want to pack the fake rings too.
Emergency Kit
If there's any day you should plan for the unexpected, it's your wedding day. Your look has to be spotless — pun intended. Pack an instant stain remover pen in case you get a smudge or spill on your suit and use a lint roller to clean up pesky fuzzies, which can particularly stand out on darker suit fabrics like black or navy. It's also important to feel (and smell) your best. Don't forget deodorant, especially if your wedding is during the warmer months. It'll keep you fresh and your suit dry, despite all the emotions surrounding your big day. And in case you need any snacks to help you fuel up before you say "I do," bring some floss and mouthwash with you to keep your smile clean and your breath fresh. These essentials will help you stay sane and look sharp. It also doesn't hurt to have a first-aid kit in your emergency kit. Stock it with bandages for any mishaps, pain relievers for headaches and antacids for an upset stomach.
Grab a bag and make sure you pack with CARE before your wedding. Start filling the bag with whatever you can as far out as you can, though, and go through the checklist one more time the day before to make sure everything is ready to go. For extra support, send a screenshot of the list to your best man so he can run through it with you before you head out on your wedding day.