Trends in Summer Wedding Colors 2020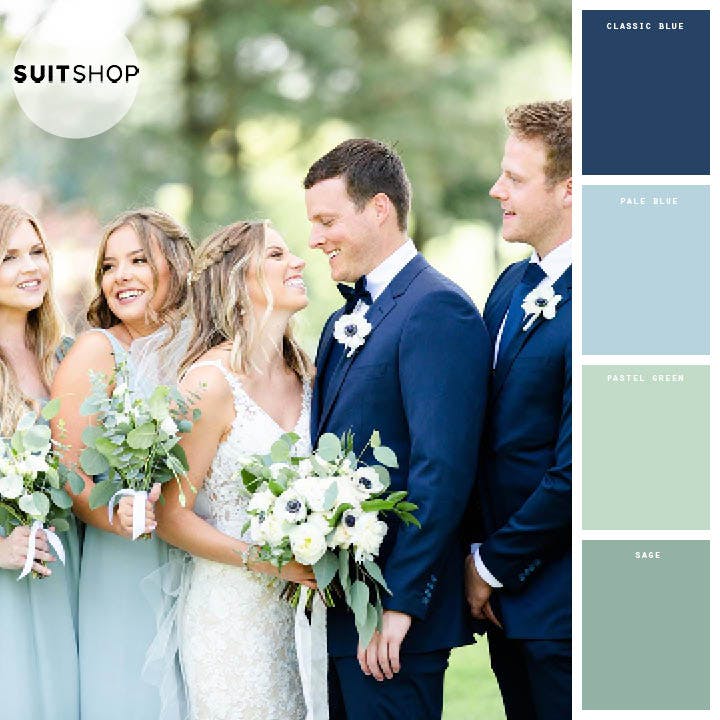 After the uncertain spring we have had we can't wait for summer to arrive and for wedding season to officially begin. This summer we are expecting to see fall tones early, pops of golden yellow, and men in blue suits. With classic blue as the 2020 color of the year, any of the below colors would be a great complement to this classic hue. For more tips on using classic blue in your wedding, check out this article. Here's some inspiration for your summer wedding color palette: 
Pale Blue / Dusty Antique Blue / Classic Blue
We are big fans of anything monochromatic and love an all blue wedding party. But, pale and dusty blue dresses also look great next to light grey, charcoal, or classic black suits. Dress these colors down with bouquets of wildflowers and sunflowers or dress them up with antique pearls and bowties for the groomsmen.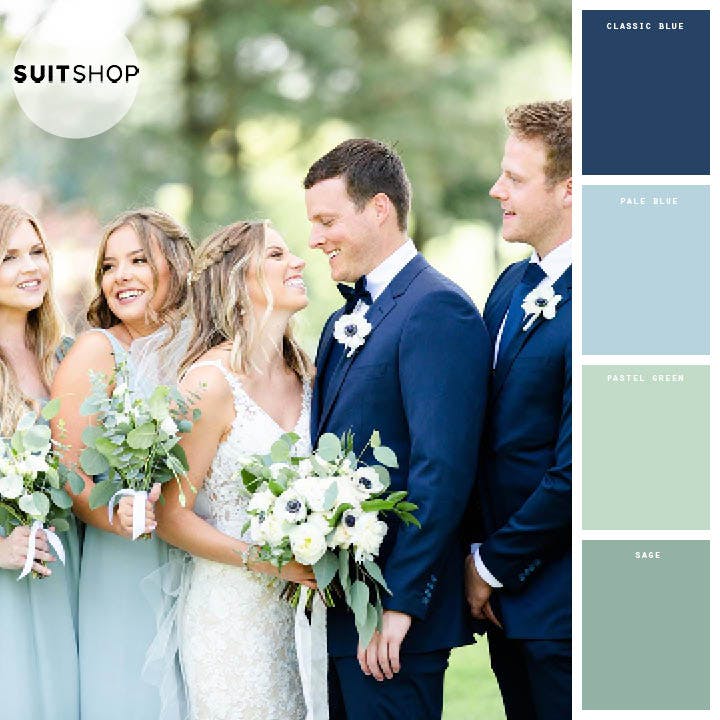 Lavender / Light Pink / Dusty Blush
We're pretty sure blush will never stop being on trend for weddings. From light pink to dusty rose and even lavender, shades of pink are so romantic and can be dressed up or down. Pair light pinks with formal black tuxedos or dusty blushes with groomsmen in slate blue pants and suspenders. Consider white and greenery bouquets and gold accessories. We love rose gold tie bars on men. 
Gold / Golden Yellow / Rust Orange
Keeping with fall coming early, golden yellows and rust oranges are sure to hit the scene. Not just for rustic weddings, these colors can be made formal with floor length gowns and three piece suits. Try unique ways to use these colors such as in pocket squares or napkins and rings on your dining tables. 
Mint Green / Pastel Green / Sage
Sage is a great wedding color as it is neutral enough to pair with bold bridesmaids dresses but bright enough that it can stand out if you'd like it to. Sage is often used in bridal bouquets in the form of green leaves, succulents, hydrangeas and even artichokes. You can't go wrong with a sage green necktie, like this one from Birdy Grey paired with our light blue suit. Sage is a perfect wedding color addition if you are going for minimal décor for your wedding as well. Consider brightening up this color with mint or pastel green bridesmaids dresses, and pops of pink.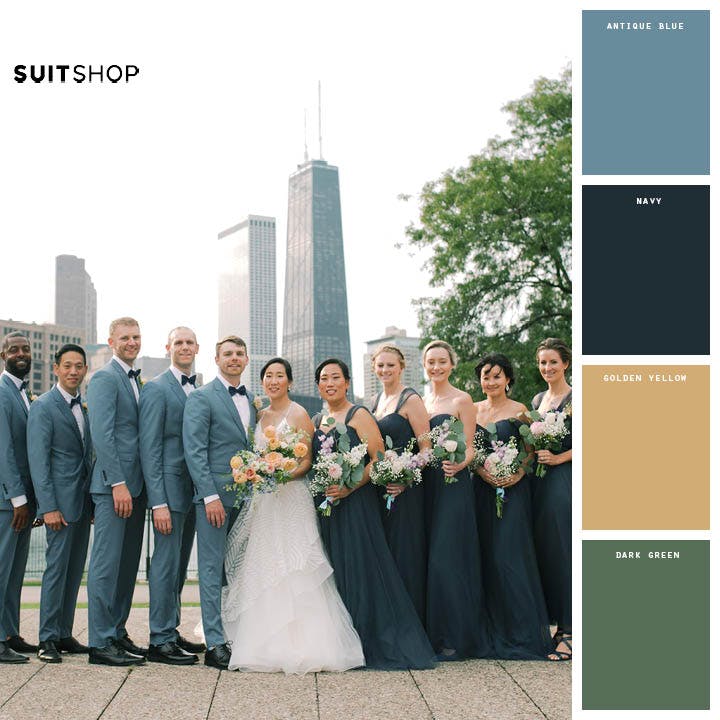 One of the things we love most about our job is helping our couples narrow down options and choose their wedding colors and how they will complement one another. We recommend starting out by ordering free fabric swatches of your menswear and bridesmaid dress options to compare as many colors as you'd like to at home. We'd also love to video chat and learn more about your big day! Schedule a virtual appointment with us and we'll walk you through the process as well as set up a free home trial of one of our suits for you. Congrats on your upcoming wedding. We can't wait to see your photos!