Types of Shoes to Wear with a Tuxedo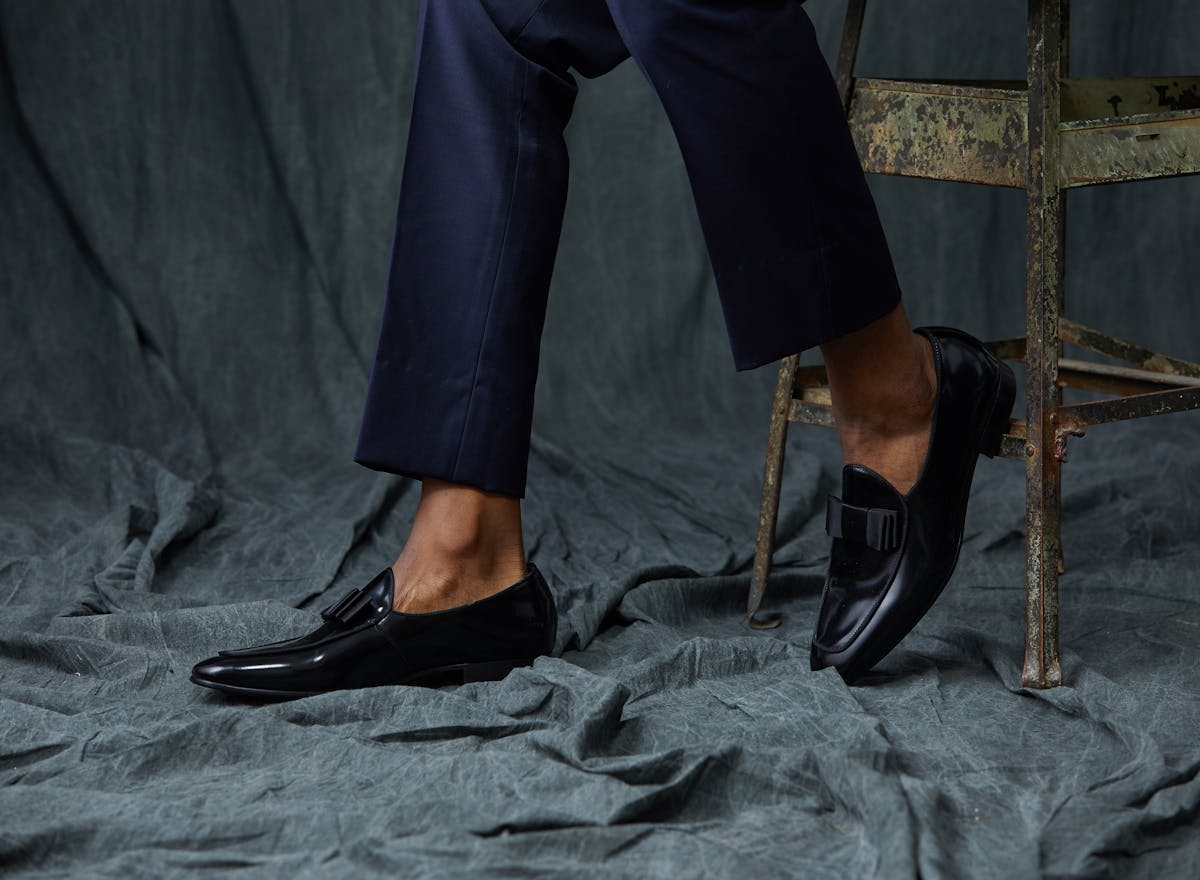 DIFFERENT TYPES OF TUXEDO SHOES
If you have landed on this article chances are that you are either planning or participating in a black-tie wedding!  Typically for black-tie events, men's etiquette requires that gentlemen wear black, midnight, or darker colored tuxedos and a patent leather lace-up shoe.  With modern style practices, we believe that there are a variety of tuxedo shoes styles that fit the occasion. Below, we explore seven shoes to wear with a tuxedo ranging from the most classic black patent leather lace-up shoes to very modern sneaker options.  It's your wedding so choose the shoe that fits your wedding style, budget, and personal style the best!
BLACK PATENT LEATHER LACE UP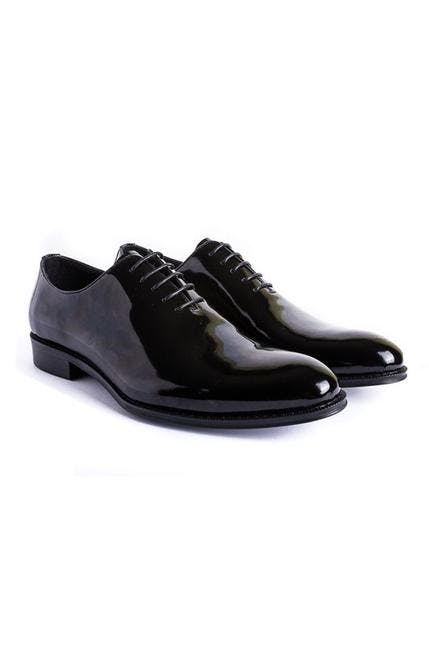 Black patent leather lace ups are probably the most classic and elegant shoe choice as it relates to wearing a standard tuxedo.  This shoe has stood the test of time year after year and has not waned in its relevance or importance to menswear. Of course, there are different versions that fall into various categories ranging from classic to avant garde. But for the most part, you won't have anyone questioning your judgment if you select these as your footwear for choice. Shown here are the Patent Leather Lace Up Shoes.

BLACK PATENT LEATHER LOAFER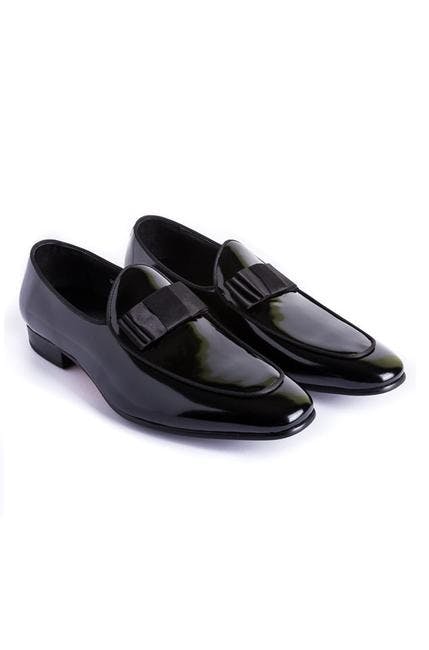 As a slight departure from the lace up, the black patent leather loafer is just as elegant and timeless.  This is yet another option that will stand the test of time and can be compared to the likes of stellar formalwear looks worn by the infamous Rat Pack favorites – Dean Martin, Frank Sinatra and Sammy Davis, Jr.  If you want the patent leather look without the laces, loafers are the way to go. Consider wearing this timeless shoe with a no-show sock or a very thin black tuxedo sock.
BLACK LEATHER DOUBLE MONK STRAP
A double monk strap shoe is a style favorite.  This shoe can be dressed up or down and worn all about town.  Double monks are for a very specific type of guy who loves a trim, European fit tuxedo.  The sleek, modern shape of the double monk strap shoe lends itself to a trouser with minimal to no break, showing a little bit of ankle and definitely worn with a no-show sock.  Try different brands like Kenneth Cole, Alden or Cole Haan for a well-constructed pair of these iconic shoes.

BLACK LEATHER WHOLE CUT LACE UP
A black leather whole cut lace-up brogue is a very classic and understated shoe.  The timelessness of this shoe offers so much versatility – one being the ability to wear them again and again.  Many guys are hesitant to purchase patent leather shoes because they feel uncomfortable with the shiny nature of patent leather.  If you're that guy, then you'll love a whole cut shoe which will give you the subtle elegance you're seeking without have the ultra-polished look of a patent shoe.  It's the best of both worlds. Although you can wear these quite a bit, make sure to purchase a shoe tree to help reduce wrinkles and creasing! If this is the shoe for you, Jack Erwin has a great option – shown here.
TEXTURED LOAFER
Loafers are an instant style star.  The textured loafer is synonymous with a very aristocratic, rakish style so if this is on par with how you dress – go for it!  Velvet loafers are offered in so many different iterations from a classic version offered by Brooks Brothers to a more uber preppy option from Stubbs & Wooten.  There are also exceptionally unique brands like Res Ipsa that are made from tapestries sourced from around the world to the likes of the highly chic brand Superglamorous with their instant eye grabbing loafers that can be customized with your initials and stately crests.  You will want to have your trousers tailored with a minimal break to show off this stylish loafer.
BLACK COWBOY BOOT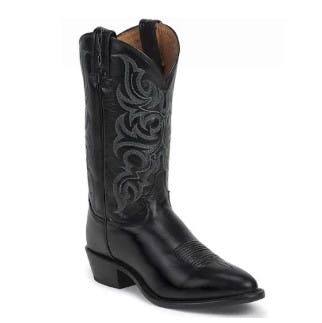 Cowboy boots are so underrated but yet so cool.  There is nothing like a great pair of leather cowboy boots – broken in or brand spanking new – to really bring something different to your wedding day style.  The key to wearing these are your authenticity so if you're not this guy and not getting married on a ranch or at a barn – these are not for you, at least not for your wedding day.  Some of the best brands include Tony Lama, Justin, Durango and Tecova just to name a few. These will offer such an amazing way to showcase your unabashed Americana style.
SNEAKER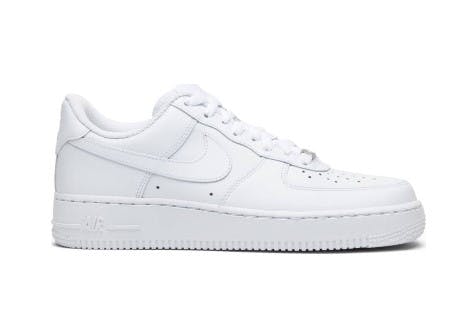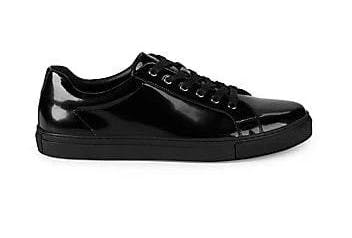 Sneakers have been worn incorrectly so many times by so many wedding parties and unfortunately, by so many GROOMS!  Your wedding day is not the day to wear your running shoes, but there are a winning pair of sneakers that will work.  Try a clean, timeless sneaker like a Jack Purcell if you're more of a preppy guy. For the more edgy, badass rocker type, a classic Chuck Taylor in black will really set you apart from other wedding parties.  If you're a bit more chic and modern, you'll really like the look of a trim, sleek sneaker by the brand GREATS, specifically The Royale. Another great option if you're a sneakerhead who just HAS to hold true to your sneaker obsession (even on your wedding day), then try a low top Nike Air Force 1 as a nod to your sneaker prowess.  
And lastly, if you want to be a showstopper, try a patent leather sneaker, like these from Saks Fifth Avenue, in black or white – giving you the best of both worlds with elegance and streetwear.  Just like wearing a loafer, you'll want to have the trousers tailored with a very minimal break so there are no unsightly breaks at the hemline.
We've got you covered with a variety of dress shoe options to fit your wedding style. And, if you ever want fashion advice for the big day email us at style@suitshop.com.