Wedding boutonniere alternative?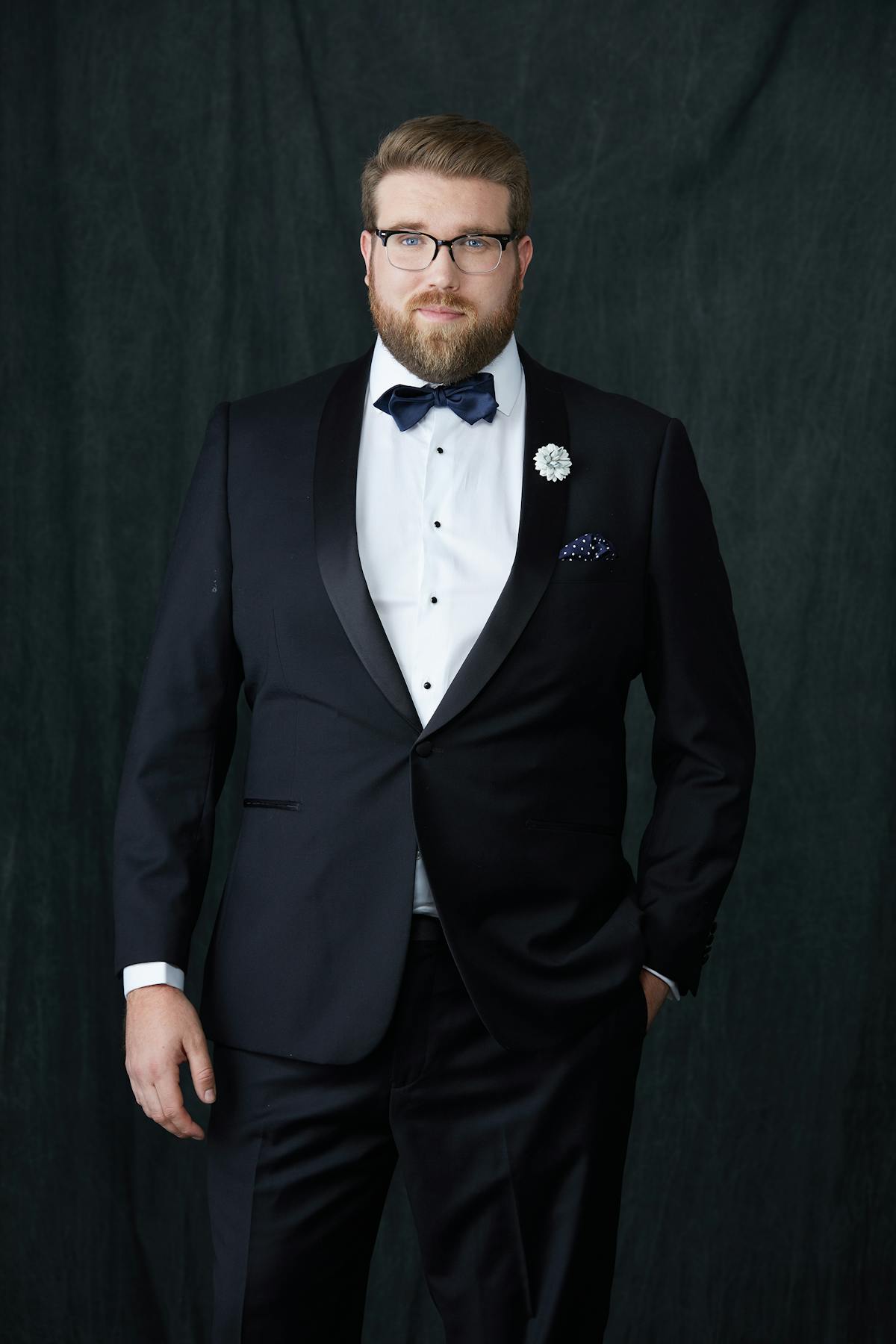 Q: I am not such a fan of boutonniere flowers for my wedding day look – it feels a bit prom-like, in my opinion.  Should I wear a floral boutonniere to stay in-line with tradition?
A: Floral boutonnieres are traditional for grooms, as you mention, but not obligatory.  The traditional groom boutonnieres tend to look prom-like only when the flowers are very large and kind of floppy on the lapel.  If you do decide on a floral boutonniere, ask your wedding floral designer to make it small.  If the boutonniere is really not your thing, consider a lapel pin instead. 
Don't get us wrong, there is absolutely nothing wrong with a floral boutonniere, but if you are a self-proclaimed or publicly proclaimed style-guy, a lapel pin is essential for your style arsenal.  Wearing a lapel pin will show that you are respectful of tradition but also enjoy pushing the limits a bit by trying something new. Fleur'd Lapel Flowers are handcrafted in NYC and designed by multi-talented fashion and wedding photographer, Andrew Werner. We are delighted to have a curated collection available on the site exclusively for SuitShop wedding parties and are honored to be one of the stockists for the lapel flowers along the likes of Barneys of New York!
Lapel pins are to be worn in the same place on your suit or tuxedo as a boutonniere and are even easier to put on.  Simply put the pin through the lapel buttonhole on the left jacket lapel and attach the pin closure from the back of the lapel and you are all set! No need to fuss with trying to run two hat pins through the stems of your boutonniere to attach it to your jacket.
Of course when comparing your options, you're going to consider lapel pin and boutonniere price. The Fleur'd Collection starts at a price range of $38 to $95 which is very economical considering that they will be used time and time again following the wedding! Typical flower boutonnieres are priced between $15 and $30 each and often you are lucky if the boutonniere is still in good shape by the end of the wedding day. A lapel pin will serve as a great reminder of the wedding day each time you wear it and will be a conversation piece when worn for other events and occasions. Not sure where you would wear a lapel pin again? Skip it when you're headed to the office but don't be afraid to wear one on a fancy date night or to a friend's black tie wedding. 
Consider lapel pins as an option for gifts for your groomsmen, ushers, and dads. They're a nice gift when given separately or in a box with a bow tie or neck tie, pocket square, and cufflinks to wear with their groomsmen suits.  Your groomsmen and ushers will appreciate that they will only be responsible for purchasing their suit, shirt and shoes and you have taken care of the rest!
How do you know which lapel pin to select for your wedding? We have tried to make the choosing a bit easier by offering a selection of flower lapel pins that work equally well with the full SuitShop suiting collection.  Our favorite three color options in the burlap material – baby pink, rose, and white along with two leather fleur options in white and rose quartz, would look handsome when placed on any of our assortment of blue suiting from light blue to navy blue, the textured or charcoal gray suits, and black. The burlap pins are a little lower in price but equally attractive for the wedding day.  They can be appropriated for a wedding more rustic in nature due to the burlap material. You can even tie in other rustic elements that may also be made of burlap, like table runners. If you are partial to smooth fabrics, then opt for our leather lapel pins. Appropriate to be worn on a suit or tuxedo, the leather flowers are especially dapper on our navy blue and premium black tuxedos.  
If you and your groomsmen will all wear lapel pins, consider styling your groomsmen in a different color flower than you will wear as the groom.  For example, if you all will be wearing navy suits, an option would be to have the groomsmen wear the rose burlap fleurs and the groom wear the white burlap fleur, another small element to distinguish you as the groom amongst your attendants.  No matter what you decide, have fun with it! Despite popular belief, as the groom you do have areas of the wedding that you can speak up on, and your wedding attire should be one of them!
And ladies, if you are wearing a pant suit for the wedding day, we haven't forgotten about you! Lapel pins will also look great on the lapel of a women's suit. There are a lot of decisions to make when choosing your wedding style and a boutonniere from your wedding florist, a DIY boutonniere, a lapel pin, or nothing at all is one of them. You can always reach out to us at info@suitshop.com and we'll give you our take on your choices and how they'll best fit on your wedding day!