Wedding Suit Alterations Guide: Pant Hemming and Other Adjustments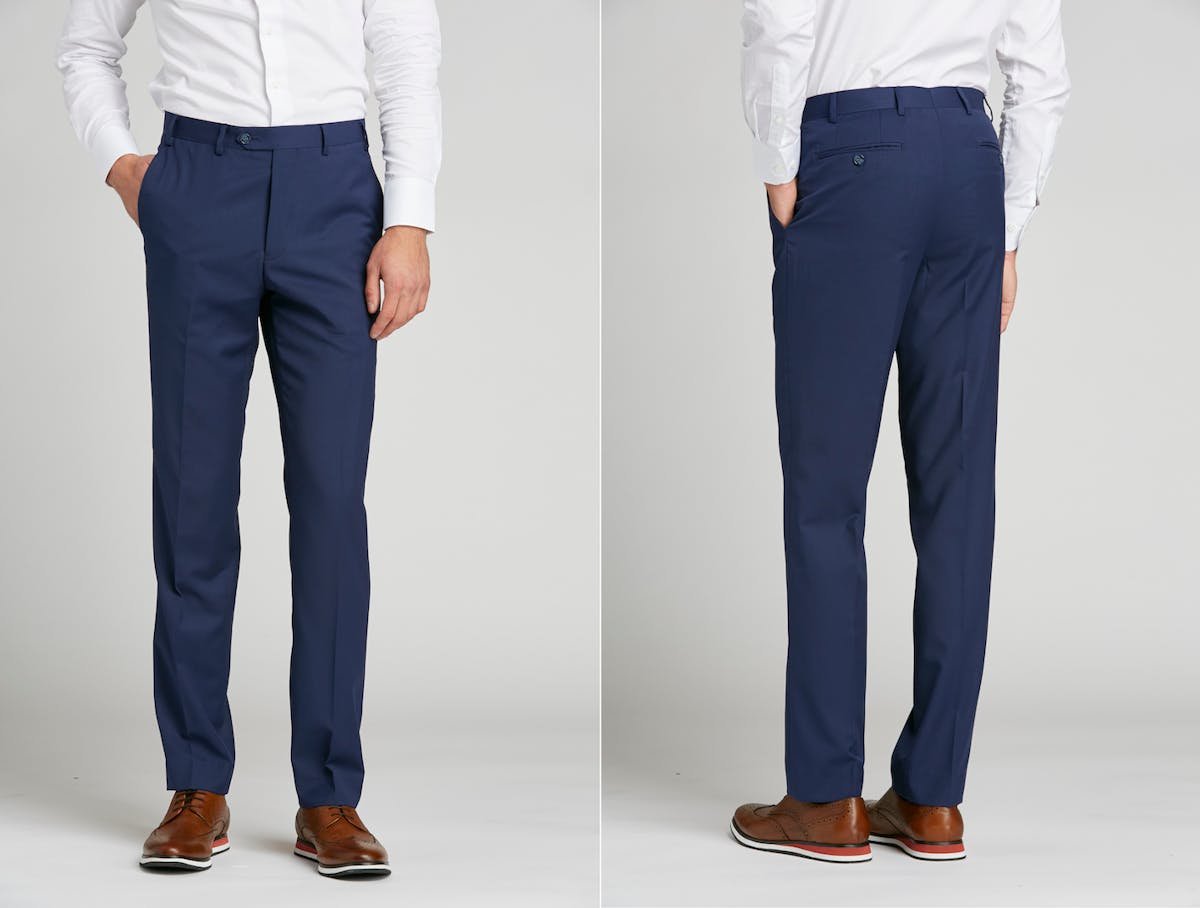 The fit of a suit jacket tends to dominate attention when it comes to finding a great fitting suit, but we're here to remind you that proper pant fit is a must when it comes to looking sharp. Time and time again, we've seen wedding photos ruined by sloppy pants. There is nothing worse than seeing extra fabric bunching at your groomsmen's ankles. Excess fabric collecting on top of the shoe will make the pant look baggy and less fitted. You've taken the necessary time and attention to coordinate shoes, socks, belts and other wedding accessories for your groomsmen and you want them to show them off! At The Groomsman Suit, we recommend little to no break in the leg leaving the pant to just rest gently on the top of the shoe. We'll go into more detail about types of hems below, but you can also check out our Guide To The Perfect Pant Length to learn more.
Worse than baggy pants are tight suit pants that rip on the dance floor! While you want your pants to be nice and fitted, you also want to be comfortable and able to move and dance. This means finding the right fit in the seat and thigh of your pants. Some men with more muscular legs find they have to go up a size to fit them appropriately in those areas and then opt to have the pants tapered from the knee down to keep them trim to their body.
Depending on your fit situation, there are some do's and don'ts to having the pants of your wedding suit altered.
#1 The Leg
Pants have the most complicated construction and components from the crotch to the waist. Therefore, it's important when trying on pants to focus on those areas first. If you are happy with the waist and hip fit but feel like the leg is a little baggy, that's an easy fix. There are two seams on a pant called the "inseam" and the "outseam." These seams are the perfect place for a tailor take in a pant leg to get the desired fit. Since leg shape and fit are a personal preference, this alteration is best done by pinning down the leg while on body to show what the finished fit will look and feel like.
If the pant leg is too slim, it can be let out. This is limited by the amount of seam allowance available and  you can see how much extra fabric you have to work with by turning the pant inside out. Typically, there is only ¼" of seam allowance at each side to work with but keep in mind, as you extend the width of a pant leg, and use up some of that allowance, the strength of the seam is weakened and could cause the seam to split when wearing. If your pant leg is too tight down the leg, going one size up and then altering the waist to fit is probably your best bet.
#2. Pocket Gaping
Typically, pocket gaping is caused when the pant is a little too snug in a man's hips and seat. Look for horizontal gathers across the hip to confirm that the reason your pockets are popping open is due to the pant size being a little too snug.
Usually pocket gaping can be resolved by letting out the width of the pant at the waist and seat, tapering through the hip. There are several seams that can be adjusted to give a bit more room so the pockets relax. Before requesting alterations, try the next size up or a different fit type to see if that solves the issue. With pants it is also easier to take in than let out, so if the size up is looking great and the waist is just a little too big, that is a safer option than asking for the pant to be let out.
#3. The Wedgie
We all know what a wedgie is and aside from making us giggle when saying it, it doesn't feel great and definitely does not look good. Luckily, this is relatively easy to fix!
Why do your suit pants give you a wedgie? The reason is due to a short rise length of the pant. The "rise" is the length from the front waistband to the back waistband, between your legs. If the rise is too short, you get the wedgie. If the rise is too long, you get bagginess along the back of your leg and the zipper/crotch falling too low in the front of the suit pant.
If you experience these fit issues, it can sometimes be solved by adjusting the length you ordered, for instance if you ordered a regular length pant, the long pant will have added rise length since it was designed for a taller person and taller people normally have longer rises.  If you have already tried a size up, you should be able to correct this with an easy alteration that a tailor can do for you upon request.
#4. Hems
Most dress pants these days come with an unfinished hem edge. Retailers have opted for this for many reasons. First, groomsmen come in all different shapes and sizes and their inseam lengths are no different. Having an unfinished hem allows guys to have the pants hemmed specifically to their body creating a custom polished look. Additionally, there are a lot of options when it comes to the hem style of a suit pant and this can really be a fun thing to customize depending on the style and aesthetic of your wedding.
First you will need to determine which of the following hem styles you would like:
The Straight Hem - This is the most common hem and if you go to a dry cleaner or tailor and simply ask for your pants to be hemmed, the straight hem is what you will get. Pants are typically cut straight along the bottom edge and a straight hem is simply a 2" turnback of the extra length and a blind hem stitched to secure it. This is a great hem option for 99.9% of wedding suit pants.
The English Hem - This hem is really sharp and on trend with the no-pant-break movement. If you are requesting a shorter length hem or a hem with no excess fabric bagginess where it meets your shoe, the English hem is the best choice.  The English hem allows for a slight slant in the hem with a shorter front length than back length which covers the side openings and back of your shoe to be hidden while allowing the front hem to hover over the front upper portion of the shoe.
The Cuff Hem –Once considered an old school look, the cuff hem went out of style for some time only to be making a blazing comeback with the loafer and naked ankle trend resurfacing. A cuffed hem can really give your wedding style a unique finish. Resulting in a shorter pant length, this hem is great for barefoot beach walks, exposed angle and loafer look for a destination wedding or a trendy more casual vibe for a stuffy suit.
Once you determine the hem style, you will need to very clearly communicate the "break" you would like associated with that hem. The break is the amount of bend or wrinkle you have at the bottom of your pant where it connects with your shoe. Style trends have moved towards shorter pant lengths and with that the little to no break policy to keep your wedding look polished.  For taller men, some break or wrinkle can work since the visual of the pant when you sit down can sometimes be too short for a taller, longer legged guy. For shorter men, the no break look can make your legs look longer which we highly recommend.
Now that you're fully versed in all the possibilities for your pant alterations, you can make that appointment to have them finished. Be sure to read our Tailor Preparation Checklist to make sure you bring everything you need to ensure alterations are successful and not overly expensive. Have other questions about your wedding suit? You can always contact our team of stylists here or by phone at 773-303-6006.