Wedding Suit Alterations Guide: The Do's and Don'ts to Adjusting Your Suit Jacket Fit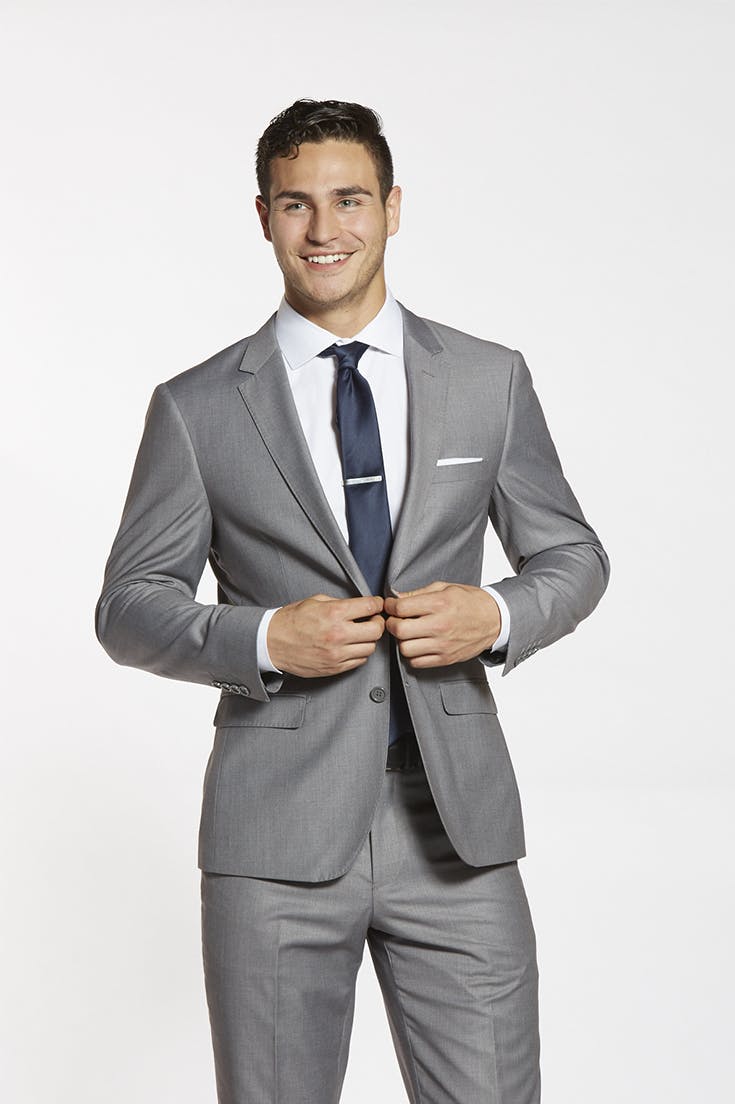 While we always hope that having your pants hemmed is the only alteration you will need, we also realize that every body and fit preference is different and occasionally there is a need for more alterations. When it comes to suiting and tuxedo jackets, alterations can become very expensive, very quickly.

For some, the first thing they have to do is adjust their expectations on exactly just how much mobility they should have in a suit jacket. Jackets are not designed to allow full over-head arm swings. You are going to look your best in wedding photos when your suit or tuxedo is nicely fitted to your body with your hands down to your sides. You should still be able to reach comfortably at a 45-degree angle, but jumping jacks are out of the question.

To understand exactly how your suit should fit, check out our Guide To A Great Suit Fit. When you think you've found the best fit possible in a suit or tuxedo jacket and just need a few tweaks to make it perfect, you are ready for alterations.
#1. Armhole & Shoulder – Don't mess with them
Suit jackets are designed with a lot of components and detailed construction that give the jacket the structure it needs. Because of this, these areas are very difficult, if not impossible, to alter successfully in order to solve fit issues.  When selecting a suit jacket, it's most important to find one that offers a close to perfect fit in the shoulders and armholes.
Shoulder divots are one of the most common fit issues men experience in this area of their jackets. When the shoulder and upper arm fit is too tight, small indentations in the fabric right under the shoulder and sleeve seem appear. To fix shoulder divots in your suit jacket, it is best to go up a size in the jacket or switch to a fit type that provides more room in the upper arm and shoulder area.
The armhole shape is designed with a little added fabric at the back of the jacket to allow for movement. Sometimes this can be visible when your arms are rested at your sides. If the excess fabric goes away when you reach forward 45 degrees, you're all set. If there is still access fabric or you are able to swing your arms over your head comfortably, the jacket is too large.  
Is the shoulder fit problematic for other reasons? Check out our article covering all shoulder fit issues here to learn more. To reiterate, the jacket shoulders are VERY difficult to alter. Your goal in finding a great suit or tuxedo jacket fit starts with nailing the fit in the shoulders. Once you do that, you can focus on fine tuning other areas more easily as needed.
#2. The Collar
A common fit issue at the back of the collar is the collar roll. A tiny bubble that is visible just below the neck seam. Believe it or not, this fit issue is most commonly caused by one's posture or physical build conflicting with the specific design and cut of the garment. Thankfully, there is a fix for the collar roll. It can easily be corrected by opening up the collar seam and removing the excess fabric before reattaching it to the back of the jacket.
The opposite issue to the collar roll is a gap between the back of your jacket collar and your shirt collar when the jacket is not flush against your dress shirt. Also caused by posture, this can be fixed by opening the neck seam to let out a bit of extra length at the back collar allowing your jacket to rest on your shirt collar. This alteration is commonly referred to as raising the collar.
#3. Lapels
If you have a broad or muscular chest, popping lapels on your suit jacket might be a common fit issue for you. Lapels will pop up and open when the jacket does not have enough width from the front of the armhole to the edge of the lapel. In other words, the design and size of the jacket isn't working well with your body type. By going one size up, you can correct this issue and avoid an alteration in a very complex part of the jacket. Remember, our number one tip is to avoid making alterations to the upper part of your suit jacket.
#4. Sleeve Length & Jacket Length
For off the rack suiting, the sleeve and body lengths in jackets are standardized to be in short (S), regular (R), long (L), and extra long (XL) lengths. Where should your suit jacket be falling on your body? With your arms at your sides, the body of your jacket should fall right around the middle of your hand, at or just past your knuckles. From the front, it should end very close to the bottom of the zipper on your pants.
If you are trying a jacket on without a dress shirt, most likely, the sleeves will immediately feel too short. This is because the jacket sleeves are designed to end ABOVE the shirt cuff so that ¼ -½" of the shirt is showing beyond the sleeve of the jacket. Typically, men have a preference for shorter or longer sleeve lengths depending on their personal style as well as the type of shirt they are wearing.
When the length in both the jacket and sleeves are too long or too short, you can easily resolve this fit issue by selecting a longer or shorter jacket length and avoid alterations. If you love the overall length of the jacket but the sleeves are too long or too short, an alteration may be necessary.
Sleeve lengths are easier and less expensive to alter compared to adjusting the length in the body of the jacket so it's important to select a jacket length that works well with your torso as a starting point. If your suit jacket sleeves are not hitting where you would like, they can be altered to be longer or shorter. Typically, suit jackets have enough seam allowance to allow for 1 - 1.5" of added or reduced length. Exactly how much your sleeves can be adjusted is based on where the buttons on the cuff are placed and if you are willing to pay the added cost in relocating buttons and buttonholes. This alteration should be done by an experienced tailor with the fit expertise to ensure you are getting the perfect suit jacket length as it can make or break your polished look.
#5. The Waist
The waist of a suit jacket has many seams at the sides and back that can be easily altered. If you are happy with the shoulder and armhole fit but the waist feels too big or too small, no problem! This is the most common and easiest suit jacket alteration to get a like-custom fit without spending a fortune.
If you are finding there is too much tension at the button of your jacket, you can have the waist let out. How much your jacket can be let out is determined by the seam allowance in the side and back seams. To get an idea, simply hold the jacket closed to the desired fit and measure the distance from the center of the button to the center of the button hole at the front. The waist of the jacket won't be expanded by adding fabric to the front, rather; this is a good way to tell how much extra room you actually need.  
A typical suit jacket has 5 seams: two at the front side panels, two at the back side panels, and one center back seam. Because the front two seams often connect with the front pockets of the suit jacket, it's best to leave those alone and only use the 3 seams in the back of the jacket to modify the fit. At most, those three seams offer about ¼ - ½" of seam allowance to work with which means you have about 1 -1.5" of room to let the torso of your jacket out.  If you feel you need more than 1.5" its best to explore the next size up in the jacket or a different fit type. If you only need another inch of room, you're in great shape to request that the jacket be let out to the desired width.
If you've had to go up a size in the jacket to fit you properly in the shoulders, but are finding the body of the jacket is too big and is hanging on your frame, not to worry. Taking in your suit jacket is much easier than letting it out. A tailor will be able to pin the jacket exactly where the fabric will be taken in to give you a visual prior to altering.
#6. Back Vents
Two type of vents are offered in men's suit jackets: the solo center back vent design or the double vents at the side back panel seams.  Jackets with double vents are great because they allow for more flexibility in fit at the lower portion of the jacket and ensures the jacket drapes smoothly when standing, sitting and moving around.  Vents flare open on a jacket when the width of the jacket is too narrow around your hips and lower back. It's okay to have a little bit of flaring but too much means you may want to try a different size or fit.  Alterations at the vents are possible but can be a bit expensive. We recommend trying all fit options and sizes prior to requesting a vent alteration to correct this fit issue.

At SuitShop, we are committed to helping our customers find a fit they look and feel sharp it. We offer free exchanges and returns to make sure you have the best sizes. Additionally, our team of stylists are always willing to talk through any fit issues. For assistance, contact us and please include details of your fit issues/preferences, body type, and even pictures of you in the suit (with shirt and shoes on) to help us offer great advice on whether or not you need an alteration and best course of action. To ensure you are prepared for your tailoring appointment to have your pants hemmed and anything else that might be needed, you can refer to our Checklist to nailing your tailoring appointment.