Wedding Tuxedo Rental Cost & Fees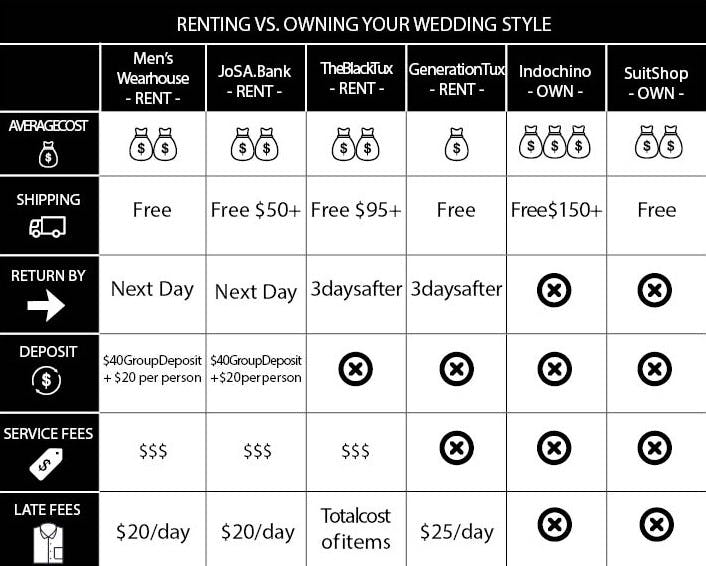 When it comes to suiting your wedding party, initial tuxedo or suit prices can seem like a spectacular deal.
Maybe you have a coupon for free shipping, cheap alterations, or even a 50% off offer for the groom's suit--or maybe even the husband-to-be's tux is free, when suiting the remainder of the wedding party with their company.
But lurking underneath the hype and the deep discounts are hidden fees that snap up anything you thought you managed to save, and then some.
Let's compare the real cost of renting versus the price of purchasing your own reasonably-priced attire from SuitShop.
Generation Tux: One of the more affordable options you can find, you can rent a suit or tuxedo for the low price of $129, plus a $5 non-refundable damage fee. 
However, if you're in a hurry, Generation Tux is not the option for you. If you order less than 16 days prior to your event date you will be charged a $50 rush shipping fee, cut that down to seven days before your event date and you will be charged a $100 rush fee. And make sure your items are back in the mail within three days after your event or you will be charged $25 for each day your items are late.
The Black Tux:  For online shoppers, perhaps this is the most popular wedding rental company.  You can rent a tuxedo or suit for an average of $160, plus a $5 non-refundable damage waiver, and receive your items 14 days before your event date. But rentals must be placed back in the mail three days after the event or are subject to "unreturned fees." You read that right. unreturned fees. It's easy to miss that bit of info when they were offering free shipping for orders over $95. To make sense of it all, if you rented a jacket, pants, shirt, shoes and tie for your event and failed to send these items back in time you're looking at a grand total of $899, before tax. If you are heading to a destination wedding, traveling home may make this return window challenging.
Indochino:  The well-dressed groom who wants his party to keep their suits has probably considered Indochino. The price is higher than the other suiting companies mentioned with an average cost of $399, but at least you get to keep the suits. Make sure you are planning ahead for the big day because your guys will need to order a minimum of three months in advance. One nice perk Indochino offers is an alteration credit of up to $75 if your custom suit doesn't arrive quite to your satisfaction. But you are unable to return it for a refund.
JoS A. Bank: With over 500 stores, Joseph A. Bank is a good option for guys who want an in-person shopping experience. Your suit or tuxedo can be picked up at the location most convenient for you two days prior to your event and dropped off at any of their stores the next day. These tight time frames may be the most nerve-wracking aspect of using them for your big day. If the wedding you are in is on a Saturday and the rehearsal is on Friday you are probably already stressed on Thursday without having to think about going to pick up your suit or tuxedo. Let's not forget that you have to make sure it all fits, and while Jos A Bank does offer on-site tailoring available for minor adjustments, it still takes up valuable time you don't have as you prepare to go to the wedding. The day after the wedding, there's a good chance you won't be feeling up for a trip back into the store to return your tuxedo. For every day you don't return it, you'll be charged a $20 late fee. Besides these late fees, you should also be prepared to cover some upfront costs. If you're the groom ready to use JoS A. Bank to suit up your guys you'll be required to put down a $40 group deposit, and each of your groomsmen will be charged a $20 deposit as well as a $12 non-refundable damage and handling fee.
Men's Wearhouse: Everyone's heard of this one.  With an average cost of $199 you can easily order online or in-store, as well as return online or in-store. If you order online, your suit will arrive seven days before your event, or in-store you can pick it up two days before your event.  Returns can be made in-store the day after your event or can be put in the mail the next business day. If you're late, you will be charged $20 each day it is late. Just like JoS A. Bank, there are some upfront costs, but for some reason only if you purchase in-store. Men's Wearhouse costs are identical to JoS A. Bank at $40 for a group deposit and a $20 per person deposit because they are owed by the same parent company.
SuitShop: Here at our company, there are no hidden fees. The prices are clearly listed on the website, shipping is free and all items are available to purchase. The only time you will be required to pay a shipping fee is if you need your items shipped two-day or overnight. While the average cost of $199 only includes the jacket and pants, we've gone to great lengths to make all of the additional items you might need very affordable. After the wedding is over, you'll have a sharp suit or tuxedo you can wear again and again.
After reviewing these options and the numbers, why would you consider renting a suit when you could own one? While not every guy in your wedding party is going to need a suit on a regular basis, there's a good chance they will have another opportunity to wear it, for example as a guest at another wedding. And the best part is, no one has to run to the store the day after the biggest day of your life. 
Sleep in, and have a new suit for about the same price as a rental.