What Do Groomsmen Wear When It Comes to Wedding Accessories?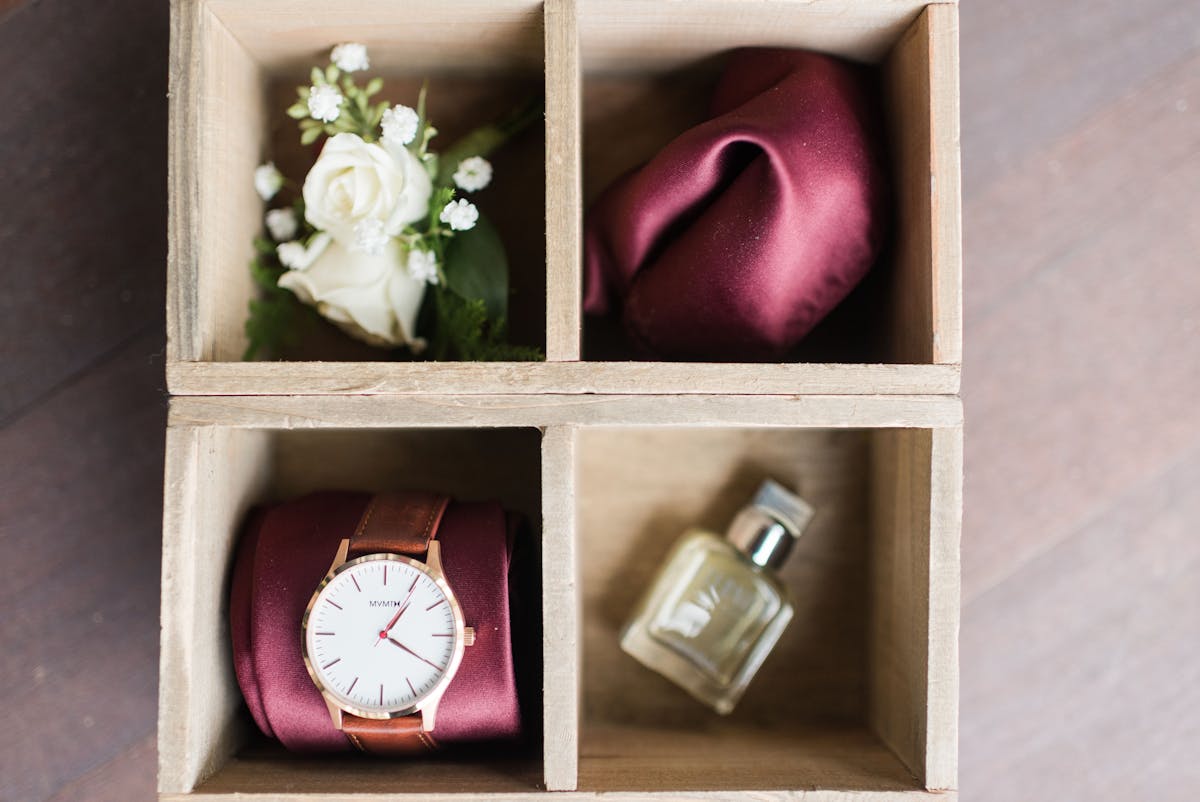 You've nailed down the color palette for your wedding, you've got your suit color picked out, and now it's time for the little things. The details. These elements are some of the most important because they top off your look, make it cohesive and also make sure it doesn't look like everyone else's. Here's how these must-have accessories enhance what you and your groomsmen are wearing and ensure you stand out in all the right ways on your big day. 
Ties & Bow Ties
These essential elements are one of the main ways to pull the whole outfit together. They complement the suiting color of your choice and also give you and your guys an opportunity to show off your style. Bow Ties can be playful or chic, while ties hold their ground as a classic option you can't go wrong with. Ties and bow ties are a great place for pattern play too — think floral prints, stripes, paisley. 
Get it with TGS: 
Pocket Squares
When you want an extra touch of sophistication on your wedding day, a pocket square is the way to go. You can wear one in addition to a boutonniere or on its own.  As with any accessory, the trick is making sure the pocket square coordinates with the rest of the look (that doesn't necessarily mean it has to match perfectly). You have the opportunity to experiment with textures, colors and prints here too. Just make sure it enhances your ensemble. It shouldn't be the focal point.
Get it with TGS: 
For a demo on how to fold your pocket square, read our step-by-step guide.
Socks
Whether you're looking to gift them or dress your whole wedding party in them, unique and versatile socks won't let you down. Lots of grooms and groomsmen like to use this accessory to show off their playful side and their personality. From styles boasting superhero emblems to college logos, there are nearly endless ways to infuse your wedding-day look with a touch of you. You can also opt for something more timeless but distinct with elegant patterns like argyle and stripes. 
Get it with TGS: 
Boutonniere
You usually craft this traditional accessory out of flowers that match or complement the blooms in the bride's bouquet. While most couples use real flowers, you can also craft a boutonniere out of fake flowers. And, these can either be provided by your florist or you can DIY them at home.  If you don't want to fuss with any sort of assembly, a boutonniere pin is the perfect alternative. Make sure you check out our guide so you nail the proper placement on your big day. 
Get it with TGS: 
Sunglasses
Perfect for pictures and blocking out the sun during your outdoor reception, sunglasses are a simple way to put a cool, fun spin on your outfit. They also make great gifts for groomsmen, especially if they're personalized. 
Get it with TGS:
Cufflinks
Cufflinks are a must when wearing a tuxedo but can also be added to a suiting ensemble for a classy look. Make sure if you plan for your wedding party to wear cufflinks that they purchase a shirt with french cuffs. 
Get it with TGS:
You've got the accessories. Now it's time to put them all together! Get style tips & how-tos on our blog, or get in touch with our stylist for your specific questions.