What to wear to a rehearsal dinner?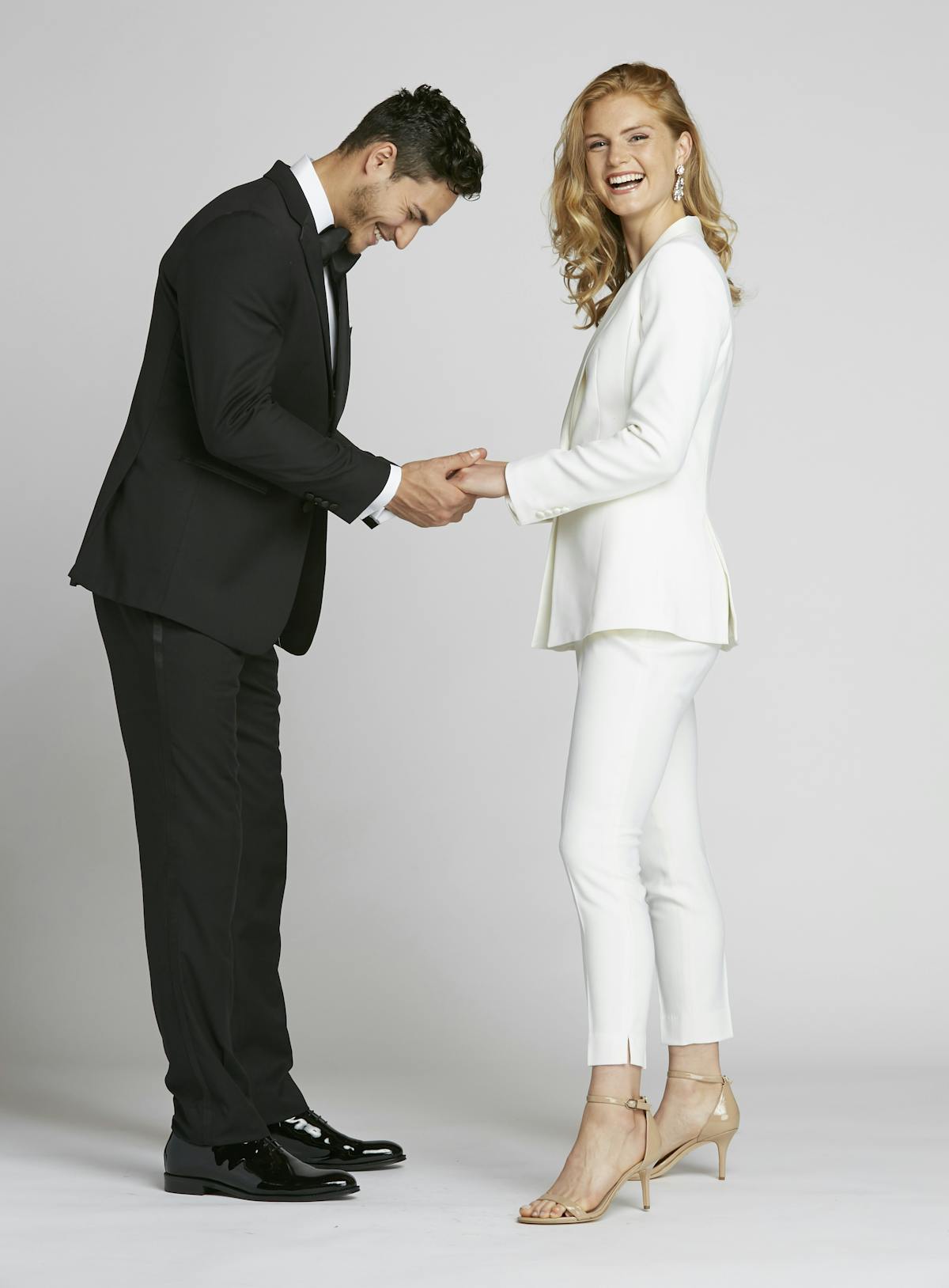 The rehearsal dinner is often the preview of the wedding to come the following day.  Most times it is a smaller more intimate group of people and sometimes like a celebration dedicated to your inner circle of family and friends.  As the bride and groom, you are likely so busy planning your looks and the wedding party looks for the actual wedding day that the rehearsal dinner style becomes an afterthought on the wedding to-do checklist.  Below we provide some suggestions for brides and grooms on what to wear to a rehearsal dinner based on the level of formality of the occasion. 
FORMAL REHEARSAL DINNER
If you and your spouse-to-be are a super fashionable pair there is a chance that your wedding plans consist of formal attire festivities for the entire wedding weekend, including a formal rehearsal dinner.  Think Kim and Kanye's Versailles Rehearsal Dinner back in 2014. There are certain venues that just don't make sense to dress casually, and most often the level of formality of the occasion is dictated by the venue.  Examples of formal venues include estates, castles, and city view rooftop restaurants (like NYC's Boom Boom Room).
For Him:
There are several options for the groom-to-be for a formal rehearsal dinner attire.  A dark (navy, midnight, or black) suit or tuxedo is a good place to start.  When making a selection, consider selecting a look that is a little less "show stopper" than your wedding look.  After all, the wedding look should be the highlight of the weekend. If you are wearing a navy tuxedo with contrasting black peak lapel for the wedding, consider a classic black shawl lapel tuxedo for the formal rehearsal dinner.  And if you are a fashion risk taker, style it with a low-cut round neck t-shirt in black and patent or velvet loafers with no socks.  If your formal rehearsal dinner is not quite a tuxedo affair, then consider wearing a navy or black suit and styling it monochromatically.  Purchase a dress shirt and necktie in navy or black to match the suit and pair the look with black leather dress shoes.  If you will be wearing a loafer for the wedding then oxfords or double monk shoes would be a great option for the rehearsal dinner, or vice versa.
For Her:
For the bride-to-be, this is a great opportunity to completely mix it up from your wedding day style.  If you will be wearing a traditional white or ivory wedding gown for the wedding consider an ivory shawl lapel women's tuxedo made with a figure-flattering tailored silhouette.  Your groom-to-be can complement your look nicely with a monochromatic navy, midnight, or black suit or tuxedo look.  Or if you want to save ivory for the wedding, don't be afraid to consider a black women's tuxedo.  You can style it very non-traditionally with a silk tank or lace bodysuit.   Women's tuxedos are stylish, bold, and often unexpected. This look will show that you are a strong fashionista who is not afraid of stepping out of the box for the occasion. Now if pants for the rehearsal dinner is just not your thing, consider wearing a floor-length gown with a flattering neckline in a dark color such as black, navy, or a rich jewel tone – something that is far departure from the ivory or white dress you will wear the following day. 

SEMI-FORMAL / COCKTAIL REHEARSAL DINNER
Semi-Formal or cocktail attire is the best of both worlds – being an element of formal minus the pressure of being in a tuxedo or a full length gown.  Many rehearsal dinners are semi-formal especially those being held at a country club, yacht club, or jazz lounge where a blazer is maybe required for gentlemen.  Considering the venue, there is a certain level of formality and uniformity that is suggested by the space itself.
For Him:
For a semi-formal look for the groom-to-be, consider a navy blazer.  Navy blazers are a gentleman's style staple. The versatility of a navy blazer is unmatched because you can wear it with virtually anything and it will instantly elevate the overall look.  A nice chino in a sand color or white could really make a strong statement when paired with a navy blazer. A range of shirts could be worn as well including a button-down in white or a blue and white Bengal striped shirt for a more distinguished look.  
For Her:
For the bride-to-be, a beautiful tea-length illusion lace or eyelet wedding rehearsal dress could be a good option.  Lace is classic and looks great on many different people. Even though this will be a look for your rehearsal dinner, find a dress that will really set the tone for your wedding day to follow.  Make sure the look is a nod to your overall wedding theme or color scheme. A-line dresses with a 'fit and flare' shape or bodycon dresses are typically good options for semi-formal rehearsal dinners. 

CASUAL REHEARSAL DINNER
Likely the most popular of rehearsal dinner styles in recent times is the casual rehearsal dinner.  The venue of choice may be indoors at a bowling alley, winery, or distillery or an outdoor boat cruise, picnic, or a New England style clambake.  If there is a theme implied by the venue or type of event then it is certainly acceptable to style your look to complement the venue or theme.
For Him:
For a casual rehearsal dinner attire, keep in mind that you still want to be easily identified as the man of the hour, even at the rehearsal dinner.  If you do not plan to wear a jacket, a collared dress shirt or polo shirt is strongly recommended. You will have plenty of weekends after the wedding to sport your favorite vintage tee so skip it with the wedding festivities unless your rehearsal dinner is after a game of beach volleyball! As mentioned above, styling your look to complement the rehearsal dinner venue or theme is a great option.  For a bowling rehearsal dinner consider wearing a short sleeved patterned (polka dot, striped, all-over printed) button shirt, selvedge denim jeans, and a pair of simple sneakers like Common Projects. For a New England style clambake, consider wearing a seersucker button-down shirt and crisp pair of chino trousers or shorts and complete the look with tan or white suede bucks.
For Her:
For the bride-to-be, a fun patterned or chambray boiler-style jumpsuit would be perfect for a bowling rehearsal dinner.  Consider a beautiful flowy floral tea-length rehearsal dinner dress for a casual outdoor affair like a New England style clambake. 
If you're a female looking for suiting options for your rehearsal dinner, check out our women's line and reach out with any sizing questions!