What to Wear Under A Women's Tuxedo and Dressy Pant Suit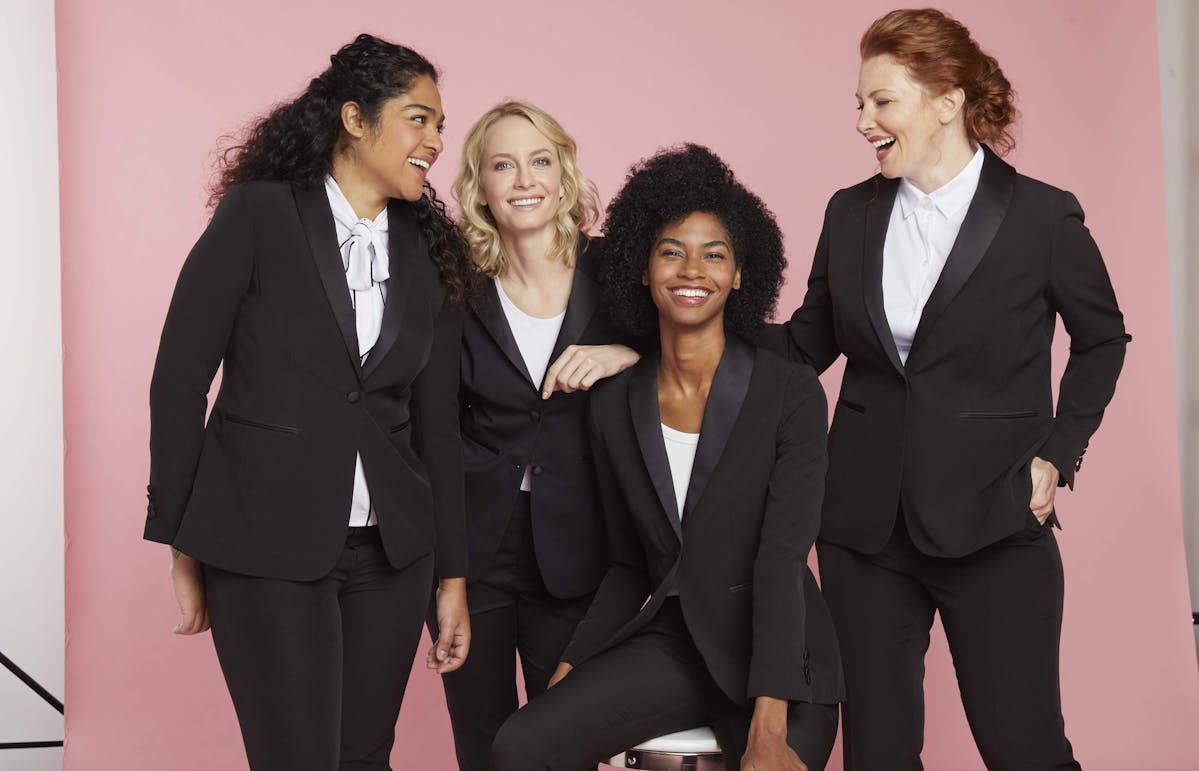 Deciding on how to style your tuxedo or dressy pant suit is one of those fun times when women have more options than the guys! We borrowed the suit and tuxedo look itself from them, but certainly know how to style it to make it our own!  A women's tuxedo can be styled to look classic, romantic, studious, or even a bit sexy.  The same black tuxedo or ivory tuxedo can be all these moods depending on what's beneath.  Below we will explore a variety of underpinnings for your suit or tuxedo look.  The options range from very conservative and modest to revealing and maybe a bit provocative.  Your selection of what to style your tuxedo with should almost solely be in consideration of the event you are attending and its level of formality. Here are some options to consider:
White Tuxedo Shirt
The most classic of shirt options for a tuxedo is a women's white tuxedo shirt.  If you are looking to keep your look clean, classic, and conservative, this is your best bet.   Conservative doesn't have to be boring though. The pleated front will give some detail and interest to the look.  With this shirt option, wear the shirt alone buttoned all the way to the neck (and tucked into the pants), or accessorize with a traditional black bow tie or black ribbon bow tie.
Classic White Shirt
A standard white button-down shirt is another conservative option for a women's tuxedo and dressy pant suit.  Different than a tuxedo shirt with a pleated front, a standard white shirt will have a plain front.  Equally suitable to be worn with a women's tuxedo, the classic white shirt can be worn buttoned all the way to the top or with the first to buttons unfastened for an added level of chic.
White Bow Blouse
Also, on the conservative side of things to wear beneath your women's suit or tuxedo is a white or ivory bow blouse. The bow blouse can be found in white cotton or white or ivory silk material with the bow in the same color and material as the shirt.  This shirt provides a conservative but studious look… think, sexy librarian. 
Silk Camisole or Bodysuit
One of the most popular styles of underpinnings to wear beneath a women's tuxedo is a silk or satin camisole.  These are found in both round neck and V-neck varieties. Sometimes they are loose at the bottom and must be tucked into the tuxedo pants and often they can be found made with a bodysuit bottom.  The bodysuit option prevents unnecessary tucking all evening when you should be free to dance and move without having to tuck in a camisole! 
White Ribbed Tank
A white ribbed scoop-neck tank is another option for a shirt to wear beneath a women's dressy pant suit.  Admittedly, it is more casual than the other shirts discussed above, but there may be times when you want to wear your suit a bit more casually like for a date night or girl's night out.  With this look, the shirt won't do much of the talking as others' eyes will gravitate towards your beautifully fitted suit and likely the shoes you are wearing. Yet, it is a great option for wearing a dressy pant suit in a more casual way.
Black Sheer Blouse
Create a monochromatic and chic look with your women's black tuxedo, black suit or gray suit by styling it with a black sheer blouse. Different than a white cotton blouse the black sheer blouse will be unexpected, but also quite chic and flirty.
Lace Bodysuit
Continuing with the flirtier options to wear beneath your women's suit or tuxedo, consider wearing a lace bodysuit in black, white, ivory, or nude depending on the color of your suit or tuxedo. Again, this look will be more flirty than conservative but may still be as appropriate for a midday brunch wedding as an evening rehearsal dinner.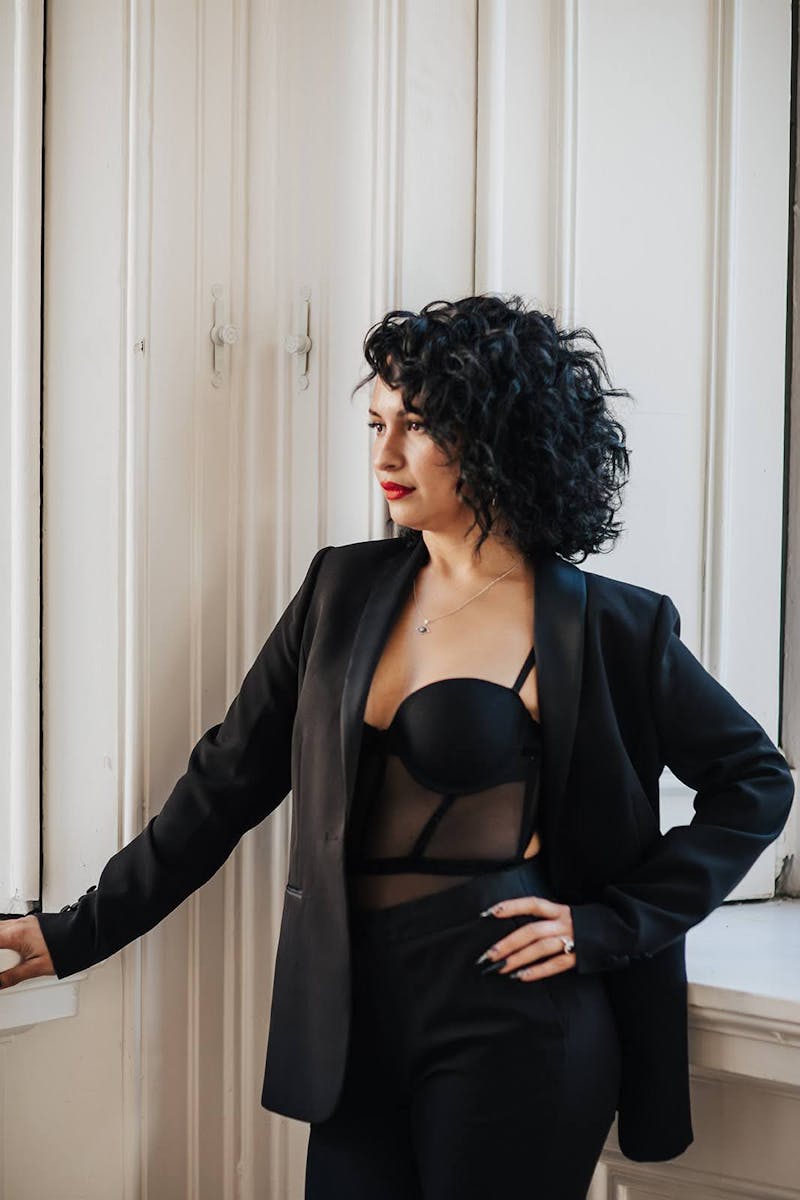 No Shirt
Our last shirt option for styling your women's tuxedo is no shirt at all! This look is on the spicier side and is not suitable for every occasion but depending on the style of your tuxedo and how it fits your body, it might be acceptable to wear it without a shirt.  It will be extremely important to have the proper undergarments whether that be petals or an adhesive bra and you must make sure that your tuxedo jacket is not too tight and can be buttoned with no pulling.
Check out our collection of women's suits and tuxedos for starting at $199! Contact us for questions about sizing or how to coordinate them with your wedding style.