What Wedding Suit to Wear for your Wedding Theme
Deciding on your wedding day look can seem like a daunting task. You may be thinking "Should I wear a suit or tuxedo?" or "Can I skip the suit jacket and just wear a vest?".  There are a lot of things to consider, but there are some simple steps to making sure you select the best suit or tuxedo for the occasion.  The first thing to consider is the style or theme of your wedding day. This can be as general as a black and white wedding or as specific as a Harry Potter themed wedding or Pop-Art affair.  If your wedding is not planned with a distinct theme in mind, then you should consider the venue and level of formality of the event. The wedding venue will likely assist with determining the level of formality of the event and whether a suit or tuxedo will be most appropriate for your wedding day apparel.  Once you have decided between a suit or tuxedo there is still the task of selecting the style, color, and fit of each.
Below we explore recommended suit or tuxedo options for five common types of weddings: Boho, Black Tie, Classic, Preppy and Modern. 
Bohemian
Are you a Boho Groom? If your wedding is planned as a Bohemian affair, chances are the vibe will be a bit unconventional and maybe even avant-garde. And possibly, you and your fiancée are free-spirited, artistic and nonconformist. For you, the ordinary just won't do! But keeping in mind that it is still a wedding and not a hootenanny you may want to maintain some traditional details like wearing suiting.  For the Boho Groom, consider wearing a two-piece or three-piece suit in an earth tone color – neck tie optional. Earth tones tend to be more muted and similar to things found in nature so consider suiting in as light of a color as sky blue or light blue, medium toned like rust which brings to mind the red sun, or as dark as navy and hunter green like evergreen trees. If you feel the need to be extra carefree for the nuptials, consider eliminating the suit jacket and just wearing the waistcoat (vest) and suit trousers for the big day.  And if you are a Boho Groom that happens to be vegan, you may want to think about selecting blended suiting that is not composed of wool.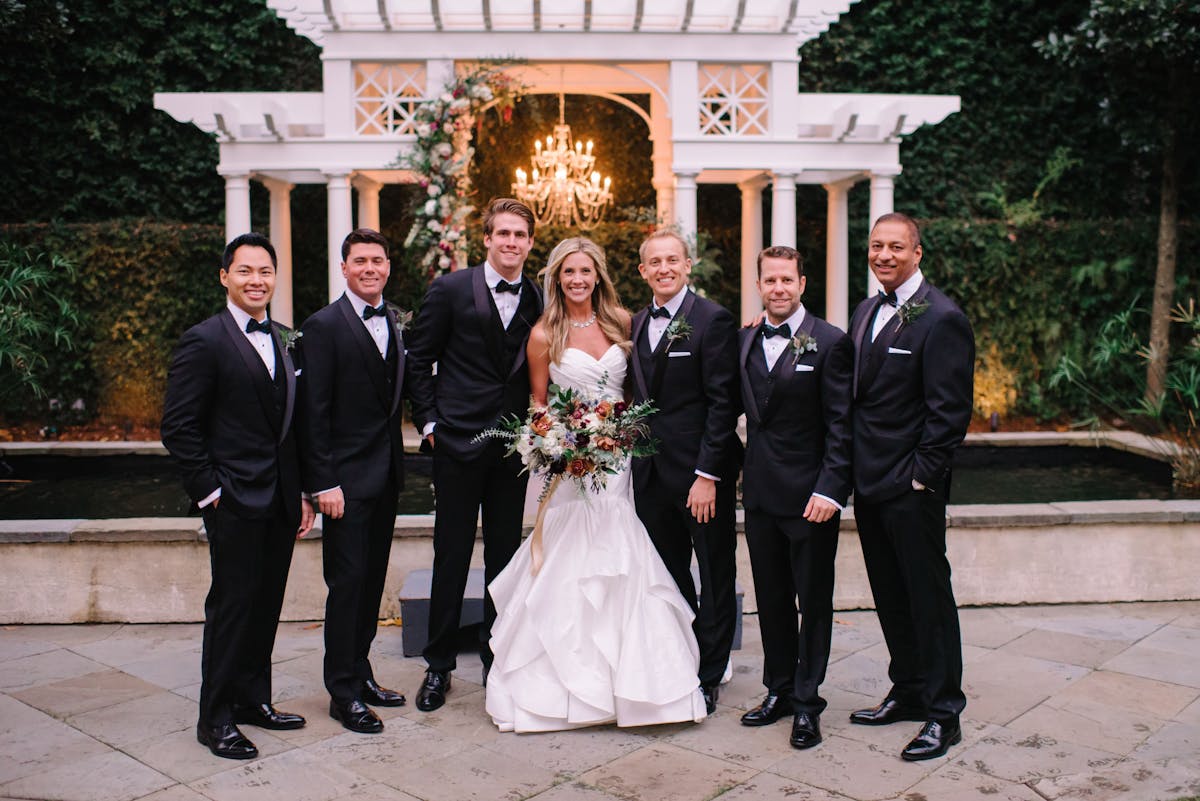 Black Tie
For a wedding indicated as Black-Tie, the options get a little narrower.  A Black-Tie Groom must wear a tuxedo! If your invitation reads 'Black-Tie' or 'Black-Tie Optional' then you as the groom must be in line with that dress code.  You don't have to wear a black tuxedo, but you must wear a tuxedo. Consider a navy tuxedo or even a tuxedo in a bolder color (burgundy, French blue, or gray) to set yourself apart as the man of the hour. And if you are looking for a little more pop (or evidence of your status as a 'style guy') than a full tuxedo in a solid color, consider purchasing or having a custom dinner jacket made to pair with black tuxedo pants.  The dinner jacket can be made of a solid color or patterned fabric. You can also add texture to your look by choosing a dinner jacket made of brocade, velvet, or jacquard. Alternatively, for the ultra-distinguished and classic black-tie look, opt for a white dinner jacket reminiscent of Sean Connery as James Bond paired with a crisp white tuxedo shirt and black tuxedo trousers. While you may want to shine in the spotlight as the groom, it would be best if the groomsmen were in matching black tuxedos with french cuff shirts, bow ties, and patent leather tuxedo shoes.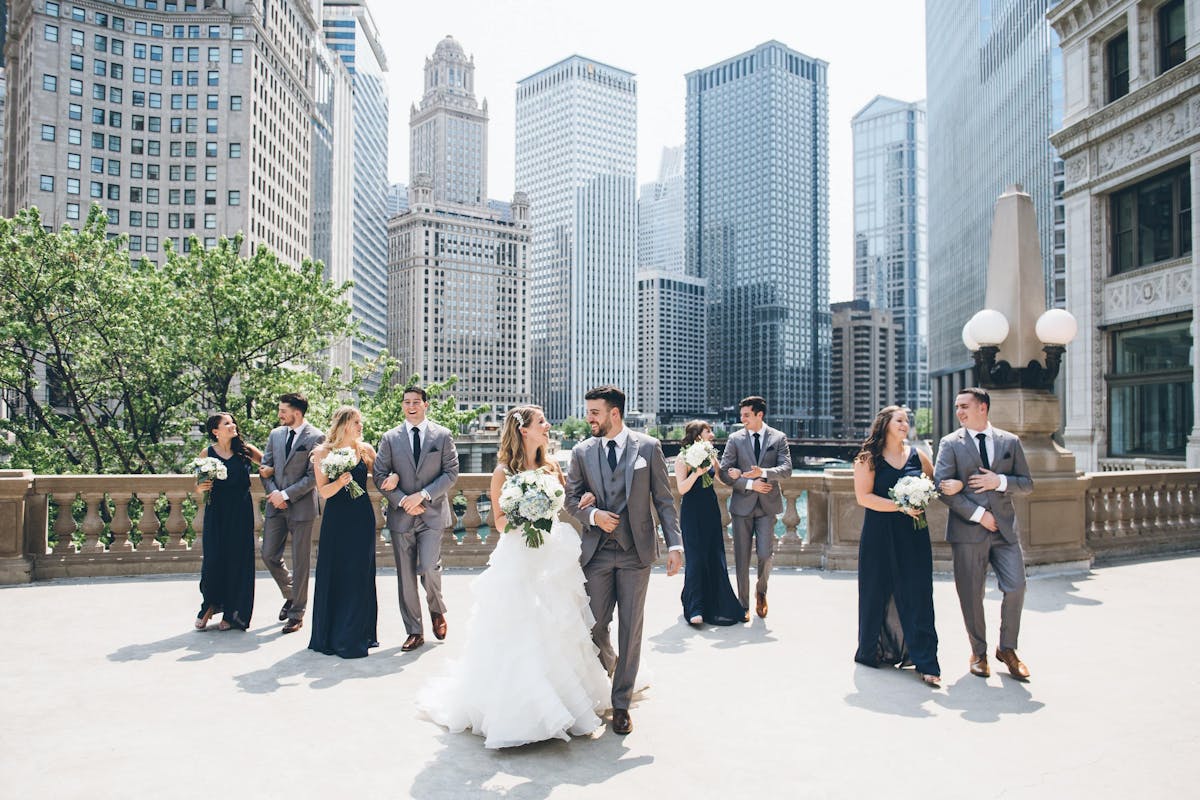 Classic
The Classic or Simple groom is uninterested in standing out on the wedding day.  Now, don't get us wrong, he wants to look great but he doesn't want to be noticed for his fancy look.  He's not so much of a tuxedo guy because there are too many details and accouterments required for that look. Instead, this groom would prefer to wear a simple suit in a traditional color to serve as the perfect complement to his partner.  This guy is more concerned with making sure that he nails the fit of his navy, gray, or black notch lapel suit – and that it has been tailored to perfection. He may also pay attention to the small details like the fabric of his white dress shirt.  In lieu of the pinpoint cotton oxford white dress shirts he wears for business, he will opt for a white pique textured evening shirt with his initials monogrammed on one of his shirt cuffs. For footwear, the Classic Groom will likely wear a dark brown or black plain-toe blucher shoe.  Again, this guy likes to keep his look clean and simple.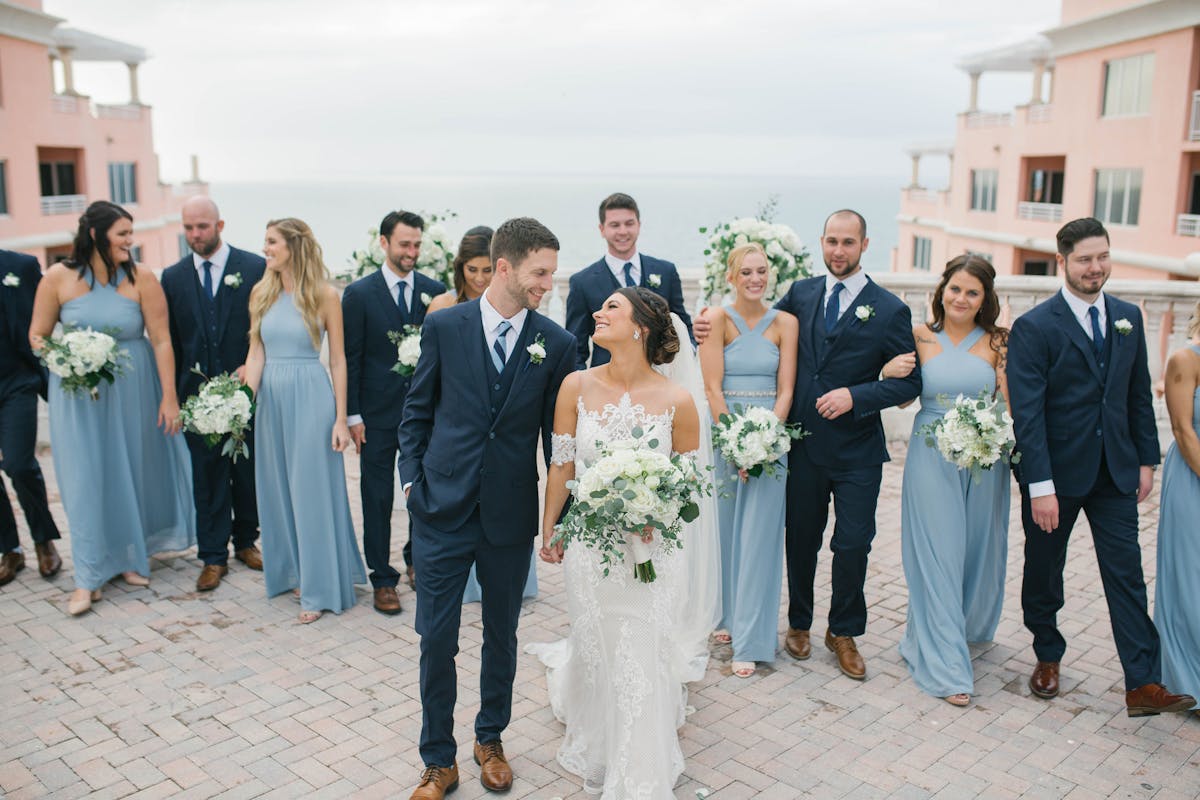 Preppy
New England provides the perfect back-drop for the Preppy Groom! And even if the wedding may not be planned for a preppy locale, the groom may be reaching back to his preppy college day looks for the styling of his wedding day look. This groom will most certainly be concerned with the sartorial details of his look so he will likely include a contrast collar dress shirt, striped repp bow tie, collar pin, and maybe even a pocket watch to make his look his own.  If available, he will wear the three-piece version of his wedding suit because adding a waistcoat to the look shows off more of his preppy roots! The color of the suit will likely be charcoal gray, navy, or even hunter green. Think ivy league. Alternatively, he may wear the staple to every preppy wardrobe, a navy blazer with chinos a color ranging from sand to Nantucket red.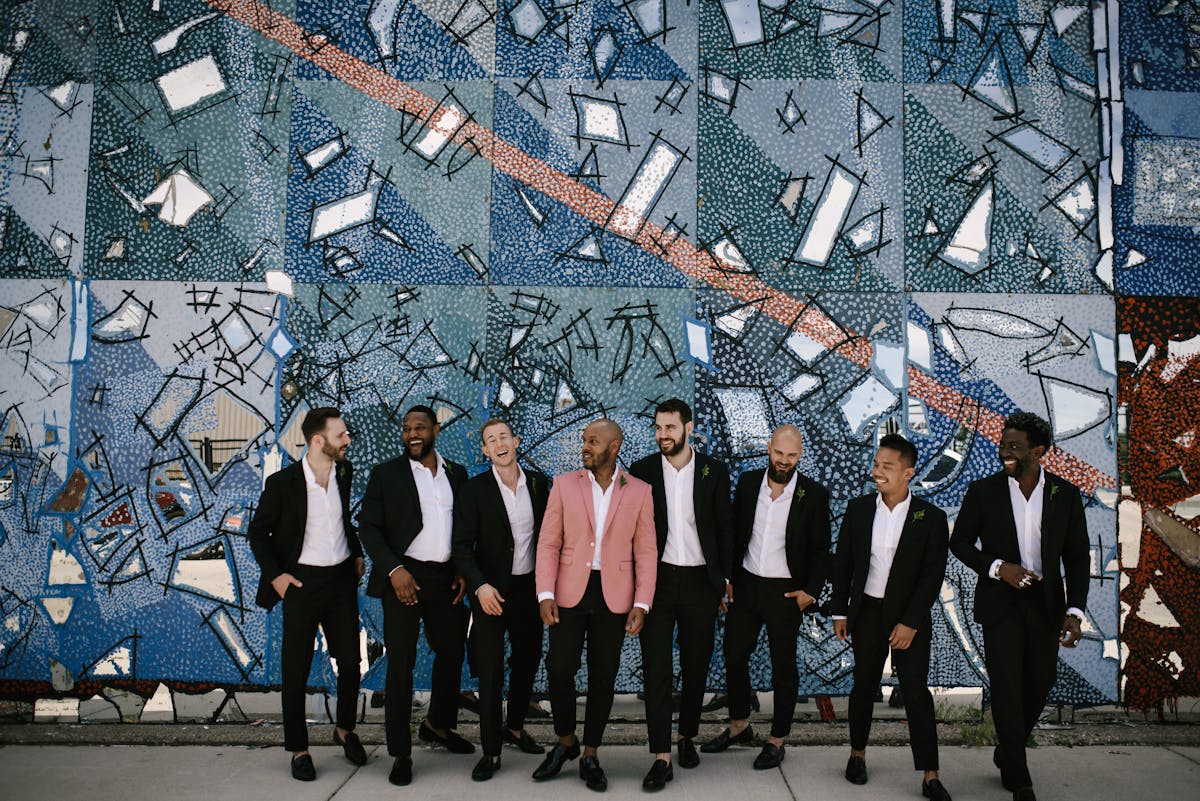 Modern
The Modern Groom's goal is to look sleek, stylish and on trend. This groom is not afraid to play with color or even non-traditional silhouettes for his wedding look.  This groom likes his suits to be slim fit often with a tapered ankle paired with loafers. And for the less adventurous Modern Groom, the wedding look may consist of a sleek black or royal blue suit with a matching silk tie and complementary shoes to achieve a monochromatic look.
No matter which category of groom you fall within, the goal is for you to feel like the best version of yourself on the wedding day.  Your look should be in consideration of the wedding venue, theme, time of day, your partner's wedding look, and your personal style. To get your questions answered about planning your wedding day look, send us an emai info@suitshop.com!