GMA-Approved: SuitShop's Women's White Tuxedo Makes National News as Non-Traditional and Budget-Saving Style Pick
On Monday, April 26, 2022, the SuitShop Women's White Tuxedo made its debut on Good Morning America. Our tux made the cut in a segment on stretching your dollar while wedding planning, hand-selected for its remarkable affordability and non-traditional style done in all the right ways. Designed for life's brightest moments, The White Tuxedo is a fit for the big day, the red carpet, elevated fashion occasions, special events, and beyond.
The Iconic Design
The Women's White Tuxedo launched in October of 2019 with the original intention to create an alternative to the traditional wedding dress. Since then, the White Tuxedo has proved perfect for courthouse nuptial ensembles, alternative altar apparel, statement gala looks, and more.
And now, this white-hot look is officially GMA-approved–for good reason. The image of classic tailoring in an ideal ivory shade, the Women's White Tuxedo is a two-piece set crafted with a figure-flattering silhouette. Its simple sophistication allows flexibility in styling to make the look as feminine, masculine, or androgynous as you like. 
The jacket has a single-button front with a satin shawl lapel. You'll find satin-covered buttons at the front and wrists. Tapered, ankle-length pants have a mid-rise and are complete with a satin waistband and a small side slit at the bottom.
The White Tuxedo is constructed from a slinky, luxurious fabric that still stays structured. Combined vertical and horizontal stretch in the fabric creates extreme comfort and keeps the drape of the material smooth with a high-end finish.
As Seen on Good Morning America 
It's Bridal Blitz season at Good Morning America, and the White Tux is part of the buzz. GMA calls the Women's White Tuxedo "edgy, casual," and a perfect wedding day look. 
With more couples opting for smaller, more intimate weddings, GMA's Robin Roberts and Good Housekeeping style director Lori Bergamotto point out, there's newfound comfort to be found in breaking from tradition. And our tux fits that bill perfectly. Plus, they note that it doesn't hurt that a look like this is able to be reused beyond the wedding.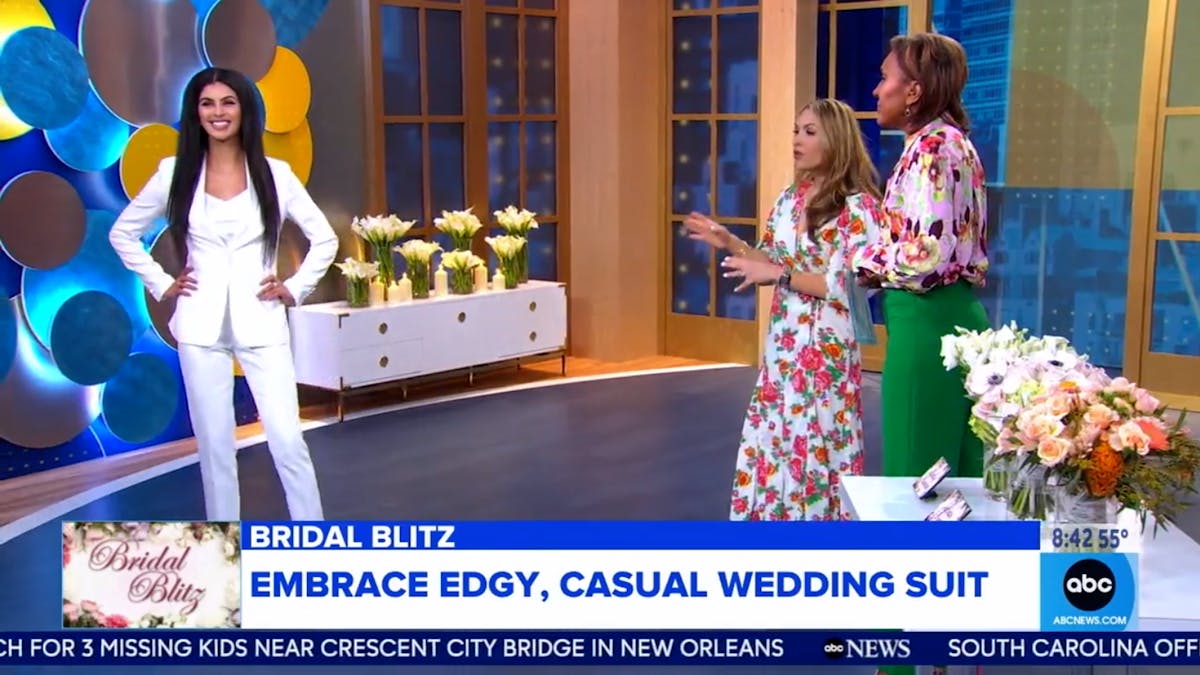 As Seen on You
In 2022 alone, we've seen a 55% increase in sales of our Women's Suits and Tuxedos with no sign of slowing down. More than a trend, women's suits have served as closet essentials, fashion statement pieces, and everything in between for decades. Here, we're rounding up a few of our favorite White Tuxedo moments. Explore the looks and get inspired.
The glamorous rehearsal dinner dress alternative.
Spotted: this bride-to-be sporting the White Tuxedo to her rehearsal dinner. She pairs it with dainty-yet-spunky details like lace and pearls to really wow, meet the trends, and make the look her own.
2. The feminine fashion moment.
Parris channels the hyper-feminine. She uses the White Tux as a foundation to show off her, and she rounds out the look with Hollywood waves, glowing makeup, ribbon detailing at the shoes, and big, bold blooms.
3. The edgy, relaxed courthouse look.
Classic and simple-as-can be finishing touches (see: silver hoops and bangle, glamorous but free-flowing hair, no competing details) put this bridal ensemble at the intersection of casual and special.

"I have to say, I had an image in my mind for what my look would be on my wedding day, but it couldn't have come together so perfectly if I hadn't found your shop. I received endless compliments on my suit and I really loved it - I honestly can't wait to wear it again! Thank you for my beautiful suit!!! - Rachel
4. The traditional turned on it's head
Danielle simply never wanted the expected white ball gown, so she makes her own version of what's traditional. She pairs the soft, airy set with an updo, menswear-inspired elements, and crisp kicks to create a look that feels fresh and undeniably cool.
The Women's White Tuxedo's strength is in its simplicity. There's no limit to how you can style your own.