Free shipping takes 7-10 business days.
Want a more dapper look? Add a vest to your brilliant blue suit for an extra polished look. When all the jackets come off, you will be sure to stand out from the crowd!
Our vests are designed to align with our modern fit jackets. If you purchase a modern fit jacket, we suggest ordering the same size in your vest. For slim fit jackets, order one size down in your vest.
| Size | Chest | Modern Jacket | Slim Jacket |
| --- | --- | --- | --- |
| 34 | 34-36" | 34 | 36 |
| 36 | 36-38" | 36 | 38 |
| 38 | 38-40" | 38 | 40 |
| 40 | 40-42" | 40 | 42 |
| 42 | 42-44" | 42 | 44 |
| 44 | 44-46" | 44 | 46 |
| 46 | 46-48" | 46 | 48 |
| 48 | 48-50" | 48 | 50 |
| 50 | 50-52" | 50 | |
| 50 | 50-52" | 50 | |
| 52 | 52-54" | 52 | |
| 54 | 54-56" | 54 | |
| 56 | 56-58" | 56 | |
| 58 | 58-60" | 58 | |
| 60 | 60-62" | 60 | |
Recommended vest length based on jacket length
Jacket Length
Vest Length
Short
Standard
Regular
Standard
Long
Tall
XLong
Tall
Most orders ship within 48 hours, so you'll have plenty of time to try everything on before your event. Standard shipping typically takes 7-10 business days. Expedited and international shipping options are available at checkout.
Unworn items may be returned or exchanged within 30 days of purchase. Shipping fees are non-refundable. International orders are not eligible for returns or exchanges at this time.
Please read our return policy for more information.
Customer Reviews
Write a Review
Ask a Question
03/02/2018
Matthew P.

US
Money is not exactly something
Money is not exactly something I have a copious amount of. When I was asked by a great friend of mine to officiate her wedding, I agreed without thinking much about it. I became increasingly concerned with how expensive a new suit would be (I only owned one at the time and it was not in the color that the bride wanted). I searched high and low at every retail outlet I could find nearby looking for the PERFECT suit. I didn't only want something that was affordable, I wanted something that I would be proud to wear over and over and over again. After striking out with brick and mortar establishments I moved my search online- which I honestly was pretty nervous about. I'm decently tall and slim and I was nervous that IF I found something online, it wouldn't fit me correctly. So when I stumbled upon TSG I was excited but also concerned. They had a suit in exactly the color I wanted but I thought, "could a quality suit really be this affordable?" I saw they offered free fabric swatches. I ordered one in every suit type and color of blue they had. Upon receiving my swatches, I knew I'd be buying my suit from TSG and the customer service I received from Diana was out of this world! When I was walking through big box stores looking at suits I felt like I was being looked at by employees as a potential commission. With Diana, I felt like she understood me; she was cognizant and understanding of my concerns with buying a suit online especially given my not standard body shape. She went above and beyond, assured me that TSG would be able to get me the ideal suit and then sent me two suits to try on for size. I kept the one that fit best and sent the other one back free of charge. I cannot rave enough about TSG! I will definitely be turning to them the next time I'm in need of a suit. And honestly, I hope that's sooner than later!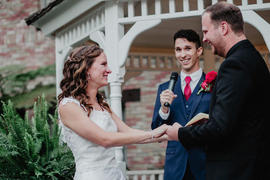 11/25/2017
Robert M.

US
10/25/2020
sebastian

US
Great quality and fast shipping
Great quality and fast shipping
10/05/2020
Kim

US
Everything fit great
Everything fit great
07/31/2020
Christopher

US
BUY YOUR SUIT FROM HERE!!!!
BUY YOUR SUITS FROM HERE!!!! I will always recommend these suits to anyone that asked! The fit was perfect. The quality is way better than what you expect for the price. Shipping was super quick. Customer's service was extremely quick of getting back to me for exchanges and returns. They have the best customers service I have ever experienced.
05/04/2020
David

US
Good Fit
It needed to be altered slightly because of my build. Other than that, I am grateful for the purchase. Keep up the good work.
04/18/2019
Tyler C.

US
Wedding 4/6/19
Everything in the process was great! Other companies only let you rent the suit and finding we got to keep these suits for almost the same cost or cheaper was wonderful! Good material! Limited colors which will grow as the company does! Exchanges and returns went very smoothly for everyone in the party. Pant sizes were a bit off from previous suits bought so a little more information letting others know the difference in sizes. Overall exceeded expectations! Thank you for helping make my wedding day a great one! Will definitely send pics when we get them!
03/11/2018
William B.

US
I don't dress up that
I don't dress up that often but now I have a suite so I'll probably wear it more often.
06/30/2017
Brett S.

US
great suit for an affordable
great suit for an affordable price