Our Classic Black Pants are an absolute necessity, you will wear these again and again and again! Pair with our Classic Black Jacket to complete the look.
Our Slim fit options run small, while our Modern fit runs more true-to-size. We recommend ordering a size up in Slim fit.
We highly recommend filling out the fit finder as a starting point. If you're unsure about sizing, please contact us for a recommendation.
Most orders ship within 48 hours, so you'll have plenty of time to try everything on before your event. Standard shipping typically takes 7-10 business days. Expedited and international shipping options are available at checkout.
If you don't love the fit of your suit or tuxedo, you may return or exchange it within 30 days of purchase. Exchanges and returns are always free for unworn items. Please read our return policy for more information.
Need a return or exchange? Fill out our return request form and we'll be in touch within 24 hours.
Sizing Information
Slim jackets have a V-shape cut and are great for broad shoulders and a narrow waist. Fit runs small. We recommend ordering one size up.
Slim pants have a straighter cut from the waist through the hip/thigh. They are available in odd sizes and run small. We recommend ordering one size up from your typical casual pant size.
Slim Jacket
Size
Chest
Waist
34
32-34"
28-30"
36
34-36"
30-32"
38
36-38"
32-34"
40
38-40"
34-36"
42
40-42"
36-38"
44
42-44"
38-40"
46
44-46"
40-42"
48
46-48"
42-44"
50
48-50"
44-46"
Slim Pant
Size
Waist
Hip
Thigh
27
27-28.5"
34.5-36"
21-22"
29
29-30.5"
36.5-38"
22-23"
31
31-32.5"
38.5-40"
23-24"
33
33-34.5"
40.5-42"
24-25"
35
35-36.5"
42.5-44"
25-26"
37
37-38.5"
44.5-46"
26-27"
39
39-40.5"
46.5-48"
27-28"
41
41-42.5"
48.5-50"
28-29"
43
43-44.5"
50.5-52"
29-30"
Customer Reviews
Write a Review
Ask a Question
07/20/2019
Alexandra S.

US
Amazing Team and Suit
The suit we got was a donation from the company for a terminally ill groom. Katy and everyone on their staff was so nice and easy to work with. So accommodating and did everything very timely. We got the suit custom ordered and shipped to us in Pittsburgh under 10 days! We loved working with them! Thank you all at GMS!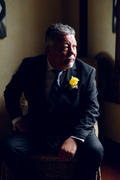 04/18/2019
Tom N.

US
02/06/2021
Brad

US
Fit just as expect from
Fit just as expect from the sizes I gave.
01/24/2021
Paul

US
Great fit. Looked good! Only
Great fit. Looked good! Only thing we needed to do was hem the pants.
01/18/2021
Todd

US
Good feel
Overall a good suit. It seamed to run a little tight. I measured and sent the measurements I got plus an extra inch to be safe. The suit seemed very snug/tight. I wish I went another size up at least. Maybe it was just me.
01/09/2021
Lan

US
Best online suit store
I would buy from this store again. I got the best customer service and felt like my business was welcomed. The suit was exactly as photographed.
10/27/2020
Tyler

US
Quality was good but the
Quality was good but the fit was extremely tight. and the size was what I wear now
10/02/2020
Joe

US
Impressed with the process, timing
Impressed with the process, timing of receiving and the quality of the suit.
09/28/2020
Al

US
Excellent
My son & I had an in person fitting which was perfectly handled by Natalie in the Phila store. She was very helpful & addressed all of our questions & needs perfectly. After our visit all things unfolded exactly the way she said it would. We would use your company again & certainly recommend you to our friends