15 Top Tips For Incorporating Your Pride In Your LGBTQ+ Wedding (Subtly Or Loudly)!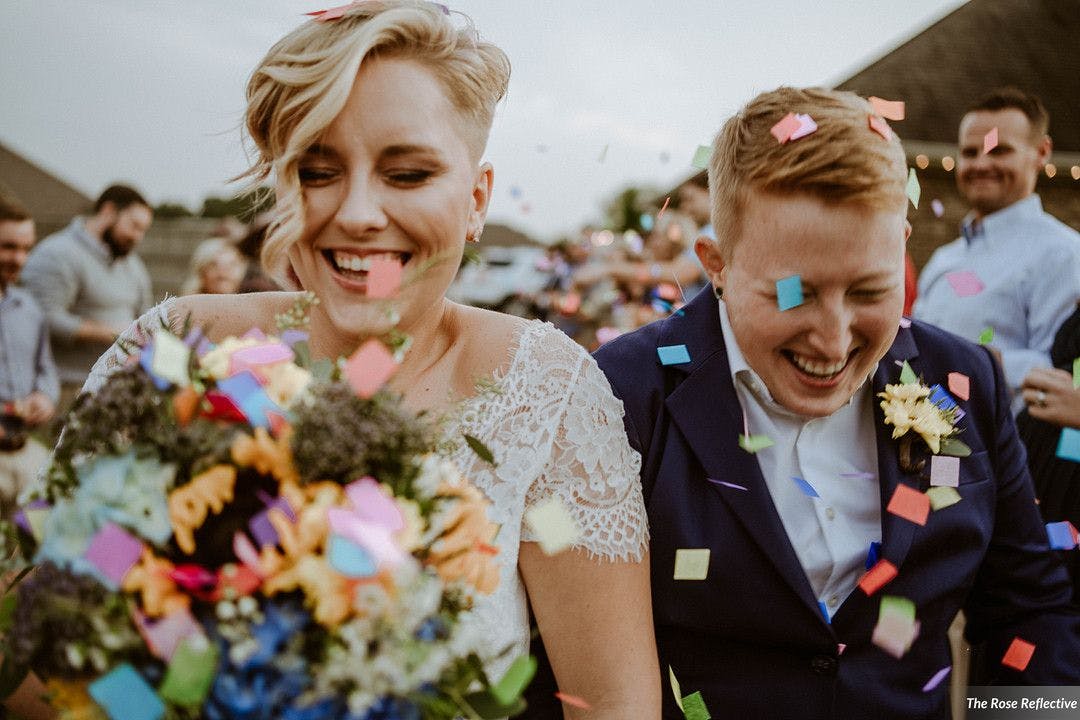 If there's one rule to follow when planning your LGBTQ+ wedding, it's that your wedding should be unapologetically YOU! And of course, by you, we mean, BOTH of you.
For some couples, this means extravagant venues, long guest lists, and fancy menus. For others, it might mean a backyard wedding with family and close friends and a homemade cake. And for some, it might mean finding a few ways to incorporate your LGBTQ+ pride into your wedding. 
Countless details go into weddings, which means you will have ample opportunity to find ways to express yourself and celebrate your marriage, both subtly and not-so-subtly. Of course, those countless details can quickly get overwhelming when you're tasked with planning them all. 
Don't worry, we're here to make those decisions a little bit easier. Keep reading to find some great inspiration on how to make your wedding special and clever ideas for every type of couple.
Here Are 15 Top Tips For Incorporating Your Pride In Your LGBTQ Wedding
1. Ties
If you're looking to take it one step further than socks and cufflinks, but still keep it classy at the same time, then look no further than ties. You can find ties and bow ties that reflect the colors of the pride flag. And if you want to take it to the next level, you can coordinate matching ties or pocket squares for all those who are participating in the wedding ceremony!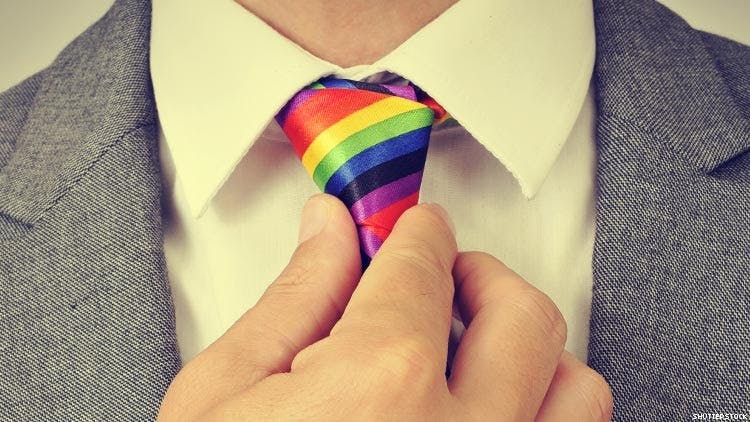 2. LGBTQ Wedding Hashtags 
The beauty of the wedding hashtag is that it's entirely customizable to your liking. That means you can create one that really reflects your personality—cute, romantic, elegant, funny, whatever your heart desires. Try making a pun out of your names or maybe go for a clever rhyme scheme or alliteration. And remember to think outside the name too! Some of the best hashtags incorporate your wedding theme or venue. Here are some punny LGBTQ+ hashtags for inspiration.
#QueerlyMeantToBeTogether
#FromThisGayForward
#ShesGotATicketToPride
#LoveIsLove
#CheersToQueers
Of course, we're not all pun masters and rhyme wizards. But the writers at Wedding Hashers are. Wedding Hashers is the largest network of professional wedding hashtag writers in the world. That's right, there are people who do this for a living—and they're ready to help you create the perfect hashtag for your special day. Check them out!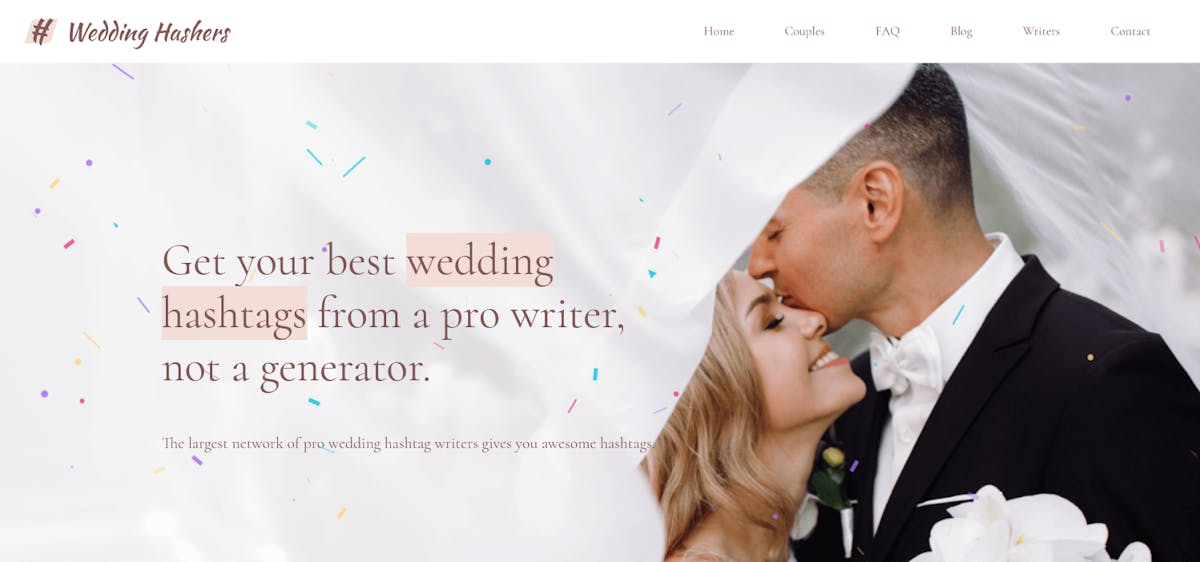 3. Colorful Flower Bouquets
Flowers are one of the best ways to flaunt your theme colors on your wedding day. While wedding bouquets are often made up of flowers that have a similar color palette, yours doesn't have to follow suit. 
If flowers are the way that you want to incorporate some pride colors into your wedding ceremony, then try building a bouquet of reds, yellows, blues, greens, and purples. You don't have to cover the whole spectrum of the rainbow, just enough to catch the eyes of your guests. These bright colors are sure to look amazing on your wedding day, no matter the venue.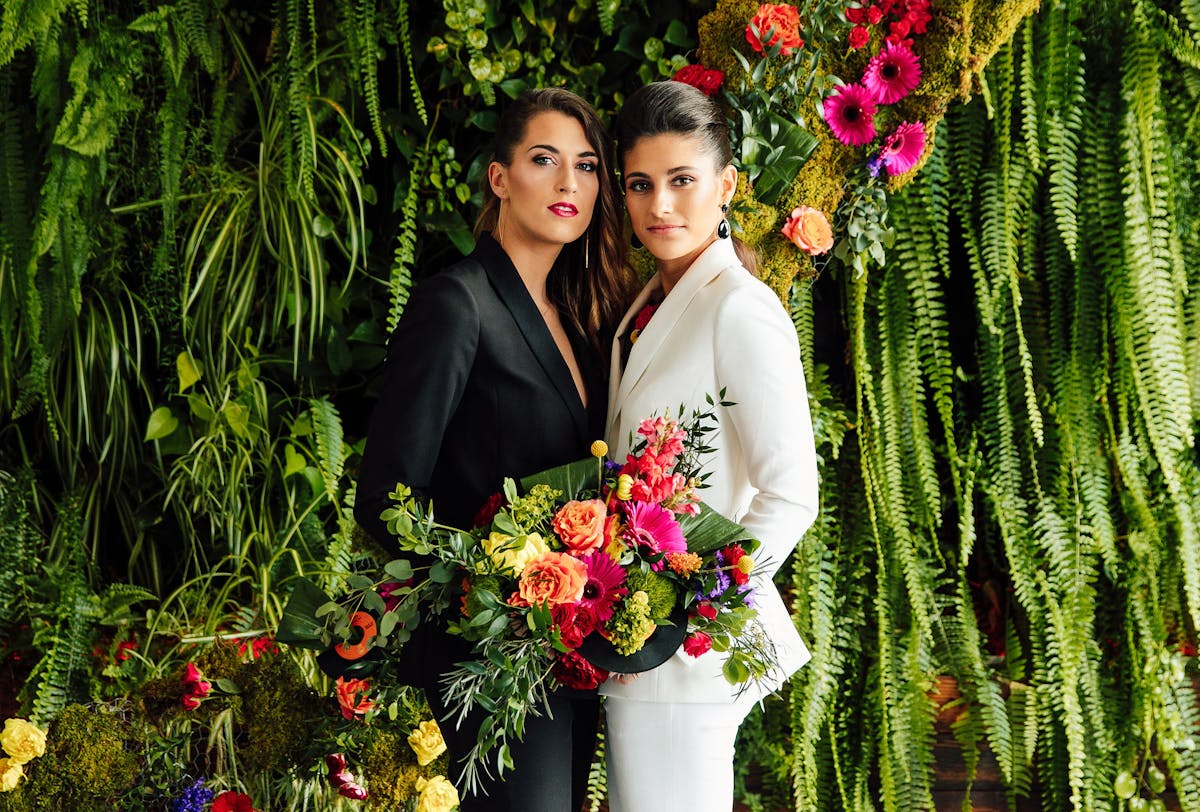 4. Rainbow Balloons
Nothing screams "party" like balloons! If you are trying to keep your flower bouquets simple and elegant, but you still want the pride rainbow to make it into your wedding venue, then balloons might be just the thing for you. Balloons are an easy way to add some color pop to your wedding decorations. Not to mention, it's much easier to find rainbow-colored balloons than it is to find flower bouquets with that same color scheme.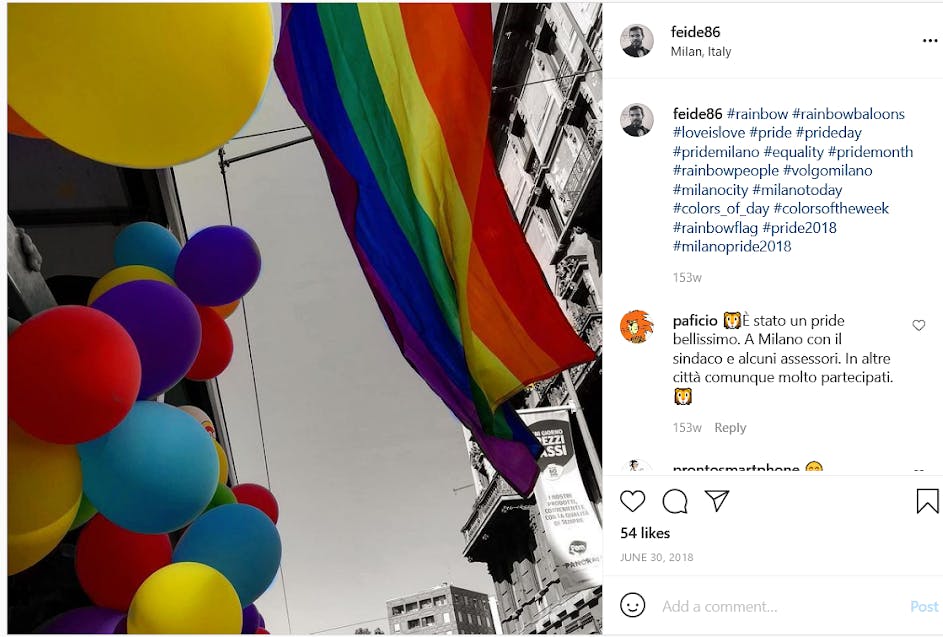 5. Colorful Smoke Bombs And Sparklers For The Send Off
Smoke bombs and sparklers are for couples who are looking for the ultimate mic drop at the end of their ceremony. You can find smoke bombs and sparklers of all different colors, and you can rig them to pop off right as you drive off into the night for your honeymoon. Or maybe right after the first couple's dance. The choice is yours.
Colorful smoke bombs and sparklers are the perfect not-so-subtle way to flaunt your pride on your big day. Plus, they'll make for some pretty awesome photographs.
6. Pronoun Pins
While less flashy than some of the more colorful options on this list, pronoun pins are another great way to incorporate LGBTQ+ themes into your wedding. They're easy to get a hold of and you can make them readily accessible to your guests as they arrive at your wedding venue. Pronoun pins are not only tasteful, but they're genuinely helpful too.
7. Wedding Cake Toppers
Don't worry if you already have your heart set on a dessert that isn't rainbow-color friendly—you still have options. Instead opt-in for one of the many available LGBTQ+ cake toppers. They range from little figurines to flags to phrases, like your hashtag, that you can include on your cake or other desserts. Dessert toppers make any dessert look that much more mouthwatering and delectable.
8. Incorporate Pride Colors Into Your Photo Booth Props
If you choose to have a photo booth at your wedding, then it will likely be a hit among your guests. Who doesn't like flashing a few fancy pics with some fun photo props? Not to mention, photo booth props are a great place to incorporate some pride themes and colors into your wedding. A pride flag is a great prop to include, but you can also opt for rainbow-colored sunglasses or hats. The sky's the limit, so get creative!
9. Pride Party Favors
Your wedding day will likely go by in a blur for both you and your guests. That's why we have party favors—the perfect way to memorialize your wedding day. Of course, picking the right wedding favor is never a walk in the park. From M&Ms to bracelets to custom koozies, there are tons of great sweets and trinkets out there that you can give to your guests to say, "Thanks for coming!"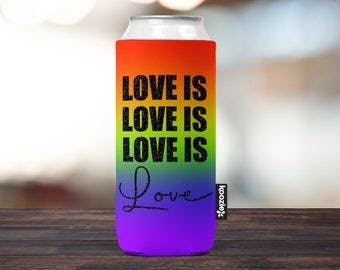 10. Hire an LGBTQ+ Inclusive Wedding Photographer
Picking the right wedding photographer can take some time. Of course you want to make sure that you like their artistic style since they'll likely be the one that edits your photographs. But you also want to make sure you like their personality as you'll be spending a decent amount of time with them. Afterall, you look best when you feel comfortable. There are lots of wedding photographers out there like this one, who work specifically with LGBTQ+ brides and grooms. For the rest of your vendors, check out this website for LGBTQ+ wedding vendor recommendations near you!
11. Neon Signs
Neon signs are just downright cool. If you're planning on having your wedding take place later in the evening when it will be dark, definitely look into having a neon sign. These come in all different shapes, sizes, and colors. Some couples choose to customize their neon sign as a way to showcase their wedding hashtag. Let your imagination run wild!
`12. Chair Signs For The Happy Couple
It's likely that everyone will know where the happy couple will be sitting when it comes time for dinner. But that doesn't mean you can't make your thrones extra special. Couples have gotten really creative with their chair signs and there's no reason you shouldn't too! Check out chair signs on Instagram or Pinterest for inspiration for your own chairs.
13. Colorful Wedding Backdrop
Depending on your wedding venue, you may want to consider investing in a cool ceremony backdrop. Backdrops are awesome because they're easy to customize, and they can really make a big difference for your venue and your ceremony stage. They're also great because they're an easy way to incorporate some pride colors into your venue.
14. Get A Pride Flag
This tip is pretty straightforward and obvious, but maybe that's what you're going for! The pride flag has been a symbol for the LGBTQ+ community since it was made popular in 1978. The rainbow color scheme is meant to reflect the diversity within the LGBTQ+ community, and each color has its own specific meaning too. 
If you're looking for another not-so-subtle way to celebrate your pride at your wedding, then invest in a flag. You can hang it up somewhere, wrap it around you for pictures, or even wave it! Whatever your heart desires.
15. Signature Drinks 
From rainbow straws and stirrers to rainbow sprinkle rims on glasses to a rainbow layered signature cocktail, there are quite a few ways to subtly or loudly spice up the bar at your cocktail hour and reception. And, this is one thing your guests will certainly remember and talk about after your big day.
Incorporating Your Pride In Your LGBTQ+ Wedding 
We know that planning a wedding can be overwhelming. The truth is, when it comes to planning a wedding, there's no secret recipe. The key is to find a way to make it your own so that the ceremony feels like a celebration of who you are as a couple—because, after all, that's what it is! Whether you go loud and proud or subtle and tasteful, there are plenty of ways that you can incorporate some LGBTQ+ pride into your wedding day.