2018 Spring Wedding Colors And Boutonniere Flower Ideas For Your Groomsmen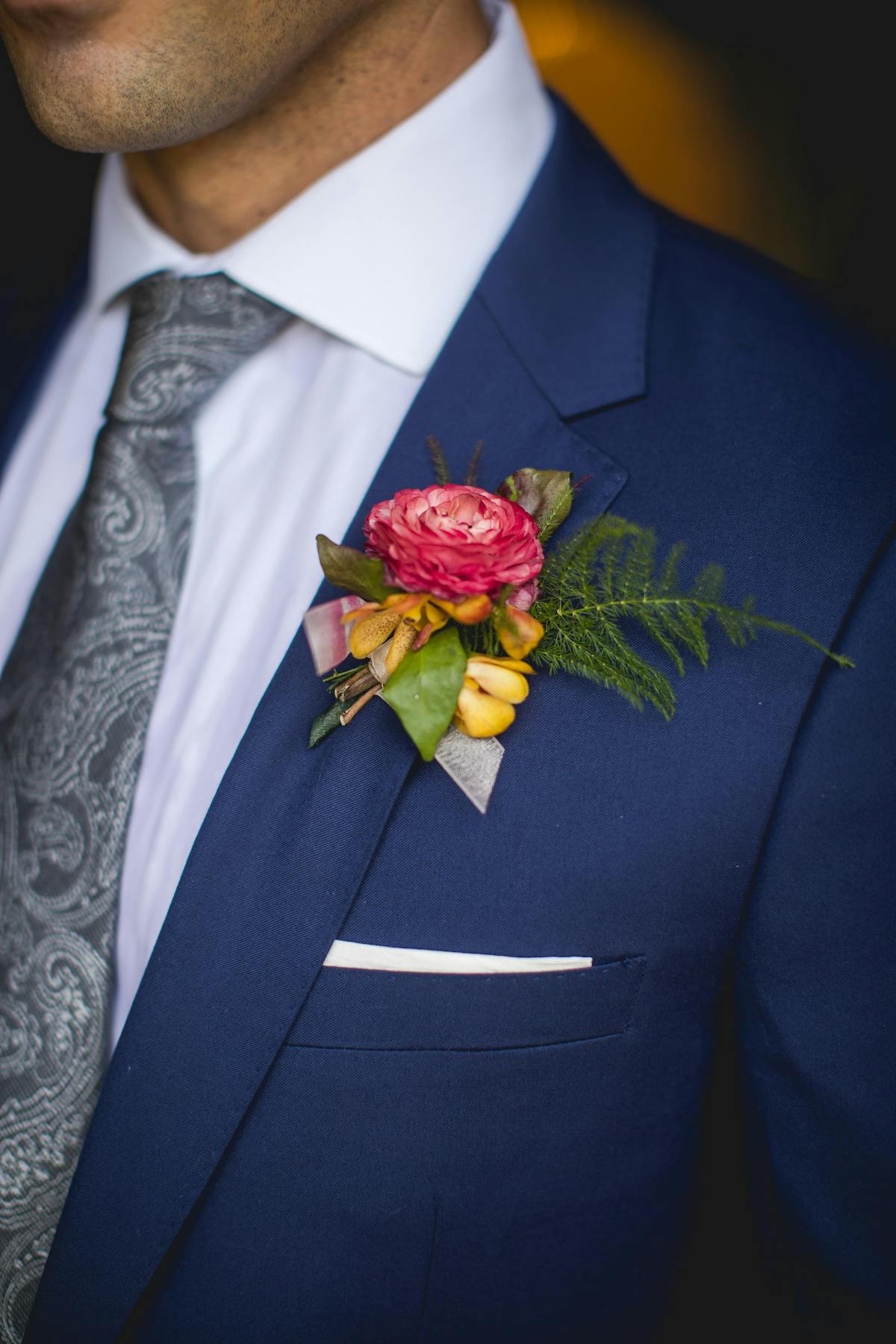 If you're planning a spring wedding, you're probably finding the options for spring wedding colors and flowers overwhelming. Don't let this be a source of stress in your wedding planning process. After all, flowers are supposed to be fun! While, the possibilities might seem endless, there are some simple and beautiful ways you can incorporate a color of focus in your groomsmen's boutonnieres and bridesmaid's bouquets. This year, couples planning spring weddings are breaking away from the dark rich winter wedding palettes and choosing bright and bold colors for their big days.
One of the first colors that comes to mind when thinking of a spring wedding is cream rose. Similar to blush pink, this has become an increasingly popular neutral pink bridesmaid dress color that compliments a variety of wedding suit colors for grooms, groomsmen and bridesmen. When it comes to flowers, there are a ton of options to incorporate this pastel pink tone in your wedding. Bridal bouquets and groomsman boutonnieres made of lush pink peonies are a great way to add a touch of romance to your wedding. Ranunculus is another romantic flower that comes in shades of white, pink, orange, and purple. Against a brilliant blue or gray wedding suit, cream rose will provide a nice contrast while still providing a touch of color.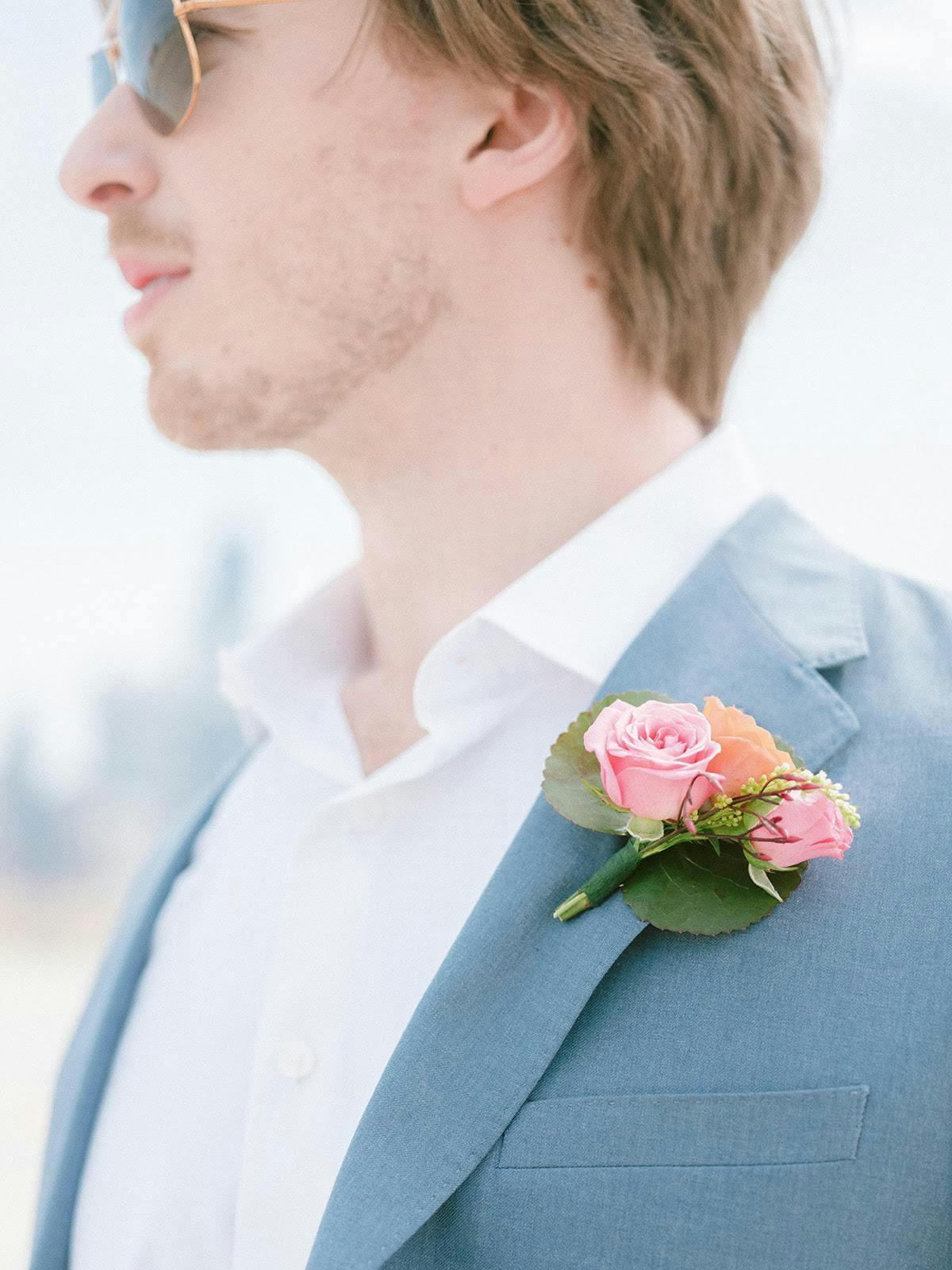 Champagne is not just for drinking on your wedding day! This glowing, neutral tone is sure to add a touch of formality and shine to you wedding style. You can coordinate your guys' wedding style with ties and pocket squares that match the sparkle of your metallic bridesmaid's dresses. Against the navy lapel of a groom's suit, a boutonniere made of mauve spray roses and sage greenery wrapped in a shiny champagne ribbon are the perfect combination of colors to bring warmth to the metal tone.
In keeping with the Pantone 2018 color of the year, we cannot leave out ultraviolet. Vibrant purple wedding tones are a fun choice for a spring wedding and can really stand out against variety of groomsmen suit colors ranging from navy, gray and black. Flowers to consider are purple Picasso calla lilies, purple ranunculus, and lavender. If you're having a rustic wedding, wildflowers are a great way to add even more color and charm. Fresh lilac pairs well with melon yellows, greens, and whites and looks amazing in a barn or outdoor wedding venue. For more ways on incorporating Ultra Violet in your wedding, check out our guide to Accessorizing With Ultra Violet.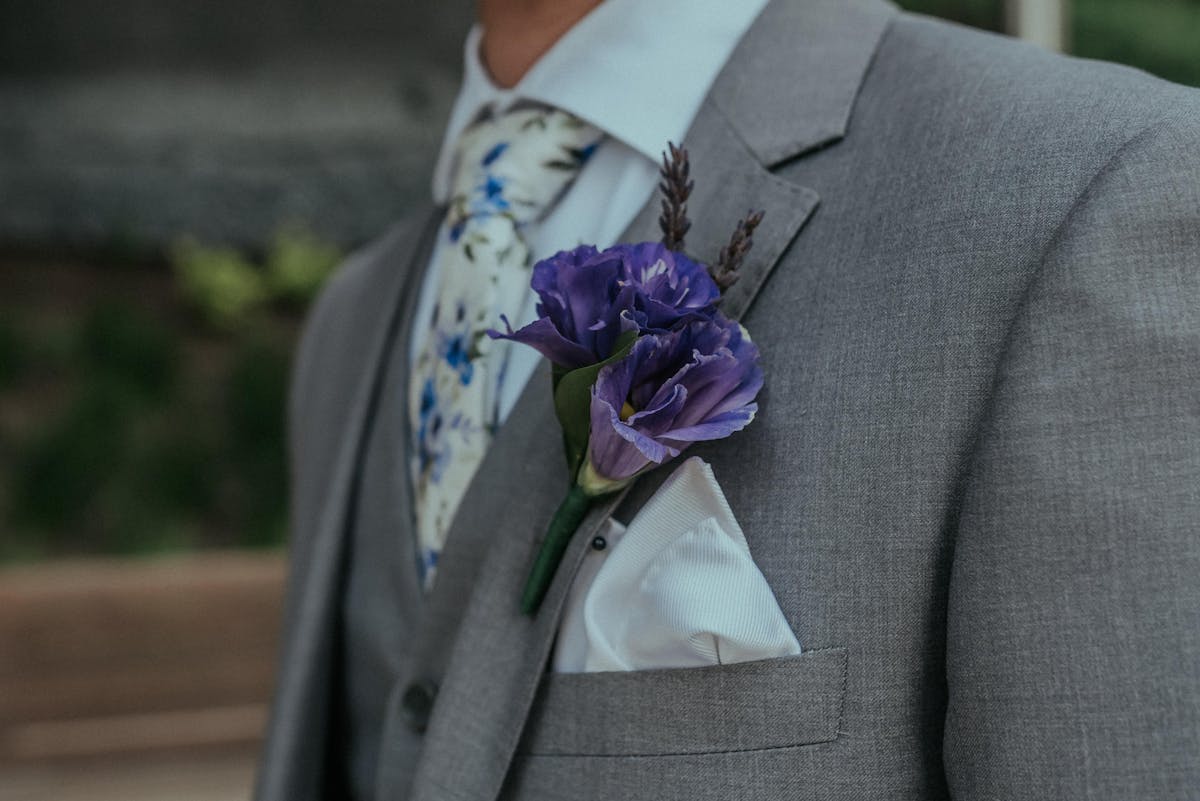 Planning a destination wedding this spring? Island Paradise or Tiffany Blue are the popular wedding color choices for a beach wedding. While those cool Caribbean blue colors can be hard to find in flower form, there are a few flower options that are sure to compliment and be the perfect touch of your something blue. Delphinium can be found in a range of deep blue hues that will look handsome on a light gray lapel. Slightly lighter, blue hydrangea is another great flower to include in your wedding boutonnieres. Too big to use the full flower, your florist can take small sections of the hydrangea to pair with white roses or green eucalyptus and myrtle. Don't be afraid to add a bright azalea or orange dahlia for a pop of color. A ribbon in teal, Island Paradise or Tiffany Blue is a great way to tie these colors together, literally!
While there is no single perfect wedding color and flower combination, vibrant colors are trending and with them comes endless opportunities to infuse your big day with fun and energy. Use your wedding flowers to make your best day beautiful and unique. At The Groomsman Suit, we're always here to help you with your wedding style and ensure your groomsmen look sharp. For more wedding inspiration, check out our real weddings page!