3 Spring Wedding Color Trends for 2019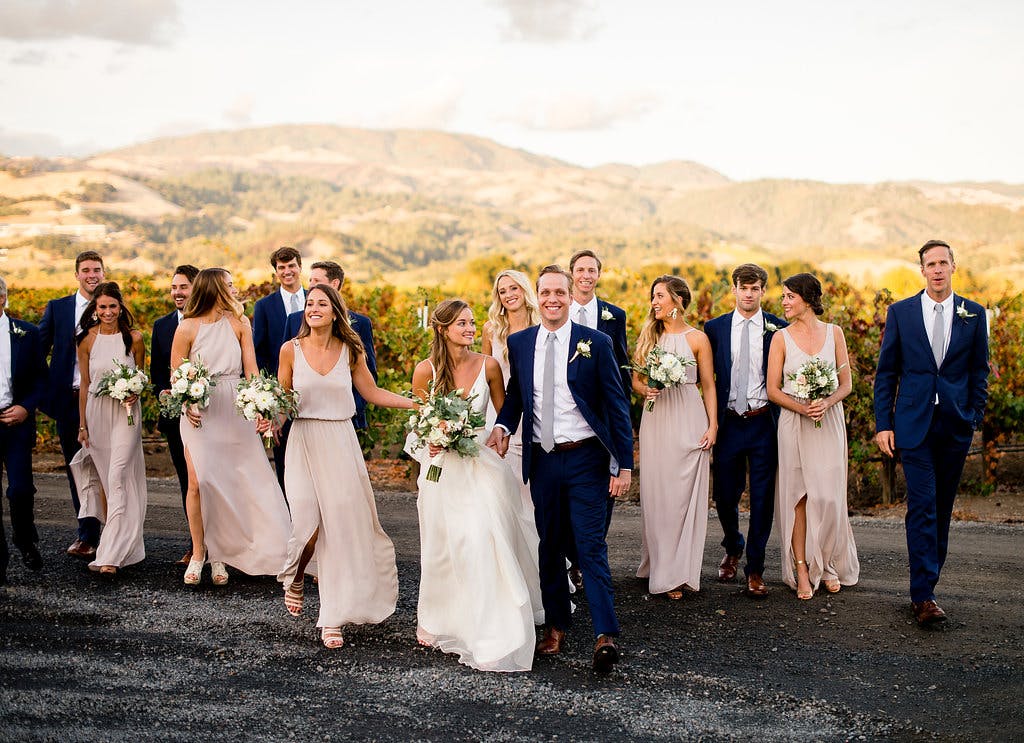 New year, new hues! Spring weddings will be here before you know it, and this year brings a range of rosy and soft hues anchored by elegant greens and neutrals that embrace the liveliness of the season. All together, these color schemes have an organic, romantic presentation that can be bold or muted, aligning with a range of wedding styles.
Your color palette plays a large role in the overall mood of your wedding. It dictates everything from the table decor to the boutonniere to the right suit color. There are plenty of combinations out there for you to choose from, but we've chosen a few of our favorite color palettes to pair with different suit colors so that your spring wedding is on trend and on point.
Anchor color: Mauve pink
Complimentary colors: Cream, sage green, gold
This elegant arrangement will make a statement without ever being too flashy. Its overall muted scheme of pastels accented by a touch of defining gold and white is perfect for a more formal wedding. For the ultimate spring ensemble with this scheme, we suggest pairing a charcoal grey suit with a white shirt, mauve pink tie and a boutonniere featuring a blush-colored rose tied together with babies breath and a sprig of sage by gold ribbon or string. Want to add a more vibrant touch to this palette? Swap the charcoal suit for a textured grey suit for a lighter look, and incorporate violet accents to the mix — in the bride's bouquet and into the pattern of your socks.
Anchor color: Light blue
Complimentary colors: Cream, grey, eucalyptus green
Who wouldn't want to get married behind a line of blossoming bradford pears or flowering dogwoods with this color palette? Though this combination of colors is still on the soft side, it's bright enough for spring with colors that highlight all the elements of the season we love — light blue skies, bursts of greenery and fresh white blooms. Dress to the nines with a light blue three-piece suit, classic white dress shirt and grey bowtie. Top off the look with a beautiful white rose as the main attraction of your boutonniere. For a more casual yet equally sharp look, sport a charcoal grey suit with a patterned eucalyptus green tie and solid green pocket square alongside a floral-free boutonniere that shows off greenery and a pop of cream.
Anchor color: Dark magenta
Complimentary colors: Lilac, royal blue, cream, olive
Think of magenta as the burgundy of spring — you can't go wrong! If you want to bring a daring but charming look to your wedding day palette, this combination of colors centered on the reddish-purple hue will supply energy and modern appeal without sacrificing elegance whatsoever. You can make the blue element strong with navy or brilliant blue suiting. Brilliant blue is a favorite for spring and can be dressed up or down, while navy is more ideal for a wedding on the more formal side. Either way, you'll want to pair your blue suiting with a classic white shirt and bring out the magenta and accent colors in the details. Pick a solid or patterned tie in magenta and soften the look with a boutonniere that showcases the olive and cream colors. If you want an even dressier look, we suggest picking a black tux or suit and incorporating the colors in the boutonniere alone. Full of personality, this palette will embody the freshness of spring and leave you with some beautiful photos.