5 Steps to Plan The Ultimate Mix Gendered Bach Bash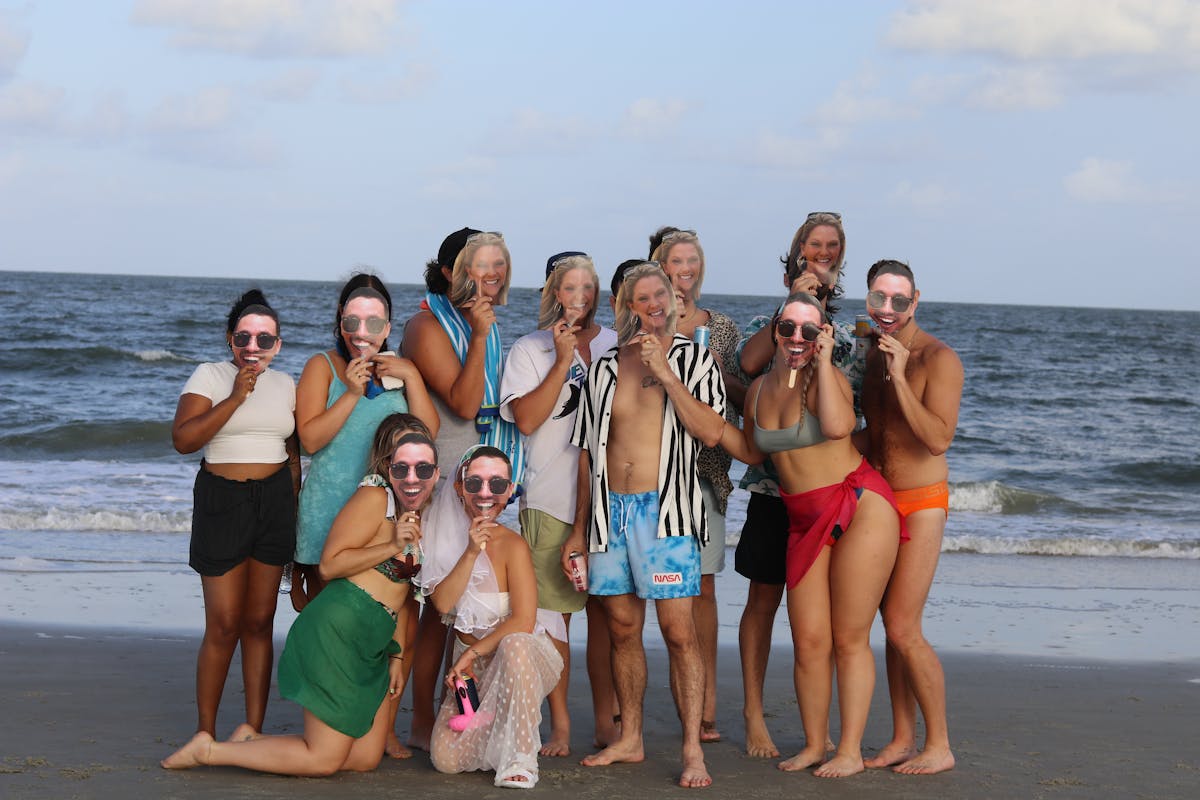 When one of my best childhood friends asked me to be a bridesmaid, I immediately started making a list of everything we'd need to plan the mixed-gender bach trip of her dreams. She chose her BFF to be the MOH (Man of Honor), but I took on the role of planning due to proximity. While her wedding isn't until March of 2022, we're in the south and wanted to plan a trip that everyone would be able to make, before hurricane season was in full swing and winter would bring in cooler waters.
Step 1: Finding the Perfect Location
When planning a mix gendered bachelorx party, there are many things that need to be taken into consideration--are your groups (and their partners) comfortable with staying in one big house? Is everyone in the same place financially, or do you need to accommodate friends on a tighter budget? These are just two of the many questions needing to be answered before deciding on a spot.
Once we confirmed everything with our groups, we needed to find a central location that was easy and affordable for everyone to get to. With 14 party people spread across Florida, Georgia, and South Carolina, we decided on Tybee Island, Ga with a night out in Savannah.
Once we booked the location, we made a table chart of all of the rooms and assigned a bed to each of our guests. I highly recommend doing this in advance so that each person knows who they'll be rooming with (if any). This allows them to coordinate and come prepared which saved us from a lot of hassle and drama while keeping everyone comfortable upon arrival.
We booked our house on Vrbo, but there are also great finds on Airbnb and local rental websites.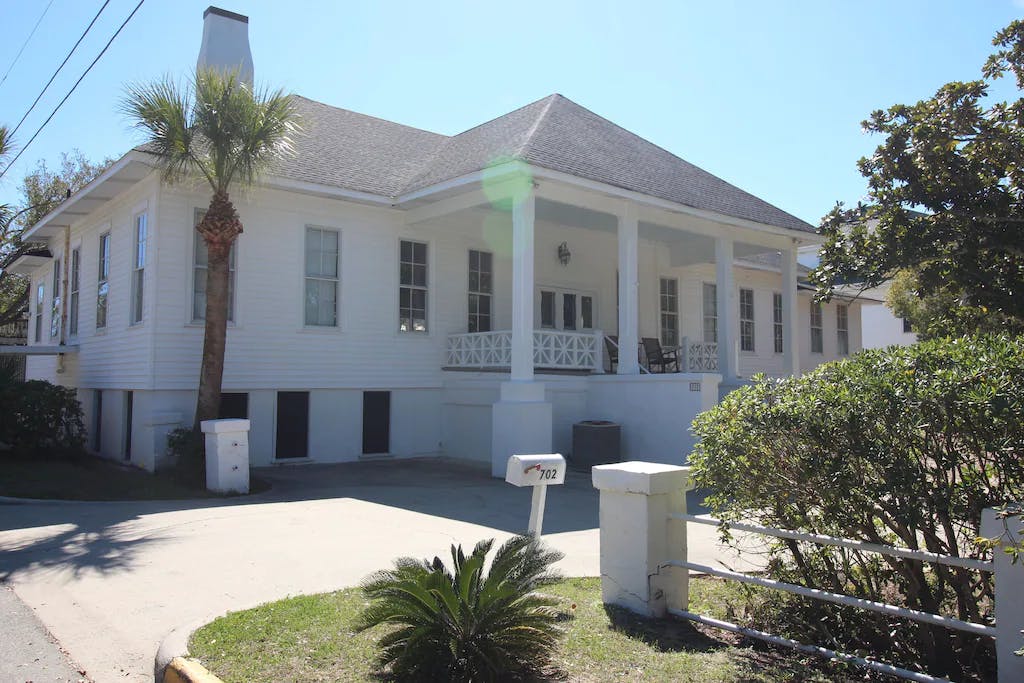 Some other popular Bach trip location ideas include Chicago, Boston, Nashville, Miami, Denver, Vegas, Scottsdale and more. You can check out this post on bachelorx party ideas to get inspired
Step 2: Organizing a Bachelorx Theme & Outfit Planning
Planning the bachelor/bachelorette party theme is probably the most fun part, at least in my experience. You can position the theme around personal interest/style or base it on the location. For example, we had a pool party one of the days (and our house was on the beach), so "The Brooks' Last Splash" was a simple, applicable theme for the weekend.
If you're going to Nashville, there's "Nash Bash", "Final Fiesta" for a Tulum trip, or something more general like "Last Fling Before the Ring" if you're headed to Scottsdale. Some groups may choose to have one theme, split the theme, or have a theme for each day. We chose the most difficult route and themed each evening, so for our night out in Savannah we went with an interest-inspired theme.
Our bride and groom, Sammy and Kyle, met on the dance floor of Holyship--an electric music cruise. It was only fitting that our night out as a group was coined the "Last Disco" (they also have dog named Disco, so win-win). The bride's crew wore wigs & colorful outfits while our bride was in white. The groom's crew wore seventies-inspired afros and layered up in patterned silk, while their groom wore black. For our Pool Party, the party people wore colors and tropical patterns while our bride & groom stuck to the classic white & black attire.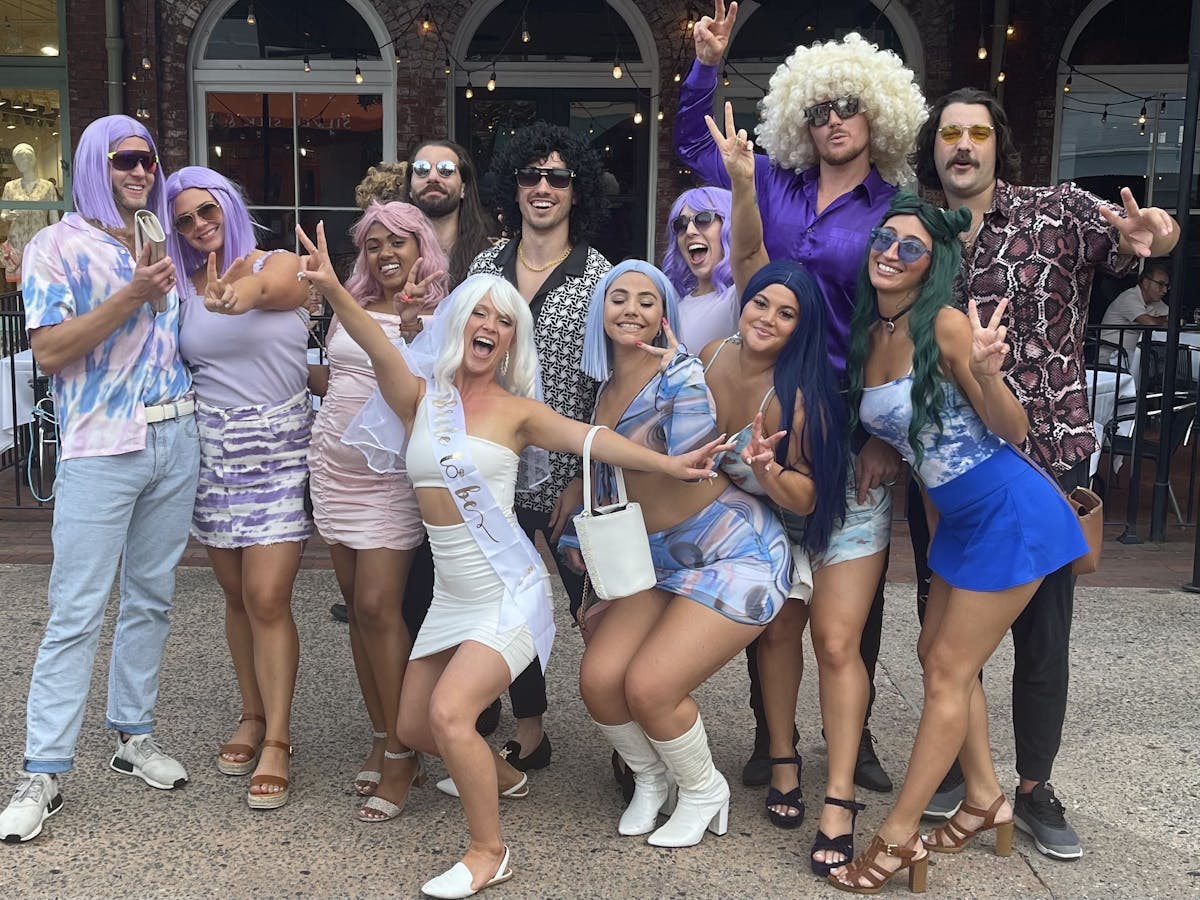 To minimize any confusion amongst the group, I recommend having the MOH or bride put together an Outfit Inspo Moodboard on Pinterest to make sure that everyone is on the same page.
Step 3: Budgeting for Party Favors, Decor, and Food
Budgeting is so important. The person planning (in this case, me), does not want hundreds of dollars in unnecessary spending after traveling expenses and renting a house for the weekend--and neither does anyone else in the group. To keep things within reason, start by setting a total budget for each person. For our group, we wanted to keep it between $400-500 each (including all food, travel, favors, and personal expenses for all four days).
Food
To avoid unexpected billing at the end of it all (because we've all been there), I worked with the bride to plan all of our meals at home and estimate spending for the dinner reservations that would be taking place in Savannah. Note: If you're doing a large group dinner, set a reminder to book your reservation 4-6 weeks in advance.
Once we knew the meals we'd be making at the house, I made a spreadsheet with a shopping list with the estimated cost of each item we'd need to feed everyone. We also planned to cater Maggiano's one evening. This time-saving option allowed us to have a nice family meal together at home that wasn't a sandwich or grilled meat. In the end, this spreadsheet helped us to keep costs low, we "invoiced" each guest under $150 to cover expenses for the entire weekend (not including the house).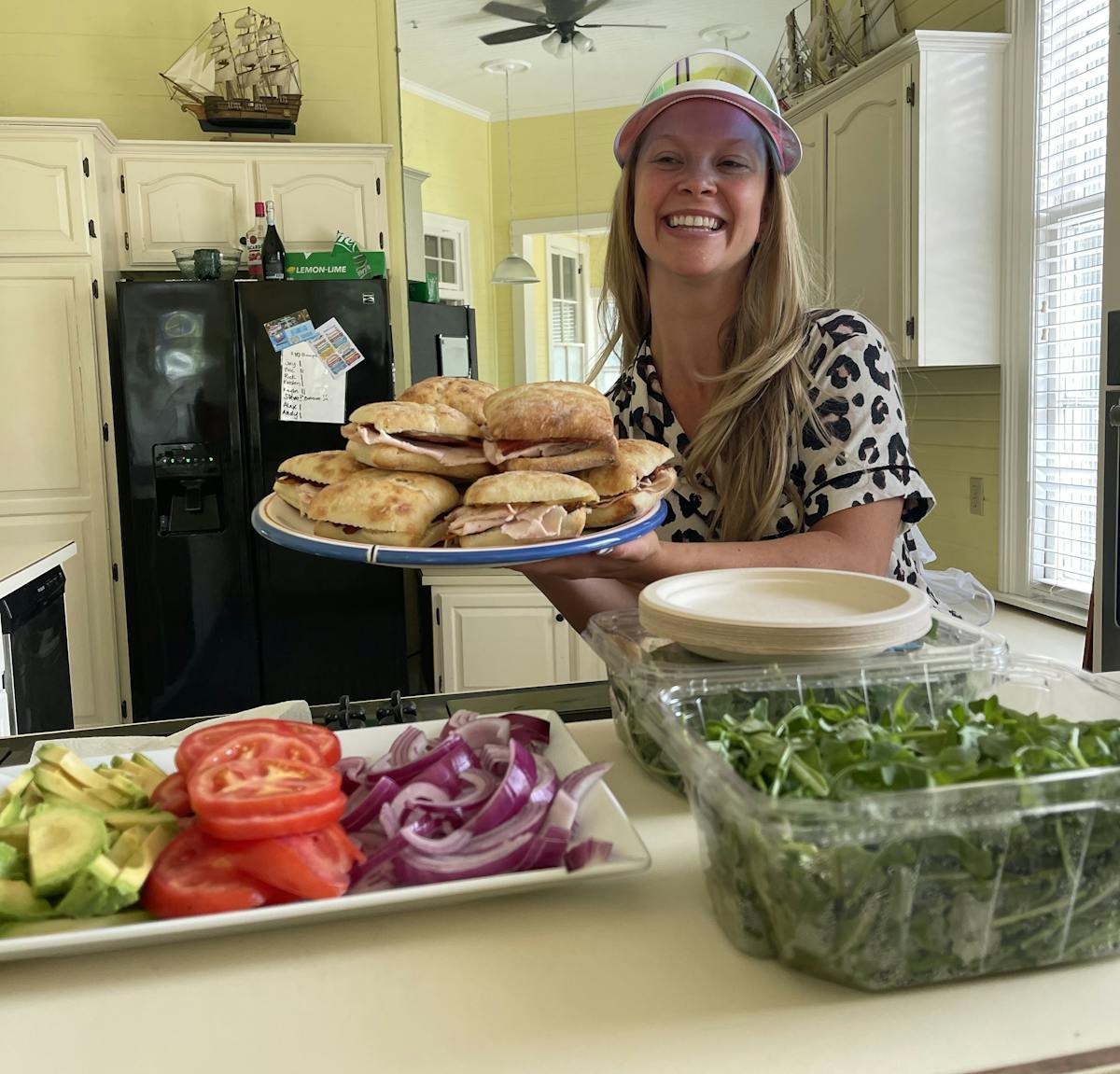 Decor
With the money that was left in the budget, I was able to put together some awesome decor for both of our themes. At first, I considered using Thumbtack to find a local party planner to set up balloon arches and table settings but opted to do it on my own. If you're not already aware, Amazon & Etsy are two great resources for finding everything you'll need (like themed balloon letters, sashes, gift bags, etc.). 
No matter which direction you go for your party, having "photo ops" is a great way to capture memories throughout the weekend. Consider items like foil fringe curtains and balloon arches that make for great photos with minimal effort. If you do with the balloon arch, don't make the mistake of forgetting an electric balloon pump.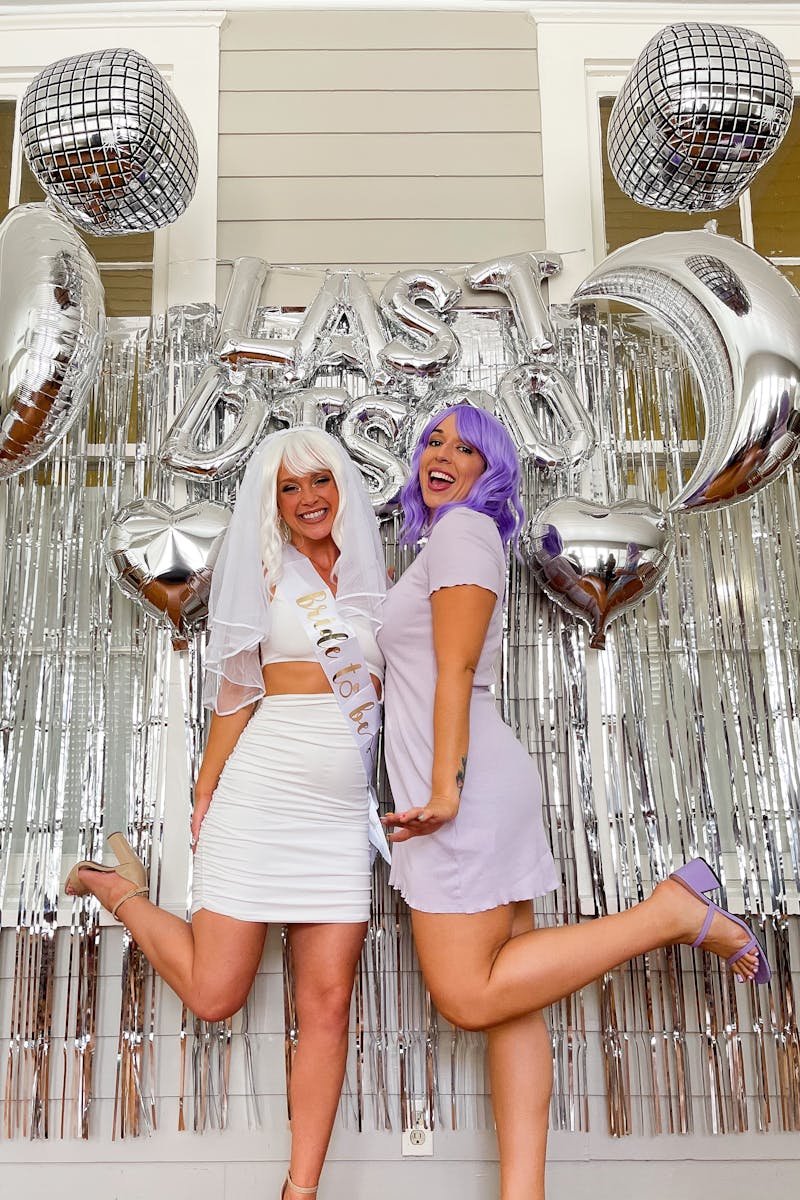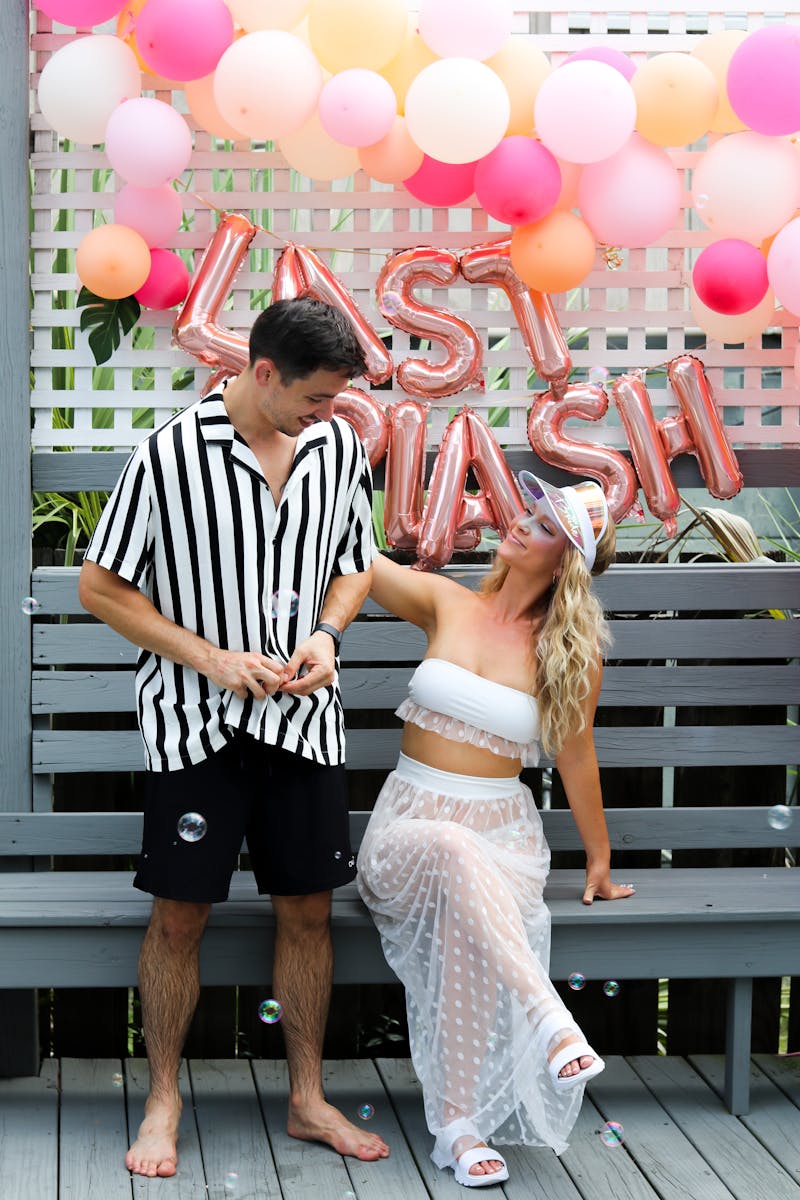 While our balloon arches and decor set the tone and provided us with gorgeous photos for Instagram, it was the party favors that really saved our lives in the end.
Party Favors
We decided to mostly split the party favor responsibilities (the groom handled his side & the bride helped me handle her side), but there were a few things we kept consistent that are non-gendered and loved by everyone that you might find helpful.
Oh, and never forget the Advil.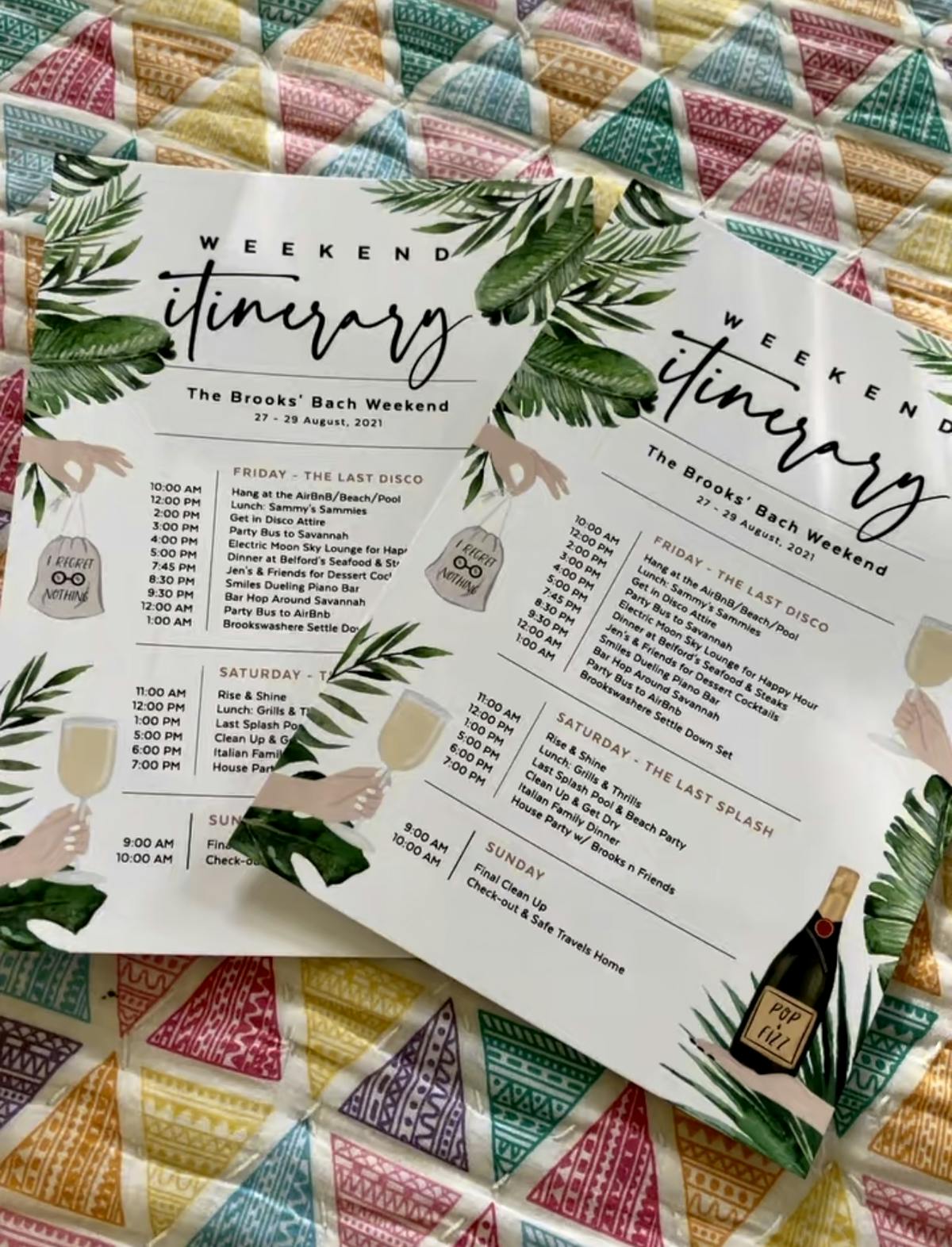 Step 4: Have a Written Plan and Setup Crew
While you may already have a spreadsheet and itinerary ready, make sure to set aside time to assign a setup crew. Especially if you're like me and choose to forego a party planner.
One of the other bridesmaids arrived early to help me stop by Costco and pick up everything on our shopping list before driving to the Airbnb. We also planned to arrive before everyone to assign the sleeping arrangements, layout party favors, and begin setting up the decor. One of the pros to having a mix-gendered bach party is that it's very nice to have a few men over 6 ft to help reach the high ceilings and blow up balloons.
By the time the bride, groom, and rest of the crew arrived, we had most of the house ready to go. However, the setup crew stayed consistent throughout the weekend to wake up early and rearrange decor as needed. Since we had a different theme each night, it was important that I had people by my side to bring this vision to life without having to involve everyone.
This crew also stayed committed by following the itinerary, doing headcounts at each bar, and making sure we had everyone on our party bus.
Step 5: Have Fun & Get to Know Eachother
One of the very best parts of this coed bachelor/bachelorette weekend was that by the end of it, we all felt a little more like family than friends. We had spent the weekend sharing stories about growing up together, how we met, and when we knew that our person had found "the one"--all special moments we may have not had time for at the actual wedding. Now, we are all eagerly awaiting our reunion and can spend the entire wedding day focused on our bride and groom, while celebrating a life full of love.
Here's the tip: A lot of what transpired between our groups happened naturally, but there were a few moments that provoked us to form a deeper bond. During our night out, we chose to have dinner apart but during our Maggiano's dinner at the Airbnb, we all sat at a candle-lit dinner (family style) and went around the table sharing our favorite memory with the bride or groom (or both!). Some of the wedding party had been there the moment our couple met, so we got to hear first hand what it was like to see the "I just found the one" look in their eye in real-time.
If you're in a position to have time where all of your guests are seated together, this is the perfect opportunity to share stories and get to know each other better before the wedding day.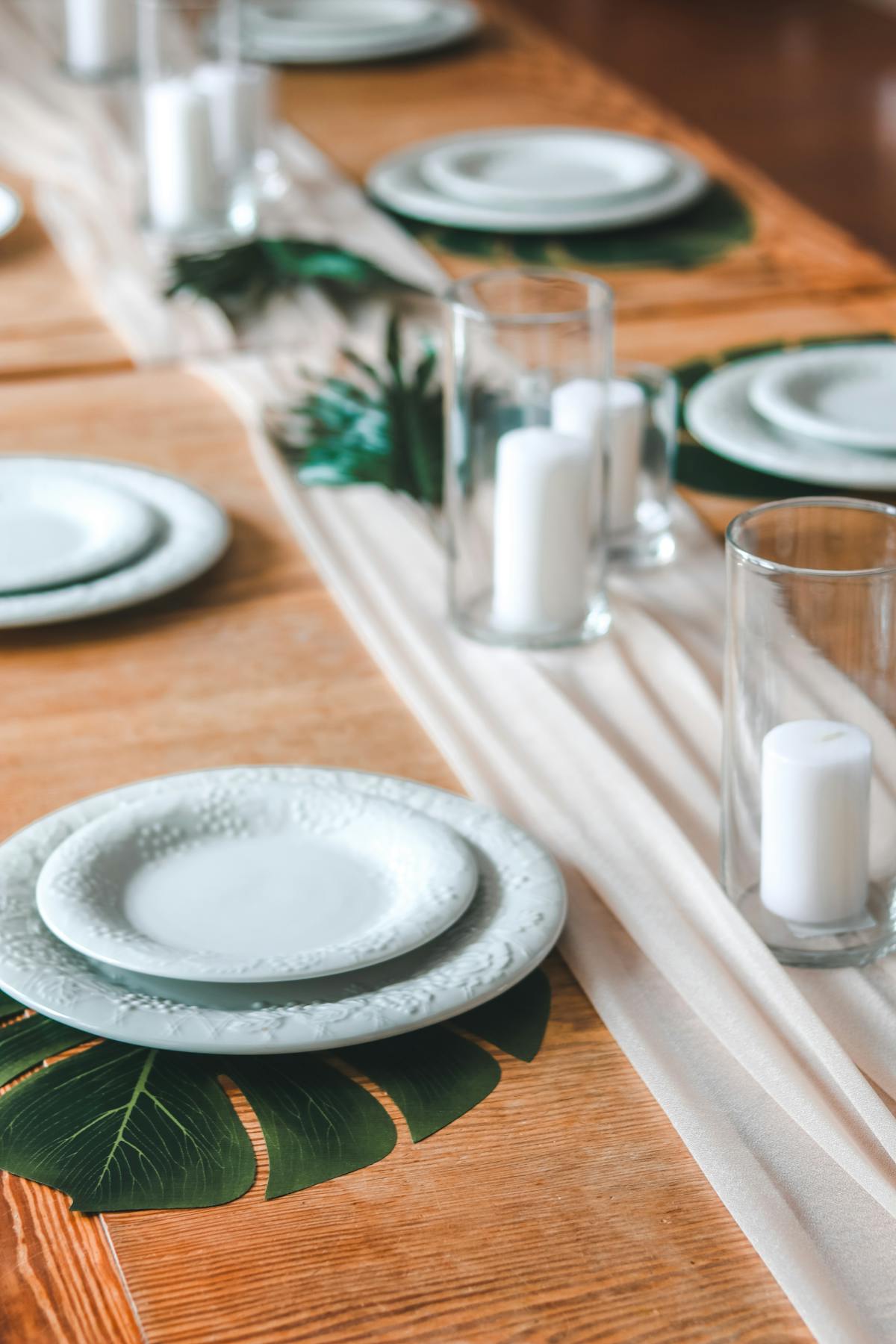 Final Thoughts
Some of us had been skeptical going into the weekend. This felt non-traditional and had the potential to be uncomfortable. Many of us were strangers and had never done a bach bash in this way. However, by the end of it, our perspectives had completely shifted. The groomsmen were all grateful for the attention to detail the bridesmaids brought--one groomsman specifically told me they would have all just sat around at the pool without a plan had it not been for us. The bridesmaids and Man of Honor all had a chance to get to know the groom and his friends a little better and none of us wanted the weekend to end.
Truly, I am not sure that I will ever enjoy a traditional bachelorette party the same way ever again. I highly recommend this as an option for anyone planning their bachelor or bachelorette parties. I'll always opt-in for a weekend like this one, the "Last Last Disco Splash".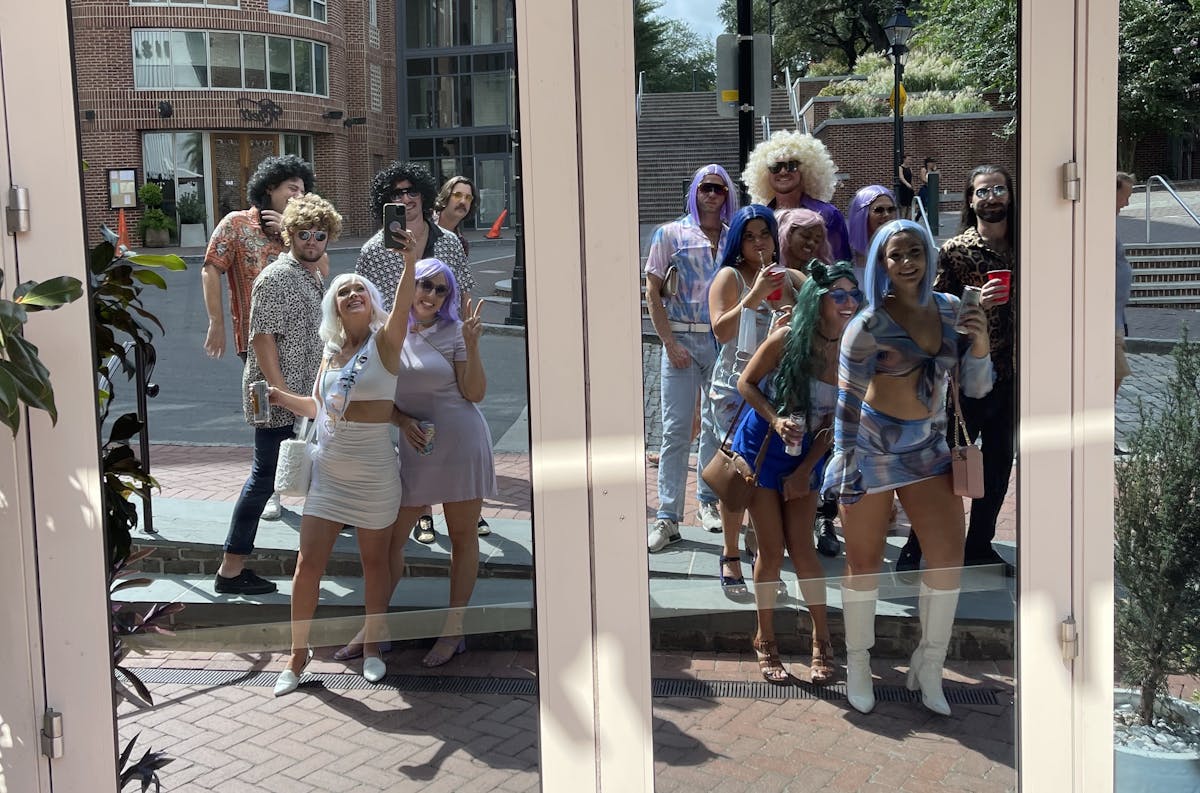 To Kyle & Sammy, thank you so much for including me in this special weekend. I can't wait to stand by your side on your big day. Here's to a lifetime of love, laughs, and pure happiness. You were made for each other.